Non-surgical Skin Tightening Device Market
Non-surgical Skin Tightening Device Market Analysis By Type (Laser-based Devices, Radio Frequency Devices, Ultrasound Devices), By Treatment Type (Non-Invasive, Minimally Invasive), By Portability (Portable, Standalone), By Application (Face Lifting, Body Lifting, Anti-Aging), By End User (Hospitals, Cosmetic Surgery Centers, Dermatology Clinics, Beauty Salons), & By Region – Global Market Insights 2023 to 2033
Analysis of Non-surgical Skin Tightening Device Market Covering 30+ Countries Including Analysis of US, Canada, UK, Germany, France, Nordics, GCC countries, Japan, Korea and many more
Non-surgical Skin Tightening Device Market Overview (2023 to 2033)
The global non-surgical skin tightening device market size is valued at US$ 475 Million in 2023, and is projected to reach US$ 820 Million by 2033-end, growing at a compound annual growth rate (CAGR) of 5.5% during the forecast period from 2023 to 2033.
For people with mild to moderate skin laxity, non-surgical skin tightening devices are commonly used, eliminating the need for skin removal or lifting operations. Elastin and collagen synthesis naturally declines with age, resulting in loose skin on the body and sagging skin on the face.
Non-surgical skin tightening treatments help temporarily halt the process of aging and revitalize a person's skin, giving them a smoother and younger appearance. This method has several benefits, including a shorter time investment and a lesser risk of negative outcomes. Providing enduring results, non-surgical skin tightening effectively enhances skin tightness without causing any scars or surgical markings. Furthermore, this procedure encourages enhanced collagen absorption in adjacent untreated areas and the generation of new collagen in the treated regions.
For non-surgical skin tightening, a wide variety of technologies are employed, including fractional devices, fractional lasers, light-emitting diodes (LEDs), micro-focused ultrasound, micro-current, micro-needling, radio frequency, and ultrasound. Non-invasive aesthetic treatments aim to improve a person's appearance without the need for surgery, incisions, or a long recovery period. Non-surgical skin-tightening procedures include Botox injections, dermal fillers, laser therapy, chemical peels, microdermabrasion, non-surgical skin tightening, and other non-invasive methods. These procedures are intended to improve skin quality, lessen aging symptoms, and improve overall aesthetics.
The beauty device market includes a wide range of devices designed for personal grooming, skincare, and aesthetic purposes. These devices can include hair removal devices, facial cleansing brushes, skin tightening devices, anti-aging tools, and more.
Key Types of Facial Injectables
Botulinum Toxin (Botox and Dysport): The appearance of wrinkles and creases is temporarily reduced with these injections, especially in the forehead and around the eyes.
Dermal Fillers: Dermal fillers are applied to places including the lips, cheeks, and nasolabial folds to increase volume and plumpness. Hyaluronic acid fillers (like Juvederm and Restylane) and collagen-based fillers are two popular varieties.
Poly-L-Lactic Acid: This injection is frequently used to restore face volume and help increase collagen formation.
Calcium Hydroxylapatite: This filler is used to treat deeper wrinkles and folds.
Polymethyl Methacrylate (PMMA): PMMA is often injected in a more permanent capacity and is used for long-lasting outcomes.
Report Attributes
Details
Non-surgical Skin Tightening Device Market Size (2022A)

US$ 450 Million

Estimated Market Value (2023E)
US$ 475 Million
Forecasted Market Value (2033F)
US$ 820 Million
Global Market Growth Rate (2023 to 2033)
5.5% CAGR
China Market Growth Rate (2023 to 2033)
4.6% CAGR
Germany Market Growth Rate (2023 to 2033)
4.1% CAGR
Laser-based Devices Segment Growth Rate (2023 to 2033)
4.9% CAGR
Radio Frequency Devices Segment Growth Rate (2023 to 2033)
5.7% CAGR
Radio Frequency Segment Share (2023)
35%
Dermatology Clinics Segment Growth Rate (2023 to 2033)
8% CAGR
Key Companies Profiled

Bausch Health
Venus Concept
Merz Pharma
Cynosure
Strata Skin Sciences
Alma Lasers GMBH
Cutera, Inc.
Don't Need a Global Report?
save 40%! on Country & Region specific reports
What is Fueling the Demand for Non-Surgical Skin Tightening Devices?
"Elevated Demand for Less Invasive Solutions for Skin Rejuvenation"
Rise of the baby boomer generation and the proliferation of cosmetic operations are expected to fuel market growth. Non-surgical skin tightening devices are becoming more and more popular, and this is mostly due to rising disposable income and changing lifestyles worldwide. Additionally, compared to surgical interventions, non-surgical skin tightening has several benefits, such as scar-free post-treatment results, painless procedures, and fewer negative effects. These benefits are expected to hasten the adoption of non-surgical skin-tightening devices around the world.
The skin rejuvenation market has experienced significant growth in recent years as individuals seek ways to improve their skin's appearance and maintain a youthful look. Factors contributing to market growth include increasing awareness of skincare devices, the expanding aging population, and technological advancements in skin rejuvenation treatments.
The market is also being driven by increased awareness of non-invasive treatments and the growing popularity of minimally invasive skin tightening techniques. Demand for non-surgical skin tightening is anticipated to increase due to its advantages over conventional plastic surgery.
"Rapid Recovery and Shorter Hospital Stays Associated with Non-surgical Aesthetic Procedures"
The increasing interest in non-invasive skin treatment procedures is a significant driver of non-surgical skin tightening devices market growth. Heightened public awareness of non-invasive procedures, which are associated with fewer side effects, has led to greater utilization of non-invasive aesthetic lasers and energy-based devices. These technologies, including laser-based, intense pulsed light-based, and LED equipment, offer non-invasive skin rejuvenation treatments characterized by rapid recovery and shorter hospital stays.
The swiftly aging demographic in this area, combined with the availability of advanced technologies and proficient cosmetic surgeons, propels the market forward.
For example, according to data from the American Society of Plastic Surgeons, the United States witnessed a 3% increase in procedures in 2020. This encompassed 2.3 million cosmetic surgical procedures, 13.2 million minimally invasive cosmetic procedures, and 6.8 million reconstructive procedures.
Growing demand for facial enhancement through aesthetic treatments stands out as the primary driver for market growth. Non-surgical cosmetic procedures are more and more common because of their comfort, low risk, and speedy outcomes. They are frequently employed to treat aging symptoms, enhance the attractiveness of the entire face, and improve skin quality. Before undergoing any non-surgical cosmetic procedure, it is imperative to get the advice of a trained medical practitioner to decide the best course of action and guarantee safe and successful outcomes.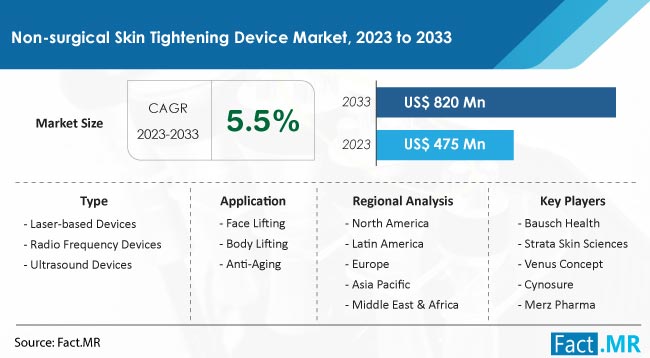 What Obstacles Do Manufacturers of Non-surgical Skin Tightening Devices Face?
"Adverse Effects Associated with Skin Tightening Devices"
The most common side effects associated with these treatments are acne breakouts and skin discoloration. Excessive laser energy absorption can lead to skin discoloration and blistering, particularly in individuals with darker skin tones. These post-treatment side effects can deter individuals from choosing these treatments.
Typical side effects that may arise after laser hair removal procedures include itching, pinkish skin, redness, and localized swelling around the treated area, often referred to as follicular edema. Fortunately, these side effects typically subside within a brief period, usually lasting no more than two or three days. However, other unwanted side effects, such as hypo- or hyper-pigmentation, or, in rare cases, skin burning, may necessitate adjustments in the laser selection or treatment settings.
Potential risks encompass skin burning, skin discoloration (hypopigmentation), acne flare-ups, follicular swelling, scab formation, purpura (purple discoloration), and infection. These risks can be mitigated by using the appropriate laser type and settings tailored to the individual's skin type and the treatment area. Consequently, the occurrence of these treatment-related side effects can discourage individuals from pursuing such procedures, potentially impeding the growth of the market for aesthetic lasers and energy devices.
"Market Growth Impeded by Regulatory Hurdles and Efficacy and Cost Constraints"
Stringent regulatory requirements and approval processes for medical devices can slow down the introduction of new technologies and devices into the market. Non-surgical skin tightening devices may not be as effective as surgical alternatives for individuals with severe skin laxity and aging. This limitation can restrict their adoption among certain patient populations.
Non-surgical skin tightening treatments often provide temporary results, requiring repeated sessions for maintenance. Some individuals may prefer more permanent solutions offered by surgical procedures. While non-surgical treatments are generally less expensive than surgical options, they can still be costly for some individuals, particularly if multiple sessions are required for optimal results.
More Insights, Lesser Cost (-50% off)
Insights on import/export production,
pricing analysis, and more – Only @ Fact.MR
Country-wise Insights
In this section, we examine the revenue generated from prominent countries, with the United States and Germany emerging as pivotal markets. The European region holds a 30% of global non-surgical skin tightening device market share in 2023.
What are the Key Developments in the United States Market?
"Extensive Adoption of Cosmetic Procedures in the Country"
The heightened demand for non-surgical procedures within the United States is expected to act as a catalyst for market expansion throughout the forecast period. North America is poised to command a substantial portion of the non-surgical aesthetic device market, primarily driven by the escalating number of cosmetic procedures conducted in the country, a dense concentration of market participants, and a surge in product introductions in this country.
As per the Aesthetic Plastic Surgery National Databank 2021 report, there was a remarkable 55% increase in facial procedures in the United States during 2021. Furthermore, the report documented that the utilization of combination lasers for skin treatments amounted to 400,255 procedures among women and 28,824 procedures among men in 2021 within the country.
Why is Germany a Profitable Market for Non-Surgical Skin Tightening Device Producers?
"Increasing Focus on Personal Grooming and Surging Medical Tourism"
Europe accounts for 30% market share in 2023. In the forecasted timeframe, the European region is expected to hold the second-highest share of the non-surgical skin tightening device market. Strong local economies, active marketing by prominent companies, surging medical tourism, and heightened awareness about non-surgical skin-tightening treatment methods are some of the important factors driving the growth of the market in Germany.
From 2023 to 2033, the market in Germany is projected to expand at a CAGR of 4.1%.
People in the country are more concerned about their physical appearance and try innovative treatment methods to get rid of wrinkles and sagging skin. The growing aging population and the appearance of wrinkles in early adulthood are also stimulating the expansion of the non-surgical skin tightening device market.
Category-wise Insights
This section provides a breakdown of the market based on type and end-user segments. In 2023, radio frequency devices hold a leading market share of 35%. The dermatology clinics segment is projected to advance at a CAGR of 8% from 2023 to 2033.
Why are Radio Frequency Devices the Preferred Option among Consumers?
"Role of Radio Frequency Therapy in Preventing UV Damage by Promoting Collagen Creation"
Radio frequency devices account for 35% share of the market in 2023. Due to their versatility, effectiveness, and safety, radio frequency technology has become a common treatment in aesthetic medicine. Cellulite reduction, hypertrophic scars, keloids, rosacea, inflammatory acne, and all skin types are among the conditions for which it is used globally. Radio frequency therapy helps prevent UV damage by promoting the creation of collagen.
The baby boomer generation is aging, and various age groups are becoming more accepting of cosmetic operations. Thus, the revenue share of the skin tightening category is forecasted to increase significantly during the forecasted period.
Laser-treated skin areas experience increased collagen creation and absorption, leading to a smoother, softer, and more youthful appearance through natural regeneration. The market is set to expand as businesses prioritize the release of portable skin-tightening devices for enhanced at-home skincare.
Why are Non-surgical Skin Tightening Devices Widely Used in Dermatology Clinics?
"Specialized Expertise and Personalized Services at Dermatology Clinics"
Use of non-surgical skin tightening devices in dermatology centers is expected to increase at 8% CAGR over the projection period. These facilities excel at providing a variety of non-surgical skin tightening procedures. Specialized dermatological clinics have supplanted hospitals as the main patient contact points in recent years.
Demand for dermatology centers is also fueled by patients' hopes that dermatologists' skills will enable them to achieve greater results. Additionally, the distinctive services and deals offered by these centers have the potential to spur market expansion.
Professionals with the necessary skills to operate the machinery used in non-surgical skin tightening procedures are available in dermatology clinics. Additionally, dermatologists oversee the entirety of the therapy processes. Several clinics provide discounts on particular therapy techniques. Dermatologists can also precisely identify different skin types and choose the best skin tightening techniques, which is expected to promote market growth.
Know thy Competitors
Competitive landscape highlights only certain players
Complete list available upon request
Competitive Landscape
The non-surgical skin tightening device market is highly competitive and is characterized by the existence of several well-established firms and an increasing number of new entrants. Continuous product development and innovation are what fuel market competition. To introduce cutting-edge technology and products that improve outcomes, patient comfort, and safety, businesses invest heavily in research and development.
In April 2021, Cynosure announced its acquisition of MyEllevate's Surgical Suture System, with the strategic aim of broadening its array of minimally invasive facial rejuvenation offerings. This acquisition empowers Cynosure to integrate the ICLED light-guided suture system from MyEllevate with its existing skin-tightening solutions, thereby enhancing the potential for achieving optimal and enduring results.
Key Segments of Non-surgical Skin Tightening Device Market Research
By Type :

Laser-based Devices
Radio Frequency Devices
Ultrasound Devices

By Treatment Type :

Non-Invasive
Minimally Invasive

By Portability :

By End User :

Hospitals
Cosmetic Surgery Centers
Dermatology Clinics
Beauty Salons

By Application :

Face Lifting
Body Lifting
Anti-Aging

By Region :

North America
Latin America
Europe
Asia Pacific
Middle East & Africa
- FAQs -
The global non-surgical skin tightening device market stands at US$ 475 million in 2023.
Worldwide demand for non-surgical skin tightening devices is predicted to rise at a CAGR of 5.5% from 2023 to 2033.
Revenue from the sales of non-surgical skin tightening devices is projected to reach US$ 820 million by 2033.
The United States is poised to hold a prominent share of the market by 2033.
The market in China is forecasted to advance at a CAGR of 4.6% CAGR from 2023 to 2033.
Ultherapy continues to be the premier gold standard for effective skin lifting and tightening.