Phosgene Market
Phosgene Market Analysis By Derivative (Isocyanates, Chloroformates, Carbamoyl Chlorides), By Application (Agrochemicals, Pharmaceuticals, Polycarbonates, Fine Chemicals) & By Region (North America, Latin America, Europe) - Global Market Insights 2023 to 2033
Analysis of Phosgene Market Covering 30+ Countries Including Analysis of US, Canada, UK, Germany, France, Nordics, GCC countries, Japan, Korea and many more
Phosgene Market Growth Outlook (2023 to 2033)
The global phosgene market is valued at US$ 4.76 billion in 2023 and is forecasted to reach US$ 8.4 billion by the end of 2033, expanding at a CAGR of 5.8% from 2023 to 2033.
Phosgene is a colorless gas with the chemical formula COCI2. It is found in trace levels in volcanoes and has a pungent odor. Due to its synthetic production and high toxicity, it has been used as a chemical weapon in major conflicts worldwide.
It is a crucial industrial molecule that serves as a vital building block for many organic compounds and pharmaceuticals. It is considered a hazardous gas at room temperature but can be converted into a liquid for easier transportation when cooled under high pressure.
Phosgene is produced by the reaction of chlorine and carbon monoxide. This reaction takes place in the presence of a catalyst, typically activated carbon or iron. The reaction is exothermic, meaning it releases heat and produces a significant amount of gas. Phosgene is usually collected as a liquid and then stored in pressurized containers.
The two most common phosgene derivatives made from isocyanates, which are predominantly employed in bed and furniture applications, are toluene diisocyanate and methylene diphenyl diisocyanate. As the global population continues to grow and consumer purchasing power increases, the demand for beds and furniture is expected to rise.
Demand for phosgene is expected to increase during the forecast period from manufacturers of pharmaceutical products and the rising need for better medical facilities. The growing utilization of phosgene in producing pesticides and insecticides is anticipated to further accelerate the growth of the market.
The expansion of the pharmaceutical industry, an uptick in R&D activities, a rise in demand for better therapies, and a spike in investments are expected to contribute to the growth of the phosgene market. Phosgene and its variants are widely used in agrochemicals, medicines, specialty chemicals, and dyes. p-Phenylenediamine is frequently used in dyes to create tattoos that last exceptionally long. Market players are expected to have lucrative prospects due to the anticipated rapid growth of diverse end-use industries in developing countries.
The sales of phosgene are further influenced by its increasing usage in chemical processes including the production of aluminum chloride, boron trichloride, and beryllium chloride as well as the extraction of metals like plutonium, platinum, niobium, and uranium.
Report Attributes

Details

Phosgene Market Size in 2022

US$ 4.5 Billion

Estimated Market Value (2023)

US$ 4.76 Billion

Projected Market Value (2033)

US$ 8.4 Billion

Global Market Growth Rate (2023 to 2033)

5.8% CAGR

China Market Growth Rate (2023 to 2023)

9.5% CAGR

Key Companies Profiled

BASF SE
Altivia
DuPont De Nemours, Inc.
Atul Ltd.
Vertellus Holdings LLC
ISOCHEM
Bayer AG
VanDeMark Chemical Inc.
Don't Need a Global Report?
save 40%! on Country & Region specific reports
Why is the World witnessing Growing Demand for Phosgene?
"Wide Applications of Phosgene in Pharmaceutical, Chemical, and Metal Industries"
Increasing utilization of phosgene in the synthesis of diethyl carbamoyl chloride, which is employed to hydrolyze a water-insoluble chemical that serves as an intermediary in the production of pharmaceuticals, insecticides, and dyes, is driving the demand for phosgene.
Increasing usage of phosgene in the production of chemicals such as aluminum chloride, boron trichloride, and beryllium chloride as well as in the extraction of metals such as platinum, plutonium, uranium, and niobium is contributing to the growth of the market.
Toluene diisocyanate (TDI) and methylene diphenyl diisocyanate (MDI), which are intermediates for the manufacturing of polyurethanes and certain polycarbonates, are aromatic compounds that are produced in significant amounts using phosgene in the chemical industry.
"Utilization of Phosgene for Production of Agrochemicals Increasing Worldwide to Meet Food Security Requirements"
The need for agrochemicals is anticipated to rise during the forecast period. The introduction of solutions by top phosgene manufacturers catering to the needs of farmers is anticipated to boost the demand for phosgene from agrochemical producers.
The Food and Agricultural Organization (FAO) projects that the world's food demand would rise from 50% to 90% by 2050 as a result of an anticipated increase in world population to 2.3 billion by 2050. To satisfy this increased demand, global food production needs are expected to rise by approximately 70% by 2050.
This suggests that the production of some food products must be significantly increased. For example, the production of grains is projected to increase to approximately 3 billion metric tons by the year 2050 from 2.1 billion metric tons in 2018.
The production of agrochemicals, including herbicides and pesticides, has expanded in response to the rising need for food security. Phosgene gas, which is used extensively in the production of pesticides, is expected to present lucrative opportunities for phosgene manufacturers.
More Insights, Lesser Cost (-50% off)
Insights on import/export production,
pricing analysis, and more – Only @ Fact.MR
What Can Restrain the Sales Growth of Phosgene?
"Growing Awareness of Harmful Effects of Phosgene Exposure and Stringent Regulations"
Phosgene has a pungent odor. Exposure to phosgene can lead to various health issues such as eye irritation, burning in the throat, vomiting, coughing up foamy sputum, breathing difficulties, chest pain, and frostbite when in liquid form. Workers may be at risk of harm from phosgene exposure, and the extent of exposure can be influenced by factors such as the dose, duration, and nature of the work.
Stringent regulatory controls governing the use of phosgene may limit its sales. The market for phosgene is expected to face competition from the rising demand for non-toxic alternatives.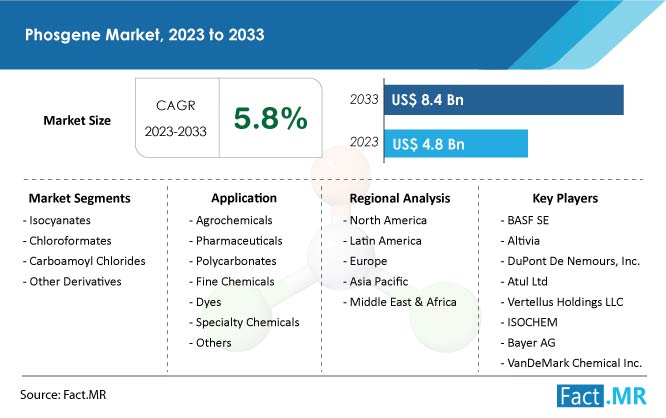 Country-wise Analysis
How is Demand for Phosgene Shaping Up in China?
"China's Exports of Phosgene-based Agrochemical Pesticides Increasing Significantly"
Demand for phosgene in Asia Pacific is anticipated to rise at a CAGR of 5% through 2033. Asia Pacific accounts for 35% of the global phosgene market share due to its widespread use in the production of agricultural chemicals as a result of the growing demand for agricultural products and the ensuing commercialization of agriculture. Phosgene-based pesticides help control damage to crops caused by insects, pathogens, and weeds.
Consumption of phosgene in China is expected to progress at a high CAGR of 9.5% during the forecast period. Agrochemicals account for a considerable proportion of all the pesticides used globally. Countries like India are experiencing a sharp increase in imports of agrochemicals from China. Demand for agrochemicals in China is projected to surge in the foreseeable future, driven by a growing emphasis on environmental sustainability and the need to maintain agricultural productivity.
What are the Factors Contributing to Extensive Utilization of Phosgene in North America?
"High Demand for Phosgene from Agrochemical and Healthcare Sectors"
North America occupies 22% of the global phosgene market, and its demand in the region is anticipated to grow at a CAGR of 4.8% through 2033 as a result of rising investments in the healthcare sector and the expanding need for phosgene in pharmaceutical products.
The thriving agrochemical sectors in Canada, the United States, and Mexico are likely to fuel considerable expansion in the market. Phosgene fertilizers are utilized to enhance crop productivity and quality, generate high yields, and ultimately boost product demand owing to rising food consumption.
What Makes Germany a Lucrative Market for Manufacturers of Phosgene?
"Rising Investments in Product Innovation and R&D"
Europe is anticipated account for high sales of phosgene due to the widespread use of phosgene in medicines, dyes, and specialty chemical applications in the region. In terms of spending on research and development (R&D) and product innovation, Germany leads the region, followed by Spain, Italy, and France.
Demand for phosgene in Germany is set to advance at a CAGR of 3.9% during the forecast period.
Know thy Competitors
Competitive landscape highlights only certain players
Complete list available upon request
Category-wise Analysis
Which Phosgene Derivative is Projected to Account for High Sales?
"High Demand for Isocyanates from Construction and Automotive Sectors"
Isocyanates account for a market share of 41.1%, and their sales are expected to grow at a CAGR of 4.8% through 2033.
Wide applications of isocyanates, such as in the manufacturing of rigid and flexible foams, elastomers, paints, and varnishes, which are witnessing a surge in demand from the construction and automotive sectors, are the primary reason for its growing demand. The use of isocyanates for producing protective coatings predominantly utilized in the automotive industry is expected to rise further.
Which End-use Sector Extensively Utilizes Phosgene Products?
"Growing Demand for Phosgene-based Specialty Chemicals"
In terms of end use, the specialty chemicals segment is anticipated to expand at a CAGR of 6.2% during the forecast period as phosgene is used extensively in their production. The growing demand for specialty chemicals such as agrichemicals, elastomers, and polymers, as well as the consequent rise in the use of organic compounds in specialty chemicals, are both cited as key factors contributing to high sales of phosgene.
Competitive Landscape
The industry provides several opportunities for entrepreneurs and small businesses to develop cost-effective manufacturing and processing solutions. The Fact.MR report highlights various innovative startups that are showcasing their inventive techniques and creations. The steady growth in demand from end users can serve as a motivating factor for several entrepreneurs to introduce innovative products in this sector.
Leading and developing market players who have made significant investments in studying phosgene and similar chemicals have witnessed the growth of their companies in the phosgene market. Key players in the phosgene market who dominate the industry with a substantial revenue share are moderately fragmented. Businesses use strategic partnerships to expand their market presence.
In September 2021, ALTIVIA Specialty Chemicals, the primary supplier of phosgene-based chemicals in the American continent, declared that it had divested its water purification chemical division to USALCO, LLC, a portfolio company of H.I.G. Capital. The production facilities in Houston, Texas that produce ferrous and ferric sulfate for ALTIVIA's water treatment business were part of the deal.
Key Segments of Phosgene Industry
By Derivative :

Isocyanates
Chloroformates
Carbamoyl Chlorides
Other Derivatives

By Application :

Agrochemicals
Pharmaceuticals
Polycarbonates
Fine Chemicals
Dyes
Specialty Chemicals
Others

By Region :

North America
Latin America
Europe
Asia Pacific
Middle East & Africa
- FAQs -
The global phosgene market is valued at US$ 4.76 billion in 2023.
Worldwide demand for phosgene is projected to increase at a CAGR of 5.8% from 2023 to 2033.
Global sales of phosgene are anticipated to reach US$ 8.4 billion by 2033.
Sales of phosgene in Asia Pacific are set to increase at a CAGR of 5% through 2033.
BASF SE, DuPont De Nemours, Inc., and ISOCHEM are leading manufacturers of phosgene.