qPCR Reagents Market
qPCR Reagents Market Analysis By Detection Method (Dye-based, Probes & Primer-based), By Packaging Type (qPCR Core Kits, qPCR Master Mixes), By Application (Diagnostic, Research, Forensic), By End User (Hospitals & Diagnostic Centers, Research Laboratories & Academic Institutes, Other) & By Region - Global Market Insights 2023-2033
Analysis of qPCR Reagents Market Covering 30+ Countries Including Analysis of US, Canada, UK, Germany, France, Nordics, GCC countries, Japan, Korea and many more
qPCR Reagents Market Growth Outlook (2023 to 2033)
The global qPCR reagents market is valued at US$ 2.27 billion in 2023 and is forecasted to expand at a CAGR of 8% to reach a market size of US$ 4.90 billion by the end of 2033.
Quantitative polymerase chain reaction, or qPCR, is a technique for PCR-based DNA analysis. The majority of polymerase chain reaction uses centre on how useful it is for converting a little amount of DNA into a bigger amount of DNA. The majority of DNA sequencing methods and gel electrophoresis are carried out using the qPCR technique.
In real-time polymerase chain reaction (real-time PCR), product quantity is determined after each cycle and the existence of the amplification product is assessed as the reaction develops in real-time. The real-time PCR steps are described in the qPCR process below. First, PCR reagents and unique or custom primers are used to set up amplification reactions.
The reactions are then carried out using real-time PCR techniques, and the gathered data is analysed using specialized instrumentation. The two main categories of qPCR reagents are intercalating dye assay and 5′ nucleic assay.
To quantify DNA amplification during PCR, an intercalating dye assay uses real-time fluorescence of a dye that binds to double-stranded DNA. When linked to dsDNA, the dye's modest background fluorescence often rises dramatically. An important development in nucleic acid quantification is the creation of 5′ nuclease assays.
A dual-labelled probe that was annealed to a target gene during amplification is cut apart by the 5′-3′ exonuclease activity of Thermus aquaticus polymerase. Real-time PCR/qPCR tests have become the go-to method for calculating and analysing nucleic acid in a diverse range of biological samples, with uses ranging from gene expression analyses to the detection of genetically modified food to cancer phenotyping.
Based on detection method, qPCR reagents are segmented into dye-based qPCR reagents and probes & primer-based qPCR reagents. The global demand for dye-based qPCR reagents is expected to increase at a CAGR of 8.5% during the next 10 years.
Infectious disorders, cancer, and genetic anomalies are just a few examples of conditions for which dye-based diagnostic qualitative PCR reagent is used to quickly detect nucleic acids.
Furthermore, according to Cancer Research UK, more people are anticipated to develop cancer in the coming years. The analysis projects that by 2040, there will be 27.5 million new instances of cancer worldwide annually if current trends in the prevalence of major malignancies and population growth are continued.
As a result of such predictions, worldwide demand for dye-based diagnostic qualitative PCR reagents is expected to increase over the coming years, as per this new study by Fact.MR, a market research and competitive intelligence provider.
Report Attributes

Details

qPCR Reagents Market Size (2023E)

US$ 2.27 Billion

Forecasted Market Value (2033F)

US$ 4.90 Billion

Global Market Growth Rate (2023 to 2033)

8% CAGR

China Market Growth Rate (2023 to 2033)

7.5% CAGR

Japan Market Growth Rate (2023 to 2033)

7% CAGR

Germany Market Growth Rate (2023 to 2033)

6% CAGR

Canada Market Growth Rate (2023 to 2033)

6.5% CAGR

Key Companies Profiled

Affymetrix, Inc.
Agilent Technologies, Inc.
Bio-Rad Laboratories, Inc.
F. Hoffmann-La Roche AG
Promega Corporation
Qiagen NV
Quanta Biosciences, Inc.
Sigma-Aldrich Corporation
Takara Bio, Inc.
Thermo Fisher Scientific, Inc.
Don't Need a Global Report?
save 40%! on Country & Region specific reports
Why is Demand for qPCR Reagents Increasing across the World?
"Rising Prevalence of Viral & Genetic Diseases"
Increasing prevalence of infectious and genetic disorders is boosting the rate of diagnostic tests, which helps people take preventative measures. The use of genetic tests is expanding as the elderly population is growing rapidly.
In the past ten years, several genome projects have been launched. This has made it possible for scientists to learn more about the human genome. These activities always entail genetic analysis and gene sequencing. These requirements are boosting the need for qPCR equipment, which is further driving the growth of the qPCR reagents market.
"Growing Demand for Precise Diagnostics"
The real-time PCR (qPCR) instruments market is expanding primarily as a result of analytical equipment sales explosive rise. Also, the rising prevalence of food product adulteration and the growing demand for precise diagnostics is boosting sales of qPCR reagents. Investments in research and development activities by respective governments and also the development of food safety and diagnostics regulations are boosting the demand for quantitative polymerase chain reaction (qPCR) equipment.
Sales of quantitative PCR (q PCR) reagents are also expanding due to their rising need for sample preparation, reliable data analysis, and interpretation under conditions of high sample quantities and condensed deadlines. The ongoing demand for sophisticated real-time qPCR reagents for numerous research fields, including pathogen detection, genetic disorders, cancer, and pharmacogenomics, is further boosting sales growth.
What Do Producers of qPCR Reagents Need to Watch Out For?
"High Costs of qPCR Equipment"
To provide the desired results, a typical PCR analysis using a qPCR instrument integrates a range of scientific approaches. These are small and instruments have quick cycle times.
However, the development of such tools unavoidably necessitates significant financial outlays in addition to genuine nanoscale scientific confirmation. The cost of qPCR equipment is usually around US$ 50,000, due to the high prices, price-conscious end users have been reluctant to switch to qPCR instruments, which is expected to slow the sales growth.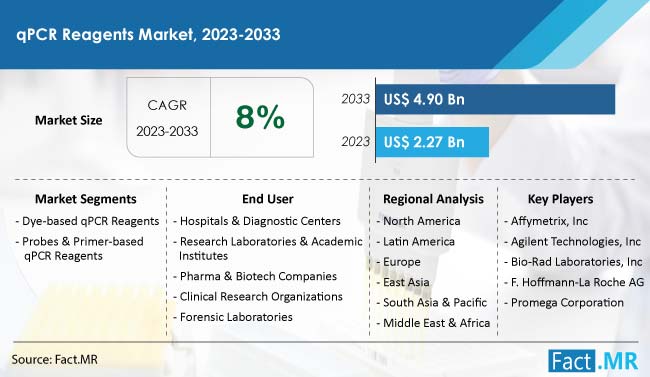 Country-wise Analysis
What is Supporting Sales of qPCR Reagents in the United States?
"Increasing incidence of Breast Cancer"
The rising prevalence of cancer and infectious disease is high in the United States. Along with this the adoption of new technologies for DNA testing is boosting the sales of qPCR reagents in the nation.
According to the American Cancer Society, breast cancer affects one in three American women each year. In the United States, over 30% of female residents live with breast cancer.
In the United States, cancer primarily affects women in their middle and later years. The need for qPCR reagents for diagnostics is thus rising. The United States market is expected to grow at a profitable rate over the projected period due to the high rate of cancer cases in the nation.
What is Benefitting Manufacturers of qPCR Reagents in Germany?
"Rapid Developments in Cell & Gene Sequencing Sector"
In the European region, Germany is considered to be the best in manufacturing cell and gene testing products. Sales of qPCR reagents in Germany are expected to evolve at a CAGR of 6% during the forecast period. Also, Germany is rapidly developing in the gene sequencing sector which is expected to increase the qPCR reagent demand.
More than 238 firms involved in regenerative medicine are based in Europe. A quarter of the world's therapeutic regenerative medicine developers are based in Europe. Germany currently has significant cell therapy-related companies that are developing new cell testing products. Thus, such aspects are boosting the sales of qPCR reagents in the nation.
Why are China & Japan Leading Markets in the Asia Pacific Region?
"Presence of Target Patient Population and Rapidly Progressing Pharma Industry"
Some of the profitable marketplaces in the Asia Pacific region are China, Japan, India, and South Korea. China and Japan are considered the hub of gene therapies.
The rapid development of the pharmaceutical industry, the presence of a large geriatric population, and the rising incidence of chronic diseases brought on by pollution as a result of rapid industrialization and urbanization, as well as genetic disorders, are all factors contributing to the market growth in these two countries.
The qPCR reagents market in China and Japan is expected to expand quickly because of the large target patient base in these countries and the development of production capacity by leading manufacturers to fulfil the rising demand. Sales of qPCR reagents in China & Japan are expected to increase at CAGRs of 7.5% and 7%, respectively, during the next 10 years.
More Insights, Lesser Cost (-50% off)
Insights on import/export production,
pricing analysis, and more – Only @ Fact.MR
Category-wise Analysis
Which Aspects are Driving the Sales of qPCR Core Kits?
"Cost-effectiveness & High Preference by End Users"
Based on packaging type, the qPCR reagents are classified into qPCR core kits and qPCR master mixes. The qPCR core kits are currently holding a dominant share of the qPCR reagents market.
The demand for qPCR core kits is significantly increasing due to aspects such as core kit affordability (compared to Mastermix pricing), end user's adaptability (because it is preferable for researchers to design separate response protocols), and rising private-public financing for life science research.
During the forecast period, the sales of qPCR master mixes are expected to rise healthily. The qPCR master mixes aid the researcher in assembling an error-free mixture of DNA polymerase, dNTPs, MgCl2, and buffer. It lessens the amount of time needed for research and eliminates the chance of sample contamination. Hence, all such factors are expected to boost the demand for qPCR master mixes during the projected period.
Competitive Landscape
Affymetrix, Inc., Agilent Technologies, Inc., Bio-Rad Laboratories, Inc., F. Hoffmann-La Roche AG, Promega Corporation, Qiagen NV, Quanta Biosciences, Inc., Sigma-Aldrich Corporation, Takara Bio, Inc., and Thermo Fisher Scientific, Inc. are some of the major market players. Several leading companies in the qPCR reagents market are using advanced technologies for the production of reagents. Rapid technological advancements are boosting the sales of qPCR reagents.
For instance, Agilent created the AriaMx Real-time PCR (Real-Time Polymerase Chain Reaction) System, a quantitative PCR amplification, discovery, and data analysis system that is fully integrated. With its unique modular and malleable architecture, intuitive touch-screen interface, progressive, simple reporting, and 120+ attributes overseen by built-in onboard diagnostics to help with assay or instrument faults as they arise, AriaMx enhances the output. Agilent creates specialist real-time PCR (Real-Time Polymerase Chain Reaction) kits and reagents that are rapid, efficient, and provide excellent specificity.
Some of the key players in the qPCR reagents market are also adopting various marketing tactics such as fluctuations in pricing trends, new developments in products, enhancing supply chain management, partnerships, collaborations, and others to earn more market share.
The first smart qPCR equipment in the world, the Applied Biosystems QuantStudio 6 and 7 Pro Real-Time PCR Systems, were launched by Thermo Fisher Scientific on April 15, 2019. Facial authentication, voice commands, plate reading with RFID, and instant access to service and support with a single touch are just a few of the capabilities. Thermo fisher qPCR reagents are also widely used across the globe.
Key Segments of qPCR Reagents Industry Research
By Detection Method :

Dye-based qPCR Reagents
Probes & Primer-based qPCR Reagents

By Packaging Type :

qPCR Core Kits
qPCR Master Mixes

By Application :

Diagnostic
Research
Forensic

By End User :

Hospitals & Diagnostic Centers
Research Laboratories & Academic Institutes
Pharma & Biotech Companies
Clinical Research Organizations
Forensic Laboratories

By Region :

North America
Latin America
Europe
East Asia
South Asia & Oceania
MEA
- FAQs -
The global qPCR reagents market is valued at US$ 2.27 billion in 2023.
Worldwide sales of qPCR reagents are projected to reach US$ 4.90 billion by 2033.
Global demand for qPCR reagents is predicted to increase at a CAGR of 8% during the forecast period.
Increasing rate of elderly population, rising patient base for genetic and infectious illnesses, and technological improvements in life sciences are contributing to market growth.
Affymetrix, Inc., Agilent Technologies, Inc., Bio-Rad Laboratories, Inc., and F. Hoffmann-La Roche AG are leading providers of qPCR reagents.