Reinsurance Market
Reinsurance Market Analysis By Type (Facultative Reinsurance, Treaty Reinsurance), By Product (Property & Casualty Reinsurance, Life & Health Reinsurance), By Distribution Channel (Broker, Direct Writing) and By Region- Global Market Report (2023 to 2033)
Analysis of Reinsurance Market Covering 30+ Countries Including Analysis of US, Canada, UK, Germany, France, Nordics, GCC countries, Japan, Korea and many more
Reinsurance Market Outlook (2023 to 2033)
The global reinsurance market size is projected to expand at a steady CAGR of 4% and reach a valuation of US$ 598.85 billion by the end of 2033, up from US$ 404.56 billion in 2023. Reinsurance is an important but largely unseen component of the insurance business, says Fact.MR, a market research and competitive intelligence provider.
The best way to conceptualize reinsurance is as insurance for insurers. Primary insurers transfer a portion of their risk to a secondary insurer known as a reinsurer in exchange for a premium. This strategic risk management strategy can be used by primary insurers to reduce their exposure to catastrophic events or large losses, ensuring their financial stability and ability to meet policyholder commitments. Reinsurers take on these risks and receive premiums for them, to diversify their risk portfolio and profit.
Rising frequency and severity of natural disasters, technology improvements, regulatory changes, and the growing relevance of sustainability considerations are the key factors driving the reinsurance market. The market provides vital assistance by dispersing and lowering risk, which is critical to the financial stability of the insurers via financial analytics, allowing them to underwrite policies with confidence, knowing they can handle large and catastrophic claims.
Important Market Growth Drivers
Hurricanes, wildfires, earthquakes, and pandemics are becoming more frequent and severe, boosting demand for reinsurance coverage to protect primary insurers from major financial losses.
Incorporation of cutting-edge technology such as artificial intelligence, machine learning, and data analytics has improved reinsurance risk assessment, underwriting, and claims processes.
Incorporation of insurance-linked securities (ILS) and catastrophe reinsurance bonds has presented the reinsurance industry with an alternative source of finance. Reinsurers can use these instruments to diversify their risk portfolios and transfer risk more efficiently, lowering their reliance on traditional reinsurance capital.
Capital requirements and risk management techniques are governed by reinsurance regulations such as Solvency II in Europe and the National Association of Insurance Commissioners (NAIC) guidelines in the United States. Compliance with changing norms is critical for market participants.
Need for reinsurance rises along with the development of insurance markets in emerging nations and the rise in insurance penetration.
Report Attributes
Details
Reinsurance Market Size (2022A)
US$ 389 Billion
Estimated Market Value (2023E)
US$ 404.56 Billion
Forecasted Market Value (2033F)
US$ 598.85 Billion
Global Reinsurance Market Growth Rate (2023 to 2033)
4% CAGR
North America Market Share (2022)
43.5%
Europe Market Share (2022)
18%
Asia Pacific Market Share (2022)
28%
Property & Casualty Reinsurance Segment Share (2022)
55.9%
Broker Distribution Channel Segment Growth Rate (2023 to 2033)
4.5% CAGR
Key Companies Profiled

MAPFRE
RGA Reinsurance Company
China Reinsurance (Group) Corporation
Markel Corporation
Berkshire Hathaway Inc.
Tokio Marine HCC
Everest Re Group, Ltd.
AXA XL
Hannover Re
Munich RE
Barents Re Reinsurance Company, Inc.
Next Insurance, Inc.
The Canada Life Assurance Company
SCOR
BMS Group
Lloyd's
Swiss Re
Canada Life Re
Don't Need a Global Report?
save 40%! on Country & Region specific reports
Why is There Growing Demand for Reinsurance Solutions?
"Rising Complexity of Risk Landscape Necessitating Efficient Approach to Risk Management"
The world has seen a dramatic increase in the number and severity of catastrophic occurrences such as hurricanes, wildfires, pandemics, and cyberattacks in recent years. Cyber threats, climate change, pandemics, and geopolitical instability are all emerging and interrelated threats in the modern world. These various risks put the traditional insurance paradigm to the test, necessitating alternative risk management strategies. As primary insurers struggle with the complexities of these new risks, reinsurance becomes an important risk transfer and mitigation tool.
Reinsurers provide a safety net for primary insurers by bringing their experience and resources to analyze and underwrite these complex risks. They are critical in the development of advanced risk models and underwriting strategies to effectively assess and price these growing risks. The adaptability and readiness to embrace change in reinsurance solutions enable the insurance industry as a whole to navigate a dynamic risk landscape with resilience and confidence.
"Critical Role of Reinsurance Solutions in Risk Management"
Demand for insurance coverage has surged for both individuals and corporations as developing countries experience economic progress and an expanding middle class. This increase in insurance demand creates an appealing opportunity for reinsurers, who provide the required backing to primary insurers operating in these developing countries. The market, with its ability to absorb and manage risk, is critical to the growth and stability of global insurance solutions.
As insurers expand their presence in these regions, reinsurers follow suit, driving global diversification even further. This worldwide expansion also provides reinsurers with the opportunity to diversify their portfolios by entering new and different markets. The global insurance market expansion creates a symbiotic relationship in which reinsurers support the expansion efforts of insurers while benefiting from a greater range of opportunities and dangers.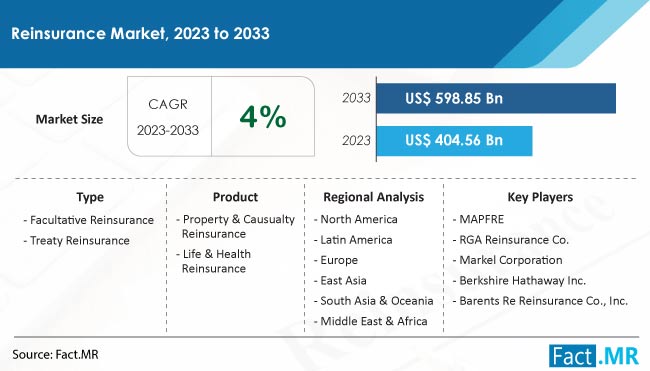 What is Restraining the Growth of the Reinsurance Market?
"Rising Claims Costs Straining Financial Performance of Reinsurers"
Persistent growth in claims costs is a significant limitation in the reinsurance industry. This difficulty derives from a variety of issues, including increasing claim complexity, rising litigation costs, and rising medical expenditures. Reinsurers are susceptible to increased payouts as policyholders make claims for a variety of losses, ranging from natural disasters to health-related difficulties.
Growing complexity of claims, particularly in industries such as medical malpractice or liability insurance, frequently necessitates lengthy legal processes, resulting in higher legal fees and settlement costs. Rising medical treatment and procedure costs may have a substantial impact on health and medical claims.
Increasing coverage and paying higher claims are frequently required to meet these expectations. Reinsurers are thus challenged to strike a balance between competitive pricing and the financial consequences of rising claims expenses.
More Insights, Lesser Cost (-50% off)
Insights on import/export production,
pricing analysis, and more – Only @ Fact.MR
How Can New Companies Capture the Attention of Customers?
"Emphasis on Innovation in Risk Modeling and Data Analytics"
Innovative techniques are essential for staying ahead in this fast-paced industry. Start-ups must concentrate on specific markets or emerging risks, leveraging their agility to provide specialized solutions that meet unmet needs. Creating advanced risk modeling, data analytics, or regulatory technology solutions can set start-ups apart by improving the efficiency and risk assessment procedures of reinsurers.
Start-ups must investigate opportunities in the expanding sector of insurance-linked securities (ILS) and catastrophe bonds, perhaps offering innovative structures or risk transfer methods that are in line with changing market expectations. Adopting environmental, social, and governance (ESG) principles can also be a tempting strategy as it corresponds with the growing emphasis on sustainability of the industry.
Country-wise Insights
North America secured 50% of the global reinsurance market share, with the United States accounting for 33% of reinsurance premiums globally. Europe's reinsurance market accounted for 18% market share in 2022.
Why is the United States a Profitable Market for Reinsurance Providers?
"Increasing Exposure to Climate-related Risks"
Demand for reinsurance in the United States is forecasted to reach a market value of US$ 187.5 billion by the end of 2033.
The United States leads the market for reinsurance in terms of both premiums collected and the size of the insurance business. There is a persistent need for reinsurance coverage due to the susceptibility to several risks, including liability claims, wildfires, and hurricanes in the country. The National Association of Insurance Commissioners (NAIC) establishes guidelines and mandates that have a direct impact on the behavior of reinsurers and primary insurers.
Adherence to NAIC laws is not only required but also provides reinsurers with an opportunity to demonstrate their commitment to solid risk management and compliance. As climate change causes more frequent and severe weather events, the market for reinsurance in the United States becomes even more important. Reinsurers specializing in disaster and property risk coverage are projected to benefit the most from this trend in the reinsurance industry.
How is the Market Faring in Singapore and Hong Kong?
"Market Benefitting from Well-established Financial Ecosystems and Regulatory Frameworks"
Asia Pacific held a market share of 28% in 2022. Singapore acts as a gateway to Southeast Asia, owing to its strong financial infrastructure and regulatory stability. The city-state has a mature and vibrant insurance industry, which makes reinsurance activities possible. It is well positioned to capitalize on the high-growth potential of the region as the status of Singapore as an international financial center ensures that it remains a desirable location for reinsurers looking to grow its Asian presence.
Hong Kong serves as a bridge between the East and the West as a global financial hub. With the insurance market in China undergoing considerable liberalization and market access reforms, Hong Kong has emerged as a desirable entry location for reinsurers seeking to capitalize on this massive market potential.
Both Singapore and Hong Kong have well-established regulatory frameworks that provide transparency, stability, and a positive reinsurance environment. These regulations are by worldwide standards, instilling confidence in market players and luring multinational corporations. Furthermore, their strong legal systems, advanced infrastructure, and highly qualified workforce make them ideal locations for reinsurance companies looking to expand and profit from the Asia Pacific insurance and reinsurance industry.
Know thy Competitors
Competitive landscape highlights only certain players
Complete list available upon request
Category-wise Insights
Reinsurance solution providers should maximize their sales via the treaty reinsurance segment, which accounted for US$ 179 billion in 2022. Based on distribution channel, the broker segment is predicted to expand steadily through the forecast period.
Which Segment Accounts for Higher Sales of Reinsurance Solutions?
"Popularity of Property and Casualty Reinsurance to Efficiently Spread and Manage Risks"
Property and casualty reinsurance occupied 55.9% market share in 2022, and the segment is projected to expand at 4.5% CAGR through 2033. Property and casualty reinsurance has evolved as a major force in the global market, with the product segment leading the way.
The sheer magnitude of risk exposure in property and casualty insurance is enormous. It covers a wide spectrum of risks, such as natural disasters, catastrophic events, liability claims, and other hazards. Property and casualty insurers rely on reinsurance to efficiently spread and manage risk, resulting in a consistent stream of business for reinsurers operating in this market.
The property reinsurance industry and casualty reinsurance market are quite diverse, including a wide range of risks and geographies. With the advent of big data and sophisticated modeling tools, property and casualty reinsurers can now better assess and price risks. Regulators frequently require insurers to keep enough money on hand to cover anticipated losses, making reinsurance a crucial component of their risk management plans. Property and casualty reinsurance is poised to continue to be a significant and leading segment as long as the world faces unforeseen perils and evolving risks.
Competitive Landscape
The competitive landscape is characterized by a mix of established global reinsurers and niche-focused companies. Swiss Re, Munich Re, Hannover Re, Berkshire Hathaway, and the Lloyd's are some of the top reinsurance companies. These industry titans have significant capital reserves, vast experience, and a broad market reach, allowing them to insure a wide range of risks, from property and casualty to specialty lines. However, there are opportunities in the reinsurance business for smaller, specialized reinsurers and start-ups.
With a growing emphasis on technological innovation and sustainability in reinsurance, startups, and tech-driven insurtech firms have found their niche, offering advanced risk modeling, data insurance analytics, and automation solutions to improve the efficiency and risk assessment capabilities of established players.
In April 2023, Swiss Re Reinsurance and Des Moines Insurtech Benekiva formed a strategic alliance to develop an Integrated Claims Management platform. This collaboration integrates Swiss Re's Claims Automated Rules Engine and extensive risk management expertise with Benekiva's innovative claims management system.
Berkshire Hathaway finalized their acquisition of Alleghany in October 2022. Alleghany Corporation manages operating businesses and handles investments, with a core focus on property and casualty reinsurance and insurance.
Segmentation of Reinsurance Market Research
By Type :

Facultative Reinsurance
Treaty Reinsurance

By Product :

Property & Casualty Reinsurance
Life & Health Reinsurance

By Distribution Channel :

By Region :

North America
Latin America
Europe
East Asia
South Asia & Oceania
Middle East & Africa
- FAQs -
The global reinsurance market reached a size of US$ 389 billion in 2022.
Sales of reinsurance solutions are valued at US$ 404.56 billion in 2023.
North America accounts for 43.5% share of the global market in 2023.
Demand for reinsurance is forecasted to reach a market value of US$ 598.85 billion by 2033-end.
Revenue from sales of reinsurance is forecasted to rise at a CAGR of 4% through 2033.
The property & casualty reinsurance segment is forecasted to expand at a steady CAGR of 4.5% through 2033.