Ruthenium Market
Ruthenium Market Analysis, By Form (Dry/Powder, Liquid, Gaseous), By Distribution Channel (Online, Offline), By End User (Electrical & Electronics, Pharmaceuticals, Others), and By Region – Global Market Insights 2023 to 2033
Analysis of Ruthenium Market Covering 30+ Countries Including Analysis of US, Canada, UK, Germany, France, Nordics, GCC countries, Japan, Korea and many more
Ruthenium Market Growth Outlook (2023 to 2033)
The global ruthenium market is valued at US$ 5.13 billion in 2023 and is forecasted to reach US$ 8.18 billion by the end of 2033, rising at a steady CAGR of 4.7% from 2023 to 2033.
The transition metal ruthenium (Ru), which is white and silvery in color, is a member of the platinum family. It serves as an inert to the majority of chemicals and is used to make thick-film resistors, thick-film electrical contacts, platinum alloys, and catalysts. The extensive usage of ruthenium in the aerospace and electrochemical industries is the main reason propelling market expansion worldwide.
Hard disk devices use ruthenium metal to boost their storage capacity. It is frequently utilized as a barrier layer, electrical contacts, and chip resistors for making microelectronic chips. Moreover, ruthenium reduces the possibility of electromigration, which could lead to degradation and disconnection in electronic devices.
A sort of member of the family of ruthenium compounds is ruthenium tetroxide. It is a particular class of inorganic chemical compounds with a yellow physical appearance. It melts at normal temperature and is a volatile solid. It is made by oxidizing ruthenium trichloride with sodium periodate and is soluble in a few solvents, one of which is carbon tetrachloride (Inorganic salt). It is frequently produced by combining a catalytic amount of ruthenium source in chemical reactions with a cheap re-oxidant that produces ruthenium tetroxide. It is highly reactive, poisonous, and rather expensive.
White and hard, ruthenium (Ru) is a metal. It does not tarnish at room temperature, but above roughly 800°C, it oxidizes in the air. It makes up the platinum group metals together with rhodium (Rh), palladium (Pd), osmium (Os), iridium (Ir), and platinum (Pt) (PGM). Aqua regia, hot acids, or cold acids have little effect on the metal, but when potassium chlorate is added to the solution, the metal oxidizes violently. It disintegrated in hot alkalis.
Ruthenium is mostly used in alloying, with minor amounts also employed in the chemical and electronic industries (50 and 40%, respectively). The majority of it now goes into chip resistors in electronics, where it was formerly mostly utilized for electrical connections. It is utilized in anodes in the chemical sector to produce chlorine.
Increased demand for ruthenium in the chemical industry is expected to drive up product demand over the next few years. The process of electroplating a substrate metal with precious metals, such as ruthenium, helps to enhance the aesthetics of the underlying substrate and helps to impart additional features such as improving electrical conductivity and surface ductility. It also helps to enhance wear resistance and corrosion resistance.
Demand for ruthenium is anticipated to be stimulated by its growing utilization in the pharmaceutical industry. Ruthenium's therapeutic benefits as an anticancer agent have demonstrated a beneficial effect on cancers that are resistant to other drugs. The activity of ruthenium compounds is dependent on both the ligand and the oxidation state, just such as all metal-based medicines.
Ruthenium-based antibiotics, antimalarial, and immunosuppressive medications have been created by manipulating these characteristics. Moreover, ruthenium possesses extraordinary qualities that are specifically used in the creation of pharmaceutical products.
In March 2022, Indegene, a provider of technology-driven healthcare solutions, and meta-Me Health, a manufacturer of Regulora and a Prescription Digital Therapeutics (PDT) company, partnered to make Regulora available as a treatment for stomach pain associated with irritable bowel syndrome (IBS).
Report Attributes

Details

Ruthenium Market Size in 2022

US$ 4.9 Billion

Estimated Market Value in 2023

US$ 5.13 Billion

Projected Market Value (2033)

US$ 8.18 Billion

Global Market Growth Rate (2023 to 2033)

4.7% CAGR

Asia Pacific Market Growth Rate (2023 to 2023)

6.7% CAGR

Companies Profiled

British Fluorspar Ltd.
China Kings Resources Group Co. Ltd.
Gupo Minersa
Jianyang Shanshui Chemicals Industry CORP. Ltd.
Prima Fluorspar Corp.
Mongolrostsvetmet LLC.
Seaforth Mineral & Ore Co.
Sinochem Latina Co. Ltd.
What are the Key Factors Influencing the Demand for Ruthenium?
"Increasing Consumption of Ruthenium in Electrical Industry"
The need for hard disks, thick film chip resistors, and plasma display panels in the electrical industry is one of the main drivers of the growth of the ruthenium market. It is projected that the need for ruthenium as a catalyst, particularly in the Chlor-alkali process, will further accelerate global market growth. In addition to these important uses, thin-film solar cells and superalloys will make significant contributions.
Over the coming years, it is anticipated that the worldwide ruthenium market will experience considerable expansion due to its use as a barrier layer in the microelectronic chip manufacturing process and as an important material in the electronics and semiconductor industries.
Ruthenium oxide is used to coat anodes in electrochemical cells and is utilized in the chemical sector to produce chlorine. To increase the hardness of platinum or palladium for use in the creation of electrical contacts with wear-resistant qualities, ruthenium is typically alloyed with these metals. This enhances electroplating when utilizing these metals by enabling the application of a noticeably thinner layer.
"Technological Advancements in Electronic Devices Driving Demand for Ruthenium"
Demand for ruthenium is expected going to be driven by rising demand from the semiconductor and electronics industries. IoT technology advancements have transformed network connectivity, enabling a variety of devices, including smartphones, PCs, and other personal computers, to connect to the cloud. The development of silicon chips has made all of this possible. Ruthenium is regarded as a ground-breaking substance in this industry.
What are the Key Restraints for Market Growth?
"Scarcity and Poisonous Oxides of Ruthenium"
The government rules and the scarcity of ruthenium, however, are limiting this market's expansion. Even though ruthenium is not known to play any biologically significant roles, its oxides are extremely poisonous and a threat to the world's ruthenium market.
The market for ruthenium tetroxide will face additional challenges over the forecast period since ruthenium tetroxide is a costly, very poisonous chemical product that is only occasionally found in the marketplace. This is a major factor acting as a market growth restraint.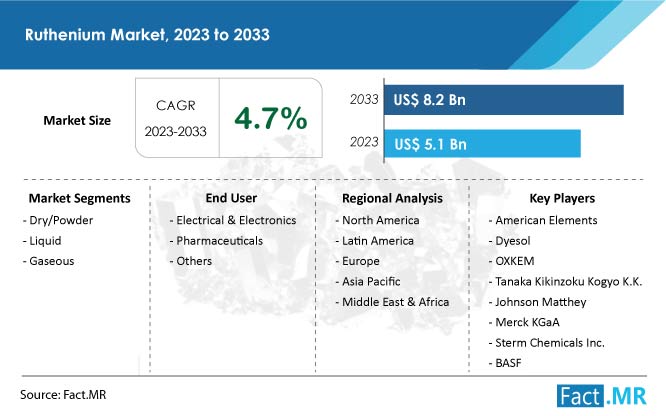 Country-wise Insights
Why is Significant Market Expansion Being Witnessed in the United States?
"High Demand from Medical Industry in the Country"
Due to the majority of this metal's production and consumption occurring in this region, North America is anticipated to be a key market for ruthenium. The medical industry, with the recently established ruthenium-based cancer therapy, is anticipated to help in the domestic consumption of the ruthenium produced, in addition to the chemical and electronic sectors.
Many factors, including the demand for ruthenium-based products, technological and R&D advances, and economic conditions, have an impact on the value of ruthenium in the creation of ruthenium compounds and metals in the United States.
Demand for ruthenium-based products is being driven by the expansion of the electronic, aerospace, and automotive industries, which is raising the price of ruthenium tetroxide. Technology advancement has resulted in the creation of novel uses for ruthenium, increasing its value. One encouraging trend that is anticipated to continue in the years to come is the growing commercial value of ruthenium tetroxide in the creation of ruthenium compounds in the United States.
Which Factors are Complementing Market Expansion in India & China?
"Commercialization of Ruthenium Tetroxide"
The presence of significant exporters and importers such as India and China, the swift development of industries across the board, and increased support are the main factors ascribed to the growth of the ruthenium market in the Asia Pacific region.
The utilization rate of ruthenium tetroxide is projected to rise to close the gap between consumer demand and supply for electronics and electricity. Also, another element that stimulates significant revenue creation is the simplicity with which substances such as ruthenium tetroxide can be commercialized.
Category-wise Insights
Why is There Strong Demand for Powdered Ruthenium?
"Quicker Time to Yield Chemical Reaction"
In terms of form, dry/powder form held the major market share and is predicted to expand at 5.5% CAGR over the decade. This type of ruthenium has the advantage of having a quicker reaction time, which increases the yield of chemical reactions. This factor is expected to upsurge the overall sales of ruthenium over the coming years.
Will Consumption of Ruthenium Remain High in the Electrical and Electronics Industry?
"Capacity of Hard Disks to Hold Excess Data with PMR Technology"
The electrical and electronics industry retained a sizable market share among the end uses and is anticipated to expand at a rate of 5.5% from 2023 to 2033.
Ruthenium is used in a variety of electrical applications, such as chip resistors, plasma display panels for flat-screen televisions, and perpendicular magnetic recording (PMR) technology, which increases the amount of data that can be stored on hard drives.
Competitive Landscape
The research discusses significant market developments for ruthenium as well as organic and inorganic growth tactics. Numerous businesses are emphasizing organic growth strategies, including type launches, type approvals, and other similar tactics.
Acquisitions, partnerships, and collaborations are inorganic growth tactics that are being observed in the market. These have allowed companies in the ruthenium market to increase their clientele and revenue share. With increasing demand for ruthenium in the global market, ruthenium producers are projected to benefit from lucrative growth prospects in the future.
April 2022: Biopharmaceutical company Ardelyx released IBSRELA, the first and only NHE3 inhibitor for the treatment of irritable bowel syndrome with constipation (IBS-C) in adults. IBSRELA is the first Ardelyx medication to earn United States Food and Drug Administration approval.
Ruthenium Industry Research Segmentation
By Form :

Dry/Powder
Liquid
Gaseous

By Distribution Channel :

By End Use :

Electrical & Electronics
Pharmaceuticals

By Region :

North America
Latin America
Europe
Asia Pacific & China
Middle East & Africa
- FAQs -
The global ruthenium market is valued at US$ 5.13 billion in 2023.
Global demand for ruthenium is expected to rise at a CAGR of 4.7% from 2023 to 2033.
The market for ruthenium is anticipated to reach US$ 8.18 billion by 2033.
The regional segmentation of the market includes North America, Latin Asia Pacific, Europe, and the Middle East & Africa.
American Elements, Dyesol, OXKEM, Tanaka Kikinzoku Kogyo K.K., Johnson Matthey, Merck KGaA, Sterm Chemicals Inc., and BASF are key players in the ruthenium market.