Single Use Assemblies Market
Single Use Assemblies Market Size, Share, Value, Forecast Analysis, By Product (Bag Assemblies, Filtration Assemblies, Bottle Assemblies, Others), By Application (Filtration, Cell Culture & Mixing, Storage, Sampling, Others), By End User & By Region - Global Market Insights 2022-2032
Analysis of Single Use Assemblies Market Covering 30+ Countries Including Analysis of US, Canada, UK, Germany, France, Nordics, GCC countries, Japan, Korea and many more
Single Use Assemblies Market Outlook (2022-2032)
Worldwide demand for single use assemblies is predicted to skyrocket at a CAGR of 24% from 2022 to 2032. Currently, the global single-use assemblies market is valued at US$ 3 billion and is expected to climb to US$ 25.8 billion by 2032-end.
Global sales of bag assemblies are anticipated to increase at an astounding CAGR of 29% from 2022 to 2032. Bag assemblies are becoming more popular due to their benefits such as cheaper maintenance expenses, less capital expenditure, lower cost of shipping due to low weight, and no need for validation or cleaning.
Bag assemblies are further subdivided into 2D and 3D bag assemblies. Due to variables such as technological developments, 2D bag assemblies hold the highest market share.
Aramus single-use 2D bags, for instance, are made of a premium, gamma-stable fluoropolymer that provides greater compatibility, greater purity, and higher safety for finished products and crucial process fluids.
Aramus single-use 2D bags are more durable in cold applications (to -85°C [-121°F] or lower) without damaging the film since they are built with unique single-layer technology and have the widest operating temperature range.
Single use assemblies are classified into bag assemblies, filtration assemblies, bottle assemblies, mixing system assemblies, and others.
Demand for filtration assemblies is expected to expand at a CAGR of 24% during the forecast period. The use of filtration assemblies for bulk and final-fill processes has been encouraged by improved regulatory prospects and the requirement to reduce the danger of contamination.
Since single-use filtration assemblies eliminate away with sterilizing steps and the associated validation procedures, they offer a versatile and effective replacement for stainless-steel systems.
Single-use assemblies are plastic fluid paths that are self-contained, preassembled, and built from a variety of standard components. They are often gamma-irradiated for sterility and are ready to use.
To match particular applications and unit activities, single use assemblies might be modified. The execution of many procedures in manufacturing and R&D activities depends heavily on single use assemblies.
A transfer between single-use and hybrid systems, as well as between cleanroom or isolator walls, depends on tubing assemblies.
For instance, Sartorius one of the major players provides high-quality single use tubing assembles.
Sample bottles, filters, tubing, clamps, check valves, fittings, sterile connectors, and seals are among the industrial products that are frequently utilised. During the projection period, the single use assemblies market's growth is anticipated to be aided by the expanding biologics sector, ongoing bioprocessing technological advancements, rising biopharmaceutical R&D, and increasing acceptance of single use assemblies by various CMOs.
In addition to reducing costs, single-use technologies also cut down on sterile connections, integrity testing, and tubing time by up to 90%. Due to their readiness for usage, unlike traditional filtration systems, single-use flirting systems also reduce process time. Multiple production facilities will be needed to satisfy the growing market demand for biopharmaceuticals for them to be commercially successful.
The significance of single-use technology in advancing cutting-edge research into these ailments, such as cancer research and medicines for uncommon diseases, is expected to increase, spurring single use assembly demand.
Thus, global sales of single use assemblies are likely to surge in the years ahead due to the rising fear of contagious infections and the increasing rate of chronic diseases.
Report Attributes

Details

Single Use Assemblies Market Size (2022E)

US$ 3 Billion

Forecasted Market Value (2032F)

US$ 25.8 Billion

Global Market Growth Rate (2022-2032)

24% CAGR

China Market Growth Rate (2022-2032)

30.5% CAGR

Key Companies Profiled

Avantor
Charter Medical
Colder Products Company
Cole Parmer
Corning
Danaher
Entegris
Flexbiosys
Foxx Life Sciences
GE Healthcare
Intellitech
Keofitt
Lonza
Meissner
Merck Millipore
NewAge Industries
Parker Hannifin
Repligen
Romynox
Saint-Gobain
SaniSure
Sartorius Stedim Biotech
TBL Performance Plastics
Thermo Fisher Scientific
WHK BioSystems
Know thy Competitors
Competitive landscape highlights only certain players
Complete list available upon request
Why are Sales of Single-use Bag Assemblies Skyrocketing?
"COVID-19 Generated New Opportunities for Manufacturers of Single Use Assemblies"
As a result of COVID-19, demand for single-use assemblies has increased even more because the technology behind them makes it possible to manufacture medicines and vaccines more quickly, with more accuracy and efficiency.
For example, Entegris, Inc.'s Aramus single-use bag assemblies were utilised to store COVID-19 vaccinations because they require extremely low temperatures to remain viable.
The unique single-use bags were perfect for cold chain storage and collection since they had low leachable and extractable levels and a wide range of operating temperatures.
"Ongoing Developments in HIV Vaccines & Rising Cases of Cancer"
The development of effective innovative biologics solutions for the detection and treatment of cancer is expanding due to the increasing incidences of infectious diseases and cancer.
Furthermore, the business is expected to expand as a result of an increase in contagious diseases, such as lower respiratory infections and the Human Immunodeficiency Virus (HIV), in recent years as a result of climate change, shifting lifestyle patterns, and fast urbanization.
For instance, lower respiratory infections were the fourth leading cause of death worldwide, according to the WHO.
Additionally, UNAIDS states that there were 38.4 million new HIV cases worldwide in 2021.
"Rising Incidence of Contagious Infections across the World"
Improved diagnostic and therapeutic options, such as biologics, are needed for the treatment of infectious diseases, which are projected to accelerate demand for single-use assemblies. Novel vaccine advancements for several infectious illnesses are also anticipated to support sales growth.
For instance, Moderna began a fresh clinical trial in January 2022 for an HIV vaccine that makes use of mRNA technology comparable to that used in the (company's) COVID-19 mRNA vaccine.
These initiatives highlight the utilization of recently developed technologies in the biologics industry, and this vaccine aims to produce antibodies that can neutralize HIV particles. Similar cooperative efforts are being made to create new vaccine alternatives as a result of emerging infectious diseases that have the potential to become pandemics in the future.
For instance, in August 2022, NightHawk Biosciences and Lytic Solutions signed a contract to assist NightHawk's efforts to produce a new subunit monkeypox vaccine. Lytic Solutions provides a variety of molecular biology equipment for research use.
The implementation of single use assemblies for the manufacturing of newly designed vaccines will therefore likely be strongly influenced by such technological advancements and cooperative initiatives in the coming years.
Furthermore, the usage of single use assemblies boosts productivity in the production process by reducing automation complexity and eliminating the need for transition validation or cleaning in between operations.
More Insights, Lesser Cost (-50% off)
Insights on import/export production,
pricing analysis, and more – Only @ Fact.MR
What Can Act As a Hurdle for the Single Use Assemblies Marketing Process?
"Risks Related to Cross-contamination"
A majority of end users, including big research centres and pharmaceutical firms, need a lot of single use assemblies to run several production processes and research investigations. High temperature and ambient conditions are used for these experiments and processes.
Single use assemblies are composed of plastics and polymers that contain different preservatives that are likely to deteriorate in small amounts as extractables and leachables. This raises the possibility of material cross-contamination. Therefore, the sales of single-use assemblies are being constrained by substantial concerns about extractables and leachables.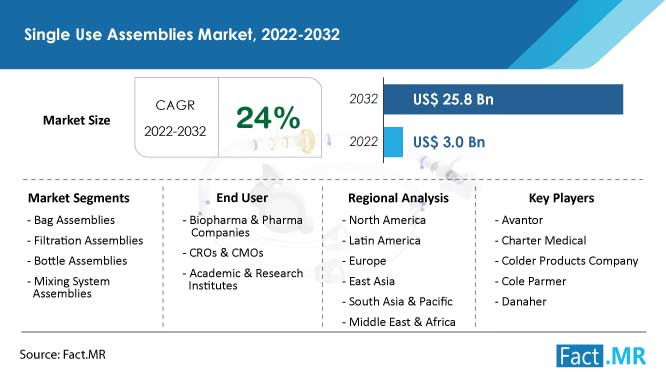 Which Region Accounts for High Demand for Single Use Assemblies?
"Rising Cases of Cancer & High Investments in Drug Discovery Research Boost Sales of Single Use Assemblies in North America"
North America dominates the worldwide sales of single-use assemblies. The region's large market share can be attributed to several factors, including its well-established biopharmaceutical industry, the wide availability of single use assemblies provided by local industry leaders, the rising production of biologics and biosimilars, the rising cases of diseases such as cancer, and investments and financing in drug discovery research.
The largest single-use technology production facility in the world was opened in Greater Nashville by Thermo Fisher Scientific Inc. in 2022. The 400,000 square foot, US$ 105 million facility enables the business to assist in meeting the quickly rising demand for the bioprocessing components required to create vaccinations and ground-breaking treatments for cancer and other disorders.
Single use assemblies have been increasingly popular over the past ten years due to their benefits. Many pharmaceutical and biopharmaceutical companies anticipate expanding their single-use manufacturing facilities in emerging nations such as China, India, and South Korea to turn these nations into a hub for outsourcing bioprocesses.
These nations also offer favourable regulatory environments and cost advantages. The growing amount of investments made by major market participants in developing nations also supports this growth.
For instance, Cytiva strengthened its supply chain in the Asia Pacific region by partnering with Wego Pharmaceutical to increase its manufacturing capacity in China.
Japan, South Korea, and Southeast Asian Countries are noteworthy markets in the Asia Pacific region.
Country-wise Analysis
Why is the U.S. a Lucrative Market for Manufacturers of Single Use Assemblies?
"Well-established Pharma Sector Driving Need for Demand for Single Use Assemblies"
According to the International Trade Administration (ITA), which is run by the U.S. Department of Commerce to encourage and support foreign investment in the country, the United States is the largest biopharmaceutical market in the world, accounting for almost a third of global sales, and it leads the world in biopharmaceutical research and development.
One of the best domestic settings across the globe for pharmaceutical research and commercialization, with low market barriers, is the United States. The sophisticated pharmaceutical and biopharmaceutical industries, as well as a favourable domestic climate, encourage sales of single use assemblies.
What is Supporting Germany's Single Use Assemblies Market Growth?
"Growing Biological Industry Supporting Sales of Single Use Assemblies"
Germany is expected to dominate the Europe single use assemblies market during the forecast period. The single use assemblies market in this country is considered to be influenced more by biological than by pharmaceutical therapeutic options.
As a result, the demand for the German biopharmaceutical contract manufacturing market is rising, which in turn boosts sales of single use assemblies. More research and clinical trials in biopharmaceuticals are being conducted to cut costs and focus on outsourcing the majority of research activities.
Category-wise Analysis
Why is There High Demand for Single Use Assemblies in the Biopharma & Pharma Sectors?
"Rising R&D Activities in Biopharmaceutical & Pharmaceutical Manufacturing Units"
Demand for single use assemblies is currently dominated by the biopharmaceutical and pharmaceutical industries, which also account for the largest portion of revenue-more than 40%.
To simplify the upstream procedure, biopharmaceutical and pharmaceutical companies constantly use single use assemblies and consumables such as single-use manifolds, aseptic bottle transfers, and bespoke tube kits.
Pharmaceutical and biopharmaceutical companies have greatly increased the number of funds they spend on research and development. Thus, the demand for single-use assemblies is driven by the growth of biopharmaceutical manufacturing facilities.
In recent years, a large number of medications have been approved and are now categorised as "specialty pharmaceuticals". The use of specialty medications, which may require particular patient management or monitoring, is reserved for the treatment of chronic, complex, or unusual disorders.
Biologics (big-molecule drugs based on living cell lines) make up a substantial portion of specialised medications; are pricy, difficult to replicate, and expensive to produce. Thus, the development of affordable biologics has become more important to biopharmaceutical businesses.
Don't Need a Global Report?
save 40%! on Country & Region specific reports
Competitive Landscape
Numerous significant participants exist in the highly fragmented single use assemblies industry. Key players in the single use assemblies market are Sartorius AG, Danaher Corporation, Thermo Fisher Scientific, GE Healthcare, Parker Hannifin Corporation, Merck KGaA, Avantor Inc, and Saint-Gobain.
Avantor purchased RIM Bio, a Chinese manufacturer of single-use bioprocess bags and parts for biopharmaceutical production, in June 2021. With this acquisition, Avantor will have access to RIM's facility in Changzhou, China, making it the company's first single-use manufacturing facility in the AMEA region. Avantor plans to exploit RIM's unique technologies and quick lead times to differentiate its services for single-use users.
Segments of Single Use Assemblies Industry Research
By Product :

Bag Assemblies
Filtration Assemblies
Bottle Assemblies
Mixing System Assemblies
Others

By Application :

Filtration
Cell Culture & Mixing
Storage
Sampling
Fill-finish Application
Others

By End User :

Biopharma & Pharma Companies
CROs & CMOs
Academic & Research Institutes

By Region :

North America
Latin America
Europe
East Asia
South Asia & Oceania
MEA
- FAQs -
Demand for single use assemblies is predicted to expand at a CAGR of 24% from 2022 to 2032.
The market for single use assemblies is predicted to reach US$ 25.8 billion by 2032.
Currently, worldwide sales of single use assemblies are valued at US$ 3 billion.
China's single use assemblies market is predicted to rise at a significant CAGR of 30.5% during the forecast period.
Key suppliers of single use assemblies are Sartorius AG, Danaher Corporation, Thermo Fisher Scientific, GE Healthcare, Parker Hannifin Corporation, Merck KGaA, Avantor Inc, and Saint-Gobain.