Solid Phase Extraction Market
Solid Phase Extraction Market Analysis by Type (SPE Disks, SPE Cartridges), By Application (Pharmaceutical Industries, Academic & Research Institutes, Environmental, Hospitals & Clinics, Food & Beverages, Biological Fluids) & By Region – Global Market Insights 2023 to 2033
Analysis of Solid Phase Extraction Market Covering 30+ Countries Including Analysis of US, Canada, UK, Germany, France, Nordics, GCC countries, Japan, Korea and many more
Solid Phase Extraction Market Outlook (2023 to 2033)
The valuation of the global solid phase extraction (SPE) market stands at US$ 7 billion in 2023 and is forecasted to rise to US$ 11 billion by 2033, advancing at a CAGR of 4.4% over the decade.
Solid-phase extraction is a popular method for isolating and purifying chemical molecules. The procedure entails creating an organic liquid that can be applied to the surface of a solid substance. Some of the compound's solutes cling to it, while others remain in the bulk solution because they cannot adhere to the water-resistant polymer or stationary phase. Solid phase extraction is known as SPE or SPME, depending on whether reversed-phase or normal-phase columns are used.
Reversed-phase SPE is regarded as the least selective retention mechanism. In other words, it might be challenging for a bonded chemistry or reversed-phase approach to distinguish between molecules with identical structural properties. The reversed phase is advantageous for capturing analytes of diverse structural profiles from a single sample due to its capability to retain a majority of molecules exhibiting hydrophobic traits.
Compounds of interest are isolated from complicated matrices using SPE machinery. The apparatus consists of a tank in which the sample and extraction solvent are combined before being run through a column, disc, or well plate that has already been coated with a sorbent. The target compound is selectively bound by the substance, and after being eluted from the column, disc, or plate, it is examined. SPE is a sample preparation method that is frequently employed in the chemical, food, and biological sectors.
The primary idea behind SPE cartridges is to have the liquid sample pass through the adsorbent to retain the tested component. The contaminants are then rinsed away with the proper solvent strength. Categorized by the packing materials within the SPE cartridges, three types of SPE cartridges exist, differentiated by their analogous dissolution mechanisms: normal phase extraction, reverse phase extraction, and ion exchange extraction.
Solid phase microextraction (SPME) is a novel, solvent-free sample preparation technique. SPME concentrates volatile and semi-volatile chemicals from a sample using a coated fiber and the adsorption/absorption/desorption principle. Dispersive solid-phase extraction (dSPE) is a sorbent-based technique that is commonly used in sample preparation for sample cleaning and analyte preconcentration.
Before chromatographic analysis, SPE enables quick, selective sample preparation and purification. SPE is a method of isolating one or more analytes from a liquid sample by extracting, partitioning, and adsorbing onto a solid stationary phase. MSPE is a type of dispersive solid-phase extraction in which a magnetic sorbent is introduced to an aqueous sample to adsorb the target analytes. An external magnetic field is used to readily separate the sorbent.
SPE employs a spin column powered by centrifugal force to purify DNA quickly and efficiently without the constraints of liquid extraction, such as incomplete phase separation. SPE with silica is now one of the most widely used methods for extracting nucleic acids. SPE entails cell lysis, nucleic acid adsorption, washing, and elution. Column conditioning is accomplished by applying a buffer of a specific pH. The nucleic acid is released after cell lysis and decanting of the lysis buffer into the column.
Report Attributes
Details

Solid Phase Extraction Market Size (2022)

US$ 6.7 Billion

Estimated Market Value (2023)

US$ 7 Billion

Forecasted Market Value (2033)

US$ 11 Billion

Global Market Growth Rate (2023 to 2033)

4.4% CAGR

SPE Disks Segment Growth Rate (2023 to 2033)

6% CAGR

North America Market Growth Rate (2023 to 2033)

5.5% CAGR

Key Companies Profiled

Gilson
Shimadzu
Thermo Fisher
3M
PreeKem
Orochem Technologies Inc.
United Chemical Technologies
Restek Corporation
ANPEL
Avantor, Inc
What are the Key Factors Behind the Increasing Demand for Solid Phase Extraction?
"Market Benefitting from SPE's Enhanced Drug Discovery and Low Solvent Consumption for Pharmaceutical Analysis"
Evaluation of pharmacodynamic and pharmacokinetic properties of candidate compounds, as well as drug metabolism, plays a critical role in drug discovery. The main advantage of adopting the SPE technique is the low solvent consumption and high yield. SPE typically employs disposable cartridges packed with small-particle-size sorbents, making it rapid and simple to run. Sample handling losses are eliminated, and pharmacological samples can be easily automated.
SPE produces accurate results in a shorter amount of time. It attempts to provide compact and automated technologies for pharmaceutical analysis and drug quality monitoring. As a result, further investment in drug discovery is projected to propel the use of solid phase extraction methods.
"Increasing Demand for SPE Solutions from Beverage Industry"
Demand for SPE techniques is expected to rise as a result of the enormous quantity of foods and other materials that need to be tested, purified, and quantified.
Young people's aspirations to raise their standard of living are anticipated to fuel the expansion of the nation's expanding beverages sector. Anticipated future market expansion is attributed to the increasing prevalence of out-of-home consumption and a growing inclination towards convenience. With demand for beverages rising significantly, the solid phase extraction market is poised for substantial growth opportunities in the times ahead.
Don't Need a Global Report?
save 40%! on Country & Region specific reports
What are the Primary Hurdles Encountered by Companies in the Solid Phase Extraction Industry?
"High Initial Investment, Method Development Complexity, and Matrix Interference Extending SPE Turnaround Times"
Initial investment required for setting up an SPE system, including instruments and consumables, can be significant. This cost may deter some laboratories, especially smaller ones, from adopting SPE and opting for alternative sample preparation techniques.
Developing an effective SPE method requires expertise in choosing the appropriate sorbent, optimizing parameters, and validating the process. The complexity of method development can be a challenge for analysts and researchers, leading to delayed implementation.
Certain complex sample matrices, such as biological fluids or environmental samples, may contain interfering substances that could affect the extraction efficiency and accuracy of SPE. Overcoming matrix interferences requires additional sample cleanup steps or modifications to the SPE method, making it more time-consuming and challenging.
"Lack of SPE Protocol Standardization Leading to Uncertain Results and Reduced Data Reliability"
Lack of standardized SPE protocols for various applications can lead to inconsistencies in results among different laboratories. Absence of unified guidelines may create uncertainties in the accuracy and reliability of data obtained through SPE.
To maximize the benefits of SPE, operators need to be well-trained in method development, instrument operation, and troubleshooting. Lack of skilled personnel or limited resources for training can hinder the effective utilization of SPE systems.
While SPE is known for its low solvent consumption, some sorbents used in SPE still require the use of hazardous solvents during elution. Increasing environmental awareness and regulations can push laboratories to seek greener alternatives or limit the use of certain sorbents.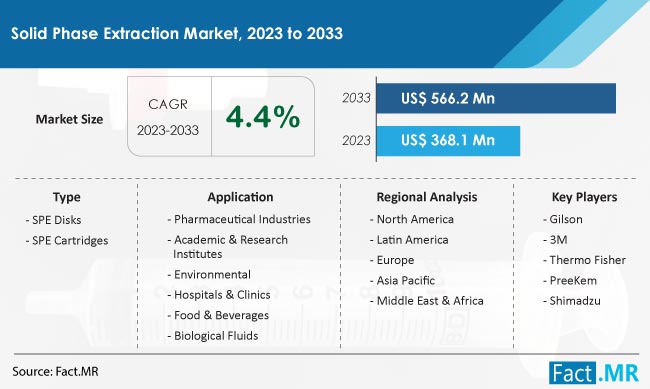 Country-wise Analysis
What's Behind the Rising Popularity of SPE in the United States?
"Environmental Concerns, Food Safety Standards, and Related R&D Efforts"
The United States is leading the growth of the market in North America, which is projected to expand at 5.5% CAGR through 2033.
The United States market for SPE products and services due to the country's strong presence in pharmaceuticals, environmental monitoring, food safety, and other industries that rely on accurate and efficient sample preparation techniques. This dominance can be linked to the rise in biotech and pharmaceutical businesses, the expansion of R&D resources, the concentration of major market participants, and the accessibility of cutting-edge tools and technology for drug discovery research.
With increasing environmental regulations and growing awareness of environmental safety, the United States placed significant emphasis on monitoring and controlling pollutants in water and soil samples, driving the adoption of SPE for environmental testing.
The United States has stringent food safety regulations, requiring reliable and accurate methods for analyzing food contaminants and additives. SPE played a vital role in sample preparation for food safety analysis. Constant research and development efforts in the field of analytical chemistry and sample preparation techniques contributed to the growth of the solid phase extraction market in the United States.
Why is Germany a Profitable Market for SPE Providers?
"Widespread Utilization of SPE in Environmental Testing & Control"
The solid phase extraction industry is anticipated to expand as a result of Europe's enormous growth potential for market participants, with government programs supporting such projects.
For instance, the European Commission's Horizon 2020 program supports and finances over US$ 115 billion worth of pharmaceutical projects. Additionally, presence of major companies like Biotage AB (Sweden), Merck KGaA (Germany), and Gilson Incorporated in the region is anticipated to promote market expansion.
Germany is a major player in the pharmaceutical and biotechnology sectors, driving the demand for advanced analytical techniques such as SPE for drug development and quality control. The country has stringent environmental regulations, leading to a high demand for reliable methods to monitor and analyze pollutants in water, soil, and air samples. SPE was widely adopted for environmental testing and monitoring applications.
Advancements in automated SPE systems, availability of novel sorbent materials, and integration of SPE with analytical instruments have driven the adoption of SPE in German laboratories. High-throughput laboratories in Germany seek efficient and automated sample preparation methods, making SPE an attractive choice for its ability to handle large sample volumes.
More Insights, Lesser Cost (-50% off)
Insights on import/export production,
pricing analysis, and more – Only @ Fact.MR
Category-wise Insights
Why are We Witnessing Growing Acceptance of SPE Cartridges?
"SPE Cartridges Facilitating Precise Sample Preparation and Efficient Analysis"
SPE cartridges are essential components of the SPE process. These cartridges are designed to contain sorbent materials that selectively retain target analytes from a sample matrix during the extraction process. SPE cartridges come in various sizes and formats to accommodate different sample volumes and application requirements.
Some SPE cartridges are specifically functionalized to target certain compounds, making them ideal for specific applications such as polar or non-polar compounds or analytes with specific chemical functionalities.
SPE cartridges are widely used in pharmaceutical, environmental, food safety, and other industries for sample preparation before analysis. They play a crucial role in isolating and purifying target compounds, improving the accuracy and reliability of analytical results. The versatility, ease of use, and variety of formats make SPE cartridges an essential tool for researchers and analysts seeking efficient and reliable sample preparation techniques.
Which Industry Extensively Utilizes SPE Techniques?
"Widespread Use of SPE in Environmental Monitoring Due to its Effective Isolation and Purification of Target Analytes from Complex Matrices"
SPE is a widely utilized technique in environmental analysis due to its effectiveness in isolating, concentrating, and purifying target analytes from complex environmental matrices. This application of SPE plays a crucial role in enhancing environmental monitoring and detection efforts.
Environmental samples, such as water, soil, and air, often contain various interfering substances that can affect the accuracy of analytical results. SPE provides an efficient sample cleanup process, removing unwanted matrix components and retaining the target analytes of interest.
SPE cartridges are packed with specific sorbent materials that possess a selective affinity for certain classes of pollutants or contaminants. This selectivity allows analysts to target and concentrate on specific analytes, enhancing the sensitivity and accuracy of the analysis.
The concentration of target analytes achieved through SPE allows for improved sensitivity in environmental analysis. This is particularly crucial when monitoring low-level concentrations of pollutants or trace contaminants.
Competitive Landscape
The competitive landscape in the solid phase extraction market is evolving, with new entrants, mergers, acquisitions, and advancements in technology potentially influencing market dynamics.
In December 2022, Agilent Technologies and Fluid Management Systems (FMS), an industry leader in automated sample preparation systems, teamed up to create and market workflows for the testing and evaluation of POPs, including PFAS, Dioxins, PCBs, and other new contaminants in environmental and food matrices.
Know thy Competitors
Competitive landscape highlights only certain players
Complete list available upon request
Key Segments of Solid Phase Extraction Industry Research
By Type :

By Application :

Pharmaceutical Industries
Academic & Research Institutes
Environmental
Hospitals & Clinics
Food & Beverages
Biological Fluids

By Region :

North America
Latin America
Europe
Asia Pacific
Middle East & Africa
- FAQs -
The global solid phase extraction market stands at US$ 7 billion in 2023.
The market for solid phase extraction is predicted to rise at a CAGR of 4.4% from 2023 to 2033.
Demand for solid phase extraction is anticipated to reach a market value of US$ 11 billion by 2033.
North America is set to hold a leading share of the global market and expand faster than other regional markets at 5.5% CAGR.
Demand for SPE disks is predicted to rise at 6% CAGR through 2033.