Sound Barrier Market
Sound Barrier Market Analysis By Product Type (Metal, Fiberglass, Polycarbonate), By Application (Building & Construction, Transportation, Industrial, Airports) & By Region - Global Market Insights 2023 to 2033
Analysis of Sound Barrier Market Covering 30+ Countries Including Analysis of US, Canada, UK, Germany, France, Nordics, GCC countries, Japan, Korea and many more
Sound Barrier Market Outlook (2023 to 2033)
The valuation of the global sound barrier market is estimated at US$ 5.1 billion in 2023. This Fact.MR study estimates that worldwide demand for sound barriers is set to increase at a CAGR of 6.5% and reach a market size of US$ 9.57 billion by 2033.
A sound barrier, also called an acoustical barrier, is an external structure or barrier wall designed to prevent the intrusion of noise pollution into environmentally sensitive areas. In addition to halting the originating noise-producing activity or employing source control measures, outdoor sound barriers stand out as the most efficient method for reducing noise emissions from roadways, railways, and industrial sites.
Several other measures can reduce the noise generated due to surface transportation. These include promoting the use of hybrid and electric vehicles, advancing the aerodynamics and tires of vehicles, and selecting pavement materials that reduce noise. These tactics aid in reducing the level of noise generated due to transportation sources.
While North America is a key market for sound barrier technology providers, market players could look at Asia Pacific where market growth would be faster over the decade.
Metal sound barriers, fiberglass sound barriers, and polycarbonate sound barriers are some of the types of sound barriers. Compared to other sound barriers, polycarbonate noise barriers are highly demanded, as they are durable, transparent, and translucent thermoplastic material and offer a combination of high-impact resistance, strength, and optical clarity.
Polycarbonate sound barrier panels are often installed at construction sites, highways, railways, and other noise-emitting areas to reduce the transmission of noise to surrounding sensitive environments. Polycarbonate noise barriers are usually designed to be visually appealing and can blend well with the surrounding environment due to their transparency and the possibility of adding decorative elements. These features are making them a preferred choice in urban and aesthetically conscious settings where traditional acoustic barriers might look good.
Polycarbonate is known for its durability and resistance to weather conditions, UV radiation, and other impacts. Polycarbonate exterior sound barriers are considered a perfect option compared to other sound barrier insulations, as they require less maintenance. The combination of these factors is contributing to higher demand for polycarbonate sound barriers as an efficient and versatile solution for mitigating noise pollution while offering aesthetic appeal and durability.
Report Attributes
Details

Sound Barrier Market Size (2023E)

US$ 5.10 Billion

Forecasted Market Value (2033F)

US$ 9.57 Billion

Global Market Growth Rate (2023 to 2033)

6.5% CAGR

Leading Regional Market

North America

Emerging Regional Market

Asia Pacific

Key Companies Profiled

Evonik Degussa
Industrial Noise Control
Armtek
DELTABLOC International GmbH
Kinetics Noise Control
Akripol
REBLOC GmbH
Gramm Barriers
Sankwong
Knauf Insulation
Rockwool International A/S
Saint-Gobain
Soprema
Armacell International
Don't Need a Global Report?
save 40%! on Country & Region specific reports
Why is Demand for Sound Barriers Rising Across Geographies?
"Increasing Noise Pollution Due to Surge in Commercial & Industrial Activities"
Rapid urbanization across several regions is contributing to the reshaping of landscapes and changes in human lifestyle. The growing urban population is an indication of high infrastructural development. One of the significant consequences of this urban growth is the increase in noise pollution, stemming from high vehicular traffic, bustling transportation systems, and a surge in commercial and industrial activities.
Growing urban population is also accelerating the growth in infrastructural activities such as the construction of roads, highways, railways, and airports. However, this essential expansion comes at the cost of noise pollution. The honking horns, roaring engines, screeching brakes, and rumbling trains are all impacting the quality of life of those residing in densely populated urban areas.
To overcome these challenges, demand for noise management devices such as acoustic barriers is increasing at a high pace. These sound barrier systems are acting as a shield between the sources of noise such as roads, railways, airports, etc., and the surrounding communities, acting as a buffer to dampen and redirect sound waves away from residential and commercial spaces.
Urban planners, policymakers, and architects are increasingly recognizing the integral role that sound barriers play in fostering sustainable urban growth. These barriers are not limited to functional elements but also have an essential role in urban designs, contributing to the aesthetic and visual identity of the cityscape.
Modern sound barrier designs often incorporate artistic elements, innovative materials, and landscaping techniques, seamlessly blending noise reduction functionality with the overall urban ambience. Thus, all these factors are boosting the growth of the sound barrier walls market.
"Nanotechnology Advancing Efficiency of Sound Barriers"
Rapid advancements in material science and engineering are generating potential opportunities for acoustic insulation market players. The combination of materials is producing advanced noise reduction fences, which are both highly effective in reducing noise and aligned with the principles of sustainability and cost-efficiency.
Nanotechnology is playing a vital role in the designing of sound and acoustic barrier materials at the molecular level. Nanomaterials with unique features absorb, reflect, or scatter sound waves more effectively than traditional materials. These materials offer enhanced noise reduction capabilities while maintaining a compact and lightweight form factor.
Integration of several materials such as polymers, metals, ceramics, and fibers into composite structures is enabling the creation of versatile sound barriers. These composites can be customized to exhibit specific acoustic properties, offering a well-rounded approach to noise reduction.
Environmental concerns are driving the exploration of eco-friendly sound barrier materials. Recyclable materials can be repurposed to create effective noise mitigation solutions. These sustainable options not only reduce waste but also contribute to a circular economy. The convergence of these advancements is leading to the development of advanced sound barrier materials that are not only more efficient at reducing noise pollution but also in addressing other challenges associated with the urban environment.
According to the Russian Science Foundation, a group of Russian and Korean scientists has developed new sound-absorbing nanofoam. This development is booming in the automotive sector as it highly reduces the noise level inside cars. This advanced technology is also aiding the reduction of noise pollution in the urban areas of South Korea.
What is Restraining the Revenue Growth of Sound Barrier Manufacturers?
"Limited Product Knowledge and Awareness Hampering Sales of Acoustic Insulations"
Lack of awareness regarding the benefits and applications of acoustic insulation is hampering the sound barrier market size. This challenge stems from various factors, each contributing to the limited understanding and appreciation of the role that sound barriers play in the reduction of noise and sound insulation.
Sound barriers are often associated primarily with highway noise reduction, leading to a narrow perception of their utility. This limited view fails to capture the wide-ranging potential of sound barriers in mitigating noise pollution across various settings such as residential, commercial, and industrial spaces. As a result, many individuals and businesses remain unaware of the adaptable nature of sound barriers and their ability to create a more noise-free environment.
"High Initial Investment Lowering Adoption of Soundproof Acoustic Fencing"
High initial investment needed for noise barrier installation represents a significant barrier to their widespread adoption. This financial consideration is often a crucial factor that individuals, businesses, and even public entities weigh when evaluating the feasibility of integrating soundproofing solutions into their surroundings. From a financial perspective, the cost of procuring, designing, and installing sound barriers for sound insulation purposes can be high.
In some cases, decision-makers might view sound barriers as a discretionary expense, especially if they are not fully aware of the potential benefits of acoustic fencing. This perception can be exacerbated by a lack of comprehensive information or misconceptions about the functions of sound barriers.
More Insights, Lesser Cost (-50% off)
Insights on import/export production,
pricing analysis, and more – Only @ Fact.MR
How Can the Sound Barrier Business be Profitable for Start-ups?
"Introduction of Sustainable Sound Barriers by New Companies"
New manufacturers are concentrating on the latest trends in the sound barrier market to obtain a competitive edge. The use of advanced materials such as sound-absorbing concrete, porous metals, and composite materials in residential applications would aid new entrants to attract a wide consumer base. Start-ups are focusing on developing materials that can offer better noise reduction properties while being cost-effective and environment-friendly for sound attenuation purposes.
Environmental concerns are fueling the development of sound barriers that are made from sustainable materials and have a minimal environmental impact. Newcomers are focusing on creating noise barriers with reduced carbon footprint and recyclable components.
Raising awareness about the importance of noise abatement and the benefits of sound barriers is crucial. New market players should invest in advertisements or collaborations with architects or builders. This move would increase their revenue growth in the noise barrier materials space.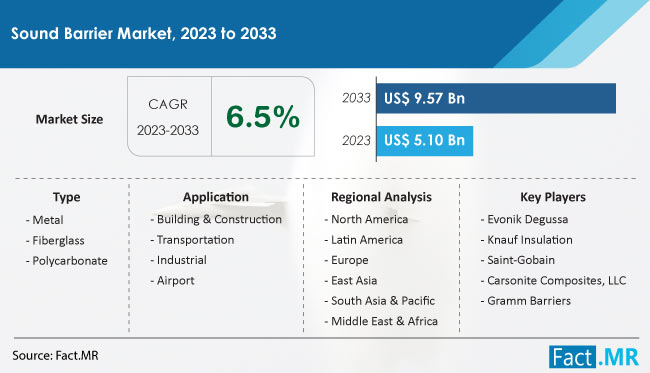 Country-wise Analysis
How is the Market for Sound Barriers Evolving in the United States?
"Increasing Use of Sound Barriers in Residential Structures by Builders"
According to Fact.MR, a market research and competitive intelligence provider, demand for sound barriers in the United States is witnessing a shift toward innovative sound barrier materials and designs. Acoustic panels, transparent noise barriers, and eco-friendly materials are gaining traction as they are offering better aesthetics and environmental benefits. Increasing public awareness of the negative effects of noise pollution is leading to high demand for sound barrier installation, especially in residential areas.
Stricter noise pollution control regulations are pushing American infrastructure developers to invest in high-quality sound barrier solutions. This is fostering collaborations between government agencies, manufacturers, and research institutions to develop cutting-edge noise reduction technologies.
What is Stimulating the Sales of Sound Barriers in Germany?
"Natural Sound Barriers-New Trend in Germany's Urban Structures"
Germany significantly emphasizes sustainable urban development, which is leading to the introduction of green infrastructure with sound barrier designs, incorporating vegetation and natural materials to enhance noise reduction while improving aesthetics and air quality.
The country's advanced railway network is driving innovation in sound barrier technology. Transparent and aerodynamic noise barriers are being developed to address noise concerns along high-speed rail lines while maintaining efficiency and safety.
What's Generating High Demand for Sound Barriers in South Korea?
"Rapid Infrastructural Developments Facilitating Higher Adoption of Sound Barriers in South Korea"
Rapid urbanization and infrastructural development are driving the demand for effective noise mitigation solutions, especially in densely populated areas. Sound barriers are becoming integral to major projects such as highways, urban rail systems, and airports.
South Korea is known for its technological innovation. The sound barrier market is witnessing the adoption of advanced materials such as metamaterials, nanomaterials, and active noise control systems, showcasing the country's commitment to cutting-edge soundproofing solutions.
Know thy Competitors
Competitive landscape highlights only certain players
Complete list available upon request
Category-wise Analysis
Why are Noise Barrier Systems Gaining Traction in the Construction Sector?
"Employment of Sound Barriers in Modern Homes to Mitigate External Noise Levels"
Emergence of novel construction technologies, the prevalence of diverse noise sources such as modern high-decibel home audio systems, and the increasing recognition of noise pollution control needs in society are collectively fueling the advancement of acoustic insulation designs.
Rapid urbanization and the rising shift toward modern homes are increasing the adoption of sound barriers in the construction sector. Residential and commercial properties located near noisy environments such as highways, airports, or industrial areas tend to have lower property values due to noise pollution. Implementing sound barriers are enhancing property rates by making the environment more liveable and attractive to potential buyers or tenants.
Competitive Landscape
Top companies in the sound barrier market are investing in research and development activities to create innovative sound barrier solutions that are more effective, durable, and aesthetically pleasing. New materials, designs, and construction methods are aiding key suppliers of sound barrier systems to gain a competitive edge and attract wide customers seeking advanced and efficient solutions.
On September 19, 2022, Toray Advanced Materials Korea (TAK) and Toray Textiles Central Europe (TTCE) inaugurated a new factory in the Czech Republic. This facility is dedicated to advancing Europe's Airlite automotive interior sound acoustic insulation business. The materials produced at this facility help to increase passenger comfort by effectively reducing noise caused by driving, vibrations, and nearby vehicles.
Key Segments of Sound Barrier Industry Research
By Product Type :

Metal
Fiberglass
Polycarbonate

By Application :

Building & Construction
Transportation
Industrial
Airports

By Region :

North America
Latin America
Europe
East Asia
South Asia & Oceania
MEA
- FAQs -
The global sound barrier market is estimated at US$ 5.1 billion in 2023.
Sales of sound barrier systems are projected to reach US$ 9.57 billion by 2033.
Demand for sound barriers is forecasted to increase at a CAGR of 6.5% from 2023 to 2033.
Evonik Degussa, Industrial Noise Control, and Armtek are some of the leading producers of sound barrier systems.
Rapid industrialization is driving the sound barrier market at a fast pace in Asia Pacific.