Soundproof Curtains Market
Soundproof Curtains Market Analysis By Type (Sound-insulating, Sound-reducing, Sound-blocking), By Material (Glass Wool, Plastic Foam, Rock Wool, Natural Fibers), By End Use (Commercial, Industrial, Residential) & By Region – Global Market Insights 2023 to 2033
Analysis of Soundproof Curtains Market Covering 30+ Countries Including Analysis of US, Canada, UK, Germany, France, Nordics, GCC countries, Japan, Korea and many more
Soundproof Curtains Market Outlook (2023 to 2033)
The global soundproof curtains market is valued at US$ 2.13 billion in 2023 and is projected to expand at a CAGR of 6.4% to reach US$ 4 billion by 2033-end.
Soundproof drapes can be made from natural fibers, plastic foam, rock wool, glass wool, and other materials. Soundproof curtains are created primarily to reduce the amount of noise that enters an area by using a thicker material. Soundproof curtains are simple to hang, inexpensive, available in several styles, and highly effective.
Demand for acoustic curtains as a creative way to address noise-related problems in a variety of settings has grown significantly. Sound-insulating curtains are made from materials that have sound-absorbing and sound-blocking properties. They are designed to absorb and dampen sound waves, reducing the intensity of external noises.
Sales of sound-insulating curtains are projected to rise swiftly at a CAGR of 7.1% through 2033.
Sound-absorbing materials are used to create sound-dampening drapes. These substances are picked because of their capacity to lessen echoes. Noise-canceling curtains typically feature multiple layers of dense and sound-absorbing materials. Sound-dampening curtains are made from materials that have sound-absorbing properties. Moreover, sound-blocking curtains are designed to significantly reduce the amount of external noise that enters a room.
Report Attributes
Details
Soundproof Curtains Market Size (2022A)
US$ 2 Billion
Estimated Market Value (2023E)
US$ 2.13 Billion
Forecasted Market Value (2033F)
US$ 4 Billion
Global Market Growth Rate (2023 to 2033)
6.4% CAGR
Germany Market Growth Rate (2023 to 2033)
4.9% CAGR
Sound-insulating Segment Growth Rate (2023 to 2033)
7.1% CAGR
China Market Growth Rate (2023 to 2033)
6.2% CAGR
Sound-reducing Segment Growth Rate (2023 to 2033)
5.4% CAGR
Key Companies Profiled

Great Lakes Textile
Kinetics Noise Control
Amcraft Industrial Curtain Wall
Steel Guard Safety Corp.
Moondream
Acoustical Surfaces
Haining Duletai New Material
eNoise Control
Don't Need a Global Report?
save 40%! on Country & Region specific reports
Why is Demand for Soundproof Curtains Rising at a Fast Pace?
"Rising Awareness of Health Implications of Noise Pollution"
In many areas, noise pollution from traffic as well as construction and industrial activities continues to be a major problem. Soundproof curtains are in high demand as consumers seek quieter living and working spaces. More people are residing in densely populated places with high levels of noise pollution as a result of the worldwide urbanization trend. Urban residents are more likely to spend money on soundproofing measures, such as curtains, to lessen the effects of noise.
Both homeowners and renters are making investments in remodeling and home improvement initiatives. Soundproof drapes are an affordable and simple-to-install option for increasing the acoustic comfort of living spaces. The transition to remote work has made constructing peaceful and effective home offices even more crucial. Soundproof drapes create an ideal working environment by reducing disturbances.
Noise reduction has become more important to people and businesses as they become more aware of the negative health effects of noise pollution. By making spaces quieter, soundproof curtains improve both emotional and physical well-being.
"Advancements in Soundproofing Technology and Stringent Noise Mitigation Regulations"
Research and development have led to the creation of more effective soundproofing materials and technologies. Modern soundproof curtains are designed to provide higher levels of noise reduction without sacrificing aesthetics. Beyond residential use, soundproof curtains are increasingly utilized in commercial settings like offices, hotels, restaurants, and entertainment venues to improve the acoustic experience for customers and employees.
Eco-friendly and sustainable soundproofing solutions are gaining popularity. Manufacturers are developing curtains made from sustainable materials, catering to consumers' environmental consciousness. The convenience of online shopping has made it easier for consumers to access a wide range of soundproof curtain options. This has expanded manufacturers' market reach and made it easier for customers to find suitable products.
In some cases, regulations and building codes require noise mitigation measures in certain environments, such as hotels and residential buildings near transportation hubs. This drives the demand for soundproofing solutions, including curtains.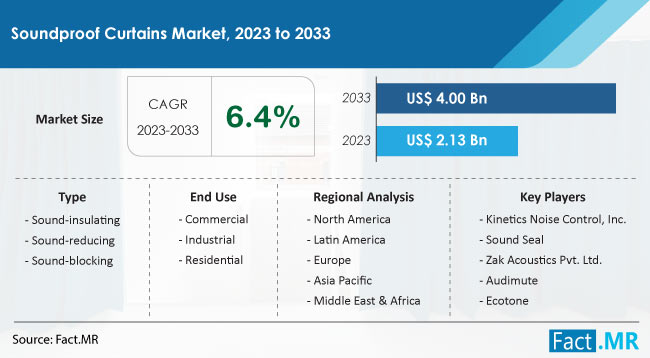 What Hindrances Do Manufacturers of Soundproof Curtains Face?
"High Cost and Maintenance Challenges Associated with High-end Soundproof Curtains"
High-end soundproof curtains frequently cost more money. Some buyers could find this price prohibitive, especially in residential settings where tight budgets may prevent the adoption of these curtains.
Although soundproof curtains can greatly reduce noise, they do not entirely block out all sources of noise. Additional soundproofing measures can be required in circumstances when noise levels are excessively high or the sound source is particularly disruptive. Soundproof curtains do not always complement people's aesthetic tastes or a room's interior style. Because of their appearance, these curtains are not used by some people.
For optimal installation, soundproof curtains need to hang on walls on each side of the window. This need poses a challenge in areas with constrained wall space or in smaller rooms. It is more difficult to maintain soundproof curtains than conventional curtains. Soundproof curtains need specific cleaning techniques, which can be time-consuming and expensive, as they gather dust.
"Increased Weight and Installation Complexity and Limited Design and Style Options"
Soundproof curtains tend to be heavier than standard curtains due to their multiple layers of soundproofing materials. This added weight can make installation more complex and necessitates the use of sturdy curtain rods or tracks. While the variety of soundproof curtains has improved, they offer fewer design and style options compared to standard curtains. This limitation can be a concern for consumers who want both noise reduction and a specific aesthetic.
Noise can also enter through gaps around windows, doors, and walls. Soundproof curtains alone are not sufficient to address all potential noise sources, necessitating additional soundproofing measures. Some soundproof curtains may be made from materials that are not environmentally friendly. As environmental concerns grow, consumers may seek more sustainable alternatives. In some regions, building codes and regulations dictate specific noise mitigation standards, and soundproof curtains do not always meet these requirements. This can be a barrier to product adoption in certain commercial and residential settings.
More Insights, Lesser Cost (-50% off)
Insights on import/export production,
pricing analysis, and more – Only @ Fact.MR
Country-wise Insights
This section outlines market revenue from significant countries, with the United Kingdom and China standing out as key markets. The market in China is projected to advance at a CAGR of 6.2% from 2023 to 2033.
Why is the United Kingdom a Profitable Market for Soundproof Curtain Manufacturers?
"Growing Demand for Soundproof Curtains Due to Rising Noise Pollution Levels"
In the United Kingdom, which has one of the largest entertainment industries in the world, there is a significant need for soundproof curtains in movie theaters and recording studios. Increasing adoption of home theater settings is also expected to enhance the demand for soundproof curtains in the country. Utilizing cutting-edge technology like acoustic panels and noise-absorbing materials, manufacturers are developing soundproof curtains that provide effective noise-reduction solutions.
The United Kingdom, like many other urbanized places, has experienced noise pollution problems, especially in heavily populated urban areas. Soundproofing options, such as soundproof curtains, are now in demand as a result of this. The soundproof curtains market has expanded as a result of the trend of house repair and improvement initiatives. To create quieter and more comfortable living spaces, homeowners and renters in the country are investing more and more in soundproof curtains. To improve the acoustic comfort of patrons and staff, these curtains are also employed in a variety of commercial settings, including workplaces, hotels, restaurants, and entertainment venues.
How is Demand for Soundproof Curtains Progressing in China?
"Market Benefitting from Wide Availability of Moderately Priced Product Options"
Demand for soundproof curtains in China is projected to rise at 6.2% CAGR from 2023 to 2033. With consistent growth anticipated, the Asia Pacific region is estimated to account for a leading share of the global market in 2033.
As urbanization and industrialization increase in developing countries like China, the soundproof curtains market is expected to grow at a significant pace. Another element influencing this sales growth is the availability of moderately priced soundproof curtains in the local market. Demand for soundproof curtains in the region is being driven by the expansion of e-commerce and the availability of discounts on these websites.
Customized soundproof curtain alternatives, as well as a variety of other options, are available from Chinese manufacturers. Technology and material advancements have produced improved soundproof curtains that are both functional and aesthetically beautiful. Customers in China now find it simpler to access and buy soundproof curtains from several stores and providers due to the convenience of online purchasing.
More consumers are looking for environmentally friendly and sustainable soundproofing options as their awareness of environmental issues improves. Environmentally friendly production methods and materials are being explored by manufacturers.
Category-wise Insights
This section offers an overview of the market segmented by type, material, and end use. Fact.MR predicts that glass wool will occupy a huge share of the market, while the residential sector will account for extensive use of these curtains. Both segments hold promising opportunities for manufacturers over the coming years.
Why are Glass Wool Curtains the Most Popular among Consumers?
"Non-Combustibility of Glass Wool Driving Use in Soundproof Curtain Production"
Glass wool is not a common material used in soundproof curtains. Instead, soundproof curtains typically incorporate other materials designed to absorb, block, or dampen sound waves effectively. Sales of glass wool contributed significantly to market revenue in 2022. The fibers that make up glass wool are made from recycled glass and sand. These fibers are combined with a special glue to create a sound-absorbing substance that is frequently used in the building industry.
Key factors influencing demand for glass wool curtains are their effectiveness, durability, and affordable cost. Since glass wool is non-combustible and does not emit harmful gases, it is a secure and advantageous material to employ in soundproofing applications.
Choice of material depends on the specific requirements and goals of end users, including factors such as noise reduction level, aesthetics, and environmental considerations. When selecting soundproof curtains, it is essential to review the product specifications to understand whether they meet one's needs.
Why are Soundproof Curtains Widely Used in the Residential Sector?
"Need for Quieter and More Productive Home Office Environment"
The residential segment occupies a leading share of the market. Due to rising concerns over noise pollution and the need for quieter, more comfortable homes, soundproof drapes are becoming more and more common in the residential market. When it comes to decreasing noise from outside sources like construction, traffic, or bothersome neighbors, soundproof curtains are an excellent choice. They are thus a useful addition to living rooms, bedrooms, and other spaces where tranquility is required.
Many homeowners install home theater systems. Soundproof drapes are frequently used in these settings to enhance the acoustics by lowering sound reflections and outside noise. Home offices are more common now that remote work is more popular. Soundproof curtains lessen interruptions from outside noise, resulting in a quieter and more productive work environment.
Know thy Competitors
Competitive landscape highlights only certain players
Complete list available upon request
Competitive Landscape
Leading companies in the global soundproof curtains market include Sound Seal, Lantal Textiles AG, Am Craft Manufacturing, Inc., eNoise Control, and Kinetics Noise Control, Inc. These major players are actively engaged in market expansion, product launches, significant advancements, and mergers and acquisitions to expand their global market presence.
For instance :
In August 2019, Sound Seal, a manufacturer of noise control products under The Stephens Group's ownership, announced its acquisition of Acoustical & Tackable Surfaces, Inc., a reputable company based in New Jersey specializing in the production and installation of ceiling panels and acoustical wall solutions. This strategic move demonstrates their commitment to strengthening their position in the market.
Key Segments of Soundproof Curtains Industry Research
By Type :

Sound-insulating
Sound-reducing
Sound-blocking

By Material :

Glass Wool
Plastic Foam
Rock Wool
Natural Fibers

By End Use :

Commercial
Industrial
Residential

By Region :

North America
Latin America
Europe
Asia Pacific
Middle East & Africa
- FAQs -
Depending on the material and surroundings, soundproof curtains can block anywhere between 20% and 50% of noise.
The global soundproof curtains market stands at US$ 2.13 billion in 2023.
Worldwide demand for soundproof curtains is predicted to rise at a CAGR of 6.4% from 2023 to 2033.
Sales of sound-insulating curtains are projected to increase at a CAGR of 7.1% through 2033.
Sales of soundproof curtains are set to reach US$ 4 billion by 2033.
The United Kingdom is poised to hold a prominent share of the market through 2033.
The market in China is forecasted to advance at a CAGR of 6.2% CAGR from 2023 to 2033.