Spatial Light Modulator Market
Spatial Light Modulator Market Analysis By Type (Optically Addressed SLM, Electrically Addressed SLM [Liquid Crystal EASLM, Deformable Mirrors]), By Application (Optical Displays, Holography, Pulse Shaping, Laser Beams), By Resolution (Less than 1024 x 768 Pixels, Equal or More than 1024 x 768 Pixels), By Industry (Automotive & Transportation, Aerospace & Defense, Education & Research, Electronics) & By Region – Global Market Insights 2023 to 2033
Analysis of Spatial Light Modulator Market Covering 30+ Countries Including Analysis of US, Canada, UK, Germany, France, Nordics, GCC countries, Japan, Korea and many more
Spatial Light Modulator Market Outlook (2023 to 2033)
The global spatial light modulator (SLM) market is valued at US$ 600 million in 2023 and is predicted to reach US$ 2.1 billion by 2033, expanding at a CAGR of 13.5% over the next ten years.
A spatial light modulator (SLM) is a device that modifies the amplitude, phase, or polarization of light waves in space and time. SLMs are utilized in a variety of applications, including holographic displays and liquid crystal microdisplays. An electro-optic modulator (EOM) is an optical device that uses a signal-controlled element with an electro-optic effect to modulate a light beam. The modulation can be applied to the beam's phase, frequency, amplitude, or polarization. With the use of laser-controlled modulators, modulation bandwidths in the gigahertz region are achievable.
Liquid crystal modulators are optical modulators that rely on liquid crystals. They are predominantly used for displays, although they can also be used for a variety of other purposes. A transmissive spatial light modulator, which includes a light-transmission area, consists of the following components: a transparent substrate, a pixel drive circuit located on the transparent substrate to create an area outside the light-transmission area, and a transmissive light modulation section that incorporates a micro-electromechanical element. The pixel drive circuit controls the transmissive light modulation section, which is positioned above the pixel drive circuit.
SLMs find widespread applications in holographic data storage configurations, where they are utilized to encode information into a laser beam, much like transparency does in an overhead projector. Additionally, SLMs play a crucial role in holographic display technologies. Moreover, SLMs have been employed as essential components in optical computing systems.
An optically addressed spatial light modulator (OASLM) functions by recording the image on a write beam and subsequently transferring it to a read beam. OASLMs find various applications, including image transduction, optical correlation, adaptive optics, and optical neural networks.
The recent surge in interest in OASLMs can be attributed to QinetiQ's pioneering work on 3D displays. The company's approach involves active tiling, wherein an image is recorded in a specific part of the device and stored, while the rest of the device is updated with new images.
The image on an electrically addressed SLM (EASLM) is formed and modified electronically, as is the case with most electronic displays, as the name suggests. EASLMs often receive input through a normal interface such as VGA or DVI. They are available in resolutions as high as QXGA (2048 x 1536).
Report Attributes
Details

Spatial Light Modulator Market Size (2022)

US$ 530 Million

Estimated Market Value (2023)

US$ 600 Million

Forecasted Market Value (2033)

US$ 2.1 Billion

Global Market Growth Rate (2023 to 2033)

13.5% CAGR

Electrically Addressed SLM Segment Growth Rate (2023 to 2033)

13.4% CAGR

Japan Market Growth Rate (2023 to 2033)

13.8% CAGR

Leading Regional Market

Asia Pacific

Key Companies Profiled

Thorlabs, Inc.
PerkinElmer Inc.
Texas Instruments, Inc.
Santec Corporation
Meadowlark Optics Inc.
Kopin Corporation
Meadowlark Optics Inc.
Holoeye Photonics AG
American Electric Power
Don't Need a Global Report?
save 40%! on Country & Region specific reports
What are the Forces behind the Soaring Demand for Spatial Light Modulators?
"Rising Adoption in Optical Communication Systems and Growing Need for Higher Bandwidth and Long-Distance Data Transmission"
With the exponential growth of data-driven applications and the widespread use of the Internet, there is an increasing need for higher bandwidth and efficient long-distance data transmission. SLMs play a crucial role in optical communication systems, enabling high-speed data transfer and processing. As industries seek faster and more reliable data transmission solutions, demand for spatial light modulators is expected to surge.
SLMs are employed in optical communication systems for signal modulation and data processing. The need for higher bandwidth and faster data transmission in telecommunications and data centers has driven the demand for SLMs in these applications. SLMs find extensive use in research and development, particularly in fields like optics, photonics, and microscopy. Their ability to control light with high precision makes them invaluable tools for scientific experiments and investigations.
"Surging Demand for High-Resolution Displays and Advancements in Display Technologies"
The spatial light modulator market is driven by the rising demand for high-resolution displays in various industries. In gaming, consumer electronics, and advertising sectors, there is a growing preference for vivid and lifelike visual experiences.
Spatial light modulators are pivotal components in display technologies, providing enhanced resolution, brightness, and image quality. The ongoing trend toward better visual displays is anticipated to fuel the growth of the spatial light modulator market.
Continuous advancements in display technologies, such as holographic displays, augmented reality (AR), virtual reality (VR), and 3D imaging, have significantly boosted the demand for spatial light modulators. SLMs play a crucial role in these technologies by enabling precise control of light patterns, leading to enhanced visual experiences.
Which Factors are Impeding the Demand Growth for Spatial Light Modulators?
"Dearth of Technical Knowledge Regarding SLM Technology and Limited Availability of Advanced Materials"
Despite the advancements in spatial light modulator technology, there remains a lack of technical knowledge and awareness among potential users and stakeholders. The complexity of the technology and limited understanding among end users act as barriers to adoption. Market players and industry participants need to invest in educational initiatives and outreach programs to bridge this knowledge gap and increase the uptake of spatial light modulators.
SLMs, especially those with advanced features and high-performance capabilities, can be costly to manufacture. The initial investment required to develop and produce SLMs may deter some potential buyers, especially in price-sensitive markets.
Spatial light modulators require specialized materials with specific optical properties to achieve optimal performance. Limited availability or high cost of such materials can constrain the mass production and adoption of SLMs.
"Low Awareness of Applications and Benefits of SLMs and Integration Complexity among Users"
Alongside the technical knowledge gap, there is also a need to create awareness about the benefits and applications of spatial light modulators. Many potential users may not be aware of the potential advantages and diverse applications of this technology. Raising awareness through marketing, demonstrations, and case studies is vital to encourage broader adoption and market expansion.
Integrating spatial light modulators into existing systems or applications can be complex and requires customized solutions. Compatibility issues and integration challenges can hinder their seamless adoption in various industries. In certain applications, such as portable devices and wearables, size and weight constraints limit the use of spatial light modulators. Achieving miniaturization without compromising performance can be a challenging task.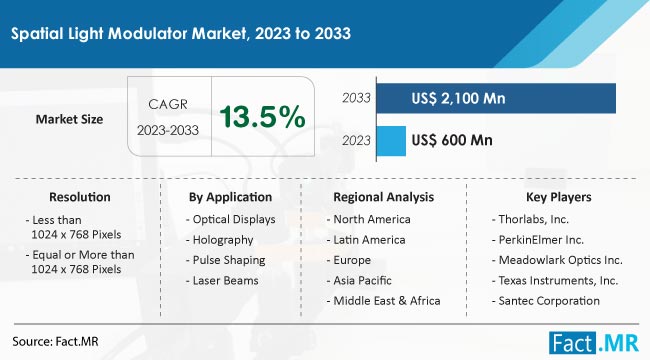 Country-wise Insights
What are the Growth Opportunities for Spatial Light Modulator Manufacturers in China?
"Strong Focus on Innovation in Display Technologies, R&D, and Manufacturing Capabilities"
China's spatial light modulator market has been attracting significant attention. China is known for its strong presence in the global electronics and semiconductor industries, which has contributed to the development and adoption of SLM technology in the country.
China has been a key player in the consumer electronics market, driving the demand for high-quality displays in various devices. SLMs play a vital role in advanced display technologies, including holographic displays, AR/VR glasses, and high-resolution screens.
Chinese companies and research institutions have been actively investing in R&D efforts to develop and improve spatial light modulator technologies. This focus on innovation has led to the creation of more advanced and cost-effective SLM solutions. China's manufacturing capabilities have significantly improved over the years, enabling the production of SLMs at scale and competitive prices. This has further contributed to the growth of the market.
Why are SLMs Gaining Popularity in the United States?
"Extensive Utilization of SLMs in Optical Imaging, Microscopy, and Biophotonics"
Increasing popularity of augmented reality (AR) and virtual reality (VR) applications in various industries, such as gaming, training, and healthcare, has boosted sales of spatial light modulators. SLMs enable precise light modulation necessary for creating immersive AR/VR experiences.
The United States's healthcare and biomedical research sectors have been utilizing spatial light modulators for applications like optical imaging, microscopy, and biophotonics. SLMs play a crucial role in manipulating light to achieve high-resolution imaging and precise diagnostics.
Several prominent companies in the display and optics sectors are present in the United States. These industries drive the demand for SLMs as critical components in various advanced display technologies, including holographic displays, head-up displays (HUDs), and projection systems.
More Insights, Lesser Cost (-50% off)
Insights on import/export production,
pricing analysis, and more – Only @ Fact.MR
Category-wise Insights
What's Leading to the Widespread Adoption of Electrically Addressed Spatial Light Modulators (EASLMs)?
"EASLMs Enabling Creation of Realistic 3D Imagery and Immersive Visual Experiences"
An EASLM is an advanced optical device that operates by modulating light using electrical signals. It is designed with an array of individual pixels, each capable of independent control through electric fields. These pixels can change their optical properties, such as phase or intensity, in response to the applied electrical signals. This ability to dynamically manipulate light at the pixel level enables EASLMs to perform various functions, making them highly versatile and valuable in a range of applications.
One of the primary applications of EASLMs is in holographic displays. These displays create 3D images by reconstructing light patterns to mimic real objects. EASLMs play a vital role in generating and manipulating these patterns, allowing for precise and realistic holographic imagery. They offer high-speed modulation and rapid response times, contributing to smooth and immersive visual experiences.
Continuous research and development efforts in the field of SLMs, along with advancements in materials and manufacturing techniques, are expected to lead to even more sophisticated and efficient EASLMs in the future. As a result, EASLMs are poised to remain at the forefront of optical technology and contribute to exciting new applications and solutions.
Why are SLMs Widely Used in Holography?
"Realistic and Adaptive 3D Image Reconstruction Capability of SLMs"
Holography is a technique that enables the recording and reconstruction of three-dimensional (3D) images. In holography, a laser beam expander is split into two parts: the reference beam and the object beam. The object beam interacts with the object being imaged and the interference pattern between the object beam. The reference beam is recorded on a photosensitive medium.
SLMs are utilized in holography to control the phase or amplitude of the laser beam, which affects the interference pattern. They provide the ability to manipulate the phase or intensity of light at each pixel, making it possible to encode complex wavefronts required for 3D holographic image reconstruction. Use of SLMs allows for dynamic control and adjustment of holographic patterns, making the holographic display more versatile and adaptive.
Competitive Landscape
The competitive landscape for the market is characterized by the presence of several spatial light modulator manufacturers, each striving to maintain their market position and gain a competitive edge. These companies offer a variety of SLMs, catering to different industries and applications. Established companies with a strong foothold in the spatial light modulator market contribute significantly to the competition. These industry leaders have extensive research and development capabilities, a wide range of product offerings, and a global presence.
In January 2019, SANTEC, a prominent Japanese company specializing in tunable lasers, optical instruments, OCT devices, and fiber-optic components, introduced the SLM-300. This is a high-power durable SLM with enhanced liquid crystal on silicon (LCOS) technology.
Know thy Competitors
Competitive landscape highlights only certain players
Complete list available upon request
Key Segments of Spatial Light Modulator Industry Research
By Type :

Optically Addressed SLM
Electrically Addressed SLM (Liquid Crystal EASLM, Deformable Mirrors)

By Application :

Optical Displays
Holography
Pulse Shaping
Laser Beams

By Resolution :

Less than 1024 x 768 Pixels
Equal to or More than 1024 x 768 Pixels

By Industry :

Automotive and Transportation
Aerospace & Defense
Education & Research
Electronics

By Region :

North America
Latin America
Europe
Asia Pacific
Middle East & Africa
- FAQs -
The global spatial light modulator market stands at US$ 600 million in 2023.
Sales of spatial light modulators are set to increase at a CAGR of 13.5% from 2023 to 2033.
The market for spatial light modulators is set to reach US$ 2.1 billion by 2033.
The market in Japan is predicted to rise at a CAGR of 13.8% through 2033.
Electrically addressed spatial light modulators find widespread usage across industries.