Specialty Triglycerides Market
Specialty Triglycerides Market Analysis By Type (Medium-chain Triglycerides (MCTs), Long-chain Triglycerides (LCTs), Short-chain Triglycerides (SCTs), Structured Triglycerides (STs)), By Form (Oil, Capsules, Powder), By Source (Coconut Oil, Palm Oil, Milk, Cheese, Yoghurt, Butter, Eggs, Fish, Nuts, Seeds), By End-use Vertical & By Region - Global Market Insights 2023 to 2033
Analysis of Specialty Triglycerides Market Covering 30+ Countries Including Analysis of US, Canada, UK, Germany, France, Nordics, GCC countries, Japan, Korea and many more
Specialty Triglycerides Market Outlook (2023 to 2033)
The global specialty triglycerides market is valued at US$ 1.44 billion in 2023. Expanding at a CAGR of 6.6%, worldwide demand for specialty triglycerides is forecasted to reach a market size of US$ 2.72 billion by 2033, as per this latest research by Fact.MR, a market research and competitive intelligence provider.
Human blood contains a particular kind of lipid called triglycerides. They are the most prevalent type of fat in the human body and a significant source of energy. Three fatty acids are joined to a glycerol molecule to form triglycerides. Any extra calories consumed by the body are converted into triglycerides and stored as fat cells. Later, when energy is needed, certain hormones release triglycerides for breakdown and utilization.
Triglyceride levels are typically measured as part of a lipid profile, which also includes measurements of cholesterol. Elevated triglyceride levels can be a risk factor for cardiovascular disease, especially when combined with other risk factors such as high cholesterol, high blood pressure, and obesity.
Medium-chain triglycerides (MCTs), long-chain triglycerides (LCTs), short-chain triglycerides (SCTs), and structured triglycerides (STs) are some of the types of specialty triglycerides. Specialty triglycerides are widely demanded due to their high use in food & beverages and personal care & cosmetics.
Demand for medium-chain triglycerides (MCTs) is predicted to rise at a CAGR of 6.7% during the forecast period.
Increasing standard of living and growing adoption of a healthier lifestyle among consumers are expected to fuel the consumption of medium-chain triglyceride (MCT)-based dietary and health supplements over the decade. MCTs are types of fats with carbon chain lengths ranging from 6 to 10. They encompass caprylic acid, capric acid, caproic acid, and lauric acid. These MCTs are typically derived from vegetable oils such as coconut, rapeseed, sunflower, palm kernel, and soybean.
Coconut oil is widely recognized as the primary source for extracting MCTs, while palm oil stands out as a rich source of MCTs and antioxidants, offering various health benefits including immune system support.
Growing concerns regarding age-related macular degeneration, cardiovascular diseases, and specific cancers are also contributing to the increasing consumer preference for a diet rich in vitamin E. This has further accentuated the demand for MCT oils derived from palm kernels.
The popularity of medium-chain triglyceride oils stems from their role as a healthy substitute for fats in diets, as they aid in maintaining a healthy weight. These oils support the reduction of body fat by boosting metabolism, facilitating better digestion, and providing increased energy levels.
Report Attributes
Details

Specialty Triglycerides Market Size (2023E)

US$ 1.44 Billion

Forecasted Market Value (2033F)

US$ 2.72 Billion

Global Market Growth Rate (2023 to 2033)

6.6% CAGR

United States Market Growth Rate (2023 to 2033)

8% CAGR

Germany Market Growth Rate (2023 to 2033)

8.2% CAGR

China Market Value (2033F)

US$ 558.38 Million

United Kingdom Market Value (2033F)

US$ 212.45 Million

India Market Value (2033F)

US$ 245.14 Million

Key Companies Profiled

BASF SE
Croda International Plc
DSM
Emery Oleochemicals
KLK OLEO
Koninklijke DSM N.V.
Lonza Group Ltd.
P&G Chemicals
Stepan Company
Sternchemie GmbH & Co. KG
Wilmar International Ltd
Don't Need a Global Report?
save 40%! on Country & Region specific reports
Why are Specialty Triglycerides Gaining High Traction in Several Industries?
"Specialty Triglycerides Alternative to Regular Fats in Diets"
Specialty triglycerides find extensive usage in various applications such as nutritional diets, sports drinks, infant formulas, functional foods, personal care products, pharmaceutical products, and dietary supplements. These triglycerides offer rapid energy generation and enhance the endurance of the human body. Their shorter chain length of fatty acids allows for quick breakdown and easy absorption in the body, reducing the likelihood of being stored as body fat. This property also enables instant energy production.
These triglycerides are particularly valuable in extremely low-carb or ketogenic diets, which are effective for weight reduction. They can be incorporated into such diets as they contribute to the production of ketones. Due to the mentioned advantages, specialty triglycerides are gaining popularity among health-conscious consumers who prioritize healthy eating habits.
"Specialty Triglycerides Enhancing Quality of Cosmetics & Personal Care Products"
Specialty triglycerides such as caprylic capric triglycerides are becoming more and more popular in the cosmetics and body care industries, due to their positive qualities, such as skin-renewing and moisturizing capacities as well as their non-greasy feel. These ingredients are commonly found in a range of cosmetic and personal care products.
In the next ten years, demand for caprylic triglycerides is anticipated increase swiftly due to their growing use in hair care products. Sales of cosmetics and personal care products are rising dramatically due to the widespread usage of emollient esters in personal care products to soften the skin. It is anticipated that the ongoing use of these compounds would boost demand for specialty triglycerides for use in a range of personal care products.
Which Factors are Hampering Revenue Growth of Market Players?
"High Cost of Raw Materials Affecting Specialty Triglyceride Production"
The limited availability of oilseeds in certain countries creates a significant disparity between the demand and supply of processed oilseed products, including edible oil. For example, India and European countries face a scarcity of palm oil due to a lack of production. This gap leads to substantial imports of palm oil primarily from Indonesia and Malaysia, where favourable climatic conditions support its large-scale production. Palm oil finds extensive use in the confectionery sector, which experiences high demand in India and other European nations.
Likewise, European manufacturers of personal care products heavily rely on costly imports of shea butter from South Africa, as it contributes significantly to their production. The heavy dependence on palm oil and shea butter imports by these countries escalates both the import costs and the overall costs of end products. Consequently, this is hampering the specialty triglycerides market growth.
The average import price of palm oil stands at US$ 500 per ton. Considering its widespread application in various food sectors, such as bakery, confectionery, and processed foods, the final prices of these products soar to nearly 40% of the initial cost. Such variations in marginal prices pose difficulties for the market players, particularly in developing nations.
Thus, manufacturers of specialty triglycerides are facing a major challenge due to the escalating production costs associated with raw materials such as coconut oil, palm oil, and milk fats.
More Insights, Lesser Cost (-50% off)
Insights on import/export production,
pricing analysis, and more – Only @ Fact.MR
How Can New Companies Penetrate This Competitive Market?
"Innovations & Strategic Partnerships the Way to Go for New Entrants"
Developing unique and innovative specialty triglyceride products that stand out in the market can help newcomers attract customers and create a competitive advantage. This can involve offering specialized formulations, improved functionality, or addressing specific customer needs.
Collaborating with suppliers, distributors, or manufacturers can provide new entrants with access to resources, industry expertise, and distribution networks. Strategic partnerships can help expand market reach and increase brand visibility.
Emphasizing product quality, safety, and adherence to regulatory standards is crucial in the specialty triglycerides industry. Earning certifications and demonstrating a commitment to quality assurance can build trust with customers and differentiate newcomers from competitors.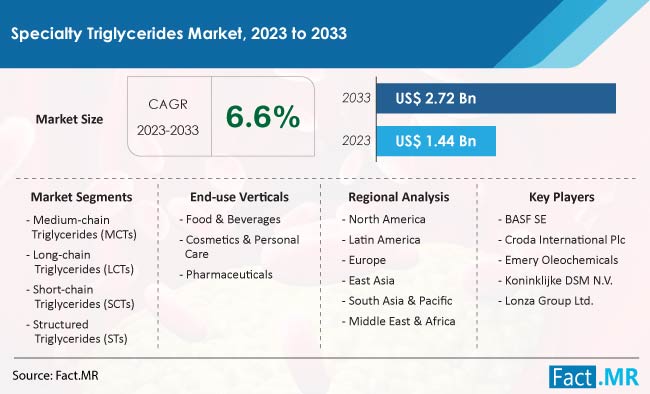 Country-wise Analysis
Will the Wellness Revolution Drive Demand for Specialty Triglycerides in the United States?
"Health-conscious Consumers Demanding Specialty Triglyceride-based Food & Dietary Supplements"
Increasing at a CAGR of 8%, the United States dominates the North American market for specialty triglycerides. Sales of specialty triglycerides are estimated to reach US$ 958.78 million by 2033.
There is an increasing focus on health and wellness among American consumers, leading to a growing demand for functional food and dietary supplements. As a result, specialty triglycerides, known for their nutritional benefits and functional properties, are gaining traction in the food & beverages market. Additionally, partnerships between key players and research institutions are driving advancements in specialty triglyceride formulations and applications in the United States.
Why is Germany a Key Market for Producers of Specialty Triglycerides?
"High Demand for Natural and Organic Specialty Triglyceride-based Cosmetic Products"
The German market for specialty triglycerides is foreseen to expand at a CAGR of 8.2% and reach US$ 294.17 million by 2033. Germans have a strong focus on natural and organic products, leading to rising demand for specialty triglycerides derived from sustainable and eco-friendly sources.
Millennial & Gen-Z consumers in Germany are highly demanding natural cosmetic products with clean labels and transparent sourcing. This trend is encouraging manufacturers to develop specialty triglycerides that meet these criteria.
What's Leading to High Demand for Specialty Triglycerides in China?
"Market Benefiting from Growing Popularity of Healthy Food Products"
Demand for specialty triglycerides in China is estimated to increase at a CAGR of 7.8% during the next 10 years.
As the Chinese population becomes more health-conscious, there is an increasing demand for high-quality nutritional products. Specialty triglycerides, with their functional benefits and applications in various food and beverage segments, are witnessing growing popularity in China. Manufacturers are continuously focusing on advancements in production technologies and quality standards to meet rising consumer expectations.
Know thy Competitors
Competitive landscape highlights only certain players
Complete list available upon request
Category-wise Analysis
Which is a Key End-use Industry for Specialty Triglycerides?
"Specialty Triglycerides Gaining Popularity as Dietary Fat Changer in F&B Sector"
As per the Fact.MR analysis, demand for specialty triglycerides in the food & beverages sector is foreseen to rise at a CAGR of 7% during the next 10 years.
Specialty triglycerides, which are derived from coconut and palm kernel oil through a specific processing method, consist of medium-chain fatty acids and possess a slightly yellowish colour. They exhibit insolubility in water but can mix well with alcohol and methylene oxide.
Sales of specialty triglycerides are experiencing significant growth due to their rising use as a substitute for regular dietary fats in the food and beverages sector. This growth is driven by their beneficial properties, including aiding in weight management, facilitating the reduction of stored body fat by boosting metabolism, promoting better digestion, and providing increased energy.
The popularity of specialty triglycerides among athletes, bodybuilders, and sports enthusiasts, who seek performance enhancement, is anticipated to further contribute to the positive sales trend of these triglycerides. The ability of specialty triglycerides to improve physical performance is a key factor driving their adoption within this consumer segment.
The United States Department of Agriculture reports that the Consumer Price Index for all food in the United States increased by 0.3% from December 2020 to January 2021. This inflationary trend creates ample opportunities for manufacturers of specialty triglycerides during the forecast period.
According to the Council for Responsible Nutrition (CRN), the usage of dietary supplements among Americans rose to approximately 80% in 2021, representing a 7% increase from the previous year. This data highlights the growing acceptance and adoption of dietary supplements, including specialty triglycerides, within the American population.
In the second quarter of 2022, the European Union's food and drink industry witnessed a 0.6% increase in production compared to the previous quarter, according to FoodDrinkEurope. This growth in the food and drink sector contributes to the overall demand for specialty triglycerides in the European market.
Considering all the aforementioned factors, demand for specialty triglycerides from the food & beverage sector is expected to rise significantly throughout the forecast period.
Competitive Landscape
Leading specialty triglycerides companies are strategically prioritizing global expansion and concurrently investing in sustainable production techniques to improve cost-effectiveness and strengthen their financial position. To maintain their competitive edge, these companies are allocating substantial resources to research and development initiatives, aiming to foster innovation, introduce groundbreaking products, and diversify their product portfolios.
A coconut water product called Vita Coco Boosted, which includes MCT (medium-chain triglyceride) oil, was introduced by Vita Coco in July 2020.
Key Segments of Specialty Triglycerides Industry Research
By Type :

Medium-chain Triglycerides (MCTs)
Long-chain Triglycerides (LCTs)
Short-chain Triglycerides (SCTs)
Structured Triglycerides (STs)

By Form :

By Source :

Coconut Oil
Palm Oil
Milk
Cheese
Yoghurt
Butter
Eggs
Fish
Nuts
Seeds

By End-use Vertical :

Food & Beverages
Cosmetics & Personal Care
Pharmaceuticals

By Region :

North America
Latin America
Europe
East Asia
South Asia & Oceania
MEA
- FAQs -
The global specialty triglycerides market stands at US$ 1.44 billion in 2023.
The market for specialty triglycerides is forecasted to reach US$ 2.72 billion by 2033-end.
Worldwide demand for specialty triglycerides is predicted to rise at a CAGR of 6.6% from 2033 to 2033.
Sales of medium-chain triglycerides are predicted to increase at a CAGR of 6.7% through 2033.
Expanding at a CAGR of 8.2%, sales of specialty triglycerides in Germany are estimated to reach US$ 297.17 million by 2033.