Sports Analytics Market
Sports Analytics Market Analysis By Component (Software, Services), By Application (Performance Analysis, Player & Team Valuation, Player Fitness & Safety, Fan Engagement, Broadcast Management), By Analysis Type (On-field, Off-field, Team, Individual), By Deployment Mode (On-premise, Cloud-based), By Solution (Video Analytics, Bio Analytics, Smart Wearable Technology), By Technology (AI, Big Data), By End User (Professional Sports Teams, Sports Federations, Sports Equipment Manufacturers) and By Region - Global Market Report (2024 to 2034)
Analysis of Sports Analytics Market Covering 30+ Countries Including Analysis of US, Canada, UK, Germany, France, Nordics, GCC countries, Japan, Korea and many more
Sports Analytics Market Outlook (2024 to 2034)
The global sports analytics market size is estimated at US$ 4.66 billion for 2024 and is forecasted to reach a valuation of US$ 59.47 billion by 2034, expanding at a high-value double-digit CAGR of 29% from 2024 to 2034.
Sports have evolved in recent years from being driven solely by ability and strength. Introduction of sports analytics has transformed the industry, allowing athletes, teams, and spectators to get a better understanding of the game. The market uses data-driven insights and technology to alter the way fans, athletes, and organizations watch, analyze, and experience sports. it is at the forefront of sports innovation due to the relationship of data science, technology, and a growing need for in-depth insights.
It is essentially the collection, evaluation, and interpretation of data about players, teams, and athletic events. This data-driven strategy generates important insights that may be used to improve performance, inform strategic decisions, and engage fans more effectively.
Key Market Growth Drivers
Athletes and teams use analytics to improve their performance. Data insights are important for success, whether it is in-game decision-making, player recruitment, or injury prevention.
Use of IoT in stadiums and arenas has altered the fan experience. Real-time data, such as player stats and immediate replays, is readily available, giving spectators a more immersive experience.
Sports analytics have been adopted by broadcasting organizations to provide viewers with in-depth analysis, statistics, and entertaining material, hence improving the overall broadcast experience.
The popularity of fantasy sports is largely related to this industry. Data is used by fans to construct fantasy teams, enhancing their engagement with the games they enjoy.
The expansion of the sports analytics business has attracted investors, resulting in increased funding and the entry of a wave of creative start-ups.
Sports fans today want more than just passive viewing. They want data-rich, interactive experiences. It allows for deeper engagement with fans, resulting in a more loyal and enthusiastic fan base.
Fact.MR, a market research and competitive intelligence provider, reveals in its sports analytics market report that the industry is changing the face of sports as it provides data-driven insights to players and organizations, improves the fan experience through interactive content, and changes the way sports events are transmitted and consumed.
Report Attributes
Details
Sports Analytics Market Size (2023A)
US$ 3.61 Billion
Estimated Market Value (2024E)
US$ 4.66 Billion
Forecasted Market Value (2034F)
US$ 59.47 Billion
Global Market Growth Rate (2024 to 2034)
29% CAGR
North America Market Share (2023)
29.1%
Asia Pacific Market Growth Rate (2024 to 2034)
24.6% CAGR
Key Companies Profiled

WHOOP
Kitman Labs
Stats Perform
Orecco
Alteryx
Agile Sports Analytics, LLC
Catapult Sports
ChyronHego Corporation
Deltatre
Experfy Inc.
Genius Sports Group
IBM Corporation
Oracle Corporation
SAP SE
SAS Institute Inc.
Sportradar AG
Genius Sports Group
Don't Need a Global Report?
save 40%! on Country & Region specific reports
Why are We Seeing Consistently High Growth of the Sports Analytics Market?
"Enhanced Data Processing Speed Facilitating Rapid Processing of Enormous Datasets"
Technological advancements have altered the sports environment, allowing for a more in-depth and data-driven understanding of every facet of the game. Artificial intelligence (AI), machine learning, and the Internet of Things (IoT) have all played important roles in the expansion of the sports analytics market share. These technologies enable the processing of enormous datasets at fast speeds, giving important insights that were previously challenging and time-consuming to achieve.
Teams and organizations can use AI-powered algorithms to uncover patterns, trends, and correlations in player performance, tactical strategy, and even injury forecasts. The capacity to more accurately predict player performance or appraise an opponent's strategy has become a game changer, delivering a critical competitive advantage. The Internet of Things (IoT) has had a significant impact on the this business, particularly on smart stadiums and wearables. Sensors and RFID tags, for example, can track player movements, collect biometric data, and monitor equipment performance.
"Globalization of Sports Contributing to Increased Adoption of Sports Analytics"
Sports are no longer limited to specific regions or countries; they have evolved into a worldwide phenomenon with a vast global following. Demand for data-driven insights and analysis has increased as sports reach new markets and audiences throughout the world. The international expansion of sports leagues and events has resulted in global integration. Fan bases for leagues such as the English Premier League, the NBA, and the NFL span continents.
It gives fans all over the world a more immersive and engaged experience that transcends regional boundaries. Countries with a rising middle-class population and a passion for sports, such as China and India, are now investing extensively in building their sports sectors. Sports leagues that have incorporated analytics for player recruiting, performance optimization, and fan engagement include the Chinese Super League (CSL) and the Indian Premier League (IPL). As sports have become more internationalized, cross-cultural cooperation and the sharing of best practices have emerged. The globalization of sports has resulted in a broad and enthusiastic audience, boosting the demand for analytics that improve the viewing experience and enable sports companies to compete on a worldwide scale.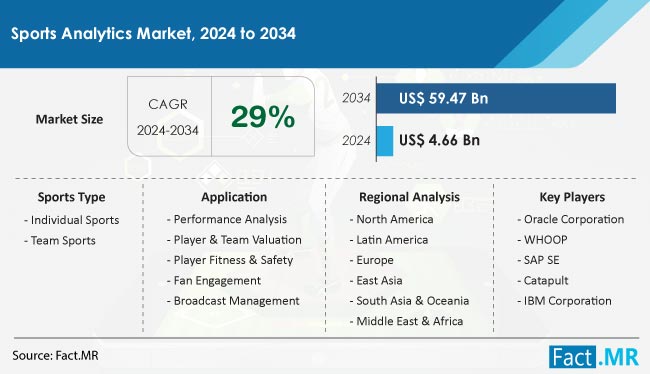 What Can Cause a Decline in the Sales of Sports Analytics Solutions?
"Integration Challenges and Data Privacy Concerns"
The incorporation of sports analytics creates significant barriers to the widespread acceptance and deployment of sophisticated analytics systems. These difficulties derive from the complexities of incorporating cutting-edge technology into current systems and workflows within sports organizations. Legacy systems, which are widespread in many sports organizations, may be difficult to integrate with modern analytics solutions, resulting in costly and time-consuming upgrades or replacements. Data silos, in which information is spread across multiple departments and platforms, complicate the creation of a single data ecosystem.
Data privacy concerns are a significant impediment in the sports analytics sector, owing to the sensitive and personal nature of the data being collected and processed. These problems have grown in importance as data collection and sharing have become more common in this field. Athlete personal data, including health information, sports performance analytics, and biometric data, must be protected to maintain athlete trust and well-being.
Given the constantly evolving world of cyber threats, data breaches and illegal access to sensitive athlete performance analysis pose considerable hazards. Furthermore, there is an ethical component to data privacy since data must be used in ways that are consistent with ethical values, ensuring that athletes benefit while avoiding exploitation or injury. Transparency in data collection, processing, and sharing is critical for athletes and sports organizations since it can weaken trust and impede the adoption of analytics solutions.
More Insights, Lesser Cost (-50% off)
Insights on import/export production,
pricing analysis, and more – Only @ Fact.MR
How Can Start-ups Leverage Opportunities in the Sports Analytics Business?
"Emphasis on Ethical Data Usage and Comprehensive Compliance Solutions"
The sports analytics business is constantly evolving, and standing out in such a competitive field necessitates new ideas and techniques. They can bring a fresh viewpoint and useful insights that set them apart from more established companies by pushing the frontiers of technology and sports data analysis.
Relationships with sports teams, leagues, and organizations can provide excellent chances for companies to promote their products. Such alliances can provide entrepreneurs with real-world testing grounds as well as access to large datasets, helping them to enhance their products and establish industry credibility. Creating solutions that can serve a diverse variety of clients, from local sports teams to professional leagues, ensures greater market penetration.
Start-ups can demonstrate their commitment to ethical data usage and get a competitive edge in a market that is increasingly concerned about privacy issues by providing comprehensive data protection measures and compliance solutions specific to the sports industry.
Resources, that provide predictive sports analytics and more accurate insights, are game-changers. Implementing AI-driven algorithms can provide a distinct advantage to companies by allowing them to provide clients with more precise and actionable data, resulting in increased performance and strategic decision-making.
ShotTracker, for example, is a basketball analytics company that provides real-time data on player and ball movements during games and practices.
Second Spectrum provides advanced video analytics for basketball and soccer, giving teams and media outlets tactical insights.
Country-wise Insights
Adoption of sports analytics varies by country, driven by factors such as sports popularity, technological infrastructure, and funding. North America leads the global market, while the Asia Pacific market is projected to expand at a steady pace.
Why is There Growing Integration of Sports Analytics Platforms in India?
"Wide Sports Fan Base and Rise in Sports Leagues and Franchises"
The market in Asia Pacific is predicted to advance at 24.6% CAGR through the forecast period. India is well-positioned to play a major role in driving the sports analytics market growth due to its fast-changing technology landscape and growing passion for sports. India has a tremendous sports fan base, particularly in cricket, which has a near-religious devotion. The Indian Premier League (IPL) alone has broken global spectator engagement and economic success records, making it a hotbed for sports analytics adoption.
With an increase in sports leagues and franchises across all disciplines, the Indian sports business is undergoing a professional transition. This growth has resulted in a greater emphasis on data-driven decision-making, player performance enhancement, and fan interaction. The Indian technology sector, which is well-known for its capabilities in software development and data science, is actively contributing to the sports analytics ecosystem.
What is the Future Scope of Sports Analytics in the United States?
"Strong Sports Culture and Wide Integration of Augmented Reality in Sports Broadcasting"
North America accounted for 29.1% share of the revenue of the sports analytics industry in 2023. The United States is home to a plethora of major professional sports leagues, including the NFL, NBA, MLB, NHL, and MLS, to name a few. These leagues have integrated this into their operations, utilizing data-driven insights for player performance enhancement, recruitment, injury prevention, and strategic game analysis.
The United States leads the world in integrating sports analytics into professional sports due to the size and financial power of these leagues. College sports, particularly football and basketball, garner enormous interest, with devoted fan bases and widespread coverage. This opens up a huge market for sports analytics applications outside of professional leagues.
The country is also at the forefront of technological advancements. The United States sports broadcasting industry has embraced this to provide viewers with immersive and data-rich experiences. Rapid replays of real-time sports analytics statistics with incisive commentary, and augmented reality graphics have improved viewers' comprehension and participation in the game. Because of its strong venture capital ecosystem, a culture of innovation, and readiness to invest in developing technologies, the United States stands out as an appealing place for sports analytics firms. This provides an ideal environment for companies to develop and implement novel solutions for teams, athletes, and spectators.
Know thy Competitors
Competitive landscape highlights only certain players
Complete list available upon request
Category-wise Insights
Rapid technological advancements, including artificial intelligence (AI), machine learning, and wearable devices, have paved the path for more detailed data collection and analysis. The on-field segment generated more than half of the global revenue in 2023.
How is the Software Segment Revolutionizing the Sports Analytics Market?
"Vital Role of Software in Generating Engaging and Immersive Fan Experiences"
Sports analytics software accounted for 62.2% of the sports analytics market share in 2023. Sports statistics software provides the necessary tools and platforms for data collection, processing, and analysis, transforming raw data into actionable insights. Software plays a critical role in the day-to-day operations of sports organizations, providing coaches, athletes, and analysts with the tools they need to make informed decisions. The software segment is evolving and innovating to keep up with the fast-paced nature of sports.
AI and machine learning advancements have opened up new avenues for the development of predictive models and advanced sports analytics tools that can forecast player behavior, improve strategy, and even recreate game scenarios. This level of sophistication is fueling demand for software solutions that can give athletes a competitive advantage in the sports business. This software is essential for generating engaging and immersive fan experiences. Sophisticated software platforms enable real-time statistics, augmented reality images, and data-driven content.
Competitive Landscape
This market is characterized by a dynamic interplay between existing firms, creative start-ups, and emerging technology leaders. This industry has seen substantial expansion in recent years, and key players in the sports analytics market are striving for domination by providing a comprehensive range of data-driven solutions to athletes, teams, and sports organizations.
IBM Sports Insights Central is at the vanguard of this environment, providing comprehensive analytics solutions that include data-driven insights for both player performance optimization and fan engagement. Their long-standing market presence and cutting-edge technologies have made them a competitive industry player.
Catapult Sports, recognized for its athlete tracking and wearable technology, which includes GPS trackers and monitoring devices that have received significant adoption in numerous sports, is another key challenger.
Stats Perform, a leader in sports data and analytics, provides real-time statistics, video analysis, and predictive analytics to sports organizations, making them vital tools.
Segmentation of Sports Analytics Market Research
By Component :

By Application :

Performance Analysis
Player & Team Valuation
Player Fitness & Safety
Fan Engagement
Broadcast Management
Others

By Deployment :

By Analysis Type :

On-field
Off-field
Individual
Team

By Solution :

Video Analytics
Bioanalytics
Smart Wearable Technology

By Technology :

By End User :

Professional Sports Teams
Sports Federations
Sports Equipment Manufacturers
Others

By Region :

North America
Latin America
Europe
East Asia
South Asia & Oceania
Middle East & Africa
- FAQs -
North America accounted for 29.1% share of the global sports analytics market in 2023.
The global sports analytics market is estimated at US$ 4.66 billion in 2024.
Demand for sports analytics solutions is projected to reach a market value of US$ 59.47 billion by 2034-end.
Revenue from sales of sports analytic solutions is projected to increase at a CAGR of 29% through 2034.
Big data analytics is extensively used by companies to make data-driven decisions.