Big Data Analytics in Healthcare Market
Big Data Analytics in Healthcare Market Size, Share, Forecast Report By Spender Type (Healthcare Payer, Healthcare Provider), By Tool Type (Data Warehouse Analytics, CRM Analytics), By Deployment Type (Cloud-based, On-premises), By Application Type - Regional Forecast to 2032
FACT369MR
Dec-2021

List of Tables : 70

List of Figures : 102

170 Pages
Big Data Analytics in Healthcare Market Outlook
The global big data analytics in healthcare market is estimated at US$ 39.7 billion in 2022. Data as a technology has been adopted by healthcare industry stakeholders rapidly and is being monetized, which is slated to push the global big data analytics in healthcare market to grow at CAGR of over 19%, and register total market value of US$ 194.7 billion by 2032 end
In accordance with the present scenario, big data analytics in healthcare accounts for ~14.2% of the global big data analytics market states Fact.MR - market research and competitive intelligence provider.
Big data analytics in healthcare encompasses the use of large and complex heterogeneous dataset which includes but are not limited to several – omics data (pharmacogenomics, transcriptomics, genomics, proteomics, metabolomics, epigenomics, interactomics, diseasomics), biomedical data and electronic health records data.
Anatomizing the in-depth storyline for the demand of data management in healthcare, a clear explanation can be constructed for why such a significant growth rate is estimated during the forecast period. Managing a patient's medical history along with the need to analyse the frequency of that patient for encountering similar health issues raised up as a prominent demand driver for data analytics used in healthcare sector. As a beneficial influence, big data technology and service market received benefits from the aforementioned scenario in context with the fact that technological services consume maximum revenue-generating opportunities after a technology is implemented in some sector.
Of the prominent applications for big data analytics in healthcare (access clinical information, access operational information, access transactional information and other), analytics used to manage and monitor transactional information among two spender types (healthcare payer & healthcare provider) holds around ~50% of overall revenue associated with healthcare data management. Therefore, any player in data analytics market trying to enter healthcare sector must come up with an idea to provide a highly optimized transaction monitoring system with additional ability as a data extraction software for managing this giant unstructured the healthcare data increasing exponentially over the past half-decade.
Moreover, the healthcare management tool types (Data warehouse analytics, financial analytics, production reporting, CRM analytics, predictive analytics, visual analytics, risk management analytics, test analytics and supply chain analytics), will acknowledge the gain of 418 BPS and 257 BPS for test and supply chain analytics respectively.
Interested to Procure The Data
Report Scope
Attribute
Details
Market size value in 2021
US$ 33.8 billion
Market forecast value in 2032
US$ 194.7 billion
Global Growth Rate
CAGR 19.2%
APEJ Market Size in 2022
US$ 14.3 billion
APEJ Growth Rate
CAGR 39.6%
U.S. Market Size in 2022
US$ 3.4 billion
Top 5 Companies Market Share
~24%
Key Companies Profiled

IBM Corporation
OptumHealth Care Solutions
Microsoft Corp
McKesson
MedeAnalytics
Verisk Analytics
Allscripts Healthcare Solutions
Oracle Corp
Zephyr Health
Cisco Systems Inc.
Infosys
SAS Institute
Alteryx
SAP SE
Denodo Technologies Inc.
Big data analytics for healthcare industry research performed by Fact.MR delves on key insights such as current and speculative market approach, technical facilities offered by each big data analytics provider, current and speculative pricing, price optimization strategy across value chain, techno-economic analysis by considering overall scenario of healthcare analytics market, global healthcare industry, and many more.
Historical Analysis Vs. Future Projections for Big Data Analytics in Healthcare Market
According to Fact.MR, the concept of big data analytics for healthcare industry was not a prominent term in past, in fact data analytics was unfamiliar. Rapid increase in population over last two decades uplifted growth of healthcare industry. As an outcome, demand for healthcare products, healthcare information and technology, and healthcare support services escalated with respective CARG values of 14.7%, 16.8% and 17.1% over past 5-years. Data generated from all these sectors statured big data analytics into the game.
Attributed to technological advancements in healthcare sector over recent years, 21.6% CAGR is projected for utilization of predictive analytics tool in healthcare industry.
Predictive analytics tool in healthcare sector is forecast to surpass US$ 13 billion in 2032. Under the fact that COVID-19 impacted almost every business sector in past two years, a significant role was played by this tool to predict upcoming possibilities on global scale. Therefore, a similar sort of assistance is expected from this tool in upcoming decade.
Interpreting the future projections for data management in healthcare sector, sudden forceful expansion incurred in last two years which added numerous new hospitals, COVID-19 testing centres, vaccine storing inventories, healthcare oriented transportation facilities and chemist shops. Therefore, an enormous unstructured data including patient details, corona survivors, deaths associated, vaccines injected, vaccines on order, total medical related import and export, rate of infection and many more made the situation more tensed. Therefore, high pace implementations of around 1.8X for data management systems including big data analytics were recorded in every medical related entity.
An Adaptive Approach to Modern-day Research Needs
Country-wise Analysis
Why Key Big Data Market Players should positively target U.S. based healthcare sector?
Presence of various healthcare research institutes, medical advisories, highly advanced hospitals and much more in one of the world's leading economies opens up wide windows for healthcare oriented unstructured data to pile up every year. Adding to the similar concept, US healthcare value surpassing US$ 3.6 trillion post COVID-19 which is approximately US$ 11,237 per person shows the potential investment they hold for any technology able to benefit their healthcare sector.
Adding to above mentioned point, poor quality and highly unstructured data costs around US$ 3 trillion to U.S. economy on yearly basis and this trend can also be seen in the data associated with their healthcare sector. Therefore, accounting to the high demand of data governance in healthcare and currently medical failure occurred due to COVID-19 impact associated with U.S. medical hub, exceptional business opportunities as present in this country.
Attributed to the above-discussed factors, it is projected that demand of big data in US medical infrastructure will be surpass major other healthcare countries in terms of CAGR, which is poised to grow at 18.9% over the next decade.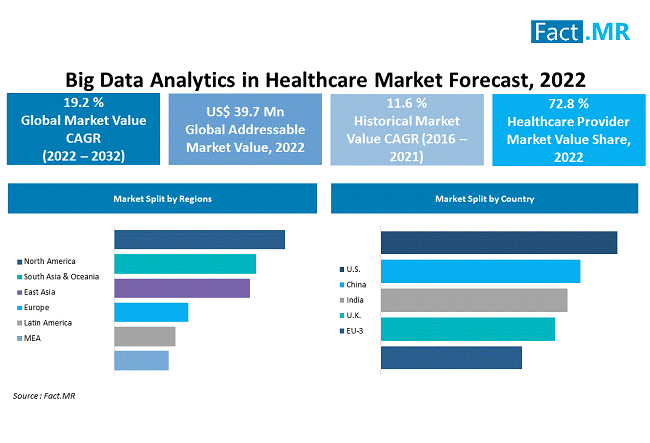 Category-wise Analysis
How Cloud Deployment in Healthcare Data Management led to Gain Immense Traction and Bolster?
Out of the major deployment types practised in healthcare sectors (Cloud-based & On-premises), cloud management of healthcare data is expected to increase at a significant pace of 26.8% CAGR and occupy 65% of global share. This fact is directly associated with the impact of COVID-19 on healthcare that converted major on-premises dealings to a completely cloud interface.
In addition, almost every sector which once thrived with on-premises deployment now converted itself to an optimized online interface for the sake of sustainability in the market. Similarly, medical shops, medical test centres, local clinics, world-class medical facilities underpinned with online business required an optimized system to manage their data efficiently. Hence, a sudden demand for implementing cloud deployment system for data analytics confronted by above mentioned sectors globally.
Avail customized purchase options for your needs
Which Spender Type of Big data analytics in Healthcare holds maximum revenue generating opportunities?
In context with the fact that unstructured data creates issue for every profitable and non-profitable organization, demand for every such technology which holds the ability to ease the enormous data management will remain in trend. On similar note, healthcare industry being highly valued among all the major sectors requires optimized method to monitor their data.
When it comes to the data management, the amount of data present in unstructured and disorganized way decides which tool would be beneficial and cost effective to be used. Therefore, comparing healthcare payer and provider, a payer being a single person or group of less people do not find it troublesome when trying to manage their healthcare data including its expenses, medical history, disease catching frequency and many more. But, when it comes to data management associated to healthcare provider including chemist, hospitals, clinics, vaccine manufacturers, research organizations, etc. managing enormous data becomes burdensome job.
Owing to the aforementioned fact, healthcare provider will consume almost ~72.8% of overall big data analytics technology sold to healthcare industry. Attributed to this, big data management technology sales in medical management structure will generate notable absolute $ opportunity and grow at CAGR of 23.9% globally.
How Has COVID-19 Impacted Revenue Generation from Big data analytics in healthcare?
COVID 19 pandemic left no industry unturned and has impacted their overall sales. In contrast to it, data analytics business, especially for healthcare sector is poised to record significant CAGR value around 19.2% for upcoming decade. This expansion can be attributed through the fact that due to COVID-19 impact, healthcare facilities got multiplied and large amount of unstructured data got piled up.
Therefore, requirement of managing the unorganized data along with the additional need to avoid on-premises contact in medical hospitals, chemist shops, vaccine warehouses and research centres will boost the demand of such technologies in the immediate future.
Competition landscape: Top Companies of Big Data Analytics in Healthcare Market
Market players in big data analytics in healthcare business have mainly opted for growth oriented strategies which includes data managing software branding and continuous technical advancements in big data management. These strategies are helping big data players to expand their regional footprint and garner maximum market share thus providing competitive advantage on global level.
Fact.MR has provided detailed information about price points of top manufacturers of big data analytics in healthcare positioned across regions, sales growth, production capacity, and speculative technological expansion in the recently published report.
In August 2020, IBM revealed their highly advanced version of microprocessor named as Power10 processor that can handle extensive data managing workload.
Microsoft, a leading software brand unlocked their health data management power on October 2020, and provides service by name of Microsoft Cloud for Healthcare product.
Similar, recent developments related to companies offering in big data analytics technology have been tracked by the team at Fact.MR, which are available in the full report.
Big Data Analytics in Health Care Market Key Segments
By Spender Type

Healthcare Payer
Healthcare Provider

By Tool Type

Data Warehouse Analytics
Financial Analytics
Production Reporting
CRM Analytics
Predictive Analytics
Visual Analytics
Risk Management Analytics
Supply chain Analytics
Test Analytics

By Application Type

Access Clinical Information
Access Operational Information
Access Transactional Data
Other Applications

By Deployment Type