Thermochromic Pigments Market
Thermochromic Pigments Market Analysis By Type (Reversible, Irreversible), Application (Plastics & Polymers, Paints & Coatings, Fabrics, Inks, Cosmetics, Textiles, Electronics), By Distribution Channel (Online, Offline) and By End Use (Automotive, Aerospace, Packaging, Consumer Goods, Building & Construction) - Global Market Insights 2023 to 2033
Analysis of Thermochromic Pigments Market Covering 30+ Countries Including Analysis of US, Canada, UK, Germany, France, Nordics, GCC countries, Japan, Korea and many more
Thermochromic Pigments Market Outlook (2023 to 2033)
The global thermochromic pigments market stands at US$ 19.5 billion in 2023 and is projected to reach US$ 880 million by 2033-end, expanding at a CAGR of 5.5% from 2023 to 2033, according to the last market study by Fact.MR.
Thermochromic pigments are specialized colorants that change their color in response to fluctuations in temperature. These pigments exhibit a remarkable property known as thermochromism, which results in color shifts based on the temperature they are exposed to. The ability to create captivating visual effects and interactive experiences has made thermochromic pigments a sought-after element in the realm of innovative materials and product design.
In January 2019, OliKrom introduced a groundbreaking paint formulation capable of illuminating roadways and exhibiting responsiveness to heat, impact, and chemical influences.
Thermochromic paint harnesses the thermochromic materials of the pigments to create dynamic and interactive visual effects. When the temperature changes, the paint changes color, providing a dynamic and eye-catching appearance. Liquid crystal pigments are specialized materials that combine the properties of liquid crystals with pigments. Liquid crystals are molecules that have a unique arrangement where they can flow like liquids but also maintain certain ordered orientations like crystals. When these liquid crystals are combined with pigments, they create visually striking effects.
The technology behind heat-activated color-changing pigments is based on the principle of thermochromism. As the temperature rises, the molecular structure of the pigment changes, leading to alterations in the wavelengths of light that are absorbed and reflected. This phenomenon results in the perception of a different color by the human eye.
The underlying science behind thermo-reactive pigments lies in their molecular structure. As temperature variations occur, the molecules within these pigments experience changes in energy levels, leading to modifications in the wavelengths of light they absorb and reflect.
Report Attributes
Details
Thermochromic Pigments Market Size (2022)
US$ 490 Million
Estimated Market Value (2023)
US$ 517 Million
Forecasted Market Value (2033)
US$ 880 Million
Global Market Growth Rate (2023 to 2033)
5.5% CAGR
Asia Pacific Market Growth Rate (2023 to 2033)
5.5% CAGR
North America Market Growth Rate (2023 to 2033)
5.9% CAGR
Demand Growth for Reversible Thermochromic Pigments (2023 to 2033)
6% CAGR
Demand Growth for Inks (2023 to 2033)
6% CAGR
Leading Regional Market
North America
Key Companies Profiled

LCR Hallcrest LLC
SFXC
Olikrom
Hali Pigments Co. Ltd.
Smarol Industry Co. Ltd.
Hammer Packaging
QCR Solutions Corp.
New Color Chemical Co.
Don't Need a Global Report?
save 40%! on Country & Region specific reports
What's Driving Worldwide Consumption of Thermochromic Pigments?
"Tamper-evident Features of Thermochromic Dyes Increasing Their Use in Smart Packaging"
Thermochromic dyes are specialized colorants that exhibit the property of thermochromism, which causes them to change color in response to temperature fluctuations. These dyes are designed to react to specific temperature ranges, making them versatile for a wide range of applications. These dyes find application in industries such as textiles, fashion, packaging, printing, and more. Their unique ability to add dynamic and temperature-responsive elements to products and materials makes them a popular choice for those seeking to create engaging and innovative experiences.
Adoption of thermochromic pigments in smart packaging scenarios is growing, notably in food and beverage packaging. They facilitate real-time temperature indications, monitor freshness, and provide tamper-evident features. This elevates consumers' confidence levels, enhances product safety, and adds allure to the packaging on store shelves.
Thermochromic pigments play a pivotal role in the textile and fashion industry, offering an avenue for creating captivating color-changing effects within garments, footwear, and accessories. Reacting to body heat or shifts in the environment, these pigments introduce distinctive aesthetics and innovative design opportunities to the realm of fashion.
"Extensive Use of Thermochromic Coatings to Create Interactive Visual Effects in Printing"
Adaptability of thermochromic coatings to different materials and their ability to transform appearances in response to temperature fluctuations make them a valuable tool for creating innovative and visually captivating surfaces. Thermochromic pigments find extensive utility in the realm of printing, encompassing magazines, labels, and promotional materials. These pigments infuse interactive and captivating visual effects into printed content. By altering color upon touch or temperature changes, they amplify customer engagement and reinforce brand familiarity.
The persistent evolution of thermochromic technology is dedicated to elevating color endurance, expanding temperature sensitivity ranges, and bolstering compatibility with diverse substrates. These breakthroughs broaden the horizons of thermochromic pigment applications and facilitate tailored color transformations.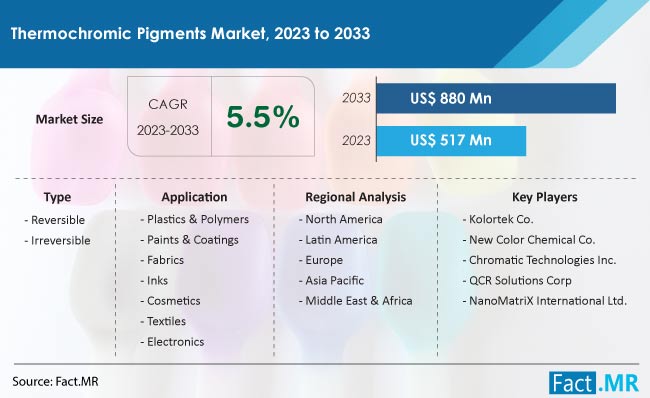 What are the Challenges Faced by Thermochromic Pigment Manufacturers?
"High Production Cost and Low Color-changing Effect Durability of Thermochromic Pigments"
Production of thermochromic pigments can involve specialized materials and processes, leading to relatively higher production costs compared to traditional pigments. This cost factor can influence the decision-making process for businesses considering their integration into products or applications.
The color-changing properties of thermochromic pigments can sometimes be influenced by factors like UV exposure, humidity, and repetitive usage. Maintaining the color-changing effect over extended periods without degradation can be a challenge, particularly in applications where durability is crucial.
Thermochromic pigments are designed to change color within specific temperature ranges. If the temperature range is too narrow or not well-suited to the intended application, the desired color-changing effect may not be achieved as expected.
"Production Scalability Limitations and Quality Maintenance Hindrances"
Integrating thermochromic pigments into certain materials or products requires careful consideration due to compatibility issues. Not all substrates or applications are suitable for seamless integration, which can limit the versatility of these pigments.
Some thermochromic pigments may contain materials that need to comply with specific regulatory standards, especially in industries such as food packaging or children's products. Ensuring compliance with these standards can be demanding.
As the demand for thermochromic pigments grows, ensuring scalable production to meet thermochromic pigments market needs can pose challenges. Manufacturing at larger scales while maintaining quality and consistency can be a complex task.
More Insights, Lesser Cost (-50% off)
Insights on import/export production,
pricing analysis, and more – Only @ Fact.MR
Country-wise Insights
What's Leading to Increasing Demand for Thermochromic Pigments in the United States?
"Widespread Utilization of Thermochromic Pigments in Intelligent Packaging "
The North American market is projected to advance at a CAGR of 5.9% from 2023 to 2033. In the United States, thermochromic pigments have gained traction in the packaging industry. They are integrated into packaging materials for food and beverages, pharmaceuticals, and other consumer goods to offer real-time temperature indicators, ensuring product freshness and safety. This innovation enhances consumer trust and aligns with the increasing demand for information transparency.
The United States thermochromic pigments market witnesses the use of thermochromic pigments in an array of consumer products. Color-changing mugs, toys, clothing, and accessories have captured consumers' attention, creating engaging and interactive experiences. This trend taps into the desire for personalized and visually appealing products.
What Prospects Await Manufacturers of Thermochromic Pigments in Germany?
"Increasing Use of Cold-sensitive Pigments in Printing Applications"
The industrial sector in Germany has leveraged thermochromic pigments for a range of applications, including temperature-sensitive coatings and printing inks. Cold-sensitive pigments find application in a variety of industries and products, capitalizing on their ability to convey temperature-related information and create interactive experiences. These pigments find use in industrial processes, safety applications, and even as indicators for maintenance or operational thresholds.
Reflecting Germany's commitment to sustainability, there is a heightened interest in environmentally friendly thermochromic solutions. Manufacturers are exploring ways to align with eco-friendly practices, minimizing the environmental impact of production and application processes.
Category-wise Insights
Why is There Extensive Utilization of Reversible Thermochromic Pigments?
"Increased Use of Reversible Thermochromic Pigments to Indicate Packaged Product Freshness"
Over the forecast period, demand for reversible thermochromic pigments is anticipated to rise at a CAGR of 6% through 2033. Unlike irreversible thermochromic pigments, which undergo a permanent color change after exposure to a specific temperature, reversible thermochromic pigments can revert to their original color when the temperature returns to its initial state.
Reversible pigments find a wide range of applications. They are incorporated into various products and materials to convey temperature-related information, create captivating visual effects, and engage consumers. For example, these pigments are used in textiles to create color-changing garments that respond to body heat or environmental changes, and in packaging to indicate temperature changes or freshness of products.
Why is Adoption of Thermochromic Pigments Increasing in Ink Applications?
"Role of Thermographic Pigments in Creation of Interactive Designs"
Demand for inks is projected to advance at a CAGR of 6% through 2033. Thermochromic pigments are integrated into inks used for packaging and labels. They provide real-time temperature indicators that can signal the freshness of perishable goods or highlight optimal usage conditions. This functionality enhances consumer confidence and aligns with the demand for transparency and information in product packaging.
Inks containing thermochromic pigments allow designers to create interactive and engaging designs. These pigments can be used to craft color-changing graphics that respond to touch or temperature changes. Such designs captivate attention and create memorable experiences for consumers.
Know thy Competitors
Competitive landscape highlights only certain players
Complete list available upon request
Competitive Landscape
Manufacturers in the thermochromic pigments market are expanding their product offerings to cater to diverse application areas. This includes not only a variety of color options but also different forms of pigments, such as inks, coatings, and powders, to accommodate the needs of different end-user industries.
Collaborations between pigment manufacturers, end-use industries, and research institutions are becoming more prevalent. These partnerships facilitate the exchange of expertise, innovation, and market insights, allowing companies to tailor their products to meet specific industry demands.
In June 2021, RPM International disclosed the acquisition of Ali Industries, LLC, a manufacturer of sandpaper and coated abrasive products. This strategic acquisition not only expanded RPM's product portfolio but also bolstered the company's standing within the abrasive industry.
In August 2021, CTI unveiled its innovative color-changing ink technology, dubbed "Thermochromic Textured Ink." This cutting-edge ink innovation empowers the development of package designs that offer both tactile sensations and temperature responsiveness. This distinctive feature adds an interactive and captivating dimension to consumer experiences, enhancing engagement and interaction with the product.
Key Segments of Thermochromic Pigments Industry Research
By Type :

By Application :

Plastics & Polymers
Paints & Coatings
Fabrics
Inks
Cosmetics
Textiles
Electronics

By Distribution Channel :

By End Use :

Automotive
Aerospace
Packaging
Consumer Goods
Building & Construction

By Region :

North America
Latin America
Europe
Asia Pacific
Middle East & Africa
- FAQs -
The global thermochromic pigments market is valued at US$ 517 million in 2023.
Demand for thermochromic pigments is set to increase at a CAGR of 5.5% from 2023 to 2033.
Worldwide sales of thermochromic pigments are projected to reach US$ 880 million by 2033.
Sales of reversible thermochromic pigments are forecasted to increase at a CAGR of 6% from 2023 to 2033.
The North American market is set to expand at a CAGR of 5.9% through 2033.
Sales of thermochromic pigments for use in inks are projected to rise at a CAGR of 6% through 2033.