Organic Pigments Market to Grow 1.3X, as Applications of High-performing Pigments Surge
Fact.MR predicts that demand for organic pigments is projected to rise at a CAGR of over 3.3% during the forecast period (2019-2027) and is anticipated to reach a value pool of US$ 4.5 Bn by 2027 end. Increasing consumer preference for environment-friendly products will support the consumption of high-performance organic pigments. With the ability to provide intense and bright colors, organic pigments are highly consumed in niche applications such as production of advertising and packaging leaflets and catalogues etc., which can be strategically targeted to ensure topline growth. Organic pigments market is likely to experience favorable gains in the high-performance pigments segment, as end-users require more exacting properties such as transparency, color strength and photosensitivity from their coloring agents. Developing economies with increasing demand for decorative coatings from verticals such as automotive, and construction present continued growth for manufacturers of organic pigments.
Azo Pigments Gather Impetus with Surging Adoption of Bright Colors
Azo pigments are projected to account for around half of the market share through 2027, followed by phthalocyanine pigments and high-performance pigments. Azo pigments are anticipated to remain the priority business segment for organic pigment manufacturers. Escalating usage of azo pigments in printing inks and coatings is anticiapted to generate profitable opportunities for global as well as local manufacturers. The high performance pigments segment is anticipated to register significant growth of over 4% in the overall organic pigment market owing to superior features such as heat stability, light fastness and chemical inertness. Recent color trends in automotive and decorative coating industry are propelling the usage of organic pigments and leading the market towards a profitable future.
Paints & Coatings to Account for Quarter of Total Market Share, Opportunities Abound in Printing Inks
Printing inks remain the leading market for organic pigments, followed by coatings and plastics. Plastics and coatings are set to record healthy growth of over 4% especially in East Asia and South Asia & Oceania. Growing importance of aesthetics in the packaging industry owing to the need for product differentiation arising from high competition in consumer goods and food and beverages is escalating the consumption of printing inks. Strong demand for printing inks in packaging is set to boost sales of organic pigments in the foreseeable future.
APAC to Remain in Lead, as Investment Opportunities Abound
In the past five years, the growth of organic pigments market is remarkable in East Asia, South Asia & Oceania. East Asia is set to continue its supremacy over other regions till 2027 whereas South Asia & Oceania are set to register a healthy growth rate. Organic pigments are highly in demand in Asia Pacific, owing to high performance and new color demand among consumers. East Asia, South Asia & Oceania cumulatively account for nearly 40% share and expected to record a growth of 4% during the forecast period. China is by far the leading consumer across the globe and is significantly growing its domestic market. North America accounts for more than 19% share and market is primarily driven by demand from printing inks and plastic industry.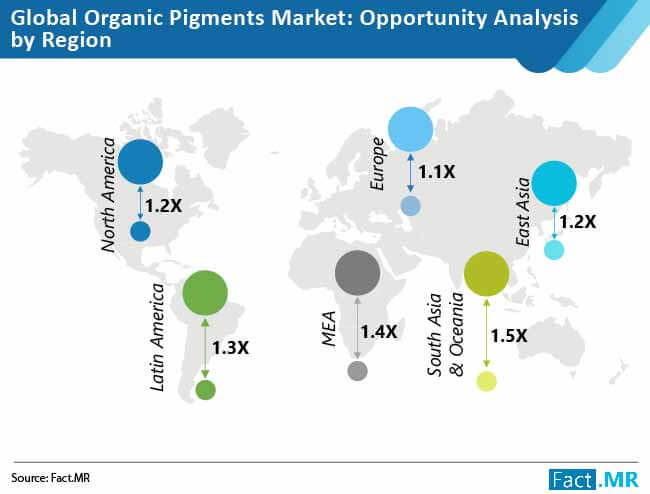 To get an exhaustive regional overview of the organic pigments market, request for a report sample here
Production of Sustainable High Performance Pigments to Remain Key Market Imperative
The global organic pigments market has witnessed a paradigm shift by companies over the past decade from heavy and metal based to environmentally friendly alternatives. Key competitors such as BASF SE, Clariant AG, DIC Corporation, Heubach GmbH, are acquiring the top shares in the market. Companies are capitalizing on lucrative opportunities in Asia Pacific. Recently, the market has witnessed a new range of high performance pigments in the field of organic pigments. As a result of the highly successful R&D programmes of the recent past, the market is witnessing full-colour range of organic pigments such as Phthalocyanine Blues and Greens, Azo Yellows, Oranges and Reds, Indanthrone Blues, Isoindoline Yellows, Benzimidazolone, Anthanthrone, DPP & Quinacridone Reds and others.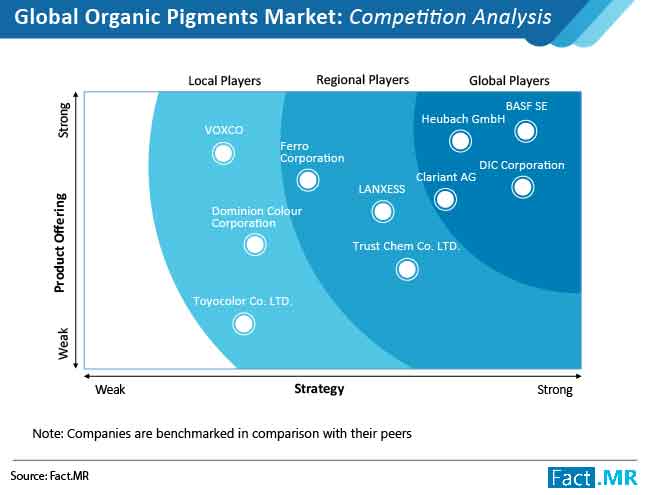 For critical insights on the competition landscape of the organic pigments market, ask an analyst here
Global Organic Pigments Market – Scope of the Report
The following report provides forecast and analysis of the global organic pigments market along with the historical data of 2013, estimated data 2019 and forecast data up to 2027 in terms of value (US$ Mn) and volume (Tons), according to a Fact.MR study. The research propounds critical trends that are currently influencing growth within the global organic pigments market along with several macro-economic indicators. This newly published and insightful report on organic pigments sheds light on key dynamics, and their impact on the overall value chain from suppliers to end-users, which are expected to transform the future of the global organic pigments market.
The report also comprises the study of current issues with end users and opportunities for organic pigments. It also contains value chain analysis, including the key market participants. To provide users of this report with a comprehensive view of the market, we have included a detailed competitive analysis about the key players involved in the market and strategic overviews. The dashboard included in the report provides a detailed comparison of organic pigments manufacturers on parameters such as total revenue, product offerings, and key strategies. A list of key companies operating in the organic pigments market provided in the report adds to the credibility of this exhaustive research study.
Global Organic Pigments Market: In-Depth Assessment on Key Segments
The global organic pigments market is segmented on the basis of type, application and region.
| | | |
| --- | --- | --- |
| Type | Application | Region |
| Azo Pigments | Printing Inks | North America |
| Phthalocyanine Pigments | Paints & Coatings | Latin America |
| High Performance Pigments | Plastics & Rubber | Europe |
| | Others (Textile, Paper, Leather, etc.) | East Asia |
| | | South Asia & Oceania |
| | | Middle East & Africa |
This taxonomy and the detailed TOC prepared are confidential and intended exclusively for the individual or entity with whom it is being shared. Reading, disseminating, distributing, or copying this to any party other than addressee(s) is unauthorized and prohibited.
Country-specific assessment on demand for organic pigments has been provided for each regional market, along with the market size valuation and forecast price point assessment, price index and impact analysis of key regional and country-wise dynamics, which were obtained through quotes from numerous organic pigments manufacturers, experts, and suppliers. Y-o-Y growth projections have also been offered on all regional markets incorporated in the report. Moreover, future trends, growth prospects, and other possibilities related to the market have been answered in the report.
The report provides company-level market share analysis, which has been derived on the basis of the company's annual sales and segmental revenue in all the target end-use industries. The market has been forecasted based on constant currency rates. The report provides detailed competitive and company profiles of key participants operating in the global organic pigments market. Some of the major competitors operating in the organic pigments market are BASF SE, Clariant AG, DIC Corporation, Heubach GmbH, LANXESS and others.
Global Organic Pigments Market: Research Methodology
A number of primary and secondary sources were consulted during the course of the study. Secondary sources include Factiva, Morningstar and Hoovers, and company annual reports and publications. Comprehensive interviews have been conducted by our analysts, and the intelligence and insights obtained have been used for validating the information gained through secondary research. The report also includes a description of assumptions and acronyms utilized for research purposes. Data gathered has been validated using the triangulation method to offer useful quantitative and qualitative insights into the organic pigments market.
A short market viewpoint offered in the report elucidates the macro-economic aspects that influence the growth of the organic pigments market, which includes global GDP growth rate, various industries growth rate, such as printing inks, paints & coatings, plastics & rubber and others. This report serves as an authentic resource of intelligence on the organic pigments market, enabling the readers to take fact-based decisions on the future direction of their businesses.
Fact.MR offers custom research services that help clients to get specific research solutions
We are committed towards customer satisfaction and quality service.
---
Our Clients

Organic Pigments Market Forecast, Trend Analysis & Competition Tracking - Global Market Insights 2019 to 2027