Organic Pigments Market
Organic Pigments Market By Type (Azo Pigments, Phthalocyanine Pigments, High-Performance Pigments), By Application (Organic Pigments for Printing Inks, Paints & Coatings, Textiles, Decorative Coatings and lastics & Rubber) - Forecast 2021-2031
FACT4588MR
Sep-2021

List of Tables : 102

List of Figures : 88

170 Pages
Organic Pigments Market Outlook
The global organic pigments market was valued at US$ 4 Bn in 2020, and is projected to expand 1.5X to top US$ 6 Bn by 2031. Demand for azo pigments is projected to accelerate at a CAGR of 4% across the assessment period of 2021 to 2031.
Avail customized purchase options for your needs
Key Points Covered in Organic Pigments Industry Survey:
Market Estimates and Forecasts (2016-2031)
Key Drivers and Restraints Shaping Market Growth
Segment-wise, Country-wise, and Region-wise Analysis
Competition Mapping and Benchmarking
Assessment by Product Grade / Purity / Formulation Standards
Assessment of Import Price, Bulk Price, Contractual Price, Producer / Distributor Price
Certifications and Compliance Requirements
Brand Share and Market Share Analysis
Organic Pigments Market Size in 2021
Latest Trends of Organic Pigments in 2021
Organic Pigments Market Growth to 2031
Latest Trends in High-Performance Organic Pigments
Key Product Innovations and Regulatory Climate
COVID-19 Impact on Organic Pigments Industry and How to Navigate
Recommendation on Key Winning Strategies
Consumption Analysis of Organic Pigments from 2016-2020 Vs Market Outlook for 2021-2031
As per Fact.MR – a market research and competitive intelligence provider, the global market for organic pigments thrived at a CAGR of over 3% from 2016 to 2020 to reach US$ 4 Bn.
Increasing consumer preference for environment-friendly products will support demand for high-performance organic pigments. With the ability to provide intense and bright colors, organic pigments are highly consumed in niche applications such as production of advertising and packaging leaflets and catalogues., which can be strategically targeted to ensure topline growth.
The organic pigments market is likely to experience favorable gains in the high-performance pigments segment, as end users require more exacting properties such as transparency, color strength, and photosensitivity from their coloring agents.
Developing economies with increasing demand for decorative coatings from verticals such as automotive and construction will drive growth for top manufacturers of organic pigments.
Considering these factors, the market is projected to witness growth of organic pigments over the coming years, registering a CAGR of 5% to cross US$ 6 Bn by 2031.
An Adaptive Approach to Modern-day Research Needs
What are the Main Factors Driving Demand for Organic Pigments?
Primarily, organic pigments are used to provide color to substances as they are synthesized carbon compounds. They don't impart opaque colors as they are organic in nature, but provides transparent colors. They have a certain set of characteristics, such as they possess high color strength, but poor dispersibility. Organic solvents have limited solubility in water and various kinds of media.
They alter appearance by selective absorption and/or by scattering of light. Organic pigments are usually dispersed in vehicles or substrates for application, as for instance, in the manufacture of inks, paints, and plastics, or other polymeric materials. Organic pigments retain a crystal or particulate structure throughout the coloration process.
They are usually non-toxic and are eco-friendly due to their nature. Natural organic pigments are derived from animals and plants, while synthetic organic pigments are derived from petroleum compounds and are usually carbon-based. They are used in the form of finely crushed powder across various industries.
Why is Demand for Organic Pigments Getting Hampered?
Organic pigments are more expensive than inorganic pigments, which is a major restraint for the market. The market is witnessing a high growth rate; however, market size is quite smaller than that of inorganic pigments. Inorganic pigment producers experience economies of scale for their production process, while organic pigments are produced in small quantities.
Hence, production cost is higher, which increases the price of the final product. Organic pigments are approximately one and a half times costlier than inorganic pigments, which limits their market in paints & coatings and other applications that are not subject to strict regulations.
Interested to Procure The Data
Which Region Offers the Largest Opportunity for Organic Pigments?
The Asia Pacific region leads with 50% share in the global market for organic pigments. The market in the Asia Pacific is projected to be the largest and fastest-growing owing to rising demand from packaging, automotive, and construction industries in the region.
Increasing demand for organic pigments used in food contact materials, polycyclic pigments, and indanthrone blues are driving market growth in the region.
Growth in the automotive sector with initiatives such as 'Make in India' and increase in investments in electric vehicles (EVs) are increasing the scope for organic pigments in paints and coatings.
Apart from paints and coatings, organic pigments offer a wide range of applications in the plastics industry due to their opacity and stability to heat. Organic pigments are preferred over dyes as they have no affinity to the substrate. Currently, organic pigments are mainly used in polyolefins.
Other regional markets that are expected to perform well over the coming years include the South Africa synthetic organic pigments market and Saudi Arabia azo pigments market.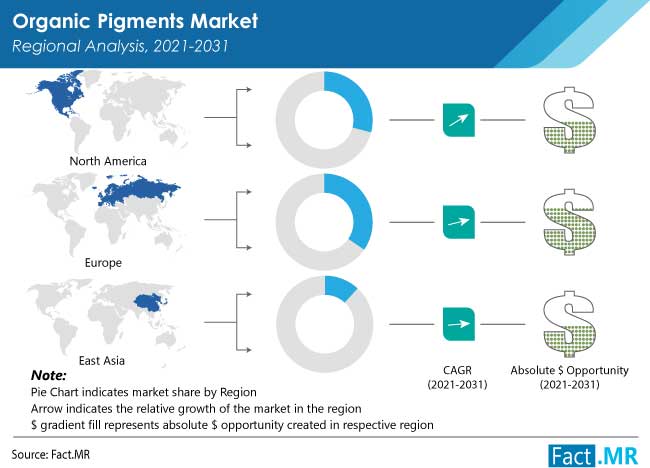 Country-wise Analysis
What is the Organic Pigments Demand Outlook for the U.S.?
The market in the U.S was valued at over US$ 1 Bn in 2020. High demand for organic pigments in the U.S. can be ascribed to the presence of stringent regulations pertaining to the use of metallic pigments in applications related to food contact materials. The market is anticipated to expand at a moderate pace over the forecast period.
Rising investments in organic pigment development across the value chain from manufacturers of natural organic pigments are expected to positively impact anthraquinone pigments market growth over the forecast period.
The U.S., which strives towards self-sufficiency, has witnessed higher growth in the market. Top producers of high-performance organic pigments in the U.S., innovations in the organic pigments, major R&D investments, and rising use of triarylcarbonium pigments in the country have further boosted sales of organic pigments.
What are the Growth Opportunities for Organic Pigment Providers across China?
By 2031, China is expected to have a market size of roughly US$ 1.5 Bn. Infrastructure and construction activities in India and China have been growing rapidly, which increases consumption of furniture. Demand for plastics is expected to grow as a result of innovations and improvements.
The market in China is expected to witness faster growth, owing to increasing approach towards designing and developing products in sync with continuously changing requirements for evolving technologies, coupled with rising presence of quinophthalone pigment manufacturers in the country.
The aforementioned factors, coupled with government support, are contributing to increasing demand for organic pigments in China.
Category-wise Insights
How are Azo Pigments Stimulating Market Growth?
Azo pigments are also known as diazine derivative pigments. The oxidation of hydrazine results in azo pigments, which impart colors such as red, yellow, and orange. These pigments are colorless earth and clay materials, which, when treated using azo compounds, impart colors.
Pigment carrier is an important aspect that affects the light fastness of azo pigments. The paints and coatings sector is anticipated to be the largest market for azo pigments, owing to spurious demand from global construction.
Azo pigments are anticipated to remain the priority business segment for organic pigment manufacturers. Escalating usage of azo pigments in printing inks and coatings is anticipated to generate profitable opportunities for top producers of azo pigments.
Recent color trends in the automotive and decorative coating industry are propelling the usage of organic pigments and leading the market towards a profitable future.
Why are Organic Pigments Gaining Immense Popularity in the Paints & Coatings Industry?
Organic pigments are extensively used in the paints & coatings industry, which is expected to be the fastest-growing segment during the forecast period.
Paints not only protect but also beautify the surfaces of buildings, bridges, automotive, electronics, etc. Organic pigments, through fine pigmentation processing, provide bright color, good dispersion, and high tinting strength.
Paints and coatings are used in the automotive industry for both, interior and exterior parts for decorative as well as protective purposes. Coatings applied should protect the exteriors from UV radiation and provide resistance against heat, sunlight, scratches, water, alkaline, and acids.
In the construction industry, furniture and architectural coatings account for the largest consumption of paints. Paints and coatings protect furniture and wood from moisture and other spillages. Wood conveys naturalness, which unites traditional and modern aspects of architecture. Coatings provide decorative beauty and long lastingness for furniture.
Increase in demand for paints and coatings in the construction industry is expected to drive sales of organic pigments over the coming years.
How Has COVID-19 Impacted Demand for Organic Pigments?
Since the beginning of 2020, the global economy has been experiencing a downturn due to the outbreak of COVID-19. The COVID-19 pandemic has significantly affected the production and distribution of organic pigments.
Governments of several countries have imposed strict lockdowns to curb the spread of COVID-19. Many manufacturing companies are either shut down or running low on production capacity.
The market for organic pigments has been influenced by a disrupted global supply chain, as well as lower demand from numerous end-user sectors such as paints & coatings, plastics, textiles, and others.
The paints and coatings industry is the largest consumer of organic pigments, but amid lockdowns, manufacturers halted their production activities, which resulted in a downfall in the demand for organic pigments.
In the future, rising demand for dependable commercial items such as 3D printing materials is projected to present an opportunity for market players.
Competitive Landscape
The global market has witnessed a paradigm shift by companies over the past decade, from heavy and metal-based to environmentally friendly alternatives. Recently, the market has witnessed a new range of high-performance pigments in the field of organic pigments.
As a result of highly successful R&D programs in the recent past, the market is witnessing a full-color range of organic pigments such as phthalocyanine blues and greens, azo yellows, oranges and reds, indanthrone blues, isoindoline yellows, benzimidazolone, anthanthrone, DPP & quinacridone reds, and others.
In 2019, Clariant launched new organic pigments for biodegradable plastics. Intended to offer more color options and increase the attractiveness of organically recyclable packaging, these new organic pigments are intended for polymers that meet the requirements of European Standard 13432 for packaging recoverable by industrial composting and biodegradation.
Organic Pigments Market Report Scope
Report Attribute

Details

Market size value in 2020

USD 4 Billion

Market forecast value in 2031

USD 6 Billion

Growth Rate

CAGR of 5% from 2021 to 2031

Forecast Period

2021-2031

Historical Data Available for

2016-2020

Market Analysis

US$ Mn for Value & '000 Units for Volume

Key Regions Covered

North America
Latin America
Europe
East Asia
South Asia
Oceania
MEA

Key Countries Covered

U.S.
Canada
Germany
U.K.
France
Spain
Italy
Russia
China
Japan
South Korea
India
Australia
Brazil
Mexico
Argentina
GCC
South Africa

Key Market Segments Covered

Key Companies Profiled

BASF SE
Clariant AG
Dominion Colour Corporation
Ferro Corporation
Heubach GmbH
Sudarshan Chemical Industries Ltd.
Sun Chemical Corporation
DIC Corporation
Pidilite Industries Ltd.
Synthesia
Toyocolor Co. Ltd.
Sensient Technologies Corporation
Trust Chem Co. Ltd.
LANXESS AG

Pricing

Available upon Request
Key Segments Covered in Organic Pigments Industry Research
Type

Azo Pigments
Phthalocyanine Pigments
High-Performance Pigments

Application

Organic Pigments for Printing Inks
Organic Pigments for Paints & Coatings
Organic Pigments for Textiles
Organic Pigments for Decorative Coatings
Organic Pigments for Plastics & Rubber