Vehicle Tracking System Market
Vehicle Tracking System Market Analysis By Vehicle Type (Passenger, Light & Heavy Commercial), By Technology (GPS/Satellite, GPRS/Cellular Network & Dual Modes), By Type (Active & Passive), By Component (Hardware & Software), By End-Use & By Region – Global Market Insights 2022-2032
Analysis of Vehicle Tracking System market covering 30 + countries including analysis of US, Canada, UK, Germany, France, Nordics, GCC countries, Japan, Korea and many more
Vehicle Tracking System Market Outlook (2022-2032)
The global vehicle tracking system market is projected to grow steadily at a CAGR 13.7% value, during the forecast period 2022-2032. In the year 2022, the market cap is expected to be worth US$ 21.7 Billion.
Observing the skyrocketing demand in the global market, the vehicle tracking system market is expected to reach US$ 78.35 Billion by 2032.
Report Attributes

Details

Global Growth Rate (2022-2032)

13.7% CAGR

Expected Market Value 2022

US$ 21.7 Billion

Projected Forecast Value (2032)

US$ 78.35 Billion

Key Companies Profiled

Verizon
Cartrack
Geotab Inc.
CalAmp
Tom Tom International B.V.
Teltonika
ORBCOMM Inc.
Xirgo Technologies Inc.
One of the most basic features of vehicle tracking systems is the ability for consumers to track automobiles in real-time. Other features include vehicle maintenance notifications, driver behavior analysis, and journey history, as well as fuel management and dispatching assistance.
To avoid theft, the system delivers notifications and alarms, as well as reports with extensive analysis. Depending on the fleet management solution, more functions are also possible.
Due to the rise in traffic accidents, numerous fleet management businesses and government agencies have made installing monitoring devices in all cars to track their location and speed essential. Furthermore, the increasing use of intelligent transportation systems and the introduction of 5G into vehicle connectivity are expected to drive market expansion.
The growing demand for semi-autonomous and autonomous vehicles fuels the global market demand for advanced and standard vehicle tracking systems.
The use of vehicle tracking systems is no more limited to road transportation; technological advancements in tracking technology have expanded its application to the aviation sector as well. Aviation not only facilitates passenger movement, but it also facilitates global trade.
However, logistics service via air transport is also a business that includes cargo valued billions of dollars being imported and sold between nations. As a result, the key companies have been compelled to formulate a comprehensive vehicle and asset evaluating and tracking system tailored to air transportation, hence fueling market growth.
Know thy Competitors
Competitive landscape highlights only certain players
Complete list available upon request
2017-2021 Vehicle Tracking System Demand Analysis vs. Forecast 2022-2032
According to market research and competitive intelligence provider Fact.MR - the market for vehicle tracking system reflected a value CAGR worth 13.1% during the historical period, 2017- 2021. The outbreak of the COVID-19 pandemic in early 2020 posed enormous problems to companies all across the world.
The lockdown adversely affected the sales of passenger and commercial vehicles all across the global market. The development of vehicle tracking system software and hardware was also impacted by the product's poor demand and thus the demand of these products dwindled.
As a result of the subsiding effects of COVID-19, the demand for automobiles increased, creating a demand for vehicle tracking system technology. As business and trade expanded outside regional limits, the volume of cargo imported and exported rose. This enhanced the necessity to track the vehicles and thoroughly examine their systems for any malfunctions.
The expanding usage of modern technologies, as well as growing concern for vehicle security and safety, is fueling the market expansion. Fleet operations are increasing in emerging markets, in tandem with government mandates to install vehicle tracking devices in passenger and commercial vehicles.
Furthermore, the increasing acceptance of car leasing and rental services has prompted rental companies to incorporate car tracking devices to improve their services, fueling market growth during the forecast period. Considering the aforementioned factors, the global vehicle tracking system market is projected to grow steadily at a CAGR of 13.7% value, expected to reach US$ 78.35 Billion by 2032.
Prominent Growth Drivers Influencing Vehicle Tracking System Industry
Increased efficiency for the fleet management solutions to accelerate the market growth
A vehicle tracking system will notify fleet management anytime a vehicle requires maintenance. This guarantees that all vehicle servicing requirements are met and reduces unplanned costs and problems. A vehicle tracking system watches not only the vehicle but also the driver. The system gives a live map that is virtually instantaneously updated.
With current tracking software, the consumer can also receive notifications whenever your employee or driver engages in any non-compliant behavior such as abrupt braking, speeding, swerving, and so on. With such accurate data, it is simple to keep track of each driver and how carefully they adhere to company rules and road restrictions.
Furthermore, by having access to each vehicle's real-time position, one can effortlessly track all of their assets. They can be quickly recovered if they are lost or stolen. Some systems can additionally monitor things like vehicle temperature, brake fluid, fuel level, and so on. Such aspects have proven to be quite beneficial for fleet management solutions and are predicted to boost worldwide market growth.
Enhance Safety and Security for Vehicles will propel Market Growth
With the rising usage of the internet and technical advancements in connectivity, the demand for vehicle tracking systems has increased to ensure vehicle safety and decrease idle time. Various fleet owners have been using E-call services, for example, that have benefited fleet owners in receiving emergency alerts. Thus, vehicle tracking technology can be used by fleet operators and logistics companies to increase profitability.
The real-time position of a company car can be efficiently used to determine if it is in a secure place or not. Several vehicle GPS tracking systems have an SOS feature that the driver can use if they become stranded and want assistance.
The button quickly sends a notification to the fleet manager, who may then dispatch help as soon as feasible. If the manager knows the car's actual position, they will know which vehicle to dispatch to the emergency task. Such variables would hasten the demand for these systems in the global market.
Key Trends
As per the latest facts, the USA is a major country with the busiest traffic on roads with nearly 284 Million vehicles in the operation during the last year 2021. The incidences of road traffic fatalities are anticipated to reach 7100 by end of 2025. This projection of increasing road accidents in the forecast period is anticipated to drive demand for vehicle tracking solutions.

With the introduction of 5G the speed and accuracy of this tracking, mechanism is anticipated to increase. IoT-based devices across all sectors are forecasted to cross 8 billion by end of 2030. This is likely to get booster due to the fastest internet connectivity in tracking vehicle movements.

There is the traction of growth in autonomous vehicles in the last decades. In 2021 revenue of autonomous cars was valued at USD 27 Billon which is anticipated to grow to USD 62 Billion by end of 2026. About 40% of people across the globe are willing to buy autonomous or semi-autonomous vehicles which are likely to drive demand for ensuring the security of traveling in the forecast period. This is likely to give traction of growth to the tracking systems market.

Vehicle positioning has become more relevant in road transport. Alone Global Navigation Satellite system is not a precise solution for vehicle spotting while the inertial sensors and computer vision technologies are significant in tracking movements. The global automotive sensors arcade is anticipated to expand and exceed USD 55 billion by 2025.

Telematics has evolved as a key trend in automotive markets where the technology aided by GPS systems helps in keeping track of fleet movement by monitoring the route of the transport vehicle. Global telematics services are likely to reach around USD 20 Billion by 2023.
More Insights, Lesser Cost (-50% off)
Insights on import/export production,
pricing analysis, and more – Only @ Fact.MR
What Could Possibly Hinder Vehicle Tracking System Deployment?
Global pandemic was the only hindrance that the market faced in the last few years
Data and information that are stored in the vehicle's system contains sensitive information such as the purchase details of the vehicle, the owner's details and other important data stored by the owner, like various addresses.
This information can be used to carry out criminal operations such as vehicle robberies, identity theft, and plotted crime. Violation of data privacy is a primary factor inhibiting end users from utilizing vehicle tracking systems, particularly in nations with tight regulations.
Furthermore, occurrences such as unlawful access to various vehicle connectivity solutions or hacking into the in-car connectivity system can stymie the global demand for vehicle tracking systems.
The main security problem is that the hacker can easily have access to the cars' computer systems as well as the information that it collects and saves. As a result, data privacy violations, as well as cyber security risks to vehicle tracking systems, are projected to stifle market expansion during the forecast period.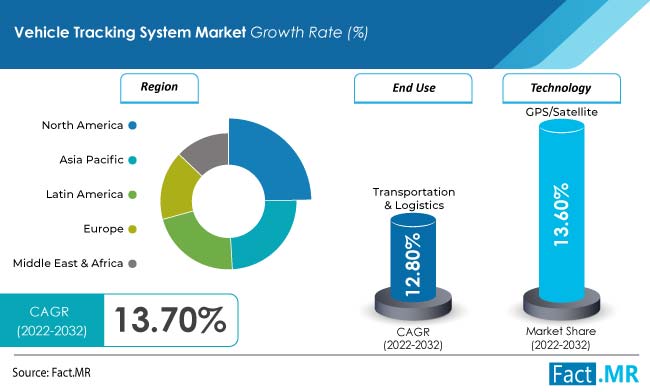 Category-wise Insights
Which Vehicle Type is forecast to Gain the Maximum Market Share?
Passenger Vehicles likely gaining the Maximum Share
In 2022, the passenger car segment is predicted to have a market share of more than 41%. The segment is also predicted to grow at the fastest rate, with a CAGR of 13.5% during the forecast period.
The usage of a tracking system for smooth operational control by app-based transportation automobile renting and leasing services such as Uber, Ola, Careem, and Lyft, Inc. is driving the segment's growth. Companies can use the tracking system to collect information such as mean speed and distance traveled, number of trips per day, and idle time to increase operational and financial performance.
Which End-Use Segment is forecast to grow during the Forecast Period?
The transportation and logistics segments are likely to boost during the forecast period
The transportation and logistics sector are expected to have a significant market share of 26% in 2022 and a CAGR of more than 12.8% from 2022 to 2032. This is due to the growing fleet size and transport providers. The use of a global positioning system for logistics and transportation tracking has increased globally.
With the booming e-commerce industry, the necessity to deliver goods efficiently and quickly has become an urgent requirement. These systems enhance the logistics and warehouse capabilities. As a result, vehicle tracking systems are an essential component for this and will drive this market during the projection period.
Which Technology Segment Is Likely To Gain The Most Popularity During The Forecast Period?
GPS/Satellite segment is expected to grow rapidly during the forecast period
The GPS/satellite category is predicted to have the biggest market share in the technology segment of more than 48.8% in 2022 and the highest CAGR of 13.6% throughout the forecast period.
The spike in commercial vehicle demand, as well as the use of cloud technology and IoT in sectors such as logistics, healthcare, automobile, and defense, can be attributed to the growth. GPS interoperability with communication networks such as GSM, WiMAX, and LTE. Furthermore, modifications in the size of the GS tracker, which also have longer battery life, application, and durability, are accelerating growth.
Which Product Type Segment Is Expected To Gain Prominence During The Forecast Period?
The active type category is estimated to lead the market with the greatest revenue share of 83.2% in 2022 and to have CAGR of 13.2% by 2032.
The active system monitors real-time data supplied to a computer system or a data management center via satellite or cellular networks. The active tracking system accomplishes all functions, but it has the benefit of providing easy access to tracking data and compatibility with various networks. The benefits of an active tracking system are projected to drive up demand in major market regions.
Which Component Type Would Gain The Highest Share In 2022?
The software sector is estimated to account for 66.2% of the market in 2022, with a CAGR of 13.1% over the forecast period. Tracking software includes features such as fleet statistics, driver behavior monitoring, vehicle diagnostics, real-time congestion and maintenance alerts, and evaluating vehicle use, which reflects vehicle effectiveness and overall cost of vehicle ownership, and is driving substantial growth. End users have access to information that they can evaluate and analyze in order to improve performance, facilitate the maintenance of operational synergy, monitor staff behavior, and optimize management expenses.
Region-wise Analysis
What is the Outlook of the North American Vehicle Tracking System Market?
Smart sensors and other new features in the vehicle to boost market growth
North America is predicted to have the greatest market share of 32.5% in 2022 and to increase at a steady rate during the forecast period. The emergence of smart sensors has resulted in the increased adoption of fleet management solutions technology in this region.
Geofencing technology is being used in vehicle tracking systems by players in the United States. Geofencing is a function in vehicle tracking systems that allows the consumer to designate an area as safe for employees or even as a business zone.
The fleet management solution will receive an alert the moment their car leaves the pre-set area, prohibiting drivers from straying off to non-work locations or getting into accidents. Similarly, if they press the SOS button, they will immediately receive warnings in the event of an emergency. Such developments are boosting the demand in this area.
Furthermore, increasing concerns about carbon emissions, as well as increased awareness of vehicle fleet and cargo technology, have prompted the use of vehicle tracking systems to evaluate the vehicle's daily tasks and its overall health. The government's obligatory safety standards are also fueling the vehicle tracking system market growth.
How is the Growth of Vehicle Tracking Systems Emerging in the APAC Region?
Increasing Fleet Activities in developing countries to boost the market
Over the projection period, Asia Pacific is expected to develop at a CAGR of 13.4%. Factors such as an increase in commercial and passenger vehicle sales, technological advancements in networking, strict regulations, the increasing popularity of the region's e-commerce industry, and increased trade activities are driving market expansion.
These products have benefited developing countries the most, such as India. Many roads in India are closed or narrowed due to construction works, and the rate of growth of automobiles contributes to the longest traffic jams. These impediments can be avoided by using a vehicle tracking system.
This information can be used by fleet owners to improve the routes that their vehicles take in order to get to their destination in much less time. This means that additional jobs can be given to these cars, enhancing business productivity.
Furthermore, the region's growing acceptance of technologies such as cloud, IoT, linked cars, and driverless vehicles is propelling market expansion in this region.
What will be the Outlook of the European Vehicle Tracking Market during the Forecast Period?
During the projection period, the European vehicle tracking systems market would increase at a CAGR of 9%. Although the European industry is mature, it is likely to grow significantly in the near future due to two major vehicle tracking systems market trends. The rise in self-driving vehicle adoption and the rise in shared transportation are two examples.
Another element driving market expansion in this region is the increased emphasis on green fleet, which can be accomplished through effective vehicle maintenance tracking and reporting. Due to the EU's carbon neutral aim of 2050, the government is enacting severe regulations to reduce automobile emissions.
As a result, several car fleets have been pressed to introduce EVs. This trend is expected to boost the market demand for the vehicle tracking systems in the European region.
Start-up scenario :
The top ten start-ups of the global vehicle tracking system includes- 4tigo, Samsara, TruckSuvidha, Numocity, LocoNav, Platform Science, Nauto, Avrios, fleetx.io and Solera.
Samsara offers fleet management systems based on AI, cloud, IoT and telematics. Vehicle telematics, mobile workflow & compliance, driver safety, security duties, asset tracking, and other features are all part of their package. It serves a range of sectors, including oil, FMCG, and gas, logistics and transportation, and industrial and automotive.
LocoNav provides the consumers with fleet management and tracking software powered by IoT and AI. It employs sophisticated analytics, tracking equipment, and IoT to provide fleet management solutions such as fuel, vehicle tracking, and temperature sensors, overspeeding, geo-fencing, vehicle idling, driver identification, and real-time location to vehicle owners, corporations, and transporters.
Platform Science offers complete fleet management systems. Provides IoT-based hardware and an open user interface that may be customised to meet the needs of the user. Users may track and analyse driver and fleet productivity, manage compliance, and gain data-driven solutions.
Don't Need a Global Report?
save 40%! on Country & Region specific reports
Competitive Landscape
Based on the various end-use applications, the key market players intend to supply fleet management solutions, tracking solutions, and communication solutions. They have also created a diverse portfolio that is constantly upgraded through research and innovation in order to supply high-quality items. Most firms are getting a competitive advantage in the global market by introducing new and innovative items or features.
Geotab has designed fleet maintenance software that analyzes data to identify possible and critical engine problems and prioritize repairs. The programme focuses on analyzing data from engines and other parts using sensors to detect potential problems. The software then sends a detailed record of the equipment problem to the fleet owners. This assists the fleet owner in optimizing time management and lowering repair costs. The software also alerts the owner to potential wear and tear caused by hard driving, infrequent maintenance, and inclement weather.
Teltonika has created a vehicle tracking device that supports NB IoT and LTE M1 connectivity and is integrated with Bluetooth to link with other devices and low energy sensors, allowing the ground support truck to be tracked easily. Sensors assist in gathering combined and processed data with location specifics in order to provide precise monitoring with no inconsistencies. Bluetooth low energy radio transmitter beacons are also used to track the interior positions of airport fleet vehicles, which aids in theft prevention and reduces asset search time.
Key Segments Covered in the Vehicle Tracking System Market Report
By Vehicle Type :

Passenger Vehicle Tracking System
Light Commercial Vehicle Tracking System
Heavy Commercial Vehicle Tracking System

By End Use :

Transportation & Logistics
Construction & Manufacturing
Aviation
Retail
Government & Defense

By Technology Type :

GPS/Satellite
GPRS/Cellular Network
Dual Modes

By Type :

Active Vehicle Tracking System
Passive Vehicle Tracking System

By Component :

Vehicle Tracking System Hardware

OBD Device/Tracker and Advance Tracker
Standalone Tracker

Vehicle Tracking System Software

Performance Management
Vehicle Diagnostics
Fleet Analytics & Reporting
Driver Behavior Monitoring

By Region :

North America
Latin America
Europe
Asia Pacific
Middle East & Africa
- FAQs -
From 2016-2021, the Vehicle tracking system market grew at a CAGR of 13.1%.
The global Vehicle tracking system market Is expected to grow with a 13.7% CAGR and is projected to gain a market size of US$ 78.35 Bn by 2032.
In 2022, the GPS/satellite segment by technology type dominated the global market with a CAGR of 13.6%.
The APAC region is expected to acquire a global market share of 17.5% in 2022.