Airborne Weapon System Market
Airborne Weapon System Market Analysis by Aircraft Type (Fighter Jet, Helicopter), by Weapons Type (Airborne Bombs, Guns, Rifles, Missiles) and by Region- Global Forecast 2022 to 2032
Analysis of Airborne Weapon System market covering 30 + countries including analysis of US, Canada, UK, Germany, France, Nordics, GCC countries, Japan, Korea and many more
Airborne Weapon System Market Outlook (2022-2032)
The global airborne weapon system market was valued at US$ 80.5 Billion in 2021, and is projected to register a Y-o-Y increase of 3.7% in 2022 to be valued at US$ 83.6 Billion. During the 2022-2032 period of assessment, demand is expected to rise at a 3.6% value CAGR, likely to reach US$ 119 Billion by the end of the said forecast period.
Report Attributes

Details

Anticipated Base Year Value (2021)

US$ 80.5 Billion

Expected Market Value (2022)

US$ 83.6 Billion

Projected Forecast Value (2032)

US$ 119 Billion

Global Growth Rate (2022-2032)

3.6% CAGR

Growth Rate of the U.S (2022-2032)

3.4% CAGR

Expected Market Value of China (2032)

US$ 16.9 Billion

Growth Rate of U.K (2022-2032)

3.8% CAGR

Key Airborne Weapon System Players

Safran S.A
FN Herstal
Rheinmetall AG
Boeing
BAE Systems Plc.
Saab AB
Lockheed Martin Corporation
Raytheon Company
Ultra-Electronics Holdings
Airbus SE
Overall, the airborne weapon system landscape is poised to yield an absolute dollar opportunity worth US$ 38.5 Billion until 2032. Sales of airborne weapon systems for fighter jets will continue to flourish, with a documented CAGR of 3.1% from 2015-2021. Moreover, airborne missiles will continue to remain the primary weapon choice, likely to register a CAGR worth 3.8% from 2022 to 2032. North America will remain at the forefront, generating an opportunity worth US$ 13 Billion during the forecast period.
Don't Need a Global Report?
save 40%! on Country & Region specific reports
Airborne Weapon System Revenue Analysis 2015-2021 vs. Future Outlook 2022-2032
According to market research and competitive intelligence provider Fact.MR, the airborne weapon system industry grew at a CAGR of 2.8% from 2015 to 2021. As countries strengthen their military capabilities, investments in furthering aerial warfare are rising, with increased procurement of weapon elements such as automatic gun fire control systems, missile control systems, multiple weapon release systems and jettison systems to name a few.
Governments today are heavily reliant on weapon systems which offer a high degree of precision while engaging in warfare. From laser guided bombs, infrared controlled projectiles to electro-optical weapons, countries are allocating copious amounts of budgets. Even during the pandemic crisis, reports suggest that global military spending accelerated by over 2%, as countries attempted to stockpile weapons in case of any eventuality. This heightened prospects for airborne weapon systems.
In the post-pandemic era, as the world reverts to normalcy, defence expenditure is only slated to increase. This is especially important in the current financial year, as countries apprehend further escalation of the ongoing Russia-Ukraine conflict, prompting them to discover alternative sources for procuring military equipment. From 2022 to 2032, the global airborne weapon system market is expected to grow 1.4x.
Prominent Airborne Weapon System Market Growth Drivers
Mounting Global Defence and Military Spending to Enhance Adoption
Worldwide, defence and military budget allocations are rising significantly. A highly volatile global political environment and possibility of wars between nations has compelled governments to strengthen their warfare capabilities, prompting them to stockpile weapons and weapon systems. According to SIPRI, a 2.6% increase in military spending was observed in 2020 over 2019, reaching US 2 trillion. As a result, military spending as a share of GDP reached a global average of 2.4% in 2020, up from 2.2% in 2019.
While several countries including Chile, South Korea, Russia and Brazil reallocated planned military spending to pandemic response, expenditure across the U.S and China- two of the world's major superpowers- continued to incline. Countries such as Russia reported a 2.5% increase in 2020 to reach nearly US$ 62 Billion, while U.K emerged as the fifth largest military spender. In addition to China, India ($72.9 billion), Japan ($49.1 billion) and Australia ($27.5 billion) were the largest military spenders in the Asia and Oceania region.
Attributed to these promising trends, it is no surprise that demand for advanced grade airborne weapon systems is projected to rise significantly in forthcoming years. Designers are constantly striving to reduce the size and weight of weapons and increase their effective range to make them more lethal. Moreover, investments in technologies such as the 4D Active Electronically Scanned Array (AESA) radar, counter hypersonic weapon systems and laser based missile interception systems are also generation major growth opportunities in the market.
Recent Technological Advancements to Bode Well for Market Growth
Recent years have witnessed major disruptions in the global aerospace and defence industry. With major emphasis on precision of military equipment, governments are augmenting capabilities by incorporating advanced systems such as information warfare, cloud computing, AI, cyber security and robotics among others. Innovative progression in rockets to obliterate adversary airplanes or helicopters at faster speeds is a key factor driving interest in airborne weapons.
As international disputes between continue to rise across the globe governments are setting up armadas of airborne weapon systems to enhance security. Several countries have already begun the process of implementing such advanced airborne weapon systems. In July 2021, for instance, Israel's Defence Ministry and defence contractor Elbit Systems Ltd collaborated to develop an airborne laser weapon to shoot down drones and other flying targets.
According to their statement, this presently unnamed laser weapon might prove highly useful, capable of being incorporated in the country's multi-tier air defenses, including the Iron Dome system for shooting down short-range rockets, and the David's Sling and Arrow systems against ballistic missiles. The ministry, Elbit and state-owned Rafael Advanced Defense Systems Ltd are also working on a ground-based laser weapon for shooting down aerial threats, having a range of 8-10 kilometers, and be operational by 2025.
More Insights, Lesser Cost (-50% off)
Insights on import/export production,
pricing analysis, and more – Only @ Fact.MR
Key Challenges Affecting Airborne Weapon Systems Market Growth
Shifting Priorities of Nations in Budget Allocation May Hinder Growth
While concerns regarding cross-country warfare have heightened in recent years, there are several nations who have refrained from allocating extensive budgets to procure advanced weaponry and boosting overall defence and military capabilities. This factor is likely to impede growth prospects for the airborne weapon systems industry in forthcoming years.
Since the dawn of the 21st century, developing economies have sought to allocate a larger share of their budgets to education, health, and infrastructure to meet their populations' growing needs and to promote growth by investing in physical and human capital. More recently, focus has shifted to achievement of the United Nations Sustainable Development Goals, which requires a major increase in government spending on the development of human capital.
Furthermore, advanced economies are faced with rapidly aging populations. In the absence of major reforms of pension and health systems, rising age-related spending will continue to exert pressure on other public spending. This is likely to draw attention away from military or defence spending.
Country-wise Analysis
How Opportunistic will the Market for Airborne Weapon System be across the U.S?
Extensive Aerospace and Defence Military Modernization to Widen Scope
According to Fact.MR's study, the U.S is poised to yield an absolute dollar opportunity worth US$ 13 Billion, expanding at a 3.4% value CAGR from 2022 to 2032. By the end of the said forecast period, a market valuation of US$ 45.1 Billion has been projected for the industry across the country. Mounting military and defence spending to modernize existing aerial weapons infrastructure is opening up growth frontiers.
As per findings published by the Stockholm International Peace Research Institute, in 2020, U.S military expenditure reached an estimated US$ 778 Billion- representing an increase of 4.4% over 2019. As the world's largest military spender, the USA accounted for 39 per cent of total military expenditure in 2020. This was the third consecutive year of growth in US military spending, following seven years of continuous reductions.
The U.S has always been at the forefront of advancing military capabilities since the 21st century. Furthermore, the U.S Airforce is increasingly deploying new technologies to hone its warfighting skills. Recently, in February 2022, the service performed a wargame wherein pilots flew simulated missions involving the combined deployment of high-energy laser pods and two new future kinetic concepts, which could not only help cut costs but also provide advanced combat skills to trainee pilots.
Will China emerge as an Attractive Airborne Weapon System Market?
Military Capability Modernization Drives to Widen Growth Scope in the Future
As of 2020, China's military expenditure was the 2nd highest in the world, totaling US$ 252 Billion. Since more than two decades, China's military spending has risen consistently, representing the longest series of uninterrupted increases by any country in the SIPRI Military Expenditure Database. China stands out as the only major spender in the world not to increase its military burden in 2020 despite increasing its military expenditure, because of its positive GDP growth.
The ongoing growth in Chinese spending is due in part to the country's long-term military modernization and expansion plans, in line with a stated desire to catch up with other leading military powers. Consequently, deployment of advanced airborne weapon systems is rising significantly across the East Asian giant.
Recently, in January 2022, the Chinese government announced its intention to equip its J-20 Mighty Dragon Fighters with high-end laser weapons. These 5th generation stealth fighters are likely to be equipped with Directed Energy Weapons (DEWs). As per Fact.MR's estimates, the Chinese market is poised to register a CAGR of 5.1% from 2022 to 2032, reaching US$ 16.9 Billion and yielding a dollar opportunity worth US$ 6.6 Billion
Country-wise Forecast CAGRs for the Airborne Weapon System Market
| | |
| --- | --- |
| U.S | 3.4% |
| U.K | 3.8% |
| China | 5.1% |
| Japan | 2.6% |
| India | 3.6% |
Know thy Competitors
Competitive landscape highlights only certain players
Complete list available upon request
Category-wise Insights
Which Aircraft Category is expected to be the Top Airborne Weapon System End User?
Airborne Weapon Systems for Fighter Jets to remain Prominent
According to Fact.MR, airborne weapon systems for fighter jets are expected to register highest growth, expanding at a CAGR of 3.9% from 2022-2032. Increasing investments in procuring superior quality fighter jets to attain aerial supremacy has heightened growth prospects in recent years.
Countries are striving to improve fighter aircraft capabilities by installing such advanced systems as high energy laser weapons, AI enabled missiles and heat sensitive ammunition. To acquaint the pilots with such systems, airborne weapon systems for fighter jet simulation training is rising too.
By Weapon Type, which Category is likely to make Maximum Usage of Airborne Weapon Systems?
Missiles to be Primary Utilizers of Airborne Weapon Systems
According to Fact.MR, airborne missiles are expected to experience major uptake, growing at a CAGR of 3.8% until 2032. Recent advancements in missile technology to achieve greater target precision and strike rate is prompting increased uptake in recent years.
Emerging missile technologies, including hypersonic boost-glide systems and hypersonic cruise missiles, have led to significant improvements in missile based warfare. Manufacturers are going a step further to include such capabilities as heat sensing and IoT to make them more reliable, leading to increasing deployment of airborne weapon systems. China's military modernization objectives are commensurate with its broader national development aspirations and work in coordination with economic policies and systems.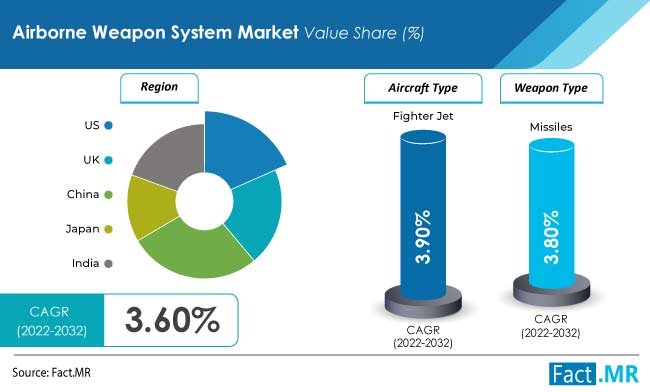 Competitive Landscape
Prominent manufacturers of airborne weapon systems are eyeing technological innovations in order to provide the most accurate and precise weapon system arrangements to their customers. As the threat of warfare looms large over the world, companies are forging collaborative agreements with government entities to enhance their presence across major geographies.
In September 2021, FN Herstal introduced the new FN® Airborne Extended Digital Suite at the DSEI international trade show in London. This suite further enhances combat capabilities of rotary and fixed-wing airborne platforms by integrating high-performance equipment such as laser-guided/unguided rockets from Thales , digital machine gun pods from its own portfolio and EO/IR systems from Safran
Likewise, Safran SA offers the EuroflirTM 410 Airborne Electro-Optical System. The apparatus allows fixed and rotary wing aircraft and UAVs to carry out intelligence, protection and search & rescue missions in any climatic conditions. This is possible due to its long-range observation and accurate targeting and designation capabilities
In October 2021, Lockheed Martin completed the factory acceptance testing for its Airborne High Energy Laser (AHEL) for the U.S military ground and flight testing. The company delivered the AHEL subsystem for integration with other systems in preparation for ground testing and ultimately flight testing aboard the AC-130J aircraft. In July 2021, the Naval Surface Warfare Center, Dahlgren Division awarded Lockheed Martin a $12 million cost-plus-fixed fee, indefinite-delivery, five-year contract award for technical services, integration, test, and demonstration for the AHEL system.
Key Segments Covered in the Airborne Weapon Systems Market Study
Airborne Weapon System by Aircraft Type

Airborne Weapon System for Fighter Jets
Airborne Weapon System for Helicopters

Airborne Weapon System by Weapons Type

Airborne Bombs
Airborne Guns
Airborne Rifles
Airborne Missiles
Other Airborne Weapons

Airborne Weapon System by Region

North America Airborne Weapon System Market
Europe Airborne Weapon System Market
Asia Pacific Airborne Weapon System Market
Latin America Airborne Weapon System Market
Middle East & Africa Airborne Weapon System Market
- FAQs -
As of 2021, Fact.MR estimated the airborne weapon system market to have reached US$ 80.5 Billion
By 2022, Fact.MR expected demand for airborne weapon system to reach US$ 83.6 Billion
From 2015-2021, the airborne weapon system market grew at a 2.8% value CAGR
From 2022-2032, airborne weapon system demand is likely to surge at a 3.6% CAGR
By 2032, the market for airborne weapon system is likely to be valued at US$ 119 Billion
By 2032, Fact.MR expects the U.S market for airborne weapon system to reach US$ 45.1 Billion
China is expected to register a 5.1% CAGR with regard to the airborne weapon system industry
U.K is expected to document a CAGR worth 3.8% in the airborne weapon system market
Fighter jets will account for maximum applications, expanding at a 3.9% CAGR
Missiles will remain most sought after, expanding at CAGR of 3.8% until 2032