Virtual Reality Market
Virtual Reality Market Analysis By Component (Hardware, Software), By Technology (Semi- & Full-immersive, Non-immersive), By Device Type (Head-mounted Displays, Gesture-tracking Devices), By End-use Industry (Gaming, Entertainment, Automotive, Retail, Healthcare, Education, Aerospace & Defense, Manufacturing) and By Region – Global Market Report (2023 to 2033)
Analysis of Virtual Reality Market Covering 30+ Countries Including Analysis of US, Canada, UK, Germany, France, Nordics, GCC countries, Japan, Korea and many more
Virtual Reality Market Outlook (2023 to 2033)
The global virtual reality market size has reached a valuation of US$ 23.18 billion in 2023 and is projected to further expand at a high-value CAGR of 26% and climb to US$ 233.79 billion by the end of 2033, reveals Fact.MR, a market research and competitive intelligence provider.
The market is expanding at a high pace, altering how people engage with technology. As the world becomes more digitized, virtual reality (VR) has evolved into a key technology with applications in a variety of industries. VR applications include gaming, corporate training, healthcare, education, industrial design, military, real estate, and others. Its ability to generate immersive experiences and simulations is transforming several industries and improving overall safety, efficiency, and engagement. Given how quickly technology is developing, the potential applications of VR are only limited by human imagination.
Key Market Growth Drivers
Constant advancements in VR technology and software have fueled market growth. High-resolution displays, better tracking, and more intuitive controls have greatly improved the user experience, making VR more appealing to a wider audience.
Adaptability of VR to a variety of industries, ranging from entertainment and gaming to healthcare, education, and business, has established it as a versatile technology. This variety guarantees that VR remains relevant and grows.
VR is becoming more accessible as device costs are reduced. Affordable choices, such as the Oculus Quest series of standalone VR headsets, have made VR technology more accessible.
The COVID-19 pandemic has led to increased use of virtual reality solutions for remote work, education, and leisure. This trend is predicted to continue as companies and individuals recognize the value of virtual reality experiences.
The fast-expanding VR content library includes everything from gaming and interactive storytelling to education and training simulations. Because of this, there is a surge in interest and investment in virtual reality.
VR provides an unrivaled opportunity to escape into virtual worlds in an age where immersive experiences are relevant. The market for immersive entertainment, training, and educational experiences is still growing.
The global market is poised for remarkable growth, driven by technological advancements, diverse applications, affordability, and increasing demand for immersive experiences. VR is transcending boundaries, changing how we live and work, and offering a glimpse into the future of the virtual reality market where the possibilities are limitless.
Report Attributes
Details
Virtual Reality Market Size (2022A)
US$ 18.4 Billion
Estimated Market Value (2023E)
US$ 23.18 Billion
Forecasted Market Value (2033F)
US$ 233.79 Billion
Global Market Growth Rate (2023 to 2033)
26% CAGR
Asia Pacific Market Share (2022)
40%
Europe Market Growth Rate (2023 to 2033)
29% CAGR
Healthcare Segment Growth Rate (2023 to 2033)
31.5% CAGR
Commercial Segment Market Share (2022)
55.3%
Gesture-tracking Devices Segment Growth Rate (2023 to 2033)
29.5% CAGR
Non-immersive Segment Market Share (2022)
16.8%
Hardware Segment Market Share (2022)
66.5%
Key Companies Profiled

Sony Interactive Entertainment LLC
Oculus
HTC Corporation
Google LLC
Samsung Electronics
Alphabet Inc.
Barco NV
CyberGlove Systems, Inc.
Meta Platforms Inc.
Microsoft Corporation
Sensics, Inc.
Sixense Enterprises, Inc.
Ultraleap Ltd.
Unity Software Inc.
Qualcomm Incorporated
Nvidia Corporation
HaptX Inc.
Lenovo Group Ltd.
GoerTek Inc.
SpectraT Microsystems
Sunny Optical Technology
Don't Need a Global Report?
save 40%! on Country & Region specific reports
What is Fueling the Growth of the Virtual Reality Market?
"Rising Desire for Immersive Experiences Leading to Increasing Adoption of VR"
The fundamental appeal of VR lies in its capacity to immerse users in a virtual world, be it fantasy game realms, training simulations, or interactive learning spaces. It generates a strong sensation of presence, making people feel as if they are physically present in a virtual setting. The emotional and cognitive impact of the events is enhanced by this level of immersion, making them more engaging and memorable. Gamers, for example, are driven to VR in the entertainment business for the unprecedented experience of being "inside" the game, where they may explore and interact with virtual settings as if they were real.
Immersive VR experiences are useful in the corporate world for efficient training as they allow employees to practice in realistic, risk-free circumstances. This increased degree of engagement and efficacy is boosting adoption across industries, making immersive experiences a key driver for virtual reality (VR) market growth.
"Applications across Various Sectors Such as Gaming, Education, Healthcare, Entertainment"
Content diversity influences the growth of the market. VR is not restricted to a single application; it includes anything from gaming and interactive storytelling to educational modules and training simulations. This diverse range of content guarantees that VR remains relevant and adaptable across a wide range of sectors. Content creators and developers are always pushing the boundaries, providing new and interesting experiences that attract users and businesses to the VR ecosystem. As more industries adopt VR and the content library expands, technology becomes a more important and versatile tool, shaping its presence in our daily lives and across several professional disciplines.
Virtual reality in business includes simulations for several industries, allowing firms to tailor technology to their specific requirements. The more engaging, interesting, and diverse the content, the more consumers are drawn to VR, bolstering its demand and making content diversity a crucial driver for continued success in the market.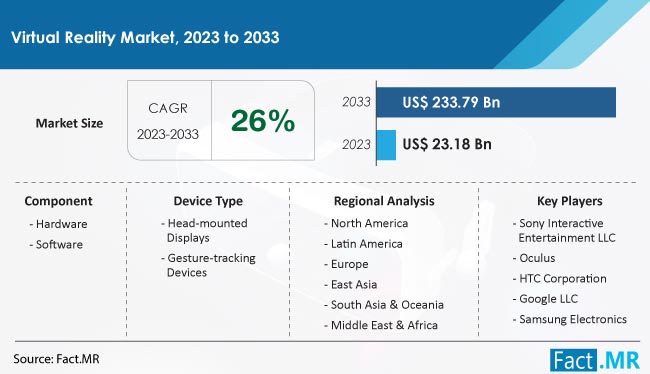 How are Health and Safety Concerns Impeding the Expansion of Virtual Reality?
"Severe Health Complications Associated with Prolonged Use of VR"
Concerns about health and safety have emerged as important barriers to virtual reality (VR) technology. These concerns generally concentrate on the physical and psychological well-being of the VR users. The gap between visual cues in a VR environment and bodily sensations felt by the user can cause nausea, dizziness, and discomfort resulting in motion sickness. This discomfort is a major hurdle to a smooth VR experience as it can discourage consumers from using the technology for an extended period and limit its usage.
Excessive usage of VR can cause users to become less conscious of their real surroundings, potentially leading to accidents or injury. For instance, while using a VR headset, users may fail to see obstructions in their real-world environment, putting their safety in danger. Longer VR sessions can cause eyestrain, weariness, and discomfort, negatively impacting the overall well-being of the user.
Virtual reality encounters can cause psychological stress or discomfort, particularly in scenarios involving phobias, trauma, or severe sensations. As VR technology progresses and these problems are resolved, the limitations they impose are expected to progressively fade, allowing VR to reach its full potential in a variety of applications.
More Insights, Lesser Cost (-50% off)
Insights on import/export production,
pricing analysis, and more – Only @ Fact.MR
How Can Start-Ups Gain a Competitive Edge in This Market?
"Focus on AR and MR and Embrace Emerging Trends in Virtual Reality Market"
Start-ups that want to stay ahead in the competitive Virtual Reality (VR) must keep a laser-sharp focus on innovation by constantly pushing the boundaries of VR technology. Embracing advanced as well as emerging extended reality businesses such as augmented reality (AR) and mixed reality (MR) can also provide start-ups with a competitive advantage by broadening their offerings beyond standard virtual reality (VR) while also contributing to the augmented reality market size.
Collaboration with existing companies, content providers, and industry-specific players can provide access to important resources, distribution networks, and domain experience. Collaborations can assist start-ups in establishing a market presence, obtaining funding, and reaching a larger audience. Identifying underserved niches or specific sectors within the larger VR industry and personalizing VR solutions such as intelligent virtual assistants, to their specific needs can lead to success.
It is crucial to address problems in virtual reality, such as motion sickness and user comfort. Start-ups that can create new solutions to these problems have the potential to gain a competitive advantage and attract people looking for seamless and enjoyable VR experiences.
Country-wise Insights
The European market is projected to expand at 29% CAGR throughout the forecast period. The market in Asia Pacific held 40% of the global market in 2022.
What Makes India, China, and Japan High-potential Markets for VR Producers?
"Strong Government Support Leading to Technological Innovations"
The virtual reality (VR) industry is expected to grow at a significant pace in the Asia Pacific region, with China, India, and Japan poised to be key drivers of this expansion. With its growing tech-savvy population and thriving IT industry, India is seeing a spike in VR usage. With an increasing demand for immersive content, India has emerged as a hotbed for VR content development, luring worldwide players looking to tap into the creative talent pool of the country. Additionally, the Indian government's Digital India initiative, as well as investments in 5G technology, are paving the way for improved VR experiences.
China has become one of the leading VR marketplaces with its massive population and rising middle class. The Chinese government has demonstrated great support for VR technology, investing heavily in R&D and supporting its integration into diverse sectors such as education and virtual reality in healthcare.
Japan has a long history of technological innovation, and it continues to play an important role in the expansion of the VR industry. Japanese firms such as Sony, with its PlayStation VR, and Panasonic have made significant investments in VR gear and content. Japan's tradition of gaming expertise has transitioned easily into the VR sector, ensuring that the country remains at the forefront of the industry.
India, China, and Japan are positioned to fuel the growth of the market in the Asia Pacific region due to their sizable populations, thriving tech industries, government support, and a strong emphasis on VR adoption across many sectors.
How is Demand for Virtual Reality Solutions Evolving in the United Kingdom and Germany?
"Strong Emphasis on Research and Innovation in This Field"
The United Kingdom and Germany are expected to dominate the Europe market. These two countries are particularly well-positioned because of their rich technology ecosystems, large customer bases, and active start-up cultures. London, in particular, is a global tech powerhouse, with many startups and established companies concentrating on virtual reality development. Because of this focus on skill and resources, the United Kingdom is a key player in virtual reality systems.
Germany has a strong combination of technology skills and a thriving gaming and entertainment business, especially in locations such as Berlin. The country's commitment to R&D, combined with its strong manufacturing skills, makes it a significant driver of VR innovation and adoption in Europe. Both the United Kingdom and Germany have a sizable consumer market with a growing hunger for VR applications ranging from gaming and entertainment to education and training. The United Kingdom and Germany, with their emphasis on research and innovation, and a consumer base eager to embrace VR, are poised to play crucial roles in fueling the expansion of the European market.
Know thy Competitors
Competitive landscape highlights only certain players
Complete list available upon request
Category-wise Insights
The gesture-tracking devices segment is anticipated to expand at 29.5% CAGR from 2023 to 2033. The semi- and full-immersive segment accounted for 82.9% of revenue in 2022. In 2022, the non-immersive segment accounted for 16.8% of the market. Worldwide hardware sales accounted for 66.5% of the market in 2022. The healthcare segment is expected to advance at 31.5% CAGR through 2033. In 2022, the commercial segment held 55.3% of the global virtual reality market share.
Which Segment is Transforming the Virtual Reality Industry?
"Ability to Immerse Oneself in Virtual World and Interact Physically with Characters"
The gaming segment is predisposed to embrace immersive technologies such as VR. The ability to fully immerse oneself in a virtual world, physically interact with environments and people, and enjoy three-dimensional action creates a degree of immersion that traditional gaming formats simply cannot match.
Because of the inherent compatibility between gaming and VR, there is a sizable user base, with gamers rapidly adopting VR hardware and content. Gaming studios have also been at the forefront of developing immersive VR content, pushing the limits of storytelling and engagement. A diverse range of gaming experiences is available, appealing to everyone from casual players to dedicated enthusiasts.
The gaming segment leads the market due to its intrinsic compatibility with immersive technology, constant desire for innovation, and role in nurturing a broad and active developer community. As VR technology advances, the gaming segment's market influence is projected to remain, encouraging growth and innovation in this field.
According to the Entertainment Software Association, approximately 227 million Americans play video games on a weekly basis, including two-thirds of adults and three-fourths of children under the age of 18. Video games are played by around 55% of males and 45% of females, with an average age of 31 years.
Competitive Landscape
The competitive landscape of the market is defined by a diversified mix of established industry giants and start-ups, all competing for supremacy in this quickly expanding field. Leading the push are top companies in the virtual reality market such as Meta Platforms (previously Facebook), HTC, and Sony, which have solidified their positions through a mix of cutting-edge technology and expansive content ecosystems. These firms continue to push the boundaries of virtual reality technology, establishing new standards for immersive experiences.
As the demand for immersive experiences grows across industries, the competitive landscape is projected to develop further, creating enough opportunity for established firms as well as ambitious entrepreneurs to determine the future of VR technology.
HTC teamed with Holoride, an in-car VR entertainment company, in March 2022 to expand its AR and VR hardware product range.
Sony stated in January 2022 that it was creating a PSVR headset for a better virtual reality experience on PlayStation since it will be directly connected to the PlayStation 5 system.
Oculus teamed with Zoom, a video conferencing firm, to work toward enabling virtual reality meetings and give a virtual workroom atmosphere with whiteboards for more comfortable and interactive meeting sessions in September 2021.
Segmentation of Virtual Reality Market Research
By Component :

By Technology :

Semi- & Fully-immersive
Non-immersive

By Device Type :

Head-mounted Displays
Gesture-tracking Devices
Others

By End-use Industry :

Gaming
Entertainment
Automotive
Retail
Healthcare
Education
Aerospace & Defense
Manufacturing
Others

By Region :

North America
Europe
Latin America
East Asia
South Asia & Oceania
Middle East & Africa
- FAQs -
The hardware segment accounted for 66.5% share of the virtual reality market in 2022.
The virtual reality market size in 2023 stands at US$ 23.18 billion.
Demand for virtual reality solutions is forecasted to reach a market value of US$ 233.79 billion by 2033-end.
Revenue from virtual reality solutions is projected to rise at a CAGR of 26% through 2033.
The VR market in Europe is predicted to expand at a CAGR of 29% through 2033.