AI Virtual Visor Market
AI Virtual Visor Market Analysis By Vehicle Type (Passenger, Compact, Mid, Premium, SUVs, Commercial, LCVs, HCVs, Busses & Coaches) By Root to Market (OEMs, Aftermarket) - Global Market Insights 2021 to 2031
Analysis of AI Virtual Visor market covering 30 + countries including analysis of US, Canada, UK, Germany, France, Nordics, GCC countries, Japan, Korea and many more
AI Virtual Visors: Breaking Conventional Technology to Reduce Road Fatalities
Artificial Intelligence has brought a structural shift in the automotive industry. It is been considered at every level, from manufacturing, supply chain management, to autonomous vehicles. In fact, almost every business vertical is exploiting the potential of AI for better customer experience, ease in operations, collecting data, and reaching a higher revenue bar.
It is expected that global AI spending is likely to increase two-fold over the next four years, rising form almost US$ 50 Bn in 2020 to US$ 100 Bn by 2024, with close to 15% CAGR for the next 5 years.
The automotive industry is among the pioneers in the development and adoption of artificial intelligence. Bosch has transformed the almost century-old conventional sun visor design to a top notch AI-based visor, making it one of its kind. The company believes that, "Some of the simplest innovations make the greatest impact, and virtual visor changes the way drivers see the world". They have stood true to their words by introducing the revolutionary virtual sun visor design at CES 2020 in Las Vegas.
Conventional sun visors that came into existence almost a century back for eliminating temporary blindness caused by sun glare on a driver's face managed to eliminate primary problem. But the problem associated with the mechanical device was overlooked for many years. Deployment of a conventional sun visor creates blind spots for the driver, or particularly, it decreases the area of sight for the driver. Drivers were unable to utilize the most crucial part of the windshield for the navigation and had to change position while driving. This phenomenon became the root cause for many fatal accidents. It is estimated that road accidents due to the sun are twice more than any other weather-related condition.
North American team of German tech giant under part of Bosch internal innovation activities developed the technology from scratch. The design is likely to enhance driver safety and comfort. It is a blend of state-of-the art material and digital & artificial intelligence technology. The transparent smart liquid crystal LCD display ensures that the driver's view is not blocked and visibility through visor increases by almost 90%, and at the same time it automates adjustments. This allows the driver to focus on the road and drive safely. This would drive the demand for AI virtual visors.
The system comes with an interior monitoring camera. It uses artificial intelligence technology to visualize the driver's face, and at the same time identifies landmarks such as the nose and eyes. It constantly tracks the face and the area where sunlight is falling. It darkens the area on the eyes to prevent temporary blindness. The darkness of cells and transparent area continuously adjust according to the detection of sun glare around the driver's face.
"For most drivers around the world, the visor component, as we know it, is not enough to avoid hazardous sun glare, especially at dawn and dusk when the sun greatly decreases a driver's vision," said Dr. Steffen Berns, President of Bosh car multimedia.
Bosch virtual visor was honored as a best innovation at the CES 2020 innovation awards. In addition, it was also named as an honoree in the competition, which recognizes products in total 28 categories. In the category of in-vehicle entertainment & safety, it was recognized as the best innovation, wherein, it received the highest ratings from the judges' panel, which included engineers, designers, and members from tech media.
Don't Need a Global Report?
save 40%! on Country & Region specific reports
Global Electronics and Liquid Crystal Display Manufacturing Industry Outlook
Liquid crystals are states of matter that pose properties between those of solid crystals and conventional liquids. Currently, the electronics industry is heavily dependent on the technology for displays.
Liquid crystal displays are electronic devices that work by applying variable voltage on the layer of the liquid crystals. Thus, it induces changes in optical properties. They are widely used as displays for portable electronic games, digital cameras, electronic billboards, computer displays, TVs, etc. Virtual visors have a liquid crystal display as a core part, which will offer a transparent view to the driver.
Automotive displays are the primary technology that present information to the driver and passengers. Vehicle display numbers have been steadily increasing over the years - almost 65% between 2016 and 2021. It is estimated that the automotive display system market is set to reach almost US$ 22 Bn by 2022.
Global display market revenue is estimated to be around US$ 150 Bn in 2021. The market saw its largest dip in 2009 due to the global recession. It accounted for almost US$ 102 Bn in 2020. Amongst the displays, Thin-Film-Transistor LCDs hold the largest market share of almost 93%.
Top LCD manufacturers include BOE technology Group Co., Ltd., LG Display, Samsung, etc. East Asian countries such as China, Japan, Taiwan, and South Korea hold the largest market share for the same.
For instance, it is estimated that the China electronic industry was valued around US$ 350 Bn in 2020. As per 2019 data, the China consumer electronics market value was around US$ 19.7 Bn.
As described, China is considered as the "factory of the world", and they have sufficient in-house manufacturing capability to fuel global demand. Availability of economical labor in the country is one of the reasons why electronics manufacturing companies shift their plants to the country.
It is estimated that the global consumer electronics industry is likely to surpass US$ 2 trillion by 2031. Internet penetration, advancements in technology, and shifting consumer preference are the likely drivers behind demand growth.
Emergence and Adoption machine learning, artificial intelligence, and Internet of Things have encouraged manufacturers to introduce more electronics-driven products in the automotive industry. Owing to this, AI-based virtual visors are likely to be embraced in order to provide a safe driving experience.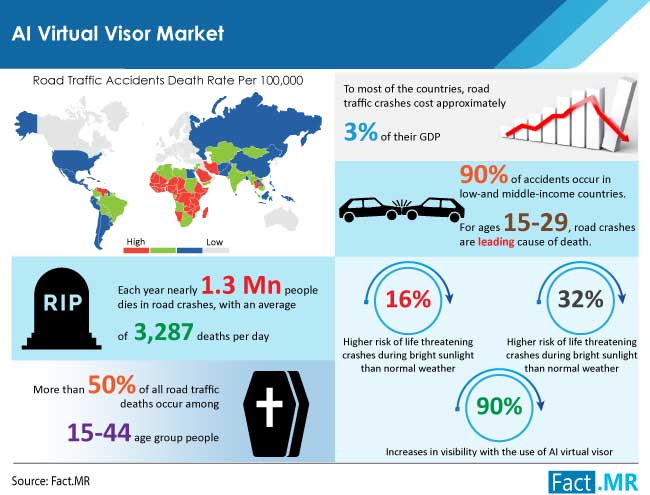 AI Virtual Visors: Hope or Hype in Addressing Road Safety and Economic Challenges?
A study published by the National Center for Biotechnology Information, U.S National Library of Medicine, clearly reveals data about how life-threatening motor vehicle accidents are caused during bright sunlight.
Bright sunlight during the day time is likely to create visual illusions that lead to errors of judgement by drivers. This includes error in feasible distance from an aerial perspective. It was found that the most common weather during accidents was bright sunlight. It is estimated that life-threatening crash risk was 16% higher during bright sunlight as compared to normal weather conditions.
According to the World health Organization (WHO), every year, approximately 1.3 Mn people die in road crashes. Similarly, more people, between 20-50 Mn, suffer non-fatal injuries, while many incurs a disability.
Life-threatening motor vehicle accidents are considered to be the most common cause for death and disability among all age groups. It is considered to be at the ninth place as a prominent reason for cause of death worldwide, and is anticipated to come at the seventh place by 2030. Fatalities and injuries caused due to road traffic accidents lead to considerable economics loss to both, countries and individual families.
For most countries, it is estimated that road traffic crashes cost around 3% of their gross domestic product. This leads to a huge chuck of loss, and thus, the problem requires to be addressed soon. Virtual visor technology is likely to benefit low-income countries most as well at the individual level.
For instance, economic implication of road-related accidents costs the U.S. around US$ 800 Bn a year, and the world is likely to lose around US$ 1.8 trillion due to road accidents between 2015 and 2030.
The United Nations General Assembly has adopted an ambitious goal to half the numbers of global death and injuries caused by road traffic accidents by 2030 Further, even though low- and middle-income economies account for approximately 60% of the world vehicle's population, these countries account for 93% of fatalities.
Among high-income countries, people from lower socioeconomic backgrounds are more likely to get involved in road traffic accidents. Considering the age, road accidents are a prominent cause of death for the age group of 5-29 years. Similarly, analyzing the death rates among genders, starting from a young age, males are more prone to road traffic accidents compared to females.
Around three quarters, which is almost 75% of all road traffic accidents, occur among young males who fall under the age of 25 years. Young males are almost 3 times more likely to get killed in a road accident than a young woman. Among the regions, Africa has the highest road death rate, as per WHO.
Manufacturers are focusing on developing technology that can transform the automotive industry. Adoption of virtual visors is likely to significantly reduce the amount of accidents that occur due to sun glare. The technology enhances the safety prospect of the vehicle and plays very crucial role in eliminating crashes and reducing the seriousness of injuries.
The United Nations works regularly on safety standards and brings out UN regulations for road vehicle safety. If these are applied in designing, production and manufacturing, it would saves many lives on the roads.
Virtual visors can be made a compulsory attachment for vehicles under a few categories, such as for vehicles whose top speed is above some average range, based on ground clearance, etc. In addition, strictness in vehicle safety check certificate allocation and adequate law enforcement of traffic laws can further drive up the safety quotient.
More Insights, Lesser Cost (-50% off)
Insights on import/export production,
pricing analysis, and more – Only @ Fact.MR
How is Autonomous Cars Technology Likely to Embrace AI Virtual Visors?
Trends that are technology driven are likely to revolutionize the industry, and the profit margin is more related to how market players respond to shifting consumer behavior.
Artificial intelligence, digitization, automation, and various new technologically advanced business models have revolutionized almost every industry, and the automotive industry is no exception to it. Autonomous or self-driving cars are gaining popularity among both, manufacturers and customers.
Looking towards the safety benefit, governments are ensuring that more reliable and advanced technologies are put on the road. Since cars are not likely to be totally human intervention-free, the requirement of humans during unprecedented times is required. Autonomous driving, mobility, connectivity, and electrification are four disruptive technologies in the automotive sector. Virtual visors can be add to the list of gadgets with which these cars are loaded.
It is estimated that the share of autonomous cars in overall global traffic is likely to reach 40% by 2030. In addition, almost 15% of new cars that will be sold in 2030 will be fully autonomous, and by 2040, such vehicles are likely to account for almost 65% of total passenger kilometers travelled.
Currently, the global AV market values around US$ 45 Bn, and its market size is likely to reach to US$ 172 Bn by 2024. The global automotive system on chip (SoC) market size is likely to touch US$ 1.5 Bn by 2024. On other hand, by 2023, German car brand Audi is planning to spend around US$ 16 Bn on self-driving cars.
Advancement of artificial intelligence and connected technology is making the cars of the new world more ready for the roads. Integration of virtual visors with connected and self-driving cars is highly associated with consumer trust in automated vehicles. Survey of leading economies reveal that consumer trust in automated vehicles is almost 93% in Brazil, 84% in India, 68% in China, 56% in USA, and 53% in Russia.
During the pandemic, autonomous vehicles gained popularity in the commercial space. Today, cars are loaded with electronic devices that constitute sensors, screens, etc. it is estimated that by 2030, almost 52% of a vehicle's total cost is likely to be accounted for by its electronic components.
Dominance of electric vehicles is slowly rising. Virtual visors enhance the capability of electric vehicles and are likely to blend with state-of-the-art technology. Looking at the sales prospects of electric vehicles at a global level, in 2019, total 7.2 Mn plug-in electric vehicles were sold globally, where China holds more than 45% of total sales.
Looking at the high potential area for the sales of virtual visors in electric vehicles, China, Europe, and the United States hold dominant positions. In the current scenario, China has almost 2.3 Mn units, Europe has 1.2 Mn units, and USA has almost 1.1 Mn units of electric vehicles.
In addition, virtual visors are embedded with software to function. In 2019, the global automotive software market was valued around US$ 18.7 Bn, and it is estimated to reach almost US$ 44 Bn by 2027 at a CAGR of around 15% between 2020 and 2027.
It is expected that companies who invest around 25% of their research & development budget in software applications are likely to experience higher growth. With the adoption of virtual visors, the automotive software market is likely to grow even further and create new opportunities for software and artificial intelligence platform developers.
Giants and start-ups around the world are fueling the development of autonomous vehicles. This portrays a very bright future for artificial intelligence-embedded virtual visors. Waymo has raised almost US$ 3 Bn in 2 rounds of funding, Tesla has raised total of US$ 20.2 Bn in 35 rounds of funding, Uber's advanced technologies group has raised almost US$ 1 Bn for running further research on making self-driving vehicles safer.
Similarly, Rivian has raised almost a total of US$ 8.2 Bn in a funding in 9 rounds, Cruise has raised around US$ 7.3 Bn in 8 rounds of funding, Nuro has raised almost US$ 1.5 Bn in 4 rounds of funding, and Aurora has raised US$ 1.1 Bn in 3 rounds of funding. Further, Zoox has raised around US$ 1 Bn of funding in 6 rounds, and AIWAYS has raised almost US$ 150 Mn in 4 rounds of funding.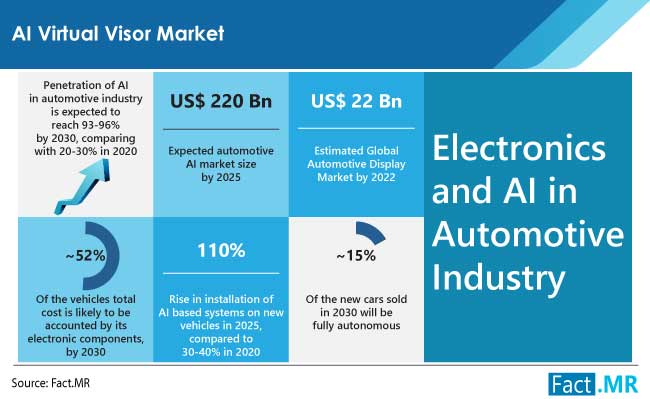 What is the Significance of Internet, IoT, and 5G Technology for AI Virtual Visors?
The Internet is the backbone of every artificial intelligent technology used around the globe. Emergence of Internet of Things, satellite internet, 5G technology and MIMO technology is likely to fuel the development and adoption of AI virtual visors.
It is estimated that globally, around 70% of light vehicles and trucks is likely to be connected to the Internet by 2023. By 2022, the global connected car market is expected to grow 270%, and more than 125 Mn passenger cars loaded with embedded connectivity are forecasted to be shipped globally from 2018 to 2022.
Massive MIMO is one of the emerging technologies in the wireless arena of both, the sub-6 GHZ and mm wave band. It consists of a high number of advanced antennas and complex algorithms. The technology carries the capability to provide seamless Internet service in a wide area. The user enjoys improved, seamless, fast Internet everywhere in the covered region.
Since vehicles are dynamic and move everywhere, 3D beamforming technology enables dynamic coverage. This is likely to provide superior Internet connection for the AI and connectivity technology used in AI virtual visors.
Similarly, the user enjoys enhanced network capacity by the use of 5G NR; high capacity is enabled, which is deployed in the range of sub-6 GHZ. In addition, multi-user MIMO enables the service to a large number of users at a single time from a single device. All this enhances user experience.
Looking at the massive MIMO market scenario, it is likely to touch US$ 7 Bn and is expected to reach around US$ 71 Bn by 2031 at a CAGR of 26.1%.
Further, satellite Internet, the technology that provides Internet through space, is assumed to solve Internet reach and speed problems. Virtual visors can experience the benefits of non-cable, direct Internet service. Geographical limitations is a prominent barrier for Internet services at remote places across the globe. Satellite Internet service can transfer data for AI virtual visor-embedded vehicles that are running in far remote places.
The technology provides service from a number of satellites placed in Low-Earth-Orbit (LEO) and Medium-Erath-Orbit (MEO). Due to their presence in LEO, latency in data transfer is reduced significantly. The group of satellites is known as constellations. There are various players operating in the field to provide Internet services. For instance SpaceX Starlink, OneWeb, Telesat, Kuiper, etc.
The space industry harnesses big potential; in 2020, it was valued at around US$ 370 Bn. Compared to 2019, it is almost 1.4 times more. Under this, the commercial satellite industry is the dominating one. It accounts for almost 73% of the total share and values around US$ 271 Bn.
Satellite broadband revenue totaled almost US$ 2.8 Bn in 2020, which experienced 10% growth compared to 2019. As satellite broadband connectivity increases, the Internet penetration gap will reduce.
At present, almost 6 in every 10 people enjoy the availability of the Internet. This is very lucrative for the business prospects of virtual visors. But at same time, it is also evident that almost 4 in every 10 people don't have access to the Internet. As such, taking the Internet to these people can bring leverage the advantage of virtual visors in the vehicles.
Similarly, 5G is the next revolution that will change the way we use the Internet. Internet of things and artificial intelligence today have limitations, and 5G emergence is likely to unleash the full potential of these technologies.
The average latency of 4G is almost ~50ms whereas, 5G's latency is just ~10ms, which means that it moves data faster and processing can take place in less amount of time.
Looking towards its capability, it can connect almost 1 Mn devices across every half square mile, where the speed reaches up to a gigabit per second. 5G will deliver greater bandwidth to handle a large number of connected devices. It will leverage the mixed reality future. The complete 5G coverage era is near and nations across the globe are ramping up there their infrastructure development in order to stay ahead in the race.
By February 2021, 30% of countries across the globe had 5G technology availability, and it is estimated that by the end of 2025, almost 3.6 Bn 5G connections are likely to get enrolled. This enrollment is likely to be in countries that possess significant amount of vehicle purchasing power, which is likely to fuel the growth of virtual visor adoption.
Internet of things will revolutionize wireless connectivity technology. AI-based virtual visors use wireless connectivity technology.
Know thy Competitors
Competitive landscape highlights only certain players
Complete list available upon request
What are the Potential Barriers to AI Virtual Visor Market Growth?
Technological failure can be considered as the biggest barrier in the adoption of AI virtual visors. Since the darkening of various slices in the LCD is dynamic, some technical failure may lead to darkening of 100% of the screen. This phenomenon will leave the driver with the same conventional device. In addition, failure of AI or the camera may lead to an un-recognized driver face, and eventually the product will fail to perform its basic operation.
The latter situation is even more dangerous, since, in this condition, the driver will have nothing to stop the sun glare - neither the modern AI visor nor the conventional one. Sun glare will pass through the transparent LCD display screen and may lead to severe consequences.
Next potential limitation that is likely to be encountered at the very early stage is the cost of the product. Though the price of the product is not yet revealed, since it is using state-of-the art electronics technology, it is expected to be a high-price gadget, at least at the initial stages. Artificial intelligence technology, high-end cameras, and large LCD will eventually build up the cost.
Further, in recent times, the world is sailing through a global semiconductor crisis, and the automotive industry is one among who has been hit the hardest and has crippled the industry. Since chips are a crucial part of today's automobiles, their shortage halted production lines across the industry.
It is estimated that the crisis is likely to cut global vehicle production by almost 700,000 units year-on-year, but the figure is subjected to changes and might even peak to a much higher value. Chip shortage is expected to cut down almost US$ 110 Bn revenue for the auto industry in 2021. This forecast is almost 82% more than the previous forecast of almost US$ 60 Bn cut in revenue.
AI virtual visors use small silicon chips, and thus, dependency on semiconductors and chips is likely to extend further for the industry, which will fuel demand for semiconductors even more. Thus, any unprecedented shortfall in the supply chain will lead to higher revenue loss and production shortage.
This chip shortage is likely to extend further to electronics equipment also. In addition, the global electronic manufacturing industry is highly dependent on a few countries such as China, Japan, Taiwan, and South Korea. The region's geopolitics is highly volatile. For instance, in 2018, the U.S.-China trade war marked its foot print on many economics. Further, trade also experienced a dip, which resulted in manufacturing shortfalls, and disrupted the global supply chain.
As the aspect of QUAD grouping and AUKUS is ramping up military exercises in the region, the idea of a free Indo-Pacific is taking center position in world geopolitics. This is undesirable by China, and in some form by Russia. Thus, tightening of international relations is likely to harm manufacturing and trade across globe.
What is the Future for AI Virtual Visor Technology?
Bosch has revealed the first prototype with LCD screens. Currently, analysts in the industry are not sure about the variants that they are going to offer. The automotive industry uses two main types of LCD screens - passive matrix and active matrix, using thin-film transistors. It is estimated that the company can use both displays to provide a better user experience.
Similarly, Organic Light Emitting Diodes (OLED), Filed Sequential Color (FSC), Excellent Black Technology (EBT), and Color Super Twisted Nematic (CSTN) are considerable future prospects for manufacturers. AMOLED displays have better and quicker response time and superior image quality, and can be reliable to provide quicker darkening of cells in a driver's dynamic conditions.
Volume sales is the key aspect for high revenue growth of AI virtual visors. According to the International Organization of Motor Vehicle Manufacturers, the automobile industry has registered almost 30% increase from 1995 to 2005. In addition, building almost 60-80 million vehicles in a single year provides direct employment to almost 9-10 million people. This figure is almost 5% of global manufacturing employment.
As per estimations, each direct job in the industry supports at least another 5 indirect jobs. Thus, it adds up to more 50 million jobs. And, as the technology is evolving and more electronic components are getting embedded, this number is likely to increase further.
Looking forward to the numbers of vehicles, passenger vehicles are likely to be the prominent user of the technology. From 2010 to 2019, sales were almost 75 Mn units each year. However, 2020 saw a decline; in Europe, auto sales declined by almost 80%, in China by 70%, and nearly by 50% in the United States. This is expected to hit back to pre-COVID sales and reach almost 71 Mn units in 2021.
As per the International Organization of Motor Vehicle Manufacturers, globally, vehicle sales were almost 90.5 Mn in 2019, in which, commercial vehicles were almost 26.7 Mn. Commercial vehicle sales portray a lucrative avenue for the sales of AI virtual visors.
Similarly, regular software updates are likely to benefit the competency of the technology. Government encouragement for adoption and strict regulations for proper functioning of the technology will drive customer sentiments.
Diversification of electronics manufacturing will ensure regular supply of components and reduce dependency of the world on one region or country. This will ensure higher penetration of the technology in vehicles and will produce lucrative revenue sources.
Concluding Statement
Fact.MR scrutinized an extensive range of data and further triangulated and simplified it into insights for better understanding of market penetration and key trends. We hope that this study would help you better understand the crucial factors about the AI virtual visor market.
- FAQs -
Currently, China, Europe, and The United States hold dominant positions in sales of Virtual Visors in electric vehicles.
The AI Virtual Visor Market expects to grow at a CAGR of around 15% between 2020 and 2027.
Rising developments in development of autonomous & electric vehicle technologies drives AI Virtual Visor Market growth.
AI Virtual visors have a liquid crystal display as a core part, which offers a transparent view to the driver by applying variable voltage on the layer of the liquid crystals.