Wall Oven Market
Wall Oven Market Analysis by Product Type (Single Wall, Double Wall, Combined), By Feature (Smart Functionalities, Energy Efficiency, Convention Systems), By Application (Domestic, Commercial) & By Region – Global Market Insights 2023 to 2033
Analysis of Wall Oven Market Covering 30+ Countries Including Analysis of US, Canada, UK, Germany, France, Nordics, GCC countries, Japan, Korea and many more
Wall Oven Market Outlook (2023 to 2033)
The global wall oven market is valued at US$ 4.9 billion in 2023 and is predicted to reach US$ 12.3 billion by 2033, expanding at a CAGR of 9.5% between 2023 and 2033.
Wall ovens seamlessly integrate into all kitchen spaces, regardless of spatial limitations or configuration. Elevated living standards among consumers and end-users stand as significant catalysts propelling the expansion of the wall oven market. Increased enthusiasm for kitchen makeovers and refurbishments emerges as the primary growth nurturer for this market.
Evolving kitchen designs and advancements play pivotal roles in steering the demand for high-speed ovens. As disposable income experiences an uptick, consumers are channeling substantial investments into the revamping and renewal of their culinary spaces.
Consumers prefer sophisticated designs that encompass adorned kitchens known for their easy maintenance. Consequently, this inclination drives demand for streamlined appliances, such as wall ovens.
Impediments such as substantial installation expenses and maintenance costs serve as key restraints constraining the expansion of the wall oven market. Conversely, a surge in the utilization of wall ovens in food processing industries and restaurants generates promising prospects for market growth. The rising prevalence of smart homes and interconnected devices is enticing urban populations towards connectivity-enabled wall ovens, thus propelling market momentum.
As consumer spending on electric kitchen appliances, especially built-in home equipment, rises, demand for wall ovens experiences a corresponding increase. Upsurge in modular kitchen adoption is expected to further elevate the demand for wall ovens throughout the envisaged timeframe.
In January 2022, Panasonic Corporation unveiled the NN-SV79MS, a smart oven that has hands-free and remote cooking capabilities through Amazon Alexa voice commands.
Report Attributes
Details

Wall Oven Market Size (2022)

US$ 4.5 Billion

Estimated Market Value (2023E)

US$ 4.9 Million

Forecasted Market Value (2033F)

US$ 12.3 Billion

Global Market Growth Rate (2023 to 2033)

9.5% CAGR

Single Wall Oven Segment Growth Rate (2023 to 2033)

9% CAGR

Germany Market Growth Rate (2023 to 2033)

7.3% CAGR

China Market Growth Rate (2023 to 2033)

12.5% CAGR

Leading Regional Market

North America

Key Companies Profiled

Bosch
GE Appliances
Glen
Whirlpool
Blue Star
LG
Electrolux
Kenmore
Thermador
Miele
Don't Need a Global Report?
save 40%! on Country & Region specific reports
Which Factors are Driving Substantial Increase in the Demand for Wall Ovens?
"Diverse Cooking Capabilities and Efficient Space Utilization of Wall Ovens"
Customers are drawn to the various features that wall ovens offer, finding them appealing for several reasons. These features encompass a range of functionalities and conveniences that enhance the cooking experience and contribute to the overall kitchen environment.
One of the key factors that attract customers to wall ovens is their diverse cooking capabilities. These ovens often come equipped with advanced cooking technologies, such as convection and precision temperature control, which enable users to prepare a wide array of dishes with exceptional results. This versatility in cooking options appeals to those who enjoy experimenting with different recipes and cooking techniques.
Another noteworthy feature is the efficient use of space. Wall ovens are designed to be mounted at a convenient height on the kitchen wall, freeing up valuable counter space that can be utilized for other tasks. This is particularly advantageous for those with smaller kitchens, as it optimizes the available space and contributes to a more organized cooking area.
"Simplicity in Operation with User-friendly Interface and Intuitive Controls in Modern Wall Ovens"
Ease of use is also a prominent factor. Many modern wall ovens come with user-friendly interfaces, intuitive controls, and preset cooking programs. This simplifies the cooking process, making it accessible to individuals with varying levels of culinary expertise. Incorporation of digital displays and touch controls adds a contemporary touch to the kitchen, aligning with the preferences of tech-savvy consumers.
The aesthetic appeal of wall ovens contributes to their attractiveness. Manufacturers offer a range of designs, finishes, and wall oven sizes to complement different kitchen styles. Whether someone prefers a sleek, stainless-steel look or a more classic appearance, there is a wall oven option to suit various interior design choices.
In terms of convenience, the ergonomics of wall ovens play a significant role. Placing the oven at eye level eliminates the need to bend or stoop while transferring food, which is particularly beneficial for those with mobility challenges. This ergonomic advantage aligns with modern lifestyles that prioritize comfort and accessibility.
What are the Challenges Hindering the Demand Growth for Wall Ovens?
"High Wall Oven Installation Cost, Limited Spacing, and Complex Installation Process"
Wall ovens offer a plethora of benefits compared to conventional ovens. Nonetheless, it is imperative to acknowledge that wall ovens may not be a fitting choice for every kitchen setup. This equipment can potentially carry a higher price tag than standard stoves and does not consistently deliver the desired space and functionality that consumers seek. Their installation necessitates the involvement of professionals, driving up the installation expenses. Furthermore, electric wall ovens are extremely popular, which can result in elevated operational costs and potential complications for homeowners.
"Limited Design Flexibility Leading to Preference for Conventional Gas Cooking"
Wall ovens are more challenging to access for maintenance and repairs, which increases service costs and downtime. The nature of built-in wall ovens limits design flexibility in terms of kitchen layout and appliance arrangement.
Some consumers prefer the precise control and quick response of gas cooking, which leads them to opt for traditional gas ovens instead of electric wall ovens. Rapid changes in kitchen design trends render certain wall oven models or features outdated, potentially affecting their market appeal. Some consumers perceive wall ovens as more complex to use or less familiar than traditional oven setups, impacting their adoption rate of these systems, including built-in wall ovens.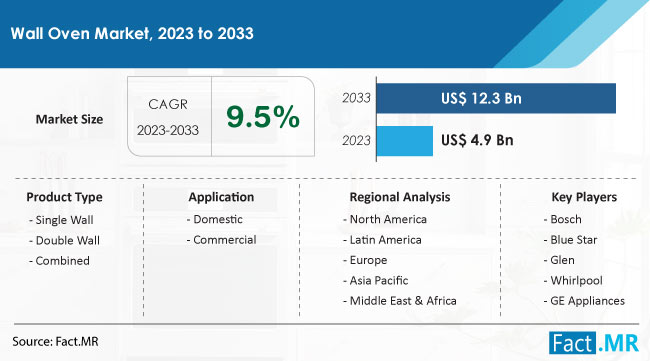 Country-wise Insights
What's Contributing to Rising Popularity of Wall Ovens in the United States?
"High Focus on Residential Development and Kitchen Renovation"
The market for wall ovens in the U.S. is currently experiencing steady growth, primarily driven by a notable increase in both kitchen renovation endeavors and the construction of new residential properties. This trend is underpinned by the growing desire among homeowners to modernize and enhance their living spaces, particularly focusing on their kitchens. As people recognize the pivotal role the kitchen plays in daily life and social interactions, they are inclined to invest in renovations that incorporate advanced appliances and efficient layouts.
The United States stands out as a dominant player in the market. The country's strong economy, coupled with a culture that values convenience and technological advancements, drives demand for sophisticated kitchen appliances like wall ovens. Additionally, the trend of open-concept living spaces and the emphasis on entertaining guests at home align well with the integration of stylish and functional kitchen appliances.
Ongoing development of new residential properties is further fueling the growth of the wall oven market. As construction companies and developers strive to cater to the evolving preferences of homebuyers, they are equipping properties with modern amenities and appliances. Wall ovens are becoming a focal point in these new developments, appealing to buyers who value cutting-edge features in their homes.
What are the Avenues for Growth for Manufacturers of Wall Ovens in China?
"Urban Transformation Reshaping Economic and Societal Landscape"
Sales of wall ovens are predicted to increase at 12.5% CAGR in China between 2023 and 2033.
China is currently undergoing a rapid phase of growth and transformation, underpinned by various factors that collectively contribute to its evolving economic and societal landscape. One of the primary drivers of this growth is the escalating urbanization across the country.
As more individuals migrate from rural to urban areas in search of better economic opportunities and improved quality of life, the urban population continues to expand at an unprecedented rate. This urbanization trend is not only reshaping the demographic structure but also influencing various aspects of Chinese society, including consumer preferences and lifestyle choices.
One significant aspect of this transformation is the adoption of Western cooking styles and culinary practices. As China becomes more interconnected with the global community, exposure to diverse cultures and cuisines is expanding. This exposure is driving shifts in culinary preferences and habits, with more individuals in China embracing Western cooking techniques and incorporating them into their daily meals. This change is particularly pronounced among urban dwellers who are increasingly seeking the convenience and versatility that Western cooking styles offer.
More Insights, Lesser Cost (-50% off)
Insights on import/export production,
pricing analysis, and more – Only @ Fact.MR
Category-wise Insights
What Reasons are Responsible for Single Broader Acceptance of Single Wall Ovens?
"Compact Design of Single Wall Ovens and Convenient Installation Driving Extensive Utilization in Small- to Medium-sized Households"
The single wall ovens segment is forecasted to expand at a CAGR of 9% through 2033.
Single wall ovens represent the prevailing and widely adopted category, renowned for their suitability for small to medium-sized households. These ovens encapsulate the essence of simplicity, compact design, and convenient installation, rendering them a favored selection among homeowners.
Designed to accommodate the requirements of households with varying culinary demands, single wall ovens offer a balance between functionality and space efficiency. Their streamlined design and compact footprint allow them to seamlessly integrate into diverse kitchen layouts without overwhelming the available space. This characteristic is particularly advantageous for homeowners seeking to maximize their kitchen's utility while maintaining an uncluttered and organized aesthetic.
Popularity of single wall ovens is further fueled by their straightforward installation process. Homeowners are drawn to the convenience these ovens offer during setup, which minimizes the disruption typically associated with appliance integration. This ease of installation is a compelling factor, especially for individuals who prioritize hassle-free solutions that do not require extensive modifications to their kitchen space.
Why are Wall Ovens Widely Used in the Domestic Sector?
"Reduced Need for Constant Monitoring During Cooking"
Wall ovens have become a staple in domestic kitchens, catering to a wide range of cooking needs, from roasting succulent meats to creating delectable baked goods. These versatile appliances offer a convenient solution for home cooks, enabling them to engage in different dishes with relative ease.
One of the primary advantages of utilizing wall ovens for cooking lies in the reduced need for constant supervision. Unlike methods such as frying or broiling, which often necessitate vigilant monitoring to prevent overcooking or burning, wall ovens allow users to set the desired temperature and cooking time. This convenience affords home cooks the freedom to engage in other tasks or simply relax while the meal is being prepared.
The appeal of wall ovens also extends to their ability to handle various cooking techniques. From slow-roasting meats to achieving perfectly risen soufflés, these ovens accommodate a diverse range of culinary endeavors. This adaptability is particularly valued by individuals who appreciate the convenience of a single appliance capable of delivering consistent outcomes across different types of dishes.
Competitive Landscape
Leading appliance manufacturers with a global presence dominate the market and offer some of the best wall ovens for consumers. Brands such as Whirlpool, Electrolux, KitchenAid, Bosch, GE Appliances, and Samsung enjoy the best wall oven reviews and hold significant market shares due to their well-established reputation for quality, innovation, brand recognition, and advanced wall oven features. These companies often offer diverse product lines with a range of features, catering to different consumer needs and preferences.
The market has also witnessed the emergence of innovative start-ups and niche players who have introduced novel concepts and technologies to capture specific consumer segments.
In March 2022, Samsung Electronics Co., Ltd. introduced a range of cooking appliances in the 4, 5, 6, and 7 series. This lineup included a diverse selection of ovens featuring steam, air, sous vide, and air frying functionalities, all aimed at promoting healthy eating and delivering nutritional cooking advantages. The new series is enriched with SmartThings Cooking, a feature that simplifies the grocery shopping process and generates personalized weekly meal plans accompanied by tailored recipes and straightforward instructions.
Know thy Competitors
Competitive landscape highlights only certain players
Complete list available upon request
Key Segments of Wall Oven Industry Research
By Product Type :

Single Wall
Double Wall
Combined

By Feature :

Smart Functionalities
Energy Efficiency
Convention Systems

By Application :

By Region :

North America
Latin America
Europe
Asia Pacific
Middle East & Africa
- FAQs -
The global wall oven market stands at US$ 4.9 billion in 2023.
Sales of wall ovens are set to increase at a CAGR of 9.5% from 2023 to 2033.
Demand for wall ovens is predicted to amount to US$ 12.3 billion by 2033.
The market in China is predicted to advance at a CAGR of 12.5% through 2033.
The market in Germany is forecasted to expand at a CAGR of 7.3% through 2033.
Sales of single wall ovens are predicted to rise at a notable CAGR of 9% from 2023 to 2033.