Women's Health Rehabilitation Products Market
Women's Health Rehabilitation Products Market By Product (Orthopedic Rehabilitation Products, Urinary Incontinence Rehabilitation Products, Others), By Therapy (Hand Therapies, Physical Therapies, Others), By Application, End User & Region - Global Market Insights 2023-2033
Analysis of Women's Health Rehabilitation Products Market Covering 30+ Countries Including Analysis of US, Canada, UK, Germany, France, Nordics, GCC countries, Japan, Korea and many more
Women's Health Rehabilitation Products Market Outlook (2023-2033)
Increasing at a CAGR of 6%, the global women's health rehabilitation products market is predicted to increase from its current valuation of US$ 3.22 billion and reach US$ 5.77 billion by the end of 2033.
Women's health rehabilitation products are classified into orthopedic rehabilitation products, urinary incontinence rehabilitation products, pelvic pain rehabilitation products, pregnancy & postpartum rehabilitation products, breast cancer rehabilitation products, and lymphedema rehabilitation products.
Sales of urinary incontinence rehabilitation products and orthopedic rehabilitation products are expected to increase at a healthy pace during the forecast period. Urinary incontinence symptoms can be brought on by various conditions, including urinary tract infections, menopause, weakened pelvic floor muscles and urethral sphincters, pregnancy, and childbirth.
According to a study published in the National Center for Biotechnology Information (NCBI) article "Urinary Incontinence in Postmenopausal Women (2019)", there has been an increase in the prevalence of several diseases, including Parkinson's disease, diabetes, multiple sclerosis, etc., which may contribute to a rise in the prevalence of urinary incontinence in both men and women.
Rising prevalence of urinary incontinence (UI) is boosting the demand for incontinence care devices. Also, increasing awareness among people about the UI and growing research and development activities in the field of urinary incontinence are supporting sales growth.
For instance, Renovia Inc. stated in November 2019 that the US Food and Drug Administration (FDA) had granted 510(k) clearance for its next-generation Deep Pelvic Digital Therapeutic Device, which is used to treat women with stress urinary incontinence, mixed incontinence, and mild to moderate urgency.
Increasing cases of accidents and trauma worldwide are fuelling the sales of orthopedic rehabilitation products. Also, due to their superior clinical efficacy and quick recovery time compared to conventional therapies, such as pain medications, orthopedic rehabilitation therapy devices including flexible resistance devices, orthopaedic braces and supports, and more are becoming more and more popular in the clinical management of several orthopedic disorders, including rheumatoid arthritis (RA), osteoarthritis (OA), carpal tunnel syndrome, and osteoporotic fractures.
Through training and therapies such as hand therapy, occupational therapy, massage therapy, physical therapy, and more rehabilitation is defined as the process of physically restoring a sick or disabled person to help them acquire a healthy or normal life. The goal of rehabilitation is to help people achieve their highest level of mental function, overcome their disabilities, and to improve their quality of life. However, rehabilitation helps to return the person to their optimum health, functionality, and well-being but it does not invalidate the injury brought on by a disease or trauma.
Women's health rehabilitation is a program that focuses on the particular health problems that women are likely to encounter throughout their lives. Women's health rehabilitation programs provide cutting-edge care and therapies to women of all ages and with complex illnesses such as multiple sclerosis (MS), assisting them in regaining more mobility and supporting the maintenance of their success, happiness, and normal day-to-day functioning.
Report Attributes

Details

Market Size (2023E)

US$ 3.22 Billion

Forecasted Market Value (2033F)

US$ 5.77 Billion

Global Market Growth Rate (2023-2033)

6% CAGR

Key Companies Profiled

Access Health International
General Electric Company
Win Health Medical Ltd
DeRoyal Industries
BSN Medical
AliMed, Inc.
Accord Medical Products.
EMS Physio
Midtown Chiropractic Plc.
Zynex, Inc.
PROSPINE Health and Injury Center
Pure Health Chiropractic
Cornerstone Chiropractic
Novartis AG
Carib Rehab Ltd.
GE Healthcare
GPC Medical Ltd.
Meyer Physical Therapy
Pelvic Health & Rehabilitation Center
Rehab Plus
Sportstek
Don't Need a Global Report?
save 40%! on Country & Region specific reports
What's Generating New Opportunities in the Women's Health Rehabilitation Products Market?
"Rising Prevalence of Breast Cancer"
Increasing investments in research and development activities, rising rates of breast cancer incidence and prevalence, and developments in cancer biology and pharmacology are all contributing to the women's health rehabilitation products market growth.
According to Cancer Australia, the rate of new instances of breast cancer diagnosed in the nation in 2021 was estimated to be 20,030 (164 males and 19,866 females).
According to the same source, the probability of developing breast cancer by the age of 85 is expected to be 1 in 15 (or 6.7%), as per further studies 1 in 8 or 13% for females and 1 in 829 or 0.12% for males.
About 1 in 100 breast cancer diagnoses in the U.S. are found in men, according to the Centers for Disease Control and Prevention.
Thus, the rising prevalence of breast cancer is increasing the demand for recovery products such as breast cancer care devices as well as women's health rehabilitation products.
"Growing Trend of Home Care"
Demand for home rehabilitation products and services is anticipated to be influenced by the growing rate of the elderly population, the high prevalence of chronic diseases, the growing caseload on healthcare institutions, the rising incidence of traffic accidents and traumas, the rapid technological developments, the growing popularity of home care, and initiatives to increase awareness of rehabilitation equipment and therapies.
The global trend of home care is accelerating, and it is anticipated that this tendency will continue unabated in the coming years. The potential demand for home rehabilitation products and home rehabilitation services is anticipated to be greatly influenced over the forecast period by the growing rate of the geriatric population and patients' increasing preference for receiving care at home.
"End User-oriented Efforts by Top Market Players"
The market for women's health rehabilitation products is being fuelled by rapid ongoing technological advancements. Most companies that specialize in women's health rehabilitation products progressing in this post-pandemic era with a strong feeling of urgency and a focus on their users' demands.
The top companies are working on marketing products at competitive rates, efforts are made to cut costs at all stages of the value chain. Furthermore, modernizing and expanding manufacturing along with constant innovation and end-user focus initiatives will continue to be the most important aspects of success.
What Challenges are Faced by Women's Health Rehabilitation Product Suppliers?
"High Cost of Several Products"
The high price of products for women's health rehabilitation and the lack of knowledge & awareness about these products may hamper sales growth. Several needy patients do not receive effective assistance as a result of misconceptions regarding disabilities and a lack of awareness of available resources.
Advancements in technologies boost the price of rehab products, in developing and poor economies sales of such advanced products are affected due to their high price, lack of understanding, and low income of treatment seekers.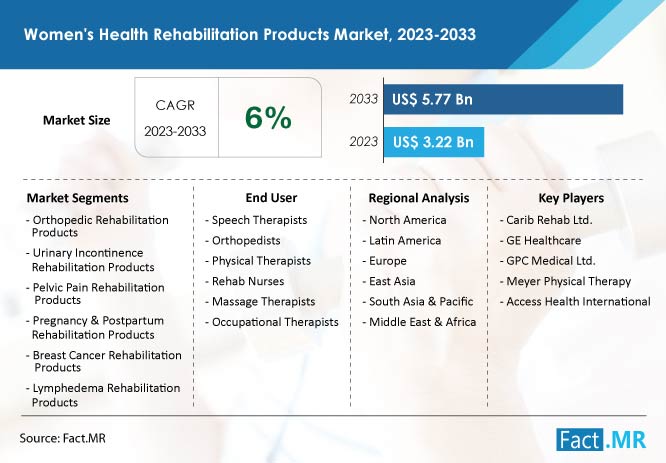 Country-wise Analysis
Which Factors are Supporting the Sales of Women's Health Rehabilitation Products in the United States?
"Rapidly Growing Rate of Ageing Population and Increasing Prevalence of UI"
North America currently dominates the global women's health rehabilitation products market. This can be attributed to the factors such as the rising prevalence of urinary incontinence, the growing rate of the senior population, and the increasing demand for minimally-invasive procedures.
According to a statistics report from the Government of Canada (2019), there were 6,592,611 senior people in Canada. Thus, they were representing 17.5% of the country's population.
In Canada, the percentage of elderly people has been rising over time. The risk of bladder disorders, such as leakage or urinary incontinence, increases with age; as a result, the growth of rehabilitation products is benefiting from the rapidly increasing rate of the ageing population.
Urine incontinence (UI) is predicted to impact 10–13 million individuals in the US, according to an article titled "What is the prevalence of urinary incontinence?" which was published in Medscape in June 2021.
Additionally, the expense of treating UI is US$ 16.3 billion in the U.S. alone, with 75% of that amount going toward treating women. The rising incidence of urine incontinence in the U.S. is anticipated to fuel market growth.
What is the Demand Outlook for Women's Health Rehabilitation Products in the European Region?
"Presence of Effective Women's Health Care Centers and Rising Cases of Musculoskeletal Disorders"
Some of the top European countries in the women's health rehabilitation products market are the U.K., Germany, France, and Italy. Many individuals in the U.K. suffer from musculoskeletal (MSK) disorders, which can affect one's joints, bones, muscles, and occasionally related tissues including nerves. They might range from small wounds to chronic illnesses.
Nearly one-third of the population in the UK, or over 20 million people, suffer from an MSK disorder such as arthritis or back discomfort, according to the NHS England study. Pain, stiffness, restricted movement, and incapacity are among the symptoms that might lower one's independence and quality of life.
European countries are well known for medical tourism due to the presence of advanced treatment procedures and the availability of top women's rehabilitation programs is also boosting sales growth.
How is the Market for Women's Health Rehabilitation Products Progressing in Asia Pacific?
"Rising Incidence of Breast Cancer"
Breast cancer is the most common form of cancer seen in the Asia Pacific region. The cases of breast cancer are increasing at a fast pace in Asia Pacific countries such as India, China, South Korea, and Japan when compared to Western nations.
Respective governments in the region are collaborating with several sectors and investing heavily in R&D to produce effective therapeutic options. Multiple sessions of therapy make one depressed and diffident. Thus, the introduction of advanced women's rehabilitation centers helps to boost the treatment procedures effectively.
For instance, recently, on behalf of their clients, Wacoal Corp. organized the Pink Ribbon Fitting Campaign and contributed the money to the Japan Society of Breast Health, J. POSH, and Japan Cancer Society (Smile Fund).
More Insights, Lesser Cost (-50% off)
Insights on import/export production,
pricing analysis, and more – Only @ Fact.MR
Category-wise Analysis
Which Therapy is Gaining Immense Popularity?
"Physical Therapies Driving Sales of Women's Health Rehabilitation Products"
Compared to other therapies, the demand for physical therapies for women is expected to rise at a rapid pace during the forecast period. Over the projected period, it is anticipated that rising demand for products such as ramps, platform steps, terry towels, exercise bands, pillow cases & lumbar rolls, massage cream, cold packs, foam rollers, shoulder pulleys, electrodes, and sports tape would support market growth.
For older women to age healthily, specific steps must be implemented. Physical therapy can assist in locating (and removing) fall and fracture risk factors. Regular weight-bearing and strengthening exercises help prevent women from losing bone density as they age.
Every physical therapy plan is unique and created to meet the needs of the patient. Physical therapists take into account the specific physical and physiological characteristics that are exclusive to women. The American Physical Therapy Association has a division devoted to women's health specialty.
Occupational therapies are useful for treating orthopaedic conditions, managing lymphedema, reducing worry and tension, and managing fatigue. During the forecast period, it is predicted that demand for mobile posture mirrors, walking sticks or crutches, rollators, leg lifters, lumbosacral spine support belts, reachers, and canes would increase significantly.
Don't Need a Global Report?
save 40%! on Country & Region specific reports
Competitive Landscape
Key players in the women's health rehabilitation products market are producing advanced rehab products with the use of smart technologies. The creation and launch of new wearable technologies may significantly change patients' rehabilitation experience.
The new wearable rehabilitation device was introduced in January 2022, by Lusio Rehab, a U.K.-based producer of assistive technology. The innovative tool encourages patients to participate in their physical therapy regimen and raises the rate of adherence to therapeutic exercises.
May 2022 saw a collaboration agreement between GE Healthcare and the National Cancer Centre Singapore on AI-driven research to advance cancer treatment. The National Cancer Centre Singapore (NCCS) and GE Healthcare have established a new partnership that aims to advance cancer treatment through the use of AI-driven research.
Segmentation of Women's Health Rehabilitation Products Industry Research
By Product :

Orthopedic Rehabilitation Products
Urinary Incontinence Rehabilitation Products
Pelvic Pain Rehabilitation Products
Pregnancy & Postpartum Rehabilitation Products
Breast Cancer Rehabilitation Products
Lymphedema Rehabilitation Products

By Therapy :

Hand Therapies
Physical Therapies
Occupational Therapies
Massage Therapies
Chiropractic Therapies

By Application :

By End User :

Speech Therapists
Orthopedists
Physical Therapists
Rehab Nurses
Massage Therapists
Occupational Therapists

By Region :

North America
Latin America
Europe
East Asia
South Asia & Oceania
MEA
- FAQs -
Global sales of women's health rehabilitation products are valued at US$ 3.22 billion in 2023.
The women's health rehabilitation products market is projected to reach US$ 5.77 billion by 2033.
Global demand for women's health rehabilitation products is predicted to increase at a CAGR of 6% during the forecast period.
Growing rate of older female population and rising prevalence of chronic disorders are primarily boosting the demand for women's health rehabilitation products.
Carib Rehab, EMS Physio, DeRoyal, Cornerstone Chiropractic, and GE Healthcare are leading manufacturers of women's health rehabilitation products.