Industry Trends Affecting the Dental Market
Published : 24 Nov 2021 Industry: Healthcare
The dental industry was impacted by the COVID-19 pandemic, as restrictions forced patients seeking elective procedures to reschedule, and fear of contracting the virus made many hesitant to go in for services. However, recovery, though slow, is projected for the industry, including dental devices and dental services.
Currently, the U.S. dental industry is valued at $156 billion. There are over a million adults employed by the dental industry, with the overall industry projected to grow about 8% annually. These kinds of expansions aren't just happening in dental employment — Medicaid expansions are expected to provide access to dental services for more adults, and innovations in dental technology are creating new frontiers across the global dental industry.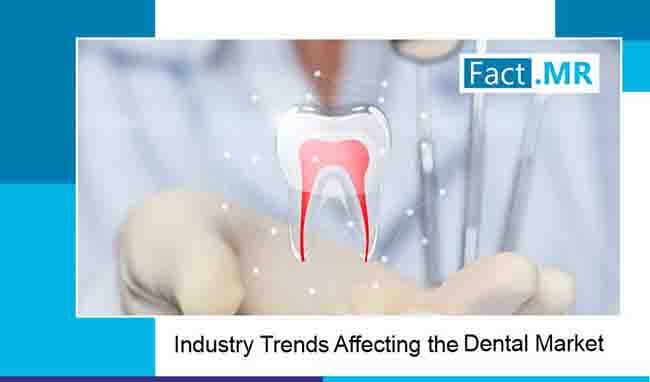 As COVID-19 continues to advance, healthcare, including dental care, evolves to meet patients' needs. Things like increased access to telehealth and preventative care are just a few of the side effects from the initial first wave of the pandemic.
The COVID-19 Pandemic and Its Lingering Impacts
Social distancing, mask mandates, and general concern about contracting and spreading the virus had a profound effect on the dental industry. In a survey regarding COVID-19 effects conducted by the American Dental Association, between the weeks of March 23, 2020, and May 4, 2020, the majority of the 19,000 respondents were only seeing emergency patients.
Even after dentists were able to open up to non-emergency patients, most practices saw around a 30% dip in patient volume during the fourth quarter of 2020, and the first quarter of 2021. These discrepancies in patient volume had huge financial ramifications for dental practices. Many practices had to at least layoff or furlough employees, and some even had to shorten practicing hours due to budgetary concerns.
Those in the dental profession were not the only ones affected by the pandemic. Over 7 million people lost their job in 2020, and with this, lost their insurance coverage. All of a sudden, millions and their dependents no longer had access to dental benefits, including six-month cleanings, or even emergency services. Because of the layoffs, social services like Medicare were overwhelmed and weren't able to provide benefits immediately to everyone who lost coverage.
While many industries, including dentistry, are on the road to recovery from COVID-19, the ripple effects from COVID can still be felt. Things like the 2021 labor shortage, the Delta variant, and "long COVID" may prolong disparities in patient volume that were seen in 2020.
Dental Marketing Trends
The entire healthcare industry experienced a shift to digital solutions because of the pandemic. Increases in the demand for telehealth, digital records, and other remote solutions were felt across healthcare industries, from general practitioners to dentistry. This digital transformation didn't just stop at care delivery. The use of social media and other remote industry tactics, such as online ads and email lists, also become more important during various lockdowns.
For many people, social media was the quickest and most accessible way to get news about changing regulations. Because of this, healthcare practitioners turned to social media as a way to reach out to customers, generate leads, and spread brand awareness and other marketing materials during that time. We can see this thinking reflected in the number of marketers utilizing or increasing their budgets for social media advertising after the pandemic.
For example, 60% of B2B marketers now use Instagram, which contrasts greatly from 30% in 2020. Additionally, a TikTok Influencer Marketing survey of nearly 1,900 participants found that "content creators (75.6%) and marketers (61.5%) alike think that TikTok will become a leading social media network for influencer marketing campaigns."
While this may not seem like a natural type of marketing for the dental industry, there are several dental professionals, such as The Bentist, on the app that rake in millions of views on their videos and capture the attention of a whole new audience.
Cosmetic Dentistry
Cosmetic dentistry has seen a rise as pandemic restrictions ease and vaccinations roll out. Teeth whitening has seen the biggest increase, with a 47% jump since 2020. Close behind is teeth straightening, with sales in clear aligners going up.
NBC News attributes this rise in cosmetic services to a reduction of fear. In the early days of the pandemic, where dentists were seeing high volumes of cancellations, particularly for elective procedures like cosmetic dentistry, fear of contracting COVID was likely a large influence. However, now that more and more people are vaccinated and feeling more secure, this fear is less magnified.
Anxiety Management
Dental fear is estimated to affect approximately 36% of the population and is considered to be a major barrier to oral hygiene, according to the U.S. National Library of Medicine. These fears can be caused by a traumatic experience, generalized anxiety disorders, or a combination of phobias, such as a fear of needles or pain, which are both common at the dentist. 2020 saw a rise in dental fear due to COVID-19 risks, but this has returned to pre-pandemic levels since the vaccine has rolled out to the general public.
Even as COVID-related dental fear has started to decline, dentists and public health leaders are constantly combatting and managing health-related fear for their patients. Some of the ways that dentists manage dental fear include:
Creating friendly relationships with patients;
Explaining or showing each tool they use before they use it;
Scheduling phobic patients at less-busy times, to decrease outside noise.
Having distraction techniques, such as movies or music available for patients.
These techniques can reduce the fear of the unknown and help manage sensory overload, which can be two big drivers for dental anxiety.
Growing Demand for Dental Consumables
Dental consumables are items that are used in treatment for dental disorders, chronic pain, and other types of long-term treatment. This includes:
Dental implants;
Portethics;
Braces;
Crowns;
Impression and modeling materials;
Fillings.
In many cases, these items are medically necessary to prevent tooth decay, decrease the rate of infection, and preserve the integrity of the teeth. This is why the dental consumables market is so profitable. The market for dental consumables is projected to be valued at $46 billion by 2026.
Now that the majority of dental practices are seeing non-emergency patients regularly and elective procedures are on the rise, this should only bolster projections for this market post-COVID.
Custom Models, Devices, and 3D Printing
Digital modeling in dentistry, including 3D printing, has allowed dentists and dental professionals to increase product quality and outcomes for patients. For example, a 3D printer can help create a drill guide for implants, generate samples of prosthetics, and be leveraged as a teaching tool in both the dental practice and the classroom.
The biggest advantage of using dental 3D modeling is that it can save time for dental technicians and patients. Since scans and models are transferred electronically, manufacturing on prosthetics or other consumables can begin in minutes, rather than the days it may take to send manual impressions.
Pain Management For Dental Services
Local anesthetics are the most used drugs by dentists. More than 40% of dental services cause pain that requires an injection or application of local anesthetics. Not only does pain management for dental services make these services possible, but they can also help reduce dental fear when applied properly.
This is why the dental anesthetics market plays such a large influence in dental practice. In some cases, it can quite literally dictate when certain procedures can be done, based on factors like supply and demand, and regulatory drug approval.
Dental Lasers
Dental lasers are used in both cosmetic and oral health-based procedures. Lasers can be used for all types of applications, including:
Preventative measures;
Bleaching;
Restoration;
Removal and curing;
Cavity preparation;
Dentinal hypersensitivity;
Growth modulation;
Wound healing.
Dental lasers can also be used for diagnostics purposes, which makes them a great tool. Particularly in a post-COVID world, the use of lasers can be a more sterile option than manual tools, as they require less contact for both the patient and dentist. Due to rises in cosmetic dentistry, as well as the needs of seniors with geriatric teeth, the dental laser market has seen impressive growth since 2012.
Most projections for recovery of the dental industry are "slow, but steady". As 2021 provides the opportunity for offices and manufacturing plants to work at closer-to-normal capacity, it will be interesting how the data will point towards a direction of recovery for dental practices everywhere.
- Request for
More Information

-