Lab Automation Market
Lab Automation Market, Forecast, Trend, Analysis & Competition Tracking - Global Market Insights 2021 to 2031
FACT5672MR
Mar-2021

List of Tables : 84

List of Figures : 112

170 Pages
About the Report
Automation in laboratory testing is increasing at a rapid pace. Rising demand for precision-based diagnostics and medicine delivery is prompting key healthcare providers to step up research initiatives to bring about workflow optimization across laboratory settings. This is furthering demand for lab automation systems.
High deployment is expected to be witnessed across clinical diagnostics and drug development sectors, respectively. Growing complexities regarding the nature of chronic and infectious diseases is facilitating heightened research in developing state-of-the-art healthcare delivery, including streamlining hospital procedures.
In its new study, consulting firm Fact.MR offers insights about key factors driving demand for lab automation. The report tracks the global sales of lab automation equipment and software in 20+ high-growth markets, along with analyzing the impact COVID-19 has had on the healthcare market in general, and demand for lab automation in particular.
Will Future Projections Outpace Historical Trends?
As per Fact.MR's analysis, the global lab automation market is forecast to expand at a CAGR of over 7% until 2031, majorly driven by key workstation equipment and software releases to optimize workflows across key laboratory settings. As the complexity of testing operations increase, demand for sophisticated monitoring and result delivery systems is inclining.
Amid the coronavirus pandemic crisis, testing volumes experienced a massive upsurge, prompting key healthcare providers to deploy highly precision-based diagnostic and treatment solutions, widening demand for laboratory automation solutions in the past year alone.
Deployment for the same continues to remain elevated, with a possible anticipation of a second wave of infections in the first half of 2021.
It is anticipated that the global pharmaceutical industry shall surpass US$ 1 trillion by the first half of this decade. As manufacturers continue to rely on innovations with respect to therapeutic approaches, demand for automation is bound to aggrandize.
This demand is likely to be fulfilled by rising government initiatives in the form of financial and technical aid to facilitate development of automated laboratories in key markets.
Know More Details About the Report
How is Rising R&D Expenditure in the Pharmaceutical Industry Driving Growth?
In recent years, global healthcare spending has witnessed a massive incline, attributed to the increasing complexity of various chronic and infectious diseases. Substantial progress has been witnessed with regard to deploying advanced diagnostics and therapeutics.
According to the Institute for Human Data Science, in 2019, patients around the world received around 1.8 trillion days of therapy, averaging 234 days per person.
It further estimates that global medicine spending is expected to increase between 2% - 5% annually, exceeding US$ 1 trillion by 2024. While the United States is expected to account for over half of global pharmaceutical industry revenue, key emerging economies, especially India and China, are expected to emerge as the frontrunners of the industry over the coming years, with prolific advances already becoming evident.
According to the India Brand Equity Foundation (IBEF), the medical devices market in India is expected to be valued at US$ 25 billion by 2025. Consequently, leading healthcare providers such as Sun Pharma and Cipla are accelerating their investments in developing advanced automation systems to facilitate automated drug development and enhanced diagnostics.
Similar developments are expected across China, as evidenced by the advancement of a China Food & Drug Administration (CFDA) approval to Beckman Coulter's DxA 5000 total laboratory automation solution.
What Role Has COVID-19 Played in Bolstering Lab Automation Adoption?
With the novel coronavirus pandemic spreading its tentacles across the world through 2020, the global healthcare fraternity faced unprecedented challenges.
These manifested with fluctuations in testing volumes, ensuring consistent supplies of consumables, and access to PPE and test menu expansion. Consequently, automation and leveraging technology and innovation acquired center stage to help minimize disruptions.
For instance, in the United States, the Food & Drug Administration revved up Emergency Use Authorization (EUA) for expanding testing capabilities and enabling federally funded surge testing in collaboration with communities experiencing outbreaks.
Diagnostic testing surged from 20,000 tests per day in April to over 1 million per day by October 2020. Testing capabilities were further expanded with incorporation of serology-based antibody testing.
Very recently, in March 2021, PerkinElmer doled out its end-to-end high-throughput ExplorerTM workstation for SARS-CoV-2 RT-PCR testing. This platform is capable of processing up to 10,000 samples per day. The platform is a fully-automated G3 workstation, delivering a complete walk-away and high throughput automation workflow.
Likewise, in November 2020, Todos Medical completed the installation of its lab automation equipment at its Wisconsin laboratory client to augment COVID-19 testing capacity to 12,000 PCR tests per day.
Avail customized purchase options for your needs
How are Mundane Workflows Necessitating the Need for Automation?
Over the years, as laboratory workflows become increasingly complex, human capacity to cope with the same is being increasingly challenged.
As emphasis on more advanced testing to develop effective diagnosis and treatment for various diseases amplifies, clinicians are burdened with balancing routine, mundane workflows such as paperwork and record maintenance with the former.
Hence, optimized usage of laboratory resources to improve turnaround time and reducing wastage is acquiring precedence. Consequently, prominent lab automation service providers are discovering immense growth potential across key markets.
For instance, bioMerieux's workflow optimization services offer a holistic 360o view of the lab's processes, providing an actionable plan to create and sustain improvements.
Likewise, Agilent Technologies offers a broad spectrum of laboratory workflow optimization management software, incorporating core facilities management, materials management, SLIMS, storeroom management, publication tracking, instrument access control & usage tracking, and automated studies management, to name a few functions.
Why is Software Incompatibility Proving to be a Major Hindrance?
With highly dynamic laboratory workflows, software providers are constantly designing up-to-date solutions to offset any glitches encountered during workflow management.
However, despite these efforts, there are instance wherein an update may render the existing solutions incompatible with the new system. Consequently, there is an additional cost burden associated with extra investments in most recent programs.
Various small- and medium-scale enterprises may not be able to cope with this additional cost burden, given their limited operational scale. It has been observed that overall maintenance costs surpass those of investing in new IT equipment. All these factors are likely to hamper demand for lab automation in the near future.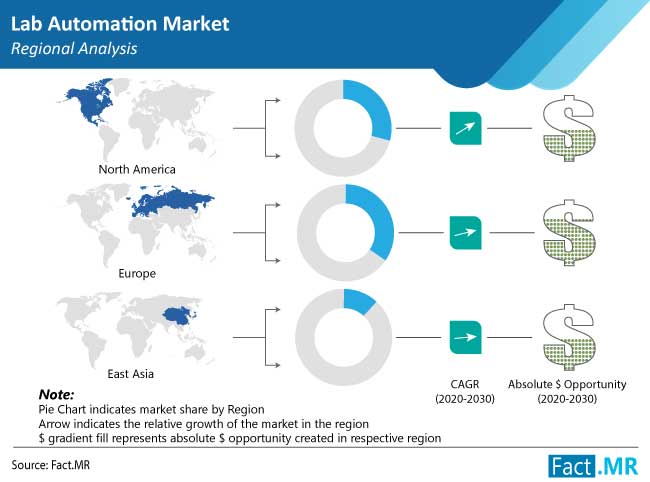 An Adaptive Approach to Modern-day Research Needs
Country-wise Analysis
Why are Manufacturers Scrambling to the U.S. Market?
The United States is the largest market for biopharmaceuticals, accounting for nearly a third of the global market. Furthermore, the Pharmaceutical Research and Manufacturers Association (PhRMA) says that U.S. firms conduct 50% of the global R&D in pharmaceuticals, amounting to US$ 75 billion. As of 2015, the industry generated over US$ 1.3 trillion in economic output, representing 4% of total revenue.
Furthermore, the U.S. has one of the world's most supportive domestic environments for the development and commercialization of pharmaceuticals, with minimal market barriers. A robust intellectual property system that rewards innovation through data and patent protection and a large scientific research base are immensely contributing to active pharmaceutical research. Based on these factors, lab automation service providers are likely to discover fresh revenue streams in the country.
Abbott Laboratories, for instance, has a robust presence in the U.S. market, offering the Alinity and AlinIQ solutions facilitating highly personalized solutions. The former offers the c-series (clinical chemistry), i-series (immunoassay), h-series (hematology), m-series (molecular), and s-series (transfusion) platforms. The latter provides the AMS, ALWAYS ON, BIS, IMS, and CDS solutions, which offer greater operational productivity.
How Attractive are Growth Prospects for the U.K.?
Lab automation solution deployment is expected to surge prolifically across the U.K., amid high value for in vitro diagnostics (IVD). The Office for Life Sciences and UK Trade and Investment estimate that, approximately 70% of clinical decisions are based on IVD tests. As of 2018, IVD was the largest category in the global medical technology market, registering annual sales worth £ 41 billion. Furthermore, it is the 5th largest IVD market across Europe.
According to the Office of Lifesciences, the U.K. life sciences industry witnessed a 9% increase in employment between 2010 and 2019, with a turnover of nearly £ 81 billion, with core biopharma contributing the largest turnover to the industry at £ 36.7 billion, or 45% of the industry. Within its ambit, the digital health segment contributes 5% of total operational revenue.
Going by the aforementioned trends, numerous lab automation service providers are penetrating the landscape. Astech Projects is one such player, specializing in laboratory robotics and automation.
The company facilitates the integration of commercially available instruments for common laboratory processes through the use of its Relovex® software platform. Similarly, AstraZeneca's NiCoLA-B robot assists in drug development, capable of testing over 300,000 compounds a day.
How are Investment Initiatives Stimulating Germany's Growth?
Germany is expected to emerge as one of the most promising lab automation equipment and software markets over the coming years, mostly driven by high concentration of original equipment manufacturers (OEMs). Since the past five years, a host of OEM start-ups, including those manufacturing lab automation equipment, have spawned across the country.
With regard to life sciences and biotechnology, the Leipzig region has emerged as a hub promoting integrated and dynamic research facility clusters. The region is home to the German Center for Integrative Biodiversity Research (iDiv), the Max Planck Institute for Evolutionary Anthropology, and the German Biomass Research Center (DBFZ).
Applied cutting-edge research in medicine and competitive innovations in healthcare are the core focus areas of the Life Sciences Cluster Leipzig.
Due to this, a number of companies from the life sciences domain with an interest for production, distribution, logistics, and R&D receive stimulus from the Invest Region Leipzig in the form of free and confidential information and consulting services tailored to their needs.
As part of the Leipzig Life Sciences Cluster, the IRL integrates project-relevant public, private, academic, and clinical partners for the professional support of companies.
How is Growing R&D Expenditure in France Fueling Lab Automation?
According to Donor Tracker, in 2018, France provided US$ 44 million for R&D on poverty-related and neglected diseases (PRNDs), rendering it the 6th largest public funder of global health R&D efforts.
Presently, the country's health R&D funding focuses on HIV/AIDS, malaria, and tuberculosis, collectively accounting for nearly three-fifth of its funding.
Government entities such INSERM and the French National Research Agency coordinate and allocate public funding for R&D. Besides, nonprofit foundations such as Institut Pasteur and interdisciplinary consortiums such as REACTing are also playing an instrumental role in further advanced healthcare research.
A significant proportion of this research involves automating laboratory testing procedures, providing a wide platform for key lab automation service provides to establish base across the country.
A prominent face in the lab automation landscape is Laboratoire Servier, offering research & development solutions across key therapeutic areas, including oncology, neurology, and immuno-inflammation & cardiometabolism. Every year, the company invests over 20% of its brand-name revenue in researching for the aforementioned therapeutic areas.
Moreover, 50% of revenue is invested in oncology. Also, in February 2021, the company collaborated with Mina Therapeutics to further research for neurological disorders.
Will India Emerge as a Likely Lab Automation Hub?
Recent studies have concluded that India's diagnostic healthcare market incorporates a potpourri of major diagnostic chains, hospital-based laboratories, and standalone laboratories.
Each of these institutional settings have variable infrastructure, capacities, and workload. A key issue in India is the asymmetry in distribution across rural and urban areas respectively.
Majority of rural laboratories lack the necessary infrastructure, prompting patients to travel to urban health centers for diagnosis. Hence, efforts are underway to promote rapid automation across all laboratory settings throughout the country.
A series of regulatory warnings received by key pharmaceutical companies by the U.S. Food & Drug Administration has ushered in this trend.
At the 2017 Indian Pharmaceutical Forum, the Indian Pharmaceutical Alliance issued a set of new Data Reliability Guidelines to help local drug manufacturers improve quality systems.
Key pharmaceutical giants Sun Pharma and Dr. Reddy's Laboratories have made consistent efforts to improve their systems and technology backbone. Moreover, Cipla also highlighted the need for automation in its laboratories, an initiative which is also echoed in Zydus Cadila's laboratories.
How is China Performing in the Global Lab Automation Landscape?
China has established a robust pharmaceutical industry structure, emerging as one of the largest producers in the world. Since the last few decades, the Chinese pharmaceutical industry is expanding at a rate of approximately 17%, comprising a scattered geographical layout. In addition, it is the world's 2nd largest prescription drug market.
According to Business China, domestic companies account for 70% of the total market share. Also, 80% of counterfeit products are consumed across rural area, thus opening the doors for lucrative investments in improving drug quality by leading manufacturers.
All these factors are immensely contributing to the proliferation of pharmaceutical lab automation services across the country.
Recently, the ABB Group deployed two of its robots across the Shanghai Seventh People's Hospital to help dispense drugs more accurately as compared to human counterparts.
The automatic drug dispensing function is achieved by synchronized movements of a robot mini loader (RML) system, using an ABB IRB 2600 robot. It takes around 10 seconds to locate and place the medicine box, and can process up to 360 kits per hour.
Category-wise Insights
Why is Demand for Automated Workstations on the Incline?
By product, automated workstations are expected to garner a significant chunk of lab automation market revenue, with an especially high demand for integrated workflow solutions.
Increasing sophistication in clinical diagnostic studies is spurring the need for advanced imaging, monitoring, and cell detection systems, providing an opportunity for key manufacturers to launch new solutions.
bioMerieux is a prominent face in automated integrated workstations offerings. The company markets its WASPLab® integrated lab optimization and automation platforms, offering a flexible automated specimen processing and reading solution. It incorporates the PhenoMATRIXTM embedded AI and ColibriTM colony picking module. Such solutions are greatly assisting lab technicians to streamline their workflows.
How is the Biotechnology & Pharmaceutical Industry Stimulating Growth?
Based on end user, lab automation equipment and software are experiencing high deployment across the biotechnology & pharmaceutical industry. This is anticipated to remain the highest amid increasing technological breakthroughs being discovered in key therapeutic areas.
A plethora of key solutions providers currently dominate the biotechnology & pharmaceutical industry lab automation segment.
AlphaHelix is one such player, offering the RobTM Automated 96/384 qPCR set up. The platform offers an exclusive OneDipTM technology, providing high speeds regarding testing time (27 minutes for a 96-plate replicate and 95 minutes for a 384-plate replicate), highly precise liquid level detection, and high accuracy rate (CV < 2% from 2 µl & 1% from 5 µl).
Likewise, PerkinElmer offers the VICTOR® NivoTM multimode plate reader - increasing overall efficiency of the lab and accelerating drug discovery by deploying walkway automation.
How Lucrative are the Opportunities in Drug Discovery & Clinical Diagnostics?
With biopharmaceutical manufacturing incorporating unprecedented improvements in speed and capacity, new strategies for quality control are required. As a consequence, lab automation solutions for clinical diagnostics are experiencing a considerable incline. Rapidmicro Biosystems, for instance, offers its Rapid Microbial Method (RMM) platform, incorporating digital imaging technology and complex algorithms to detect and count the autofluorescence of growing microbes for enhanced consistency and accuracy.
Simultaneously, lab automation for drug discovery is rising. A major trend visible in this domain is the deployment of robotics.
Pharmaceutical giant AstraZeneca, for instance, has developed the NiCoLA-B, a drug discovery robot being used at the UK Center for Lead Discovery, the company's research center at the University of Cambridge's campus. The robot is capable of testing over 300,000 compounds a day, and is easily reconfigurable at any time through a mobile application.
Have a report related query? Speak to us directly
Competitive Landscape
The primary expansion strategy of a majority of the aforementioned players includes launching new automation equipment and software that are customizable according to industry-specific requirements.
Moreover, strategic partnerships, collaborations with academic and research institutes as well as the government, and acquisition of small-scale players are also relied upon.
For instance, Thermo Fisher Scientific offers the inSPIRETM Collaborative Laboratory Automation Platform, deploying the SmartShelfTM concept. This platform provides at-a-glance instrument feedback and tough control for instrument access. The platform is ideal for drug discovery, synthetic biology, human & animal health, and other related workflows.
In March 2021, Agilent Technologies announced its decision to acquire Resolution Bioscience, an innovative leader in next-generation sequencing (NGS)-based oncology solutions. The acquisition is expected to further its capabilities in NGS-based cancer diagnostics, and strengthen its foothold in the precision medicine market. To facilitate such advanced oncology diagnostics, the company will receive credible stimulus with regard to lab automation solutions development eventually.
Likewise, in February 2021, PerkinElmer launched its first cell painting kit as part of its PhenoVue imaging reagent portfolio. The new range of reagents employ the company's expertise in cellular imaging and high content screening, while working with its microplates, automation offerings, and software to allow researchers to better understand diseases and develop more pinpointed therapies and drugs.
Report Scope
Attribute

Details

Forecast Period

2021-2031

Historical Data Available for

2016-2020

Market Analysis

US$ Mn for Value & '000 Units for Volume

Key Regions Covered

North America
Latin America
Europe
Asia Pacific
Middle East & Africa

Key Countries Covered

US
Canada
Mexico
Brazil
Germany
France
UK
Spain
Italy
Japan
China
India
Australia & New Zealand
South Korea
GCC
South Africa

Key Segments Covered

Product
Application
End-User
Region

Key Companies Profiled

Thermo Fisher Scientific
Agilent Technologies
PerkinElmer
Hudson Robotics
Qiagen NV
F. Hoffmann-La Roche Ltd.
Hamilton Robotics
Siemens Healthineers
Becton Dickinson and Company
Bio-Rad Laboratories
FORMULATRIX
BioMerieux SA
Danaher Corporation
Key Segments Covered
Product

Equipment

Automated Workstations
Automated Liquid Handling
Automated Integrated Workstations
Pipetting Systems
Reagent Dispensers
Microplate Washers

Microplate Readers

Multi-mode Microplate Readers
Single-mode Microplate Readers

Automated ELISA Systems
Automated Nucleic Acid Purification Systems
Software & Informatics

Workstation/Unit Automation Software
Laboratory Information Management Systems (LIMS)
Electronic Laboratory Notebook
Scientific Data Management System

Application

Drug Discovery
Clinical Diagnostics
Genomics Solutions
Proteomics Solutions

End User

Biotechnology & Pharmaceutical Industries
Research & Academic Institutes
Hospitals & Diagnostic Laboratories
Forensic Laboratories
Environmental Testing Labs
Food & Beverage Industry

Region

North America
Latin America
Europe
Asia Pacific
Middle East & Africa
Lab Automation Market - Scope of Report
A recent study by Fact.MR on the lab automation market offers a 10-year forecast for 2021 to 2031. The study analyzes crucial trends that are currently determining the growth of the market.
This report explicates on vital dynamics, such as the drivers, restraints, and opportunities for key market players along with key stakeholders as well as emerging players associated with the development of lab automation solutions.
The study also provides the dynamics that are responsible for influencing the future status of the lab automation market over the forecast period.
A detailed assessment of value chain analysis, business execution, and supply chain analysis across regional markets has been covered in the report.
A list of prominent companies operating in the lab automation market, along with their product portfolios, enhances the reliability of this comprehensive research study.
Report Summary
The study offers comprehensive analysis on diverse features, including production capacities, demand, product developments, revenue generation, and sales of lab automation software across the globe.
A comprehensive estimate on the market has been provided through an optimistic as well as a conservative scenario, taking into account the sales of lab automation products during the forecast period. Price point comparison by region with global average price is also considered in the study.
Key Questions Answered in Report
Which are the most lucrative markets for lab automation?
Which factors will impact demand for lab automation?
How will changing trends impact the strategies of market players?
How can market players capture the low-hanging opportunities across regions?
Which companies are leading the lab automation industry?
What are the winning strategies of stakeholders in the market?
Analysis on Market Size Evaluation
The market has been analyzed for each market segment in terms of volume ('000 Units) and value (US$ Mn).
Market estimates at global and regional levels for lab automation are available in terms of "US$ Mn" for value and in "'000 Units" for volume. A Y-o-Y growth contrast on prominent market segments, along with market attractiveness evaluation, has been incorporated in the report.
Furthermore, absolute dollar opportunity analysis of all the segments adds prominence to the report. Absolute dollar opportunity plays a crucial role in assessing the level of opportunity that a manufacturer/distributor can look to achieve, along with identifying potential resources, considering the sales and distribution perspective in the global lab automation market.
Inspected Assessment on Regional Segments
Key sections have been elaborated in the report, which have helped deliver projections on regional markets.
These chapters include regional macros (political, economic, and business environment outlook), which are expected to have a momentous influence on the growth of the lab automation market during the forecast period.
Country-specific valuation on demand for lab automation has been offered for each regional market, along with market scope estimates and forecasts, price index, and impact analysis of the dynamics of prominence in regions and countries. For all regional markets, Y-o-Y growth estimates have also been incorporated in the report.
Detailed breakup in terms of value and volume for emerging countries has also been included in the report.
In-depth Analysis on Competitive Landscape
The report sheds light on leading manufacturers of lab automation solutions, along with their detailed profiles.
Essential and up-to-date data related to market performers who are principally engaged in the production of lab automation hardware and software has been brought with the help of a detailed dashboard view.
Market share analysis and comparison of prominent players provided in the report permits report readers to take preemptive steps in advancing their businesses.
Research Methodology
In Fact.MR's study, a unique research methodology is utilized to conduct extensive research on the growth of the lab automation market, and reach conclusions on the future growth parameters of the market. This research methodology is a combination of primary and secondary research, which helps analysts ensure the accuracy and reliability of the drawn conclusions.
Secondary resources referred to by analysts during the preparation of the market study include statistics from governmental organizations, trade journals, white papers, and internal and external proprietary databases.
Analysts have interviewed senior managers, product portfolio managers, CEOs, VPs, marketing/product managers, and market intelligence managers, all of whom have contributed to the development of the research report as a primary resource.
Need an Exclusive Report for your Unique Requirement?
Talk Show:
The Rise of Intelligent Packaging
Personalized, Connected and Sustainable
November 18, 2021
11:00-11:45 AM PST (USA & Canada)
This is a LIVE session


- Our Clients -

- Evaluate How Fact.MR's Report Can Help. -
Is the market research conducted by Fact.MR?
Yes, the report has been compiled by expert analysts of Fact.MR, through a combination of primary and secondary research. To know more about how the research was conducted, you can speak to a research analyst.
What research methodology is followed by Fact.MR?
Fact.MR follows a methodology that encompasses the demand-side assessment of the market, and triangulates the same through a supply-side analysis. This methodology is based on the use of standard market structure, methods, and definitions.
What are the sources of secondary research?
Fact.MR conducts extensive secondary research through proprietary databases, paid databases, and information available in the public domain. We refer to industry associations, company press releases, annual reports, investor presentations, and research papers. More information about desk research is available upon request.
Who are the respondents for primary research?
Fact.MR speaks to stakeholders across the spectrum, including C-level executives, distributors, product manufacturers, and industry experts. For a full list of primary respondents, please reach out to us.
Is a sample of this report available for evaluation?
Yes, you can request a sample, and it will be sent to you through an email.