Heart Attack Diagnostics Market
Heart Attack Diagnostics Market Analysis by Test (Electrocardiogram, Blood Tests, Angiogram, Computerized Cardiac Tomography, and Other Tests), by End User, by Region - Global Forecast 2023-2033
Analysis of Heart Attack Diagnostics market covering 30 + countries including analysis of US, Canada, UK, Germany, France, Nordics, GCC countries, Japan, Korea and many more
Heart Attack Diagnostics Market Outlook (2023 to 2033)
The heart attack diagnostics market share is predicted to grow at a moderate CAGR of 7.1% during the forecast period of 2023 to 2033. The global heart attack diagnostics market is estimated to reach a value of nearly US$ 23.8 Billion by 2033 growing from US$ 12 Billion in 2023. This new market research report on heart attack diagnostics by Fact.MR links the reorientations of the heart attack diagnosis blood tests in the present world observed during the market study to give an edge to the participants.
Prevalence of chronic diseases such as diabetes and hypertension among the general mass due to the adoption of a sedentary lifestyle have emerged to be the main factor driving the global heart attack diagnostic market.
An incident of myocardial infarction is a life-threatening condition that requires a prompt diagnostic test for heart disease. Such a high-risk factor has rendered the heart attack diagnostic market a growing space in the present times. This condition of myocardial ischemia is recognized as one of the top causes of mortality, creating a huge demand for cardiac diagnostic tests and procedures in the healthcare sector.
Earlier, the outbreak of the Covid-19 pandemic had a serious impact on the disease diagnosis market size as people with a history of cardiac malfunction or any other ailment were more vulnerable to the virus infection. This substantial risk of mortality associated with heart patients escalated the adoption of heart attack diagnostics services in hospitals and healthcare centres then.
Furthermore, some of the Coronavirus infection symptoms, such as chest pain, exhaustion, or difficulty in breathing, were initially mistaken as symptoms of cardiac malfunction that are recorded to have swelled the heart attack diagnostic market key trends and opportunities in those days. Consequently, there was a surge in the regional heart attack diagnostics market as more and more people searched for cardiac testing near me over online platforms.
Innovations in new blood and enzyme-based diagnostic techniques that are portable as well as quick in giving results have the potential to reorient the heart attack diagnostics market trends.
According to the global market study on heart attack diagnostics, advancements in ECG technology are predicted to be a serious game-changer for patients suffering from any heart disorder. Electrocardiograms, angiograms, blood tests, and even computerized cardiac tomography have all surfaced to be effective procedures for detecting potential heart attack incidence in patients. So the market participants that are focussing on introducing EKG diagnosis of heart attack are poised to have greater growth prospects in the near future.
Report Attributes

Details

Market Size (2023)

US$ 12 Billion

Market Size (2022)

US$ 11.2 Billion

Projected Market Value (2033)

US$ 23.8 Billion

Growth Rate (2022-2032)

7.1% CAGR

Share of Top 5 Countries

55.4%

Key Companies Profiled

GE Healthcare
Hitachi Corporation
Koninklijke Philips NV
Midmark Corporation,
F Hoffmann-La Roche Ltd
Schiller AG
Siemens Healthineers
Toshiba Corporation
Welch Allyn Inc
Astrazenca PLC.
Others
Know thy Competitors
Competitive landscape highlights only certain players
Complete list available upon request
What are the Driving Factors for the Global Heart Attack Diagnostics Market?
"Deteriorating healthy lifestyles and quality of the urban environment"
Adopting bad lifestyles and habits, particularly in metro cities around the world, and the prevalence of several chronic diseases among the younger age population has increased the need for coronary artery blockage diagnosis these days. Accumulation of cholesterol and other substances in the coronary arteries is inferred to be the main reason for several coronary artery diseases (CAD) that have unfortunately supplemented the heart attack diagnostics market opportunities as well in the last few years.
"Rising proportion of old age population"
Also, the predominance of CAD due to an expanding elderly population base and obese people is driving the requirement of diagnosing heart problems in all major economies of the world. According to the American Heart Association (AHA) report, nearly 45 percent of US citizens are prone to some form of cardiac disease, particularly heart attack, which might become the key driving force for the heart attack diagnostic market growth in the coming years.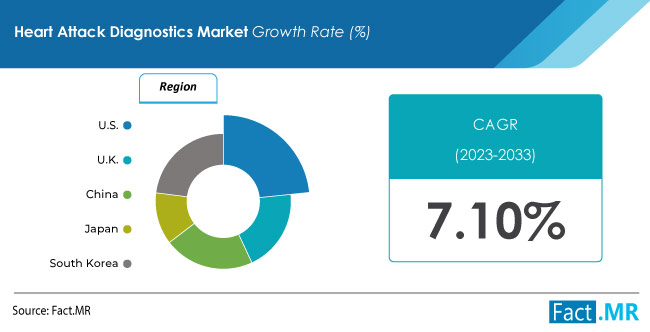 Which Factor Can Limit Adoption of Heart Attack Diagnostics to Some Extent?
Although several reasons have been established by the global heart attack diagnostic market survey report to propel this sector to new heights, a few stumbling blocks have been discussed therein.
"Financial and infrastructural constraints"
High costs for performing diagnostic procedures for myocardial infarction and associate services may obstruct the progress of the said market size over the forecast period. Apart from this, the unavailability of sufficient healthcare infrastructure in remote areas of developing areas is a major factor impeding the growth of the heart attack diagnostics market share that still needs to be taken care of with utmost emergency.
"Ignorance and Shortfall of state contribution"
Lack of awareness about the available financial support for medical expenses is a major challenge faced by heart attack diagnostic market players in third-world countries. In contrast, low reimbursement facilities provided by some governments, like the United States administration, are anticipated to limit the vertical expansion and adoption of diagnostic tests for coronary heart disease in the foreseeable term.
Country-wise Insights
Why is the United States the Largest Market for Heart Attack Diagnostics?
As per the heart attack diagnostic market analysis report published by Fact.MR, the U.S. is the top performer in this sector and is projected to hold this position with the highest growth rate of 6.8% through the forecast years.
With good healthcare facilities and constant innovations in the field, the US$ 4 Billion worth US heart attack diagnostics market occupies nearly 35% of the global revenue. It is also the fastest-growing market among the top-performing countries that are predicted to reach a valuation of US$ 3.6 Billion by the end of the year 2033.
Research and studies for diverse healthcare segments have fortified the heart attack diagnostics market outlook in the past few years. For instance, according to an article published by Europe, 'Heart Failure & Policy', often healthcare professionals misinterpret heart failure symptoms as that of ageing or comorbidities. Creating awareness about such accidents is anticipated to augment the adoption of diagnostic procedures for myocardial infarction for the early detection of patients.
Why is China's Heart Attack Diagnostic Market growing at a Rapid Pace?
Moreover, due to the higher heart patient burden in emerging economies in the Asia Pacific region, the healthcare sector of China and India may not remain confined to ECG-based testing. This major change is forecasted to result in a larger market for cardiac diagnostic tests and procedures, boosting the heart attack diagnostic market share for the quick blood test segment.
The other factor responsible for the impressive growth of this region is the adoption of non-invasive cardiac testing that can be performed at any location other than hospitals. Heart attack diagnosis blood tests can be strengthened by the use of mobile vans in China and India with a lower concentration of hospitals and medical centres.
More Insights, Lesser Cost (-50% off)
Insights on import/export production,
pricing analysis, and more – Only @ Fact.MR
Category-wise Insights
"With multiple prominent players emerging with the recent development in heart attack diagnostics services, its market is anticipated to get fiercely competitive in the coming days."
According to the Various Types of Diagnostic Methods Which Segment is Mostly Popular in the Global Heart Attack Diagnostics Market?
It is predicted by the heart attack diagnostics market demand analysis that over the forecast period ECG domain might experience some higher growth in demand, mostly in low-income and middle-income countries.
Contrastingly, enzyme-based diagnostic techniques and rapid heart attack diagnosis blood tests such as Creatine Kinase MB Isoenzyme (CK-MB) based coronary atherosclerosis diagnosis method are estimated to witness higher adoption in developed economies. These sensitive tests disseminate quick results within two hours against the traditional CAD heart diagnosis methods that require 6-7 hours and are expected to boost the target market's future trends.
However, the heart attack diagnosis blood tests category is the rapidly growing segment, as per the recently released market survey report, with a predicted CAGR of nearly 6.8%. Coronary angiography and Echocardiography are developing fields that are also significantly contributing to heart attack diagnostics statistics and the popularity of the market.
Who are the Major End Users Contributing to the Growth of the Heart Attack Diagnostics Market?
Hospitals still dominate the overall heart attack diagnostics market based on the end-use verticals and categories. This segment is predicted to grow at a rate of 6.7% during the forecast years 2022 to 2032 as visiting an authorized institute and personnel is the first choice of heart patients in any part of the world.
Other end-use segments contributing significantly to the global heart attack diagnostics market include ambulatory surgical centres and diagnostic centres with a growing user base in recent years.
Competitive Landscape
As per the emerging trends in the heart attack diagnostics market over the forecast period of 2022 to 2032, the United States is predicted to remain the dominating region in this sector. Also, according to the Us Centers for Disease Control (CDC), one US citizen is prone to a heart attack every 40 seconds resulting in huge demand for heart attack diagnostics and treatment services in North America.
Major players operating in the global heart attack diagnostic market are primarily focused on creating products that can deliver highly reliable results and are simple to use as well. The introduction of non-invasive cardiac testing is such a major development that it has attracted many new players to enter the market.
Recent approval by the United States Food & Drug Administration (USFDA) of the newly found highly sensitive identification test based on a protein called Troponin for heart attacks is likely to encourage some new players in the global heart attack diagnostic market. Roche & Abbott are the key competitors in this segment, producing a T sensitivity test kit that was priced at around US$ 52 only in the year 2020.
In addition, established firms providing diagnostic procedures for myocardial infarction indulge in strategic alliances and collaboration to develop region-specific new analytical tests and expand their market presence. Some of the existing heart attack diagnostic market players have adopted the strategy of providing regular cardiac diagnostic tests and procedures under long-term membership or subscription methods.
What are the Recent Developments in the Heart Attack Diagnostics Market?
Roche Company released a series of two critical cardiac biomarkers in April 2021 by the name of cardiac troponin T (cTnT-hs) and N-terminal pro-brain natriuretic peptide test by using its Elecsys® technology.
European Union authorized the use of CaRi Heart Technology in March 2021. Its advanced artificial intelligence (AI) support helps in detecting and predicting the danger of any type of heart attack some years before its occurrence.
Abott obtained CE Mark for its highly sensitive Troponin-I blood test kit in September 2018 which helps in detecting the risk of a heart attack in a healthy person as well.
Key Segments in Heart Attack Diagnostics Market Research
By Test :

Electrocardiogram
Blood Tests
Angiogram
Computerized Cardiac Tomography
Other Tests

By End User Verticals :

Hospitals
Ambulatory Surgical Centers
Diagnostic Centers
Other End Users

By Region :

North America
Latin America
Europe
APAC
MEA
- FAQs -
The global heart attack diagnostics market is valued at US$ 11.2 Billion in 2022.
Global demand for heart attack diagnostics is projected to reach US$ 23.8 Billion by 2032.
Adoption of heart attack diagnostics is expected to increase at a CAGR of 7.1% through 2032.
The United States heart attack diagnostics market is valued at US$ 3.6 Billion by 2033.
The Japanese heart attack diagnostics market likely to grow at a rate of 3.4% through 2032.