Coal Handling System Market
Coal Handling System Market By Application (Coal Mines, Sea Ports, Thermal Power Plants), By Product (Conveyors, Feeders, Reclaimers, Ship Loaders & Unloaders,Stackers,Stackers cum Reclaimers), By Region – Global Market Insights 2020 to 2030
Analysis of Coal Handling System market covering 30 + countries including analysis of US, Canada, UK, Germany, France, Nordics, GCC countries, Japan, Korea and many more
Coal Handling System Market Outlook
Coal handling systems are vital for the smooth and efficient flow of material and management of related systems. In its latest report on the coal handling system market, ESOMAR-certified market research and consulting firm Fact.MR analyses key factors that will fuel adoption over this decade.
The study tracks demand in over 20+ countries, which points towards APEJ being the largest market. There is also a detailed chapter on the impact of the ongoing COVID-19 pandemic on this sector. Demand from thermal power plants is high, and this trend will continue through 2030. Fact.MR has studied the coal handling system market in detail, providing exhaustive analysis on market drivers, barriers, competitive scenario, and business potential over the coming years.
Know thy Competitors
Competitive landscape highlights only certain players
Complete list available upon request
How has the Coal Handling System Market Fared Over the Past Years?
Traditionally, coal mining has been a labor-intensive industry. With passing time and developments in technology, innovative ways have been adopted to accelerate the process of coal mining to protrude production with efficiency. This phenomenon also took place in the backdrop of vicious competition in the renewable energy sector and the introduction of alternative energy in place of coal. In addition, the share of coal obtained through the process of underground mining is consistently increasing in the global coal mining industry.
Development of automation in underground coal mining has been backed by increased safety risks for coal mine workers. Moreover, they are prone to health risks caused by harmful gases emitted by diesel-powered machinery. The emergence of technologically-advanced equipment has brought capital investments in order to exterminate toxic emissions and reduce operational costs. This has encouraged the industry to transition to electric mining equipment, because it reduces cost of operations while ensuring the safety of miners.
What is the Future Outlook for Coal Handling Systems?
The energy and power industry has evolved to be a dynamic one over the past years, because of influential factors such as regulations, supply-demand, and price fluctuations.
Coupled with these factors is the demand for coal handling systems that has come about due to worldwide industrializations, coal mining operations, thermal power plants, and coal-fired plants. As coal consumption persists to be significant in power generation, distinguished by its low calorific value, it continues to drive sales volume of various equipment.
Leading coal handling system providers are formulating their strategies for a long-term future rather than short-term cost savings. These strategies are now aligning with advancements in technology as potential investors are emerging.
Expansion of the coal handling system market can be associated with industry-specific and macroeconomic aspects, as manufacturers of bulk handling equipment foray into this space. Demand is predicted to rise at a moderate rate due to rapid urbanization, and increase in construction activities and industrialization.
Coal handling system manufacturers have been focusing on developing more effective, energy-efficient, and vigorous equipment for numerous applications. Overall, the global coal handling system market is slated to expand at around 4% CAGR during the forecast period of 2020-2030.
More Insights, Lesser Cost (-50% off)
Insights on import/export production,
pricing analysis, and more – Only @ Fact.MR
COVID-19 Impact on Coal Handling Equipment
The COVID-19 pandemic has had a profound impact on the global economy, which has affected most industries, including mining. Closure of mining sites has had an indirect impact on the demand and manufacturing of equipment.
According to the United Nations Industrial Development Organisation (UNIDO), manufacturing outputs on a global scale saw a decline of 6.0% during initial lockdowns in 2020. Due to lockdown enactments, manufacturing and distribution of equipment has been delayed due to supply chain disruptions.
However, during the crisis, the market has seen a surge in e-Commerce trade, which is expected to boost demand for new equipment to replace older existing equipment that has been unused for long periods of time. As such, the industry is optimistically expecting to recuperate at a significant rate in the near term, and rise steadily over the long term.
What Key Challenges Do Coal Handling Manufacturers Face?
There is a rising predilection toward renewable sources of energy because of environmental concerns such as greenhouse emissions. Alternative fuel sources such as natural gas have observed vigorous growth over the years.
Government initiatives to facilitate renewable power generation sources, such as wind solar and hydroelectricity, are projected to critically impact the coal industry on a large scale in the long run.
Concerned nations are now on the move towards a greener planet by striving to replace the usage of coal with renewable sources of energy to satiate the growing need for energy. This challenge faced by the coal mining industry, therefore, directly impacts the coal handling system market.
For example, China is the hub of various industries powered by coal, accounting 59% of China's energy consumption in 2017. Air pollution contributed to 4.9 million deaths, globally, in 2017, out of which half of these deaths were concentrated in China and India.
Now, China has become the leading country in the renewable energy sector. An investment of US$ 360 billion was pledged by the Chinese government towards the renewable sector by 2020. Thus, the shift towards renewable sources is expected to reduce the use of coal, eventually creating challenges for coal handling system manufacturers over the coming years.
The coal mining sector has also faced issues with policy frameworks, globally. The World Energy Outlook (WEO) of the International Energy Agency (IEA), under its New Policies Scenario, alarms that, energy-related carbon dioxide (CO2) emissions will grow by one-fifth by 2040, putting the world on a path consistent with a long-term global average temperature increase of 3.6°C.
The WEO also stated that, global coal demand will grow at a much lower rate than over previous decades at 0.5 per cent per year, to 6,350 Mtce in 2040, due to the stringency of carbon policies.
According to WEO, renewable electricity generation will nearly triple over 2012-2040, surpassing gas as the second-largest source of power generation in the next couple of years, and exceeding coal as the top source after 2035.
Don't Need a Global Report?
save 40%! on Country & Region specific reports
What are the Main Developments in Coal Handling Systems?
HELE (High Efficiency Low Emission) has been a prominent technology development that has observed an increase in adoption. This technology enhances the capacity of a plant while checking carbon dioxide emissions. HELE plants are gradually penetrating the industry because of their innovative features of lower consumption of coal per unit of electricity produced and diminishing environment footprints.
Coal handling system developments include pile visualization, monitoring, material tracking, and automated stockyard management.
Automated stockyard management provides real-time input on the quality of coal loaded in conveyor belts and other coal handling systems, which results in an economical, yet profitable supply of coal to coal-fired power plants.
Competitors are now engaging in improving the overall coal supply chain by obtaining new technologies to provide safe and productive coal handling systems that come with low power consumption.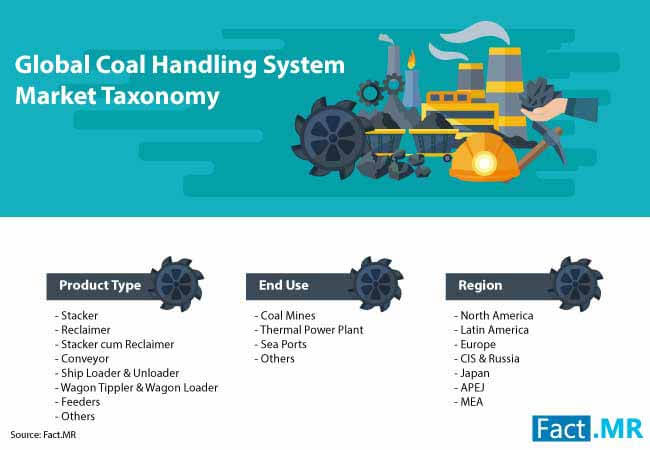 Country-wise Analysis
Coal is still a dominant power generation fuel in APEJ, and is expected to account for the highest coal handling equipment market share in the mining industry throughout the forecast period. High investments in coal mines are crucial for increased growth of the coal handling equipment market in the mining industry in this region.
On the other hand, environmental concerns and rigid regulations in developed regions such as North America and Europe have diminished the market share in the industry. Government policies and measures have urged power generation companies to change course, leaning towards utilization of natural gas. This transition is expected to hinder demand growth for coal handling equipment over the coming years, especially across these regions.
Why is Europe's Coal Handling Industry Eyeing APAC?
Key market players concentrated in European countries find potential in the Asia Pacific region because of its development in the thermal power space. Sales volumes of coal handling systems are expected to increase here with the region continuing to be the most lucrative market. Emerging economies, especially China and India, have collectively dominated the coal handling system market in the region, accounting for more than 70% of the market share in APEJ.
Many developing countries in the region have sizable coal-producing areas and significant coal & metal mining industries that need a substantial level of capital investment. Increasing demand for lower emissions, low cost, and high energy-efficiency machines is being witnessed in the region. Growing availability of lease-based models will encourage end users to use advanced machinery.
According to BP Statistical Review of World Energy 2018, Asia Pacific witnessed a 5.2% increase in coal-fired thermal plants, with China accounting for more than 60 percent, making it an attractive regional market for coal handling systems. In addition, sale of coal handling systems in Asia Pacific is also influenced by rising coal production in South East Asian countries that are home to huge coal reserves. Majority of coal reserves are located in Vietnam, India, and Indonesia.
Against this backdrop, development of new power plants is being commissioned in the region at a rapid pace, necessitating the need for efficient systems that can handle coal mining operation.
Why is China's Expansion of Coal Mines Important?
In China, consumption of coal grew by 34 million tonnes to 3.83 billion tonnes in 2019. Demand for coal is largely from steel plants, who produced 982 million tonnes of crude steel in 2018. By 2020, this number was expected to go up to around 930 million tonnes. According to studies, this is equivalent to the usage of around 4.5 billion tonnes of standard coal.
Demand for coal handling systems in China is advancing along with growing port capacity expansions. China has coal as its dominant fuel in its energy mix, and is thus a critical stakeholder in the coal handling system market. Both, old and new technologies are expected to improve with increase in demand for greater fuel mobility, automation, and efficient consumption & supply monitoring.
The National Energy Administration, China, has also authorized the extension of two open-pit coal mines holding a capacity of 3 million tonnes a year, each. Along with this, rapid increase in construction activity and manufacturing output in China, coupled with government efforts to boost the mechanization of mines, have led to rapid growth of the mining machinery market in the country.
What is the Outlook on India's Coal Handling System Market?
India is the world's second-largest producer of coal, after China. The share of coal in both, energy mix and the power mix in India has been increasing, and in 2017, coal provided 44% of the total primary energy supply (TPES) and 74% of electricity generation. Coal is the most abundant fossil fuel resource in India, although Indian coal is generally of poor quality, with high ash content and low calorific value.
Therefore, demand for coal handling systems is likely to be high in India, evident in the study - Coal in India, 2019, conducted by the Australian Government as represented by the Department of Industry, Innovation and Science, which observed that production of coal grew at an annual average of 5.5 percent between 2014–15 and 2018–19.
India is heavily dependent on coal-based power for its electricity needs. By the end of 2015, almost 76 percent of coal was consumed by the power sector, while 79 percent of total electricity generation was coal/thermal-based. This is not expected to change drastically any time soon. Thermal power generation consumes around 76 per cent of the total coal available in the country (imports included). Given its high coal consumption, the power sector has a huge impact on future coal demand.
Boost in the industry will furthermore account to the introduction of pricing reforms in the coal sector, as mentioned in the Energy Policy Review, 2020, which are fundamental to further opening the energy market and improving its financial health. The market is anticipated to witness steady growth, owing to rise in mining output and significant need for mine mechanization.
Is Preference for Renewable Energy Disrupting U.S. & EU Markets?
Although North America held the second-most dominant position in the global coal handling equipment market, due to power utilities inclining to natural gas that is cheaper, increasing penetration of renewable electricity generation has resulted in U.S. coal production falling by 2.7% in 2018 to 684 Mt. Around 90% of domestic coal consumption is in the power sector.
However, in 2018, the fall was due to drop in wholesale electricity prices, changes in utilization rates, and operating losses for a large number of baseload coal generators. In 2018, coal accounted for only 28% of electricity generation (39% in 2013) as compared to 35% for natural gas (28% in 2013). Since 2015, around 40 GW of coal-fired power capacity has been retired, and no new coal capacity has been commissioned.
Inclination towards renewable sources of energy is because of their cost-effective power supply. Between 2015 and 2018, the lower-end of the average megawatt-hour for wind utility-scale was US$ 29 and US$ 36 for solar utility-scale, without subsidies. Also, according to cost estimations by an investment bank, Lazard, the average price for coal-fired power is almost US$ 20 higher per megawatt-hour than that for natural gas.
Another major contraction of U.S. coal demand is likely in the next few years, as competition from natural gas, growing uptake of solar- and wind-powered generation, and little growth in electricity demand will continue to reduce the market share for coal power generation. In the longer term, generation from coal is expected to decline in all scenarios of the EIA's Annual Energy Outlook 2019.
All these factors combined are having a dwindling effect on the U.S. coal handling system market.
In 2018, the EU accounted for only 6% of global coal demand. EU coal demand has been on a long structural decline, because it was mandated by EU regulations to shut down subsidized hard coal mines. European countries announced a coal phase-out of unabated coal use by October 2025, in January 2018.
Coal phase-out policies are now contributing to a decline in coal demand, which, in turn, affects demand for coal handling systems. According to the IEA's World Energy Outlook 2018 (WEO 2018) New Policies Scenario, coal demand by the power sector is likely to fall from 171 Mtoe in 2017 to 64 Mtoe in 2030. CO2 emissions from coal power plants are likely to drop from 733 Mt in 2017 to 272 Mt in 2030.
In Germany, hard coal mining has been ceased, while in Spain, 25 of the 26 coal mining units ceased operations by 31 December 2018. This decline in coal demand is due to the competitiveness of coal against natural gas. Increase in carbon prices in 2018 has reinforced this trend.
Plans to phase-out coal power have been adopted in 15 EU countries, which have joined the Powering Past Coal alliance. 55 nations have pledged to phase out coal power by 2030. Also, ten countries have announced that they will eliminate coal from their power mix; the UK was the first to do so.
Category-wise Insights
Why is Coal Handling Equipment Demand Growing in Thermal Power Industry?
The volume of coal handling systems sold to thermal power plants is expected to surpass 2,800 units by end of 2030, translating into significant volume share of over 60% of the overall coal handling system market. This is because of the rise of thermal power plants in leading markets such as China, the largest coal consumer, which, in turn, opens the need to utilize advanced coal handling equipment for better efficiency and output, and reduced costs.
By the end of 2030, global thermal power is estimated at 6 trillion Kilowatt-hours, expanding at a CAGR of 3%. Out of this, coal is one of the segments that is estimated to reach 12.3 trillion Kilowatt-hours. Coal thermal power plants are expected to remain the most widely operated plants, and are expected to have the largest share in electricity power supply across the world.
In 2018, around 37% of electricity across the world was generated from coal thermal power plants. Asia Pacific is the largest market for thermal power plants, and is expected to create the most significant demand for coal handling equipment.
Which is the Top-selling Coal Handling Equipment?
Conveyors and feeders are experiencing rising sales. In the coal mining industry, conveyors are used to carry huge loads to the required destination, which saves time and aids in lesser manpower requirement.
Conveyors are important application in coal-fired power plants for handling coal and transferring it to the furnace. It is estimated that demand for conveyors is projected to expand at a relatively higher rate as compared to other coal handling products throughout the forecast period. Overall, sales of conveyor systems exceeded US$ 5 billion in 2019, and are projected to reach over US$ 7 billion by 2030, progressing at a CAGR of 4.5%.
Growth of the market is highly driven by technological advancements in smart conveying equipment that integrates smart devices as well as embedded intelligence. Coal mining hotspots such as India are witnessing rising investments in conveyor equipment. In 2020, Coal India Ltd planned to invest INR 157 billion (around US$ 2.1 Bn) on conveyor belts alone, which will replace road movement between mines and wagons.
Growing demand from power plants and mining industries has proved to be the key factor for surging sales of conveyors. As a result of heavy competition in the market, these industries are majorly reliant on efficient techniques to increase their productivity.
Competitive Landscape
Sale of coal handling systems is mostly carried out through contracts and agreements. Bigger market players are now strategizing their efforts to collaborate with thermal power plants because of the sustainable attributes of the latter. These plants convert coal into electricity through multiple processes, which helps in reducing air pollution. They exterminate ash content, sulfur dioxide, and carbon dioxide in coal.
Thyssenkrupp AG entered into a contract with Doosan Power Systems India to provide coal handling systems for two major thermal projects in Uttar Pradesh, with orders totaling US$ 115 million.
Metso Corporation extended its agreement with Sever Minerals in a bid to strengthen its presence in Russia.
Heyl & Patterson Inc., which provides thermal processing and bulk material handling systems, signed an exclusive partnership agreement with BHJD Mining Engineering and Technology based in Beijing, an equipment procurement and construction (EPC) firm.
Ever since the COVID-19 pandemic hit industries around the world, there has been a change in climate to some extent. In the U.S., greenhouse gas emissions fell by 10.3 percent. This is still alarming, and investors are increasingly choosing to invest in alternate sources of energy. This gives all the more reason for players in the coal handling system market to push for more technological advancements.
Key Players with a Significant Market Share
Thyssenkrupp AG
Famur SA
FLSmidth Co
A/S and Metso Corporation
Report Scope
Attribute

Details

Forecast Period

2020-2030

Historical Data Available for

2015-2019

Market Analysis

US$ Mn for Market Value

Key Regions Covered

China
India
North America
Europe

Key Segments Covered

Application
Product
Region

Key Companies Profiled

Thyssenkrupp AG
Famur SA
FLSmidth Co
A/S and Metso Corporation

Report Coverage

Market Forecasts
Competitive Landscape
Country-wise and Category-wise Insights
Key Trends
Key Challenges

Customization & Pricing

Available upon Request
Coal Handling System Market Segmentation by Category
By Application :

Coal Mines
Others
Sea Ports
Thermal Power Plants

By Region :

APEJ
CIS and Russia
Europe
Japan
Latin America
MEA
North America

By Product :

Conveyors
Feeders
Others
Reclaimers
Ship Loaders & Unloaders
Stackers
Stackers cum Reclaimers
Wagon Tripplers & Wagon Loaders
- FAQs -
South East Asian countries and other developing countries will remain the most profitable regional markets because of rapid industrialization. Developed countries are striving towards renewable sources of energy, thereby reducing the need for these system
The main trend in this space is the transition from coal-based energy to sustainable energy, which will likely impact the market, as more and more countries are aiming to completely eradicate coal mining and the use of coal.
Market players can look for more developmental tactics that effectively diminish the toxic content emitting from various coal-based industries, so that it will normalize the idea of coal mining.
Leading players operating in the coal handling system market are Thyssenkrupp AG, Famur SA, FLSmidth Co, and A/S and Metso Corporation.
Amidst the ongoing COVID-19 pandemic, stakeholders can focus on developing new technologies that can curb the negative impacts of coal mining and the usage of coal on the environment.