Trail Camera Market
Trail Camera Market By Product Type (Pixel Size, Wireless), By Flash (White Flash, Low Glow, No Glow), By Trigger Speed, By Application, By Pixel Size, By Sales Channel - Global Market Insights 2021 to 2031
FACT1380MR
Oct-2021

List of Tables : 108

List of Figures : 241

170 Pages
Trail Camera Market Outlook
Wildlife photography has emerged as one of the most exciting career options for the young generation lately, where trail cameras are used in a big way. However, these cameras are used the most for hunting purposes, especially across the regions of North America and Europe.
There is huge preference for wireless trail cameras, with the direct to customer sales channel proliferating the most in this market.
Fact.MR's report comprises extensive primary research with detailed analysis of revenue growth at national and international levels, and provides an analysis of the latest industry trends in each of the sub-segments.
It also covers the market dynamics that include the drivers, restraints, historical and forecast data, opportunities, and trends that are expected to influence the trail camera market during the forecast period of 2021 to 2031.
This study provides comprehensive analysis of the market across different geographies, in terms of both, value and volume.
Interested to Procure The Data
Historical and Future Outlook
As wildlife photography is a booming industry, it is creating huge demand for trail cameras, as wildlife researchers rely on them as a viable census tool to capture images for use in making evidence-based decisions.
Moreover, increase in the scope of application in outdoor security is likely to boost product demand further.
These cameras are also widely used for hunting expeditions, majorly in North America and Europe. Over the past 5 years, the global trail camera market expanded at a steady CAGR of over 3%.
This market continues its expansion and is projected to grow faster over the coming years, at a CAGR of more than 4% through 2031, owing to advancements in technology, which involves the ability to connect wirelessly.
Not only in hunting and wildlife, but trail cameras can also be used for residential and commercial purposes, and the market is expected to gain momentum in these two domains as well, owing to various features equipped with all the latest technologies.
An Adaptive Approach to Modern-day Research Needs
What are the Key Factors Driving Trail Camera Sales?
Trail cameras are one of the crucial tools for the study of wildlife activity, wildlife research, or animal behaviour, owing to strong, motion-activated cameras designed to take photos and videos of wildlife and security surveillance; they consist of a digital camera and motion detector.
Hunting: For hunters that do not have the time to retreat to their property and diligently scout a location for an extended period, game cameras can give them enough insights to be prepared before arriving.
Like most technological devices, trail cameras have become extremely sophisticated with digital features that allow access to photos on the phone.
In the year 2020, the number of trail cameras sold globally for hunting purposes was 328,843, which is projected to increase to more than 400,000, at a growth rate of more than 3% in terms of volume at the end of 2031.
Wildlife Photography: The absence of a well-built night-vision camera paved the way for trail cameras for wildlife photography.
Photographers save a great deal of time by using a trail camera, which are installed and monitored year-round to get pictures of wildlife from the comforts of a home or office.
This feature has made these cameras extremely popular and preferred by wildlife photographers, and has been in high demand since then.
This segment is expected to expand at a CAGR of more than 4.5% value over the forecast period.
Security Purposes: Other factors that are expected to support market growth include rapid urbanization in terms of construction activities and industrialization, which will automatically result in growing demand for technologically-advanced trail cameras for security reasons in the commercial sector.
This segment is projected to have a valuation of US$ 25.2 Mn in 2021, and expand at a value CAGR of close to 5%, which is the highest among all the application segments.
Trail cameras can also connect to a network and send data through Wi-Fi. This enables the camera to send photos whenever motion sensors detect any motion in case of theft. Some cameras are also programmed to allow the setting of time frames.
For instance, security trail cameras can be set for night surveillance, where they can click and send photos during the set period.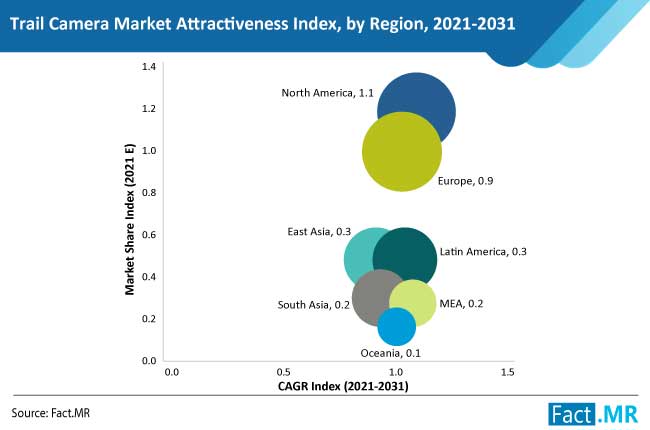 Country-Wise Analysis
The global trail camera market can be broadly classified into seven geographical regions, namely, North America, Latin America, Europe, Asia Pacific, the Middle East and Africa, Japan, and CIS and Russia.
The market is expected to witness high growth rates in the countries of North America and Europe over the forecast period.
What Makes North America the Biggest Trail Camera Market?
North America alone accounts for a share of more than one-third value of the global trail camera market. One of the main reasons is huge popularity of hunting and wildlife photography in the region, a big part of American heritage.
The U.S. Department of Interior announced a new report by the U.S. Fish and Wildlife Service that shows that 101.6 million Americans—40 percent of the U.S. population 16 years old and older—participate in wildlife-related activities every year, such as hunting and and wildlife-watching.
In the field of hunting, in terms of volume, around 121,000 units were sold in North America in 2020, which projected to experience an annual growth rate of around 3.3% through 2031, while sales for wildlife monitoring are expected to witness a growth rate of more than 4% during the forecast period.
Rising recreational and animal monitoring & research activities in this region has propelled product demand. The U.S. government launched the Science Support Partnership (SSP) program, a collaboration between the U.S.
Fish and Wildlife Service and the U.S. Geological Survey, to obtain important information required for the effective management of the nation's natural resources, which has created a lot of demand for advanced cameras with great night vision qualities, thereby driving demand the market for trail cameras.
The other reason for its vast popularity in North America is the construction sector. Residential- and commercial-purpose camera sales are expected to grow at the rate of nearly 5% through 2031, which is the highest amongst all.
Fact.MR forecasts the North America trail camera market to grow from US$ 60 Mn in 2021, at a compound annual growth rate (CAGR) of 4.2% from 2021 to 2031
Why is the U.K. Leading the Sales of Trail Cameras in Europe?
According to the British Association for Shooting and Conservation (BASC), over a million people a year participate in shooting, including stalking, shooting, hunting, clay shooting, and target shooting.
All this requires cameras that are automatically triggered by a change in some activity in the vicinity, so that users can track them without letting the animal become aware of their presence.
Farming is the bedrock of the U.K.'s largest manufacturing sector - food and drink, which contributes over £120 billion to the country's economy.
Agriculture's importance to the U.K. economy is emphasised by the fact that the U.K. has 149,000 farm businesses. That's more than the number of businesses involved in motor trade, education, finance, and insurance.
This large agricultural industry is in constant demand for proper surveillance cameras. Adoption of trail cameras among farm owners is witnessing a surge, as these cameras help them keep an eye on potential threats so that they can take preventive measures accordingly.
With rise in the popularity of trail cameras across many applications, manufacturers are expected to foray into niche business opportunities in the foreseeable future.
What Makes Mexico and Brazil Prominent Trail Camera Markets in Latin America?
Latin America is very often presented from a historical point of view as an as an example for the rest of the world when one deals with security issues.
Although there are 300 police officers per 100,000 people in the region (compared with a figure of roughly 200 in the United States), widespread impunity makes the expected costs of committing crimes very low.
Theft too has always been a point of concern in these countries. This creates a need for a monitoring device so citizens can feel protected at home.
Trail cameras are capable of capturing photos of trespassers, burglars, and vandals in complete darkness with no visible flash. This advantage has made them popular across Brazil, Mexico, and Argentina.
The Latin America market is predicted to be valued at around US$ 17 Mn in 2021, and experience a growth rate of 3.5% during the time span of 2021-2031.
Globally, Mexico ranks at number 19 in the list of countries with the highest rate of intentional homicides per 100,000 inhabitants, according to the most recent figures gathered by the United Nations.
As such, more and more people are using cameras for security purposes, to keep themselves far from harm's way.
As one drives east along Mexico's Highway 2, there is the land of the jaguar. But the jaguar and several other species that call the region home—face an almost insurmountable threat. Mexico's Highway 2 has taken thousands of animal lives, because of the absence of proper animal crossings.
Biologists use images captured from trail cameras to conduct intensive study of the wildlife and exactly where wildlife crossings should be placed to facilitate the free movement of both, humans and animals.
This high demand for trail cameras has made Mexico the leading market in Latin America, and it holds around 30% of the total market valuation of the region, projected to increase at a CAGR of 3% during the forecast period.
What is Driving the Sales of Trail Cameras in India and China?
Due to the practice of illegal killing and poaching of animals all over these two countries, wildlife is disappearing at an unprecedented pace.
For example, in a population study of leopards conducted by the Indian government, numbers showed a sharp decline of 75%-90% as compared to the last century. China is no exception.
It is right in the middle of the global pack with a nearly 50 percent loss of its land-based vertebrates, according to a recent report by the international NGO World Wide Fund for Nature (WWF).
The situation grows darker when the country's amphibians and reptiles are pulled out separately. Over 40 years from 1970 to 2010, their numbers plummeted by 97 percent. Habitat loss, poaching, and climate change all contributed to this devastation.
Both governments are coming up with different wildlife conservation policies. As of 2020, more than 5% of India's land area was dedicated to wildlife conservation.
Owing to such conservation policies, extensive monitoring of different species across both the countries by the governments is surging demand for cameras equipped with the latest features.
India is estimated to record sales of 14,725 cameras in 2021. The Chinese government is imposing strict rules about punishing poachers, with long-term sentences, and in this way, trail cameras are playing their part as a security camera, which is driving the market further.
The market in China is expected to expand at a CAGR of more than 4% through the years 2021-2031.
Avail customized purchase options for your needs
Category-wise Insights
What Drives Demand for Standard Trail Cameras?
Standard trail cameras produce sharper and high-contrast images, and come with two sensors for day and night use. With the no glow technology, one can get more photos of their game using the trails without scaring them away.
The main benefits of traditional trail cameras are:
High-quality Images: Standard trail cams capture high-quality images because they upload photos and videos directly to the inserted SD card. These cameras are great picks if one is not hunting off the grid.
The camera needs to be positioned in areas that can be easily sneaked in and out of without leaving a scent or trail.
Animal-friendly: Most standard game cams either come with a no glow or low glow infrared feature when taking photos in low light situations or at night. Animals won't detect them and get spooked.
Affordable: Since standard trail cams don't need cellular networks or wireless connectivity to operate, their price ranges are quite affordable. This is especially helpful for hunters on a budget.
Owing to all these features, these cameras have a good market hold. In terms of volume, this type is expected to witness global sales of around 194,000 units in 2021, and is expected to expand at a CAGR of more than 3.5% through 2031.
Why is the Popularity of Wireless Trail Cameras Rising?
Just like a cell phone, cellular game cams use radio waves to communicate to the nearest cell tower and transmit data using electromagnetic fields.
Once the game camera starts taking photos, it sends them to the phone using the cellular network from a wireless provider.
The Bushnell Impulse Cellular Trail Camera, for example, uses wireless services from AT&T and Verizon. Cellular game cameras such as the Bushnell Impulse trail camera can send videos to the owner's phone.
It also has a one-second trigger speed to capture images in fast motion. This type is expected to experience sales of around 428,000 units in 2021, projected to expand at a CGAR of 3.3% during 2021-2031.
Time-Saving: By sending photos to the phone in real-time, one does not need to check on cellular game cams often.
This allows expansion of the hunting ground beyond a station. Also, by reducing movements in the woods, the user has more time to focus on other important things.
Less Obstruction: When one visits hunting grounds regularly, it risks leaving a scent that animals can pick up and learn to avoid.
On the other hand, with a cellular trail camera, reduced visits ensure that the user gets more accurate records of animal movements.
Safety: While other trail cameras are vulnerable to adverse conditions, cellular trail cameras have features to protect them. They're built from sturdy material to withstand harsh weather conditions.
What is Causing 8-12 MP Cameras to be the Most Popular among All Contemporaries?
Reasons why it is better than <8MP trail cameras
If the pixels are smaller, more light is required to capture an image. In case of short inspection times, the fact that the light is not sufficient can easily be a problem. In case of little light, small pixels deliver noisier images than large pixels; the dynamic image response is reduced.
Noise is disturbing for the application. These advantages are predicted to drive this segment and have a valuation of US$ 86 Mn in 2021, as compared to the less than 8 MP trail cameras, which are predicted to have a valuation of US$ 21.8 Mn.
Why are customers preferring them over >12MP ones?
There are several reasons for this, including storage space, processing time, and low light photo quality.
Then there are indirect effects such as battery life and camera performance. More pixels generally mean more data to process, resulting in slower processing times and shorter battery life.
This is especially true in more demanding scenarios, such as taking photos at night where there's a lot more processing involved. Not only does a higher resolution need more processing power, but it also demands more storage and bandwidth.
These are the main reasons why its valuation is predicted to be at S$ 44.5 Mn in 2021, which is almost half than the ones belonging to the 8-12MP section.
Why are no glow trail cameras so important?
LED emitters that are often equipped do conduct infrared light that is above 900 on the nanometre spectrum.
The nanometre spectrum is simply a visible range of wavelengths. For example, the human eye is only able to see wavelengths ranging from 400 to only 700 on the spectrum.
Very few animals can see above 900 nm, making the flash on no glow cameras virtually undetectable at night.
No glow trail cameras have gained popularity due to the fact that they can provide wildlife surveillance that typically does not spook game, and that is why, this segment is expected to reach a global market of 1,66,981 units in 2021, increasing at a CAGR of close to 4% over the next ten years.
Why are low glow trail cameras preferred sometimes?
Low glow trail cameras are the most widely used camera that are available in the market, with a projected CAGR of more than 3% during 2021-2031. A distinct advantage of these types of LEDs, and a reason that many manufacturers use them, is that they are around 30% brighter than no-glow LEDs.
The light's wavelengths at this spectrum are longer, meaning the flash range is greater.
Often referred to as Infrared or red glow, they emit a slight red light similar to that on a smoke detector. The red glow allows the trail camera to take clearer pictures during the night, as well as a 30% longer flash range than no glow cameras
Why do photographers not prefer white flash trail cameras?
White flash is the same technology used in conventional cameras during low light, which uses a blinding white light.
This form is easily seen, and to the unsuspecting animal, it can be very sudden, often resulting in spooking them. That is why it is the least used. The major attraction to white flash cameras, however, is not their stealth, but their picture quality.
Which Trigger Speed is Most Preferred for Trail Cameras?
Trigger speed is described as how fast a camera can take a picture once it detects an animal. This could be important to someone, or not matter at all, depending on how they plan to use the trail camera.
If someone wants to place a camera in a funnel during the rut, trigger speed will be much more important to them, because deer will most likely be moving by the camera quickly, and if the camera is slow, they may only get a picture of a deer's hind quarter, or even a blank photo.
If they plan to use the camera over a bait pile or mineral site, the deer will be more rigid and in front of the camera for a longer duration. In this case, trigger speed isn't as critical, because they don't have to worry about the deer escaping the detection zone before the camera can snap a photo.
Up to 0.25s: This type of camera is expected to experience the highest CAGR of around 5%, owing to it taking pictures within a very short time span. This type of camera is used where photographers need to click pictures of fast-moving animals.
0.25s to 0.75 s: This type is the most used with predicted sales of around 371,500 units in 2021, projected to reach more than 500,000 by 2031, according to Fact.MR.
However, its growth rate is low compared to the 0.25s segment, because cameras with a slow trigger speed are not suitable for trails, as animals generally move quickly and are unlikely to remain in front of the camera for long.
What is the Impact of COVID-19 on the Global Trail Camera Market?
The world economy is experiencing a recession, and photographers are not exempt from the financial impact. Photography, in modern times, is more of a luxury than a necessity, with demand rising and falling according to the incomes of clients.
As a recession looms, we should anticipate demand for photography services, in general, to decrease. The main source of its use was in the fields of wildlife photography and hunting. But many nations have imposed nationwide lockdowns to curb the deadly COVID-19 virus.
In the field of construction, delayed development of domestic and commercial buildings as well as closure of shops across the world significantly affected the trail camera market. Opinion is that the impact and after-effect of COVID-19 will stay with the industry for a long time to come.
What are the Drawbacks This Industry Faces?
Trail cameras have gained immense popularity across the globe on account of their latest features and variety of options. However, adoption of trail cameras has remains limited, due to a small customer base.
Absence of awareness among people and high cost are two of the most prominent factors confining the adoption of trail cameras.
These models are comparatively costly that standard cameras, and that is one of the main reasons it has a low market valuation in developing countries.
Though these trail cameras can deal with long-term recording and capturing of wildlife, they cover only a fixed portion of land.
They are not able to provide a whole view of all angles of wildlife, which is possible only if one is physically present or has multiple cameras placed covering all angles.
Inclination of customers towards the use of conventional variants of cameras, such as CCTVs, and their reluctance to adopt other alternatives, are slowing down and causing obstruction in adoption, hindering the consumer base of the trail camera market.
Report Scope
Attribute

Details

Forecast Period

2021-2031

Historical Data Available for

2016-2020

Key Regions Covered

North America
Latin America
Europe
CIS
Russia
Japan
APEJ
MEA

Key Segments Covered

Product Type
Pixel Size
Flash
Trigger Speed
Application
Sales Channel
Region

Key Companies Profiled

Bushnell Core DS Low Glow
Bushnell Trophy
Camera Essential E3
Spy Point Solar Dark

Report Coverage

Competitive Landscape
Country-wise and Category-wise Insights
Key Trends
Key Challenges

Customization & Pricing

Available upon Request
Key Segments of Trail Camera Market
Product Type
Pixel Size
Flash
White Flash
Low Glow
No Glow
Trigger Speed
Up to 25 Sec
0.25 to 0.75 Sec
Above 0.75 Sec
Application
Hunting
Wildlife Monitoring
Others (Residential, Utility, Commercial)
Sales Channel
Modern Trade Channels
Independent/Brick & Mortar Stores
Direct to Customer
Third-party Online Channels
Region
North America
Latin America
Europe
CIS & Russia
Japan
APEJ
MEA