Acetone Derivatives Market
Acetone Derivatives Market analysis report based on By Product Type(Bisphenol A ,Diacetone Alcohol ,Methyl Methacrylate) ,Isophorone ,Methyl Isobutyl Ketone) By Grade(Chemical Grade Acetone Derivatives ,Food Grade Acetone Derivatives)-during 2021-2031
FACT1439MR
Nov-2021

List of Tables : 70

List of Figures : 205

170 Pages
Acetone Derivatives Market Outllok
Latest industry analysis on acetone derivatives by Fact.MR estimates global production to cross 10.5 million tons in 2021, though demand will remain under 10.2 million tons. A sluggish decline of 1.9% in market value was observed in 2020, which eventually returned to 2019 levels in the first quarter of 2021, but remained less than what most of producers had anticipated.
Acetone derivatives business research performed by Fact.MR delves on key insights such as current and speculative production capacity, capacity utilization rates of each producer, current and speculative pricing, and price optimization strategy across the value chain, techno-economic analysis of acetone derivatives production, and much more.
Interested to Procure The Data
Key Points Covered in Acetone Derivatives Industry Survey:
Market Estimates and Forecasts (2016-2031)
Production Capacity Analysis of Prominent Manufacturers
Acetone Derivatives Pricing Analysis
Product Pricing Optimization Strategy
Associated Industry Analysis (Ketone Derivatives Market Overview)
Key Drivers and Restraints Shaping Market Growth
Segment-wise, Country-wise, and Region-wise Analysis
Competition Mapping and Benchmarking
Market Share Analysis
COVID-19 Impact on Demand for Phenol/Acetone Derivatives and How to Navigate
Demand for Acetone Derivatives as Additives
Demand for Acetone Derivatives as Degreasers
Demand for Acetone Derivatives as Coupling Agents
Demand for Acetone Derivatives as Cleaning Agents
Demand for Mesityl Oxide
Analysis on Sales of Methyl Isobutyl Carbinol
Demand for Diisobutyl Ketone
Exclusive Assessment on Sales of Methyl Isobutyl Ketone
Recommendation on Key Winning Strategies
Consumption Analysis of Acetone Derivatives from 2016 to 2020 Vs Market Outlook for 2021 to 2031  
As per Fact.MR – a market research and competitive intelligence provider, over the past half-decade, global market value of acetone derivatives increased at a CAGR of around 4.1%, owing to high demand for end-use products across regions such as East Asia, North America, and South Asia & Oceania.
Meanwhile, demand for acetone derivatives in paints & coatings and chemicals is projected to rise at a moderate CAGR of around 5.8% through 2031.
For more than a decade, applications of acetone derivatives has been driven by paints & coatings, which accounted for around 3 million tons of the total acetone derivatives value in 2020. Further, the end use is projected to increase its market share by 200 BPS through 2031. Moreover, sales of acetone derivatives in the pharmaceuticals industry is also projected to rise at a CAGR up by 1.8% in next ten years.
Additionally, Fact.MR estimates a surge in acetone derivatives revenue by 1.7X from 2021-2031, which is projected to stand at around US$ 19 Bn by the end of 2031. These estimations have been put in place seeing mounting investments in housing and construction activities along with rapid urbanization taking place.
Moreover, the derivatives industry too was shaken from the ripples of the COVID wave, which led to a downfall in its Y-O-Y growth, but demand from the pharmaceutical industry ensured continued supply of products, as such, helping in stabilizing the market.
An Adaptive Approach to Modern-day Research Needs
Will Burgeoning Adhesive Consumption Propel Demand for Acetone Derivatives?
Ability of solvent-based adhesives to withstand range of temperatures from low to high is one of the major reasons for their high demand in the market. Since acetone derivatives are extensively used for the production of solvent-based adhesives, their consumption will have a direct impact on the derivatives market.
Owing to these factors, adhesives, as an end use, are projected to hold around 17.6% of the global acetone derivatives revenue share, and considering the above mentioned positive trends, Fact.MR estimates the market for acetone derivatives to expand at a CAGR of around 5.8% during the forecast period of 2021-2031. Sales of benzylidene acetone derivatives are also seen to be rising steadily.
What Relevance Does Acetone Derivatives Present That Make Them Fit for End Use?
Acetone derivatives showcase properties such as high solvency ratio and low density, which makes them fit for application as a solvent in coatings, adhesives, and inks. Acetone derivatives can also uniquely be used as chemical intermediates for the production of polycarbonates and epoxy resins, which find their extensive use in packaging, medical, and electronics industries.
Based on Fact.MR's analysis, application of acetone derivatives in consumer products and as a solvent is anticipated to drive the derivatives market to provide incremental growth opportunity worth around US$ 815 Mn till 2031.
Avail customized purchase options for your needs
What Parameters Act as an Obstruction to the Growth of Acetone Derivative Manufacturers?
The past half-decade has seen increased debate regarding climate change and the need for regulation of chemical and petrochemical industries to tackle climate issues. Since chemical and oil & gas industries are responsible for carbon emissions, international and government organizations are actively looking to regulate these industries to ensure clean surroundings and environment.
Regulations would mean even tougher raw material procurement methods and increased manufacturing processes.
For instance, a recent ruling was done by the Dutch court against Shell, a major oil producer and petrochemical company, to cut greenhouse gas (GHG) emissions by 45% till 2030 compared to levels of 2019. This verdict would compel company to make some hard decisions and comply with regulations. This verdict predicts what lies ahead for petrochemical and chemical industries as stringent laws would make it harder for suppliers and manufacturers to generate revenue in the long term.
Moreover, presence of sustainable substitutes also accounts as a restricting factor in consumption growth. Market players are investing in advanced technologies to produce alternatives for niche chemical products as a part of their sustainable effort.
These above-mentioned factors are projected to act as a hindrance to demand growth of acetone derivatives over the forecast period, i.e. 2021-2031.
Which Region Offers Huge Opportunity for Sales of Acetone Derivatives?
Total derivative consumption in East Asia is anticipated to be around 3.6 million tons in 2021, claiming over 35% of the global share. Y-O-Y growth for derivatives in East Asia was around 3.9% in 2020. Rising demand from the region can be attributed to increased usage in industries such as paints & coatings and chemicals.
Additionally, urbanization rate in Asia is highest, which has provided major boost to the housing industry. This has, in turn, increased demand for paints and protective coatings for both, exterior and interior applications. Such surge in demand has propelled the usage of acetone as solvents in the region.
Moreover, increase in packaged food consumption can be seen as the newest trend in the region, which is anticipated to provide an uptick in demand for BPA acetone derivative in the region. Also, growing participation of women in the workforce is set to drive the cosmetics industry in the region, which is another major end user of derivatives.
Owing to the above-mentioned factors, East Asia is set to hold a major share in terms of revenue for acetone derivatives and is projected to continue to dominate till 2031.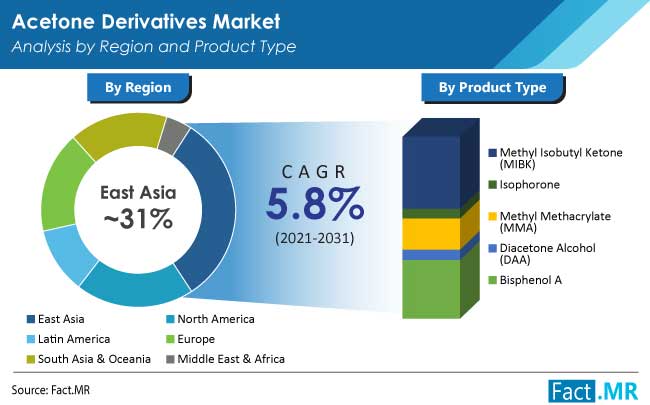 Country-wise Analysis
Why is China Seen as a Major Participant in Bolstering Demand for Acetone Derivatives?
The market in China is projected to expand at a CAGR of around 6.2% over the decade.
Over the years, the Chinese market has been portraying new trends in the business model, which can be mainly attributed to changing consumer preferences in the country. For instance, demand for consumer and higher-end personal care products in the country is on the rise, which has, in turn, called for increased usage of speciality and more sophisticated surfactants and additives.
Also, net migration rate to urban areas is amongst the highest in China, which has increased the sales of acetone derivatives in the cosmetics & personal care and coatings industry in the country.
Moreover, China is also one of the leading acetone derivative producers with established production centres of prominent manufacturers such as Mitsui Chemicals, Mitsubishi Chemical, and Kumho P&B chemicals in the country. This has enabled end users in China to procure raw materials at lower rates, thus driving consumption of acetone derivatives, specially providing a thrust to the demand for diacetone alcohol market.
Owing to these above-discussed factors China is projected to account for a fair share in derivative consumption and well as production, while continuing to walk on the same path over the decade.
Why is Germany Seen as a Lucrative Market for Acetone Derivative Suppliers?
Germany is a leading market for beauty and cosmetic products in Europe. The beauty and cosmetics market in Germany is valued at around US$ 15 Bn as of 2019, owing to the presence of leading brands such as Dr Hauschka, Nivea, and others, along with demand for high-end cosmetic products in the country.
Since acetone derivatives find good use in personal care and cosmetic products as a solvent and chemical intermediate, these have huge prospects for growth in the country.
Moreover, the government, in recent years, has decided to increase spending on infrastructure and housing projects, providing a positive outlook to the paints & coatings industry.
Attributed to the above-mentioned factors and as per Fact.MR's analysis, Germany is set to provide an absolute $ opportunity of around US$ 270 Mn with the market rising at a CAGR of around 5.2%.
How Has Demand for Acetone Derivatives Been across Established and Evolving Countries?
Japan: Japan is poised to be the second-most lucrative market after China in East Asia, owing to high consumption of acetone derivatives as an intermediate for the production of epoxy resins and polycarbonates. Moreover, burgeoning electric vehicle industry in Japan provides an opportunity for acetone derivatives to penetrate the coatings market.
Owing to these factors, the market in Japan is projected to expand at an impressive CAGR of around 5.7% over the forecast period.
India: India being one of the emerging markets will see greater penetration of acetone derivatives in end uses such as paints & coatings, chemicals, and cosmetics & personal care. Growing housing sector in India has provided a positive outlook to the demand for acetone derivatives in the coatings industry, which, in turn, has boosted demand for acetone derivatives.
For instance, the government plans to build more than 20 Mn affordable houses by the end of 2022, which would see huge consumption of paints & coatings. Owing to these positive trends, India is projected to hold a dominant share among South Asia & Oceania countries over the forecast period.
Brazil: Brazil has a robust automotive sector with a global ranking of sixth position in the automotive market. Additionally, adhesives find major application in the automotive sector, which is projected to grow with the penetration of EVs in the segment.
Owing to major use of acetone derivatives in the production of adhesives, demand for isophorone across Brazil's automotive sector is all set to drive derivative demand in the country.
U.S.: The US has a well-established market for acetone derivatives which is mainly attributed to demand for BPA from packaging sector along with consumption of derivatives as a solvent in cosmetics & personal care products.
Additionally, over the years, epoxy resins has found prime use in the production of wind turbine blades, providing an uptick to the demand for derivatives in the country. Moreover, with mounting investments in the U.S. renewable sector, demand for acetone derivatives is poised to rise at a CAGR of 5.1% over the forecast period.
Category-wise Insights
Which Acetone Derivative Sees High Demand Globally?
BPA consumption is projected to increase at a CAGR of around 4.5% reaching 5.5 million tons by 2031.
Bisphenol A or BPA is being highly demanded globally due to its wide range of applications in the packaging industry and consumer products. Further, acetone derivatives as chemical intermediates are used in the production of valuable products such as polycarbonates and epoxy resins.
Properties of polycarbonates and epoxy resins are being recognized by various CPG and FMCG companies, thus bolstering demand for BPA.
Moreover, sales of isophorone are likely to touch almost a billion mark by 2031-end due to widened used cases across printing inks, solvents, and coatings.
Which Application of Acetone Derivative is Most Popular?
Solvents accounted for around 52% of global acetone derivative demand in 2020. Use of acetone derivatives as solvents is anticipated to be a prime factor driving acetone derivatives business growth over the forecast period.
Owing to high solvency ratio, demand for methyl isobutyl ketone (MIBK) and DAA as solvents has increased, providing high quality and consistency in products to end users such as paints & coating and chemical industries. Also, burgeoning demand for solvents from cosmetics & personal care products is projected to propel derivative sales over the coming years.
Attributed to these factors, demand for acetone derivative as solvents will rise at a CAGR of around 5.9% over the coming years, continuing to hold major share in the derivatives market.
Why are Acetone Derivatives Most Used in Paints & Coatings?
Holding around 30% of total revenue share, paints & coating are set to propel demand for acetone derivatives. Additionally, rising housing and construction activities have allowed end users to bulk produce and deliver high-quality products, thus giving rise to increased usage of derivatives in paints & coatings.
Owing to these positive trends, the paints & coating industry is set to provide an absolute $ opportunity worth US$ 2.8 Bn over the next decade. Meanwhile, increased use cases will also lift the consumption bar to 5 million tons by 2031-end.
How Has COVID-19 Impacted Revenue Generation from Acetone Derivatives?
The COVID 19 pandemic left no industry unturned and had an impact on acetone derivative sales as well. Y-O-Y growth of revenue contracted by 1.5% in 2020 when compared to 2019. This contraction can be attributed to decrease in demand from the construction and housing sectors along with lessening demand for cosmetic products. However, increased usage of various derivatives by pharmaceutical industries will stabilize the market.
Moreover, since construction activities are back on track and more people are opting for online sales channels for the purchase of cosmetic products, acetone derivative sales will see moderate growth over the coming years.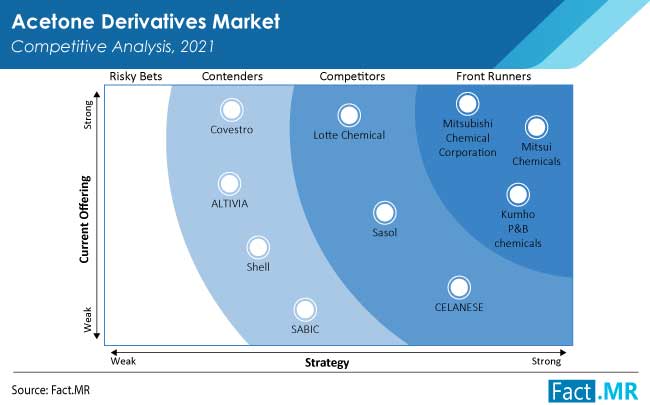 Competition Landscape: Top Acetone Derivative Companies
To expand their consumer base, acetone derivative manufacturers are opting for a mix of organic and inorganic growth strategies such as capacity expansion, acquisitions, and collaborations to help them garner more market share that would provide them the desired competitive advantage.
In December 2020, Mitsubishi Chemical Corporation announced that it had acquired "green field" property on the Mississippi river, and plans to construct a 350KT MMA plant. The plant is to be constructed based on the company's proven ALPHA technology.
In March 2021 Lotte chemical announced that it will use Honeywell UOP Q-max, EVONIK MSHP, and Phenol 3G technologies to produce phenol and acetone derivatives. Through this technological engagement, Lotte chemicals aims at increasing its global production of phenol and acetone derivatives in order to raise its market position.
In May 2021, Arkema announced divestment of its PMMA business to Trinseo. Following this divestment, Arkema aims at becoming a prominent player in the specialty material segment by 2024.
In November 2019, ALTIVIA Ketones & Derivatives completed the acquisition of Dow's acetone derivative business. This move by Altivia would ensure the expansion of its ketone & additives business by providing quality products to the end user segment.
Similar, recent developments related to companies offering acetone derivatives have been tracked by the team at Fact.MR, which are available in the full report.
Fact.MR has provided detailed information about price points of acetone derivatives of manufacturers positioned across regions, sales growth, production capacity, and speculative production expansion in the recently published report.
Acetone Derivatives Market Report Scope
Attribute

Details

Forecast Period

2021-2031

Historical Data Available for

2016-2020

Market Analysis

KT for Volume and US$ Mn for Value

Key Regions Covered

North America
Latin America
Europe
East Asia
South Asia & Oceania
MEA

Key Countries Covered

United States
Canada
Brazil
Mexico
Germany
U.K.
France
Spain
Italy
China
Japan
South Korea
India
Indonesia
Malaysia
Singapore
Australia
New Zealand
Turkey
South Africa
GCC Countries

Key Market Segments Covered

Product Type
Grade
Application
End Use
Region

Key Companies Profiled

ALTIVIA
ARKEMA
Braskem
CELANESE
Covestro
Ineos
Kumho p&b chemicals
LG Chem
LOTTE CHEMICAL
LYONDELLBASELL INDUSTRIES
Mitsubishi Chemical Corporation
MITSUI CHEMICALS
SABIC
Sasol
Shell
Solvay

Pricing

Available upon Request
Market Segments Covered in Acetone Derivatives Industry Research
By Product Type

Bisphenol A
Diacetone Alcohol
Methyl Methacrylate (MMA)
Isophorone
Methyl Isobutyl Ketone (MIBK)

By Grade

Chemical Grade Acetone Derivatives
Food Grade Acetone Derivatives
Pharma Grade Acetone Derivatives

By Application

Acetone Derivatives in Solvents
Acetone Derivatives in Additives
Acetone Derivatives in Intermediates

By End Use

Acetone Derivatives for Paints & Coatings
Acetone Derivatives for Cosmetics & Personal Care
Acetone Derivatives for Pharmaceuticals
Acetone Derivatives for Adhesives
Acetone Derivatives for Chemicals
Others