Anti-Settling Agents Market
Anti-Settling Agents Market Analysis on Assessment of Demand by Source(Organic Anti-settling Agents ,Inorganic / Synthetic Anti-settling Agents), Form(Solid Anti-settling Agents ,Paste Anti-settling Agents), Nature(Anionic Anti-settling Agents ,Cationic Anti-settling Agents)
FACT1443MR
Jul-2021

List of Tables : 42

List of Figures : 222

170 Pages
Anti-Settling Agents Market Outlook
Newly-released anti-settling agents market analysis by Fact.MR, a market research and competitive intelligence provider, shows that global demand enjoyed year-on-year (YoY) growth of 2.9% in 2021, to total 74 KT. Organic anti-settling agents displayed positive growth of 2.9% to total 46 KT, while inorganic anti-settling agents showed a 3% rise to reach 29 KT.
Interested to Procure The Data
Key Points Covered in Anti-Settling Agents Industry Survey:
Market Estimates and Forecasts (2016-2031)
Key Drivers and Restraints Shaping Market Growth
Segment-wise, Country-wise, and Region-wise Analysis
Competition Mapping and Benchmarking
Leading Export - Import Destinations
Analysis of Supply Contracts, Avg. Consumption, Potential for Direct & Indirect Sales
Market Share Analysis
COVID-19 Impact on Demand for Anti-settling Agents and How to Navigate
Recommendation on Key Winning Strategies
Revenue Analysis of Anti-Settling Agents from 2016 to 2020 Compared to Demand Outlook for 2021 to 2031
As per the Fact.MR's industry research on anti-settling agents, historically, from 2016 to 2020, market value increased at around 2.9% CAGR. The U.S, China, India, Germany, and GCC Countries held significant share in the global market.
With increasing paint consumption and rising construction projects, the market for anti-settling agents is forecast to expand at a moderate CAGR of 4.2% over the next ten years.
The market for anti-settling agents witnessed growth in 2020 with global revenue up 2% year-on-year.
Fact.MR estimates that the revenue from anti-settling agents will grow 1.5X from 2021-2031.
According to Fact.MR's anti-settling agents market insights, global market value reached US$ 211 Mn in 2020.
Demand for organic / natural anti-settling agents to accelerate at the highest pace.
As per analysis of market share, market reach, and clientele, top 5 producers of anti-settling agents held 45% market share in 2020.
Global consumption of anti-settling agents is expected to increase 2.9% in 2021 to over 74 KT.
While demand was impacted by COVID-19, over the decade, long-term forecasts look good, especially for aqueous use-case systems.
An Adaptive Approach to Modern-day Research Needs
How is Growing Urbanization Triggering Demand for Anti-Settling Agents?
Anti-settling agents have found their way into many end-use applications. Lately, due to rapid urbanization and development in emerging economies, these substances have witnessed huge demand from the construction & building industry.
Increased usage during construction and post construction activities such as coating and painting provides a push to anti-settling agent consumption. Though the use of anti-settling agents is widely observed in the production of paints and coatings, demand remained augmented by the construction industry.
Anti-settling agent manufacturers across the globe have been focusing on developing organic versions by allocating abundant resources towards product innovation and development. They are also setting up sustainable production plants and partnering with other giants to come up with initiatives such as advancing production plants to achieve lower emissions.
Manufacturers are increasingly making efforts for developing effective and eco-friendly anti-settling agents for multiple industries.
For example, BASF SE joined forces with SIEMENS Energy to help accelerate commercial implementation of advanced technologies to reduce greenhouse gas emissions from various business verticals.
Besides, growing constructions projects in developing nations have portrayed positive propulsion on the demand for anti-settling agents. Demand from the construction sector is bolstered by developing nations accounting for 3/5 overall global consumption.
Also, usage of rheology modifiers in various forms and nature in widespread end-use applications has also lead the market to witness steady growth.
Market players must take nature and use-case systems as the base for expanding their production capacities. As these factors hold high deciding potential for the applications anti-settling agents go into, it acts as a key opportunity for capitalizing on the swelling demand for anti-settling agents from end-use industries.
Will Demand for Anti-Settling Agents Be Impacted Due to Companies' Stance towards Eco-friendly Products?
The foremost pointer promoting the eco-friendly behaviour of manufacturers is self-driven motto to make the earth pollution-free. Though there exist only a few regulations set by governing bodies, this could lead to huge inclination and likeliness of all governing bodies to pass bills and implement more regulations. Many manufacturers, irrespective of the products being produced, are focussing on becoming environmental friendly.
Though it is less likely to expect the same effectiveness in eco-products, abundant resource allocation would address the hurdle and project a positive pathway. Also, with growing conversion of production units from conventional to lessen greenhouse gas emission, the result is set to further draft the market to be driven only on a positive note.
Based on Fact.MR's analysis on anti-settling agents, organic anti-settling agents are estimated to account for over US$ 107 Mn in 2021, and reach US$ 171 Mn by the end of 2031, marking 52% of the total market share.
Avail customized purchase options for your needs
What are the Restraints Being Faced by Anti-Settling Agent Suppliers?
Fluctuation in raw materials prices is the foremost factor hindering future market growth. As there are numerous raw materials being used for manufacturing anti-settling agents, fluctuation in their prices add up to the total production cost, and thereby market prices. However, increasing of supply chain resources by many raw material providers is set to manage factor to some extent.
Also, there exists a substantial demand-supply gap in raw material procurement owing to the same factor. But these factors are all set to be addressed by strategies being planned by biggies supplying raw material over the coming years.
To overcome various challenges, manufacturers have offered their R&D teams to work exclusive and extensively on alternate raw materials with higher or similar properties to determine the extent to which dependency on conventional raw materials is executed.
Which Regions are Considered Lucrative Markets for Anti-Settling Agents Business?
East Asia and Europe are expected to account for over 48% of anti-settling agent demand throughout the assessment period. In 2020, demand in Germany grew 2% year-on-year, buckling initial sceptical thoughts of market performance during a global pandemic. Across Germany, total demand for anti-settling agents reached 2 KT in 2020.
East Asia is another one region that offers a huge pool of opportunities for anti-settling agent manufacturers. The market in the region is flooded with a number of small players along with numerous end-use industries. The region is set to perform well and account for over 1/4 of the global market share by 2031.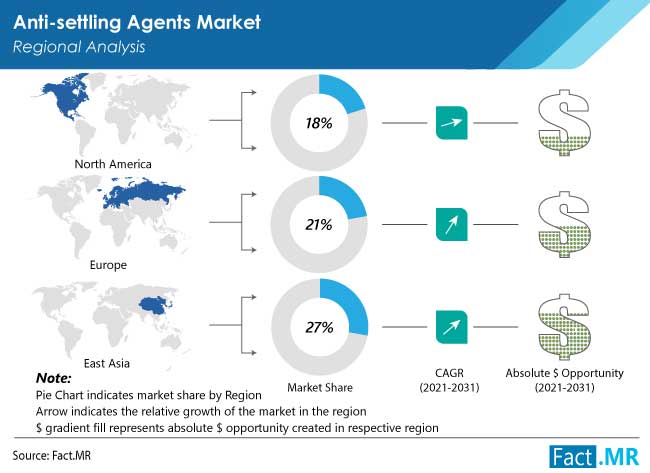 Country-wise Analysis
Why is the U.S. a Cluster for Consumption of Anti-Settling Agents?
Currently, the U.S. accounts for 84% of overall demand in North America. This is attributed to the use of the material by industries in numerous use cases.
The U.S. represents huge opportunities accounting for 15% of global anti-settling agent demand in 2020.
Rising construction projects and renovation of existing buildings has remained the key. The construction market is expected to grow 16% to reach US$ 1,515 Bn in 2021 and end up at US$ 1,819 Bn by 2025.
The whole scenario of the construction sector in the nation is set to drive the market for anti-settling agents rapidly with no restraining factors.
How is Demand for Anti-Settling Agents Faring across Emerging Markets?
Japan: Similar to the U.S., Japan has been a potential country for anti-settling agent consumption across various use cases. Paint and construction industries have remained the driving forces. Organic anti-settling agents have occupied a huge place in the country's contribution, with overall demand reaching 5.3 KT in 2021.
China: As the country is well-known for its technologically advanced resources along with low labour costs, this opens avenues for high anti-settling agent consumption. With increasing number of construction projects and a number of paint manufacturers, the nation is set to drive demand over the coming years.
India: India is also among the top emerging nations with numerous upcoming construction projects. The nation is set to account over 40% of South Asia & Oceania demand by the end of the forecast period. The country also performed explicitly over the historical period at a CAGR of 4%.
Russia: Russia is set to be a driving force of the European region by accounting over 20% demand by 2021. The market in the country is highly driven by the use of anti-settling agents in cement slurry stabilization along use in other niche applications. The country is set to project growth at a moderate CAGR of 4.3%.
How is Germany's Growing Construction & Paint Industry Expected to Boost Demand for Anti-Settling Agents?
Germany is among the top countries driving the European market for anti-settling agents. The country has numerous avenues from various end-use industries; however, the paint and construction industry is set to be the front-facing factor.
The country is set to project growth of both, the paint and construction sectors at a CAGR of 4%. Germany performed explicitly over the historical period as well, and showcased sizeable dollar opportunity during 2016-2020. With its pace of development, the country is anticipated to portray growth at a CAGR of 4.7% and reach US$ 11 Mn by 2031.
Category-wise Insights
Why are Mixed Nature Anti-Settling Agents Highly Demanded across the World?
Mixed nature anti-settling agents are anticipated to account for a huge chunk in the global market owing to many factors. The foremost reason being sole dependency on demand based on type and nature of use-case system.
There is increasing opportunity for certain use-case systems that favour the use of anti-settling agents with mixed nature. Improvement is witnessed in all the applications. Increasing 180 BPS, mixed nature anti-settling agents are expected to reach a market valuation of US$ 153 Mn by 2031.
Why Do Anti-Settling Agents for Aqueous Use-case Systems Hold the Largest Share?
Revenue from anti-settling agents used in aqueous use-case systems is expected to rise at a CAGR of 4.5%. The category serves paints and many other applications where the system is in aqueous form. The category is set to contribute a whopping share of 66% by the end of 2031.
Which Application of Anti-Settling Agents Holds Potential Revenue Avenues?
Paint application of anti-settling agents holds more than 58% market. Demand for anti-settling agents in paints is highly driven by the paints & coatings industry with a dominating compound annual growth rate of 1.1X times the global average.
The next application in line is cement slurry stabilization; use of anti-settling agents in cement slurry stabilization is also expected to garner highly bankable opportunities in generating extra dollar by showcasing 1.4X times the value in 2031 as compared to 2021.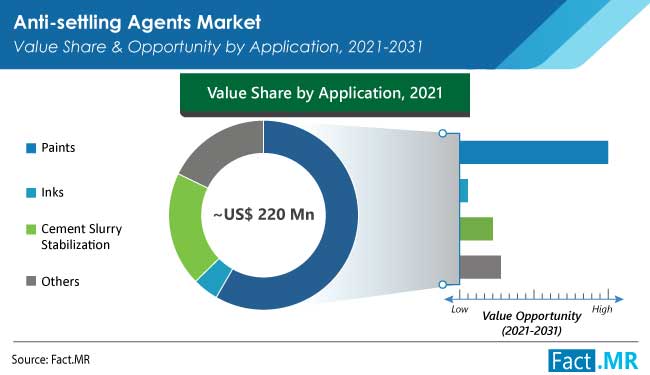 How Has COVID-19 Impacted Revenue Generation from Anti-Settling Agents?
COVID-19 induced a substantial dampening force in the sales of anti-settling agents, as production was affected due to shutting down of manufacturing units. The pandemic also disrupted the market from the demand side, owing to closure of end-use industry plants.
However, the market got back on track post lockdowns, and showed a slight positive growth of 2% in 2020 with respect to previous projections.
Competitive Landscape
Majority companies discussed in the report have focused on various organic and inorganic strategies to impart delivery focus, portfolio expansion and brand development.
Some of the key developments are:
In 2019, BASF SE significantly prioritized its expansion processes and innovation scope in Asia Pacific. The company also enhanced its regional innovation capabilities with new facilities at the innovation campus in Shanghai, China.
In 2018, BASF SE acquired all the shares of Advanced Materials GmbH in Hamburg and Setup Performance SAS in Lyon.
Similarly, recent developments related to companies offering anti-settling agents have been tracked by the Fact.MR team, which are listed in the full report.
Anti-Settling Agents Market Report Scope
Report Attribute

Details

Market size value in 2020

USD 211 Million

Market forecast value in 2021

USD 218 Million

Growth Rate

CAGR of 4.2% from 2021 to 2031

Forecast Period

2021-2031

Historical Data Available for

2016-2020

Market Analysis

KT for Volume and US$ Mn for Value

Key Regions Covered

North America
Latin America
Europe
East Asia
South Asia
Oceania
Middle East & Africa

Key Countries Covered

United States
Canada
Brazil
Mexico
Germany
U.K.
France
Spain
Italy
China
Japan
South Korea
India
Indonesia
Malaysia
Australia
New Zealand
Turkey
South Africa
GCC Countries

Key Market Segments Covered

Source
Form
Nature
Use-case
Application
Region

Key Companies Profiled

BASF SE
Evonik industries
Fine Organic Industries Limited
Active Minerals International, LLC
Ester Chemicals Industries Pvt. Ltd.
Harmony Additives Pvt. Ltd.
K Tech (India) Limited
King Industries Inc.
Lakeland Chemicals (India) Ltd.
Lysurf Chemicals Co. Ltd.

Pricing

Available upon Request
Market Segments Covered in Anti-Settling Agents Industry Analysis
By Source

Organic Anti-settling Agents
Inorganic / Synthetic Anti-settling Agents

By Form

Solid Anti-settling Agents
Paste Anti-settling Agents
Liquid Anti-settling Agents

By Nature

Anionic Anti-settling Agents
Cationic Anti-settling Agents
Mixed Anti-settling Agents

By Use Case

Aqueous Anti-settling Agents
Anti-settling Agents for Solvents/Oils
Others

By Application

Anti-settling Agents for Paints
Anti-settling Agents for Inks
Anti-settling Agents for Cement Slurry Stabilization
Others