Photodiode Market
Photodiode Market By Type (PN Photodiodes, PIN Photodiodes, Avalanche Photodiodes, Schottky Photodiodes), By Material (Silicon, Germanium, Gallium Phosphide, Indium Gallium Arsenide), By Mode of Operation, By End-use Industry, By Region - Forecast 2021 to 2031
FACT1664MR
Mar-2021

List of Tables : 69

List of Figures : 205

170 Pages
Photodiode Market Outlook
Globally, demand for photodiodes is expected to witness superlative evolution over the forecast period by virtue of inception of 5G and growing smartphone penetration. Furthermore, photodiodes finds use is a comprehensive range of end-use industry verticals, with telecommunications being its cubbyhole. Demand for avalanche photodiode is particularly high across regions.
Fact.MR, in its latest research report, offers profound insights on key factors expected to fuel demand for photodiodes over the coming years. The report tracks global trends in over 20 high-growth markets, where the regions of East Asia and North America lead the way. It also details the impact COVID-19 has had on various end-use industries in general, and the photodiodes in particular.
Interested to Procure The Data
Historical Trends Vs Future Projections
Over the historical period, 2016-2020, the market expanded at a CAGR of 3%. Inception of 5G and advancements in imaging solutions have been spearheading market growth during this period.
Further, advancements in manufacturing of photodiodes with strategic shift of production lines and increasing use of photodiodes in smartphone cameras are some vital factors causative for market growth. By the virtue of these aforementioned factors, the global photodiodes market is projected to progress at a sinewy CAGR of around 8% over the forecast period of 2021 to 2031.
How will Organic Photodiodes Change the Market Landscape?
Organic photodiodes such as other organic polymer-based products can be made using processing and inkjet printing techniques. Owing to their inherent properties, these diodes can be coated onto a variety of surfaces, including agile ones like solar cells and displays.
Further, large area organic photodiodes (OPDs) provide immense benefits in infrared spectrum regions by easy tunability of optical structures with couture of molecular structures. These diodes act as active layers for use in next-generation high-sensitivity organic applications. In addition, OPDs can act as a platform for integrated applications such as health monitoring, electronic eyes, and spectrometric analysis.
An Adaptive Approach to Modern-day Research Needs
What are the Advantages of Shifting Production Lines to 6 Inch Wafer Production?
Many companies in the U.S. are now shifting their production lines from 4 inch to 6 inch wafers to gain dominance in the market. Korea, Taiwan, and even China have now shifted their wafer production to bigger size dies to make more chips in less time.
The above-mentioned countries are moving ahead at a rapid pace with the shift in production capabilities to manufacture the best-in-class chipsets at reduced costs. For instance, First-sensor AG in 2019 announced plans to switch its semiconductor production line from four inch to six inch optical sensor chips at its headquarters in Berlin.
These production changes provide a beanbag for the photodiodes market to come up with highly advanced diodes in less time and tailor to the demand from a myriad of sectors such as telecommunications, automobiles, and consumer electronics, to name a few.
How Will Hyper Spectral Imaging Impact Demand for Photodiodes?
Photodiodes are increasingly being adopted in camera systems for hyperspectral imaging applications. Owing to their excellent quantum efficiency, InGaAs photodiodes are replacing silicon photodiodes in camera applications.
Hyperspectral imaging solutions have expanded their application reach to a large number of applications, including precision agriculture, medical diagnostics, food sorting, machine vision, waste management, etc. Photodiode-based camera systems are capable of sensing short-wavelength infrared light, along with offering a faster sensor response. These properties, in turn, lay the foundation for photodiodes to be used in high-end medical applications, surveillance and safety, astronomy, and art inspection through hyperspectral imaging technology.
Furthermore, focus of governments towards precision farming, rising healthcare expenditure across the globe, and increasing initiatives for waste management are some of the primary factors pushing the adoption of hyperspectral imaging systems. This is generally considered as a prime bellwether for the growing demand for photodiodes.
Avail customized purchase options for your needs
How will Increasing Smartphone Penetration Surge Market Expansion?   
Over 5 billion people across the world use mobile phones, and over half of these are smartphone devices. This presents a green pasture for photodiode manufacturers to coordinate with smartphone manufacturing companies and engage in long-term supply contracts.
Gaining a first mover advantage in new smartphone manufacturing destinations around the globe could prove to be a vital shot in the arm for key photodiode manufacturers due to rubicund growth prospects of the smartphone industry.
Key smartphone manufacturing companies such as Apple Inc., Huawei, OnePlus, etc., have been focusing more on camera technology in recent years, as smartphone cameras have increasingly become a powerful tool for amateur photography.
For instance, the iPhone 11 model launched by Apple in September 2019 focuses largely on camera technology. A similar trend is followed by companies such as Oppo and Vivo, which are looking to improve their camera technology in terms of low-light image capturing, low noise, etc. This is likely to push smartphone manufacturers to adopt high-end components such as advanced photodiodes, thereby creating a prodigious opportunity for market players.
What are the Key Challenges for Photodiodes Manufacturers?
Photodiodes are not invincible - they come with a fair share of positives as well negatives. Poor temperature sensitivity and higher dark current dependent temperatures are some intrinsic restraining properties of photodiodes.
Further, owing to their intricate structure, there comes fabrication difficulties for photodiodes, and these diodes cannot exceed their working temperatures. Moreover, high levels of noise and requirement of higher voltages are further restricting overall market growth.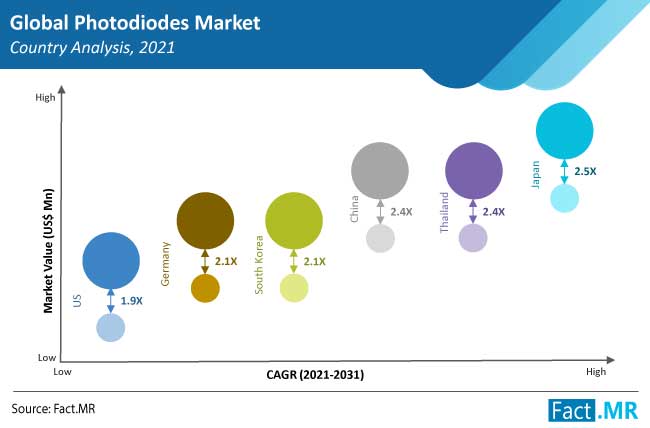 Country-wise Analysis
Why is the U.S. an Important Market for Photodiodes?
During the historical period, 2016-2020, the U.S. photodiodes market expanded at 2.5% CAGR. The United States has been a long-standing forte in photodiodes and semiconductors. Further, with extensive presence of semiconductor foundries in the country and the existence of top companies with widespread market dominance, the U.S. photodiodes industry is projected for immense gains over the coming years.
Moreover, for decades, U.S. companies have led the world in manufacturing minuscule chips that can power modern technologies. The U.S. is a leader in developing 5G-equipped technology, and has apparently developed all the advanced chips required for the semiconductor industry as a whole. Therefore, the U.S. is poised to play crucial role in the market over the coming years.
What Makes China a Leading Market for Photodiodes?
China is poised for preponderant growth over the forecast period, at a roaring pace of around 9% CAGR over the forecast period. China, predominantly known as the manufacturing hub of the world, is poised to gain market dominance over the impending decade due to the wide presence of semiconductor foundries in the country. China has the most number of wafer foundries in the world, backed by Taiwan.
Furthermore, the country's strong push in the market for mobilization of advanced technological solutions in photodiode manufacturing has made China a leader in wafer production. Thus, China is an unequaled country in the photodiodes space, and is expected to contribute significantly to market growth over the coming years.
Will South Korea Proliferate in the Photodiodes Industry?
South Korea is the next big country in photodiode production after China. South Korea's dominance in the market can be attributed to the presence of Samsung, the world's largest smartphone maker. South Korea holds the second-biggest share in the production of photodiodes. This is due to the country's manufacturing prowess and widespread availability of raw materials within the country.
How is Japan's Automobile Industry Driving Demand for Photodiodes?
Japan, after the U.S., has been the most prominent region traditionally in developing small chips for the world. Japan's SMEs contribute significantly in the market, making photodiodes and semiconductors as a whole for the world. Further, with the presence of automobile behemoths such as Toyota and Honda, demand for photodiodes in automobile industry is immense in this country.
Furthermore, with the advent of advanced driver-assistance systems and use of LiDAR sensors in cars, photodiodes are poised to experience immense demand over the period of forecast.
Category-wise Insights
Which Type of Photodiodes are Most-widely Used?
On the basis of type, avalanche photodiodes command the market with a dominant share in terms of value. Avalanche photodiodes find application in high demanding areas such as automobile systems and LiDAR sensors, which is poised to add more value to the market. Avalanche photodiodes are used in high-voltage and low-light applications, owing to which, the diode produces high levels of noise.
In terms of volume, PIN photodiodes are widely used. PIN type of photodiodes possess inherent characteristics such as low dark current, low noise, and high speed response, which is expected to mark their presence in the landscape.
Which Material is Preferred for the Production of Photodiodes?
Silicon holds a dominating share as far as photodiode manufacturing is concerned. Ominous presence of silicon photodiodes is due to the high sensitivity and low dark current that the material possesses. Further, silicon-based photodiodes provide less noise, high speed, and virtuous spectral response in almost every spectral range.
However, the use of InGaAs photodiodes is up and coming, and is poised to exhibit the fastest growth during the forecast period. Indium gallium arsenide possess low dark current and high sensitivity, with high use in infrared sensors, and are highly used in consumer electronics, owing to their inherent characteristics.
How will Telecommunications Prove its Worth in this Market?
Telecommunications has been an evergreen market for photodiodes. This industry has been a long standing pièce de résistance for photodiodes, finding extensive use of photodiodes in data communications, long range detection, optical communications, etc.
However, consumer electronics is also expected to provide prodigious opportunity for the market, owing to their use in compact disc players, smoke detectors, receivers, etc. Consumer electronics is considered as the next big market for photodiodes, as these devices find applications in TVs and cameras for imaging and sensing solutions.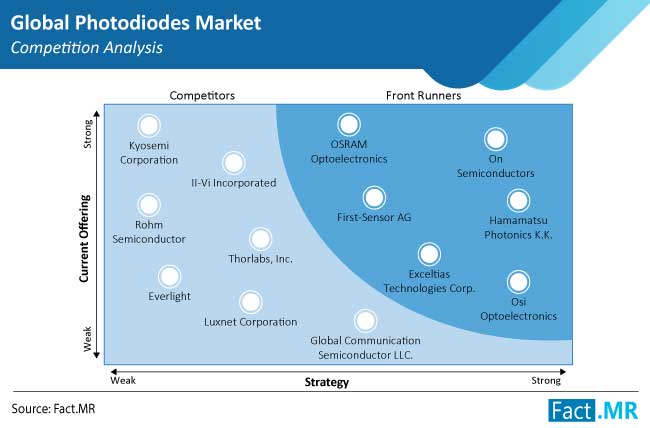 Competition Landscape
Fact.MR has profiled the following prominent photodiode providers in its report:
OSRAM Optoelectronics
First-sensor AG
Excelitas Technologies Corp
Hamamatsu Photonics Deutschland
Kyosemi Corporation
OSI optoelectronics
Edmund Optics
II-VI Incorporated
Rohm Semiconductor
Thorlabs, Inc.
Everlight
ON Semiconductor
Luxnet Corporation
Global Communication Semiconductor LLC
These are considered as the prominent players in the photodiodes market. Further, key market players are focusing on strategic mergers and acquisitions in the market to target immense potential that companies can offer.
Launching novel products with advanced connecting systems is one of the key priorities for photodiode manufactures. However, the market is a highly fragmented space with the dominant presence of large as well as small companies to choose from.
In 2019, Exceltias Technologies introduced APD arrays for delivering customized photonics solutions to its customers.
Kyosemi Corporation launched the industry's smallest photodiode with a broad range of sensitivity wavelengths ranging from 400 nm to 1700 nm. It is a surface mounted model to measure light in two wavelengths.
ON Semiconductors acquired Quantenna, which will further help the company in providing a strong base for connecting solutions for industrial IoT applications.
Coming up with novel products and targeting strategic acquisitions & mergers are key for manufactures to make their presence felt in this market.
Report Scope
Report Attribute

Details

Forecast Period

2021-2031

Historical Data Available for

2016-2020

Market Analysis

US$ Mn for Value and Mn Units for Volume

Key Regions Covered

North America
Latin America
Europe
East Asia
South Asia & Oceania
Middle East & Africa

Key Countries Covered

U.S.
Canada
Germany
Spain
Italy
France
U.K.
China
India
Thailand
ANZ
GCC
South Africa

Key Market Segments Covered

Type
Material
Mode of Operation
End-use Industry
Region

Key Companies Profiled

OSRAM Optoelectronics
First-sensor AG
Excelitas Technologies Corp
Hamamatsu Photonics Deutschland
Kyosemi Corporation
OSI optoelectronics
Edmund Optics
II-VI Incorporated
Rohm Semiconductor
Thorlabs, Inc.
Everlight
ON Semiconductor
Luxnet Corporation
Global Communication Semiconductor LLC

Pricing

Available upon Request
Key Market Segments Covered
By Type

PN Photodiodes
PIN Photodiodes
Avalanche Photodiodes
Schottky Photodiodes

By Material

Silicon
Germanium
Gallium Phosphide
Indium Gallium Arsenide
Others

By Mode of Operation

Photovoltaic Mode
Photoconductive Mode

By End-use Industry

Consumer Electronics
Telecommunications
Healthcare
Aerospace & Defense
Automotive
Others

By Region

North America
Latin America
Europe
East Asia
South Asia & Oceania
Middle East & Africa