Developments in Road Infrastructure Bolsters Soil Compaction Machine Sales
Transportation infrastructure plays an important role in the development of economies as it primarily controls the imports and export sector of every market. Globally, big infrastructure projects are in progress, notably for construction of roads, railways, bridges, and ports, to strengthen the transportation backbone. Every construction process requires compaction of soil to rearrange soil particles and reduce the void ratio. This is giving impetus to the utilization of soil compaction machines. With heightened uptick in road infrastructure activities, the demand for soil compaction machines is skyrocketing. Owing to this factor, Fact.MR opines that the global soil compaction machine market will reach a valuation of US$ 9 Bn mark by the end of the forecast period.
Heavy Compaction Machines Foreseen to Lead in Soil Compaction Machines Market
In the global soil compaction machines market, heavy compaction machine segment is likely to witness a four-fold increase in terms of revenue between 2019-26, owing to its significant utilization in multistory building construction, highways, and airport construction projects. On the other hand, light compaction machines are being used where less soil compaction is needed. However, sales of light tandem rollers, as opposed to trench rollers, are expected to account for more than 51% shares of the light compaction machines segment. Furthermore, owing to the superior productivity and compaction output offered by trench rollers, the segment is foreseen to grow ~1.5 times faster than light tandem rollers over the course of forecast duration, finds Fact.MR.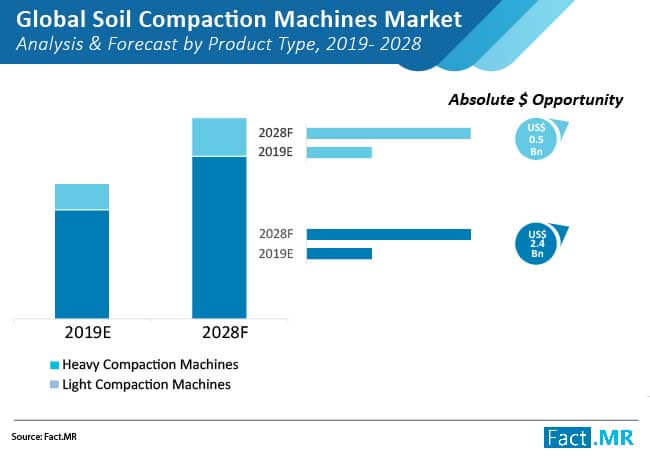 To get product related insights in the soil compaction machines market, request for a report sample here
Advanced Telematics is set to Steal Spotlight in Soil Compaction Machine Industry
Nowadays, due to stringent government mandates and consumer preference for connected vehicles, the adoption of telematics is on the rise. As the maintenance for the heavy-duty vehicles is more costly as compared to normal vehicles, advanced telematics helps in reducing the overall operating cost. Manufacturers in the soil compaction machines market offer service contracts and extended warranties to control operating costs throughout the lifespan of the machines. Following this trend, renowned players in the soil compaction machines market such as John Deere and Volvo have introduced machine monitoring services last year. The adoption of advanced telematics to reduce operating costs is likely to gain further momentum in the soil compaction machines market in the coming years.
Market Contenders will Have Lucrative Opportunities in Asia Pacific Soil Compaction Market
Metropolitan development and better connectivity become the paramount goal for various governments around the globe. The governments of developing economies like China and India are investing more to strengthen their transport infrastructure. In current scenario, policies like re-surfacing of roads in a specific period have increased the demand for construction equipment sales which includes soil compaction machines. In China, the 'one belt, one road' initiative helps in embolden the rapid expansion of transport infrastructure and it also stretches to Central Asia, the Middle East, and Europe. On the back of valuable investments in roads & building construction in the Asia Pacific region, the demand for soil compaction machines is skyrocketing, which in turn generate lucrative avenues for key market actors. According to the Fact.MR analysis, the Asia Pacific contributes 25% of the global revenues of the soil compaction machines market and the similar trend is foreseen to be followed over the course of forecast duration.
To get strategic insights on heavy soil compaction machines, ask an analyst here
Market Leaders Capitalizing Significantly in their R&D Endeavors to Meet the Need for Efficient Densification
Intelligent Compaction (IC) technology is being used by the operators of soil compaction machines to achieve uniform compaction. However, IC technology lacks the delivery of maximum compaction efficiency. Thus, key players are investing considerably in their R&D activities to achieve improved price to performance ratio. For Instance,
In 2018, Caterpillar, a well-known manufacturer of soil compaction machines, has developed a new Machine Drive Power (MDP) technology which delivers compaction with greater reliability
In 2018, BOMAG, recently featured its latest innovations- BOMAG 360 degrees compaction technology at BOMAG Innovation Days Asia 2018
Soil Compaction Machines Market - Scope of the Report
Fact.MR recently published a market study on the global market for soil compaction machines. The study provides detailed assessment on the key market dynamics, including drivers, trends, opportunities, restraints, and detailed information about the soil compaction machines market structure. The market study presents exclusive information about how the soil compaction machines market will grow during the forecast period of 2019-2028.
Key indicators of market growth, which include Year-on-Year (Y-o-Y) growth of the market, value chain, supply chain analysis, and Compounded Annual Growth Rate (CAGR) are explained in Fact. MR's study in a comprehensive manner. This information can help readers understand the quantitative growth prospects of the soil compaction machines market in the forecast period.
The study is relevant for stakeholders in the soil compaction machines market, including manufacturers, suppliers, distributors, and investors, and can help them in developing appropriate strategies to grow in the market. Stakeholders in the soil compaction machines market, investors, industry experts, researchers, and journalists, as well as business researchers can leverage the information and data presented in the Fact.MR study.
The study also includes statistics as well as facts related to macro as well as microeconomic factors that are impacting the developments in the soil compaction machines market. It also offers actionable insights based on future trends in the soil compaction machines market. Furthermore, small businesses and new entrants in the soil compaction machines market can make use of the information presented in this study, based on which, they can make appropriate business decisions in order to gain momentum in the market.
Key Segments of the Soil Compaction Machines Market
Fact.MR's study on the soil compaction machines market offers information divided into two important segments - product, and region. This report offers comprehensive data and information about important market dynamics and growth parameters associated with these categories.
Product

Region

Heavy Compaction Machines

Heavy Tandem Rollers

5-8 Tons
8-11 Tons
>11 Tons

Single Drum Rollers

3-5 Tons
5-8 Tons
8-12 Tons
12-15 Tons
>15 Tons

Pneumatic Rollers

North America

Latin America

Europe

CIS & Russia

Light Compaction Machines

Hand Operated Machines

Rammers
Vibratory Plates,(forward)
Vibratory Plates,(reverse)
Walk Behind Rollers

Light Tandem Rollers

<1.8 Tons
1.8-3 Tons
3-5 Tons

Trench Rollers

Japan

APEJ

MEA
Key Questions Answered in the Fact.MR Soil Compaction Machines Market Report
Which regions will continue to remain the most profitable regional markets for soil compaction machines market players?
Which factors will induce a change in the demand for soil compaction machines during the assessment period?
How will changing trends impact the soil compaction machines market?
How can market players capture the low-hanging opportunities in the soil compaction machines market in developed regions?
Which companies are leading the soil compaction machines market?
What are the winning strategies of stakeholders in the soil compaction machines market to upscale their position in this landscape?
Soil Compaction Machines Market: Research Methodology
In Fact.Mr's study, a unique research methodology is utilized to conduct extensive research on the growth of the soil compaction machines market, and reach conclusions on future growth parameters of the market. This research methodology is a combination of primary and secondary research, which helps analysts ensure the accuracy and reliability of conclusions.
Secondary resources referred to analysts during the production of the soil compaction machines market study include statistics from governmental organizations, trade journals, white papers, and internal and external proprietary databases. Analysts have interviewed senior managers, product portfolio managers, CEOs, VPs, marketing/product managers, and market intelligence managers, who have contributed to the development of this report as a primary resource.
Fact.MR offers custom research services that help clients to get specific research solutions
We are committed towards customer satisfaction and quality service.
---
Our Clients

Soil Compaction Machines Market Forecast, Trend Analysis & Competition Tracking - Global Market Insights 2019 to 2028