Pin Insertion Machines Market Outlook (2023 to 2033)
The valuation for the global pin insertion machines market stands at US$ 207.4 million for 2023 and is projected to reach US$ 389.3 million by the end of 2033. Worldwide sales of pin insertion machines are expected to increase rapidly at a CAGR of 6.5% over the forecast period (2023 to 2033).
A popular method that enables connections with power circuit boards (PCBs), plastic connectors, coil frames, etc., is the pin insertion technology because it offers cost-effectiveness and customization at commercial and industrial levels. This technology is preferred to complete connectors.
The necessity and demand for pin insertion machines are growing as industry 4.0 picking up steam globally and production facilities are moving toward automation. The implementation of IoT is having a positive influence on sales growth. The importance of data quality has increased as data-driven models are in demand due to COVID-19. Data recorded on a particular system can be easily traced by pin insertion machines.
Pin insertion machines are segmented into fully-automatic pin insertion machines, semi-automatic pin insertion machines, and manual pin insertion machines. Sales of fully automatic machines are expected to increase at a CAGR of 7.5% during the forecast period.
For assembling consumer electronics on a large scale, components are pushed into PCBs using fully-automatic pin insertion devices. By reducing cycle time, a fully-automatic machine increases the productivity of the manufacturing method. The quest for better performance has prompted the development of new automotive technologies, including telematics and in-car entertainment systems. As a result, demand for fully-automatic pin insertion machines is expected to be driven by the automobile industry's need for better levels of system performance. Demand for fully-automatic pin insertion machines is increasing due to the rising need for high-accuracy product downsizing, speed, and flexibility.
Demand for semi-automatic machines is predicted to progress at a CAGR of 6% from 2023 to 2033. Semi-automatic machines are quite versatile and are used in various industries. Semi-automatic machines help in producing effective security systems, speed sensors, and safety systems.
The precision of semi-automatic pin insertion methods is crucial given the current trend of the growing use of smaller electronics. Connector placement on printed circuit boards requires manufacturers to employ more-accurate methods. Because of their flexible functionality and improved performance, automated and semi-automatic insertion machines are becoming popular. These are particularly suitable for manufacturing several products or goods with intricate designs.
Report Attributes

Details

Pin Insertion Machines Market Size (2023E)

US$ 207.4 Million

Forecasted Market Value (2033F)

US$ 389.3 Million

Global Market Growth Rate (2023 to 2033)

6.5% CAGR

China Market Growth Rate (2023 to 2033)

7.5% CAGR

Japan Market Growth Rate (2023 to 2033)

4% CAGR

Germany Market Growth Rate (2023 to 2033)

4.5% CAGR

Canada Market Growth Rate (2023 to 2033)

4% CAGR

Key Companies Profiled

TE Connectivity Ltd.
Autosplice, Inc.
SYNEO
Universal Instruments Corporation
Zierick Manufacturing Corporation
Harmontronics Inc.
Eberhard
UMG Technologies
Teeming Machinery Co., Ltd
Itasca Automation Systems, LLC
Know thy Competitors
Competitive landscape highlights only certain players
Complete list available upon request
Which Market Trends are Driving the Sales of Pin Insertion Machines?
"Increasing Demand for Miniature Electronic Devices"
Demand for small, light, portable, battery-powered goods such as phones, tablets, and laptops, is driving changes in the packaging of electronic components. The electronics industry's desires for downsizing and decreasing the complexity of devices have made it necessary to include a higher component density in a PCB assembly.
To attach connectors to circuit boards, which are essential for producing electrical products, pin insertion machines are used. Hence, the downsizing technology used in the production of electrical components in industries such as automotive, medical, and aerospace is boosting sales of pin insertion machines.
The COVID-19 outbreak has increased the need for personal health monitoring systems. Pin installation machines are widely used in the healthcare industry to manufacture several devices. Thus, the rising demand for health monitoring devices is boosting demand for pin insertion technologies.
"Technological Advancements Aiding Market Growth"
The market for pin insertion machines is expected to develop rapidly as a result of the emergence of the Internet of Things (IoT) and the rising demand for complex electronic systems in the car industry for safety and infotainment capabilities.
Rising consumer demand for automotive connectivity is increasing the need for advancements in technology. Connected automobiles are becoming increasingly important as a result of the ongoing trend of touch-free human-machine interfaces, which are transforming the automotive industry.
The advancement of technologies such as adaptive cruise control, intelligent parking assistance systems, and advanced driver assistance systems (ADAS) are expected to boost sales of pin insertion technologies. Because of the constant reduction in the size of these electronic systems, more electrical connections must fit into constrained packing areas. As a result, pin insertion machines are in high demand for the effective assembly of interconnecting components in vehicle electronics.
Which Factor is Hampering Demand for Pin Insertion Machines?
"Occurrence of Nesting Errors-Serious Issue for Automated Pin Installation"
Automated inserters are used to process reeled press-fit and through-hole components into power circuit boards. They are entirely self-contained. Pins are regularly transported to the installation site during automated assembly, where they are reliably put into pieces after being deposited into a hopper or bin. To prevent machine downtime, the feed system and feed head should ideally be free of clogs.
There are two issues with automatic slotted-pin installation: the PCB's lack of square ends and nesting errors that arise during the connection. Pins sticking together can cause automated systems to become jammed. Pins are advanced for escapement if there is no jamming issue in the feeding system, however, this is prevented if a slotted pin becomes entangled with an adjacent pin in the feed tube. As a result, the process experiences more downtime.
More Insights, Lesser Cost (-50% off)
Insights on import/export production,
pricing analysis, and more – Only @ Fact.MR
Why do Small- and Medium-sized Companies Find the Installation of Pin Insertion Machines So Difficult?
"Product Installation Requires Huge Budget"
Huge amounts of funds are required to install automatic or semi-automatic pin insertion devices. Due to financial restrictions or a lack of budget, several small and medium-sized businesses are hesitant to adopt these pin insertion machines. Thus, such factors are hampering sales of pin insertion machines to some extent.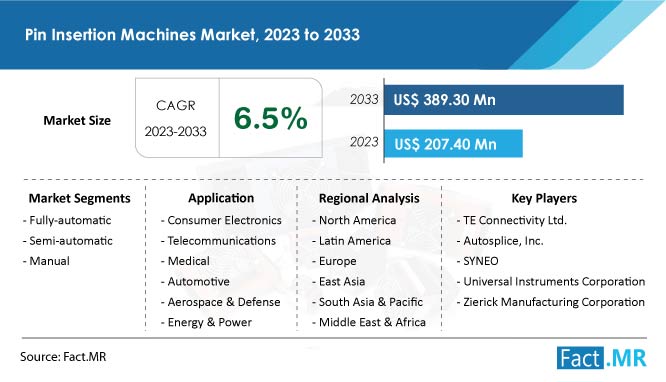 Country-wise Analysis
How is Germany's Healthcare Sector Supporting the Sales of Pin Insertion Machines?
"Increasing Use of Pin Insertion Machines in Manufacturing Patient Monitoring Devices"
Demand for patient monitoring devices in Germany is anticipated to rise as the prevalence of chronic diseases such as cancer, diabetes, cardiovascular and neurological diseases, etc., are increasing among the population. Pin insertion machines are widely used in the development process of medical monitoring devices. Sales of pin installation technologies in Germany are expected to increase at a CAGR of 4.5% during the forecast period.
GLOBOCAN estimated that there were 628,519 new cancer cases in Germany in 2020, including 69,697 new cases of breast cancer, 67,959 new cases of prostate cancer, 64,804 new cases of lung cancer, 35,147 new cases of bladder cancer, 57,528 new cases of colorectal cancer, and 333,384 new cases of other cancers.
According to the Alzheimer's Association, the number of individuals suffering from Alzheimer's disease was 1.6 million in Germany in 2021.
Growth of the patient monitoring market in Germany is anticipated to be aided by ongoing product development and commercialization as well as strengthened distribution networks of leading product manufacturers. Thus, rapid developments in patient monitoring devices are increasing the demand for pin insertion machines.
For instance, Xiaomi introduced the Redmi Watch 2 Lite smartwatch in Germany's European market in December 2021 for EUR 79. It monitors heart rate, steps taken, and blood oxygen levels.
What's Driving Demand for Pin Insertion Technologies in the United States?
"Advanced Aerospace & Defense Sectors"
The aerospace sector is involved in the design and production of space-operating objects such as aircraft, missiles, rockets, and spacecraft. Arms, equipment, and weaponry utilized for military operations are referred to as defense items.
In terms of manufacturing and infrastructure activities, the aerospace and military industry in the United States is among the largest industries across the globe. The market for pin insertion machines is primarily driven by investments in the aerospace and defense industries, which is also backed by increasing demand from end users in both the commercial and military sectors for its products.
Pin installation technologies play an important role in the manufacturing of aerospace & defense products. The sales growth is additionally supported by the existence of established market players in the United States, whose production and R&D capacities foster the development of the sector.
Why is Asia Pacific Considered a Huge Market for Pin Insertion Machines?
"Presence of Major Automotive & Semiconductor Industries"
Growing demand for consumer electronics in China, the existence of numerous integrated device producers and integrated circuit manufacturing companies in Taiwan, technological breakthroughs in automotive manufacturing industries in Japan, and developments and breakthroughs in the semiconductor manufacturing industry in South Korea are some of the factors boosting the market growth in Asia Pacific.
A majority of electronic firms outsource production to low-cost countries in this region for activities such as semiconductor assembly and testing. The largest semiconductor market in the world is China. Due to good economic conditions and fewer trade obstacles, the Asia Pacific region is also predicted to show significant growth in the global semiconductor market. All of these elements are contributing to the steady expansion of the Asia Pacific market for pin insertion machines.
Know thy Competitors
Competitive landscape highlights only certain players
Complete list available upon request
Category-wise Analysis
Why is Press-fit Technology Widely Preferred in This Space?
"Several Advantages of Press-fit Technology Over Standard Soldering Process"
Demand for press-fit technology is developing quickly. Manufacturers of PCBs and semiconductor devices primarily choose the press-fit method since it has various benefits over the standard soldering process. The reliability of this technique is one of its main benefits.
Additional benefits of press-fit technology include a quick assembly time, strong mechanical retention force, the ability to mount components on PCBs on both sides, and the absence of thermal stress on connectors or PCBs. When there are more electronics in automobiles, the demand for electrical connections increases subsequently. This is accompanied by thinner PCBs. All of these elements are increasing the need for effective and efficient pin insertion technologies.
Competitive Landscape
TE Connectivity Ltd., Autosplice, Inc., SYNEO, Universal Instruments Corporation, Zierick Manufacturing Corporation, Harmontronics Inc., and Eberhard are some of the key players in the pin insertion machines market. Leading companies are engaged in providing specialized solutions to end users to obtain a competitive edge and increase their sales.
Fact.MR, a market research and competitive intelligence provider, in its most recent analysis of the pin insertion machines business, reveals the marketing strategies of top companies.
In July 2021, TE Connectivity announced that it signed an agreement to acquire ERNI Group AG to extend its connection product range in high-speed and fine-pitch connectors for industry 4.0, automotive, healthcare, and other industrial applications.
Key Segments of Pin Insertion Machines Industry Research
By Method :

Fully-automatic
Semi-automatic
Manual

By Technology :

Press-fit
Through-hole
Surface-mount

By Insertion Platform :

PCBs
Coil Frames
Lead Frames
Transformers
Plastic Connectors
Metal Components

By Application :

Consumer Electronics
Telecommunications
Medical
Automotive
Aerospace & Defense
Energy & Power

By Region :

North America
Latin America
Europe
Asia Pacific
MEA