Geosynthetic Clay Liners Market
Geosynthetic Clay Liners Market By Product Type (Fabric-encased,Geomembrane-supported), By Technology (Reinforced, Non-reinforced, Composite Laminate), By Application, By Region - Global Market Insights 2020 to 2030
FACT2028MR
Feb-2021

List of Tables : 94

List of Figures : 132

170 Pages
Geosynthetic Clay Liners Market Outlook
Globally, the geosynthetic clay liners market is expected to witness exceptional growth over the forecast period through 2030, by virtue of increasing climate change concerns and profound apprehensions regarding waste management.
Geosynthetic clay liners are used in a wide variety of applications, such as landfills, mining, construction, etc., which require seepage and water contamination control to prevent ecological or environmental problems. Asia Pacific, followed by North America and Europe, are key markets for geosynthetic clay liners.
Fact.MR, in its latest research report, offers insights on key factors expected to fuel demand over the ongoing decade. The report tracks the market in 20+ high-growth countries, and also talks about how the COVID-19 pandemic is having an impact on this industry.
Interested to Procure The Data
Historical Trends & Future Projections
From 2015 to 2019, the global geosynthetic clay liners market exhibited a CAGR of 5.1%. Realization of waste generation problems and its management by most countries was one of the key reasons driving.
Increased infrastructure spending by high potential countries in the market is likely to push the market northwards.
Furthermore, there has been progression in the manufacturing of geosynthetic clay liners (GCL), such as the inception of custom polymer coated GCL for greater strength and improved chemical properties of geosynthetic clay liners.
By virtue of these extensive factors, the geosynthetic clay liners market is expected expand at an impressive CAGR of around 7% over the forecast period of 2020-2030.
How will Custom Coating of Geosynthetic Clay Liners Impact Demand?
Custom-coated GCL refers to customized offerings by companies by coating GCL with chemical as well as physical property enhancers, to boost the quality of the product.
Numerous companies have started customizing their existing GCL lineup of products, so as to provide tailor-made application-oriented products to different clients.
For instance, NAUE group has customized the Bentofix product to come out with the extra polyethylene-coated product Bentofix X, with improved extrusion resistance.
Similarly, in 2019, Cetco launched a new class of universal Resitex, which is a polymer-modified GCL with improved resistance to calcium chloride and high-strength leachates.
Moreover, Agru America's GeoClay NN66E is a similar modification with a propriety blend of polymer additives to improve its shear strength and provide extra protection in harsh environments, specifically for moderate to steep slopes
Therefore, custom coating of geosynthetic clay liners is poised to provide ample opportunities for the market over the forecast period
An Adaptive Approach to Modern-day Research Needs
What is the Government's Role in the Geosynthetic Clay Liners Space?
Government bodies are a double-edged sword. They could either help the market grow handsomely or bring down demand by implementing several policies and regulations. However, the market is being encouragingly supported by various governments.
Rising number of GCL orders from specific regions, regional governments entering into long-term relationships, government bodies placing renewal orders are expected to create a newer continued revenue source for companies in the market.
According to U.S. Government, deteriorating infrastructure of America, including congested roads and aged water and wastewater treatment facilities, is costing a lot to the government.
The U.S. federal government has decided in principle to invest 2 trillion dollars over the next 10 years in order to meet potential demand and regain the competitive advantage of the country.
This, in turn, could open new avenues for long-term relationships between various companies and the U.S. government, so as to deliver the required geosynthetic clay liners to be used in solid waste and wastewater management facilities.
How will Renewable Energy Generation Benefit Geosynthetic Clay Liners?
The electricity generation industry has traditionally been dependent on coal as an electricity source. But because of many social, economic, and environmental consequences of the energy sector, businesses are turning to renewable power generation.
In particular, companies are under enormous pressure not only to change the way they produce electricity but also to increase its reliability, efficiency, and the overall impact on the environment.
This is evident from the many energy-driven policies over the years in USA, Columbia, the European Union, Saudi Arabia, Japan, and Australia, where hydro-electricity output is projected to be around 1800 GW by 2040, as per the International Energy Agency's World Energy Outlook.
Moreover, it would enable countries to pursue different projects and reservoirs for the development of hydroelectric electricity, which would proportionally increase requirements for geosynthetic clay liners.
Avail customized purchase options for your needs
What is Effect of Bentonite Production on Geosynthetic Clay Liners? 
Bentonite, a principle additive used in geosynthetic clay liners in mass amounts, is produced mostly by countries such as the U.S., Greece, China, and India, who produce around 60% of total bentonite produced in the entire world.
Apart from the U.S., developing countries such as India, Turkey, Mexico, and Brazil are increasing bentonite production, owing to rising benefits and usage of naturally occurring sodium bentonite in geosynthetic clay liners.
Additionally, bentonite-based products are being extensively accepted by clients for their multipurpose use. Furthermore, increased geosynthetic application in a multitude of industries, are, in turn, aiding market development.
What are the Key Challenges for Geosynthetic Clay Liner Manufacturers?
Very thin GCL is prone to punctures, and there have been case studies indicating this issue in detail. However, numerous manufacturers are opting to improve their puncture resistance and shear strength by adding modified polymer additives so as to make it more durable.
This proneness to puncture is a factor that inhibits geosynthetic clay liners market growth. Additionally, dominant presence of alternatives such as geomembranes, sheet drains, geogrids, and geotextiles is expected to hamper the growth of the geosynthetic clay liners market over the coming years.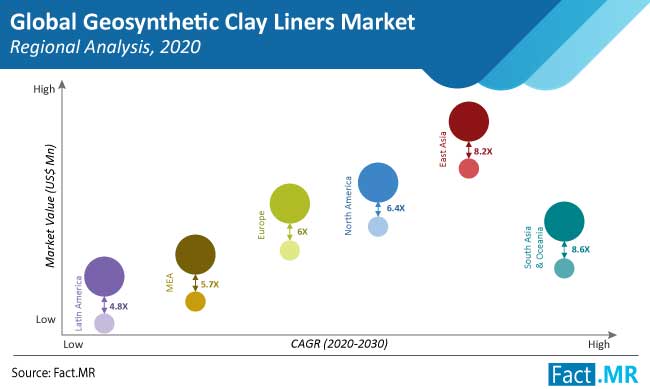 Country-wise Analysis
Are Geosynthetic Clay Liner Sales Prospects Good in the U.S.?
Up Until 2019, the U.S. market experienced handsome growth at 5.2% Y-o-Y to cross US$ 72 million. This growth was supplemented by the U.S. government's increased infrastructure spending push.
Large scale infrastructure spending as well as enhanced waste management processes are likely to augment the growth of the geosynthetic clay liners market further in the country. Also, the government's recent bid on climate change and use of renewables is poised to augment sales over the coming years.
Why is the China Geosynthetic Clay Liners Market Booming?
Historically, China's geosynthetic clay liners market has exhibited robust growth of 7% CAGR. China, with its huge mining and landfill sector, is expected to account for high demand for GCL in future as well.
Increased focus of the government on infrastructure and waste management has exhibited sturdy growth for the market. With its mass populace and copious bentonite production, the market in China is poised to grow exponentially over the forecast period, and remain the largest through 2030.
Why is Germany Leading the Geosynthetic Clay Liners Market in Europe?
Germany has shown steady growth for geosynthetic clay liners. Majority of the companies operating in the market have manufacturing bases in and around Germany.
Among the European nations, Germany is a crucial market with its geographic location and abundant availability of raw materials within the country.
Additionally, recent innovation in GCL production by NAUE Group, such as custom coating of GCL with polyethylene to make a novel product for use in the market, has further augmented the sales of geosynthetic clay liners in the country.
Category-wise Insights
Are Fabric-encased Geosynthetic Clay Liners Expected to Go Mainstream?
On the basis of type, the market is segmented into two distinct types, i.e. fabric-encased and geomembrane-supported. Upon rigorous analysis, fabric-encased geosynthetic clay liners occupy a majority share of around 60% of the segment.
Geomembrane-supported GCL adoption is high in emerging regions, high shear strength and puncture resistance for varied applications. A key reason for increasing use of fabric-encased geosynthetic clay liners is the robustness and economical costs involved for the installation of these liners.
How Big is the Opportunity in Landfills?
The application segment of the geosynthetic clay liners market is classified into six main categories, i.e. landfills, mining, ponds, construction, fuels spillage containment, and other applications.
Among these, construction and mining hold a share of around 55%, owing to increased investments and spending in infrastructure and rapid ongoing mining projects, globally.
Landfill use of geosynthetic clay liners is projected to grow at a handsome pace of 7.5%. Key reason being, increasing awareness about climate change and apprehensions regarding waste management, globally.
How Much Market Share Do Reinforced Geosynthetic Clay Liners Occupy?
By technology, reinforced geosynthetic clay liners hold a dominating position in the market, generating more than half of the total revenue. Reinforced geosynthetic clay liners have gained immense popularity due to their high physical and chemical properties.
Reinforced technology helps make clay liners more durable by sandwiching two highly durable geotextiles with a uniform core of sodium bentonite layer. Further, reinforced technology makes these liners multifunctional, which can be used with a diverse set of applications.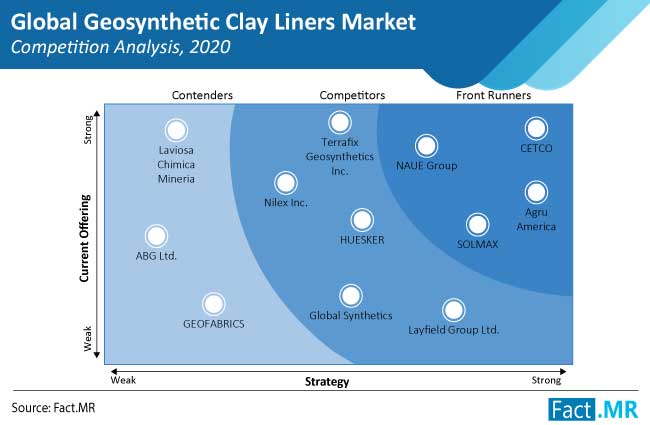 Competition Landscape
These aforementioned players operate in the market which is fragmented, due to the availability of a bountiful amount of raw materials around the globe. Key players hold an advantageous position in the market, and are perusing organic as well as inorganic growth strategies
Manufacturers' inclination towards consumers' requirements, and providing reliable, safe geosynthetic clay liners with improved chemical properties are key factors driving the market. Manufacturers of geosynthetic clay liners opt for localized sourcing of bentonite and production of geosynthetic clay liners.
Manufacturers are inclined towards bringing the best-in-class product for customers.
For instance, CETCO launched a newer edition of its BENTOMAT product lineup - BENTOMAT DN-HS geosynthetic clay liner - which is a reinforced GCL having improved slope stability for usage in containment systems present in seismic areas.
NAUE Group renovated its existing GCL facility in Malaysia, in 2020, to include newer technology installation for the production of polyethylene-coated Bentofix X products and improve its overall production capacity.
Report Scope
Attribute

Details

Forecast Period

2020-2030

Historical Data Available for

2015-2019

Market Analysis

US$ Mn for Value & Mn Sq. Meters for Volume

Key Regions Covered

North America
Latin America
Europe
East Asia
South Asia & Oceania,
The Middle East & Africa

Key Countries Covered

U.S.
Canada
Germany
Spain
Italy
France
U.K.
China
India
Thailand
ANZ
GCC,
South Africa

Key Segments Covered

Product Type
Technology
Application
Region

Key Companies Profiled

CETCO
Agru America
NAUE Group
GSE Holdings
HUESKER
Terrafix Geosynthetics Inc.
Nilex Inc.
Laviosa Chemica Mineria
Layfield Group Ltd
Global Synthetics
GEOFABRICS
ABG Ltd.

Customization & Pricing

Available upon Request
Key Segments Covered of Geosynthetic Clay Liners Market
Product Type
Fabric-encased
Geomembrane-supported
Technology
Reinforced
Non-reinforced
Composite Laminate
Application
Landfills
Mining
Ponds
Construction
Fuel spillage containment
Others
Region
North America
Latin America
Europe
East Asia
South Asia & Oceania
Middle East & Africa