Bleaching Clay Market
Bleaching Clay Market By Product (Fuller's Earth, Activated Clay, Activated Bauxites), By End Use (Edible Oils & Fats, Mineral Oils & Lubricants) & Region - Global Forecast 2022 to 2032
FACT7369MR
May-2022

List of Tables : 25

List of Figures : 132

170 Pages
Bleaching Clay Market Outlook (2022-2032)
The global consumption of bleaching clay is predicted to increase at a high CAGR of 7.2% from 2022 to 2032. In 2021, the global bleaching clay market was valued at US$ 887.8 million and is anticipated to reach US$ 1.86 billion by the end of 2032.
The edible oils & fats segment is projected to increase at a CAGR of 7.5% from 2022 to 2032, attributed to rising demand from the food and beverage industry.
Report Attributes

Details

Bleaching Clay Market Size (2022)

US$ 932.2 Million

Projected Year Value (2032)

US$ 1.86 Billion

Global Market Growth Rate (2022-2032)

7.2% CAGR

Europe Market Share (2022)

26.8%

Key Companies Profiled

Clariant
EP Minerals
Mineral Technologies Inc.
Musim Mas
Refoil Earth Pvt Ltd.
Taiko Group of Companies
Avail customized purchase options for your needs
Demand Analysis of Bleaching Clay (2017-2021) Vs Market Outlook (2022-2032)
As per Fact.MR, a market research and competitive intelligence provider, from 2017 to 2021, the global bleaching clay market experienced a CAGR of around 5.3%.
Bleaching clay is a type of clay with a high adsorption capacity that can be used to decolorize and refine oils and fats. The main supply material for bleaching clay is montmorillonite, also known as hydrated aluminum silicate, which provides bleaching clay with its essential adsorption properties.
Sludge, phospholipids, sulfonic acid, and residues of metal are often removed from oil using bleaching clay. Bleaching, decolorizing, and refining oils and fats are also common uses. It has a variety of benefits, including improved adsorbent activity and impurity removal of pollutants such as phosphatides, oxidation products, pigments, metals, and soaps.
Rising urbanization, as well as the growth and expansion of various end-use industries, will have a direct and beneficial impact on the bleaching clay market growth rate, especially in developing economies.
The global bleaching clay market is slated to expand rapidly at 7.2% CAGR from 2022 to 2032.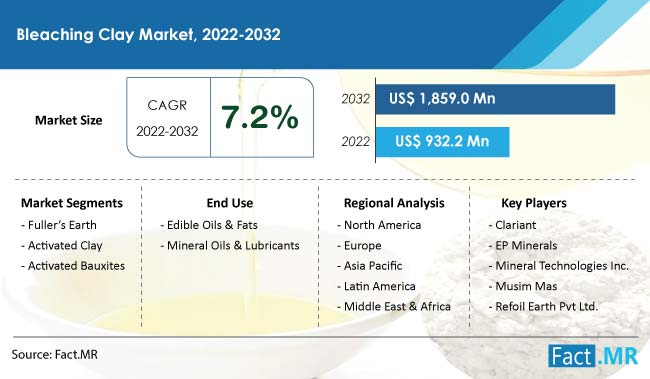 Which Key Market Factors are Fuelling Sales of Bleaching Clay?
"Rising Adoption of Mineral Oils in Cosmetic Industry & Emergence of Biofuels"
Mineral oils are frequently utilized in the creation of cosmetics and personal care products, and their refining takes a lot of high-quality bleaching clay. The high rise in cosmetic items would necessitate increased use of bleaching clay for mineral oil refining, resulting in market expansion over the forecast period.
Additionally, increased environmental consciousness is favorably boosting market growth by expanding the use of acid-activated bleaching earth in the production of biofuels as a sustainable energy resource.
How is Bleaching Clay Market Growth Being Impeded to Some Extent?
"Stringent Guidelines & Volatility in Raw Material Prices Hurting Market Growth"
Several environmental hazards are connected with edible oil manufacturing, for which EHS norms are being implemented, which may impede the demand for bleaching clay over the forecast period.
Market growth pace will also be slowed due to price fluctuations in raw materials and strict safety regulations put in place by government organizations.
An Adaptive Approach to Modern-day Research Needs
Which Region Accounts for Most Demand for Bleaching Clay?
"Increased Government Incentives for Biofuel Production Driving North America Market Growth"
North America accounts for 31.9% share of the global bleaching clay market. The region is a leading supplier of edible oils, both crude and processed. Bleaching earth is used in the manufacture of refined edible oils to remove impurities and other elements. As a result, higher refined oil output is likely to fuel demand for bleaching earth products, pushing market expansion over the forecast period.
Furthermore, with increased government incentives for biofuel production and different agricultural benefits, the region is likely to maintain its dominance in bleaching clay demand over the coming years.
Country-wise Insights
What Can Bleaching Clay Suppliers Expect from the U.S. Market?
"Large-scale Raw Material Production Driving Market Expansion"
The U.S. bleaching clay market is projected to expand at a CAGR of 8% from 2022 to 2032. The United States is likely to be the next big market for bleaching clay, owing to people's growing preference for low-cholesterol oils, which will drive up demand. In addition, rising oilseed output is predicted to propel market growth in the country over the forecast period.
Large-scale raw material production, combined with a large presence of activated bleaching clay manufacturers, is likely to boost market expansion over the forecast period.
Will China Be a Prominent Market for Bleaching Clay Producers?
"Rising Demand for Cosmetics to Propel Market Revenue in China"
The market in China is expected to rise at a CAGR of 7.8% over the forecast period. Vegetable oil use is rising due to changing lifestyles, increased awareness of a healthy diet, and an expanding population.
Market growth can be related to increasing vegetable oil usage. Furthermore, rising crop yields are driving vegetable oil output in China, resulting in increased natural bleaching clay demand for purification and refining. Rising adoption of hair clay in cosmetics production is also driving the market growth in China.
Category-wise Insights
Why is Activated Clay Usage Rising Rapidly?
"Growing Demand for Activated Clay to Improve Refining Processes"
Activated clay is estimated to register a significant CAGR over the forecast period. Because of its widespread application in the refining of vegetable and mineral oils, activated clay dominates the bleaching clay market. As it effectively eliminates contaminants and enhances oil flavor, it is one of the most extensively used bleaching clay kinds in the refining process.
Use of activated bleaching earth to improve refining processes is the subject of extensive research and development.
Activated bleaching clay has a higher adsorption capability. The rising use of activated clay in various purification processes will drive activated bleaching clay demand, making it a leading segment as compared to Fuller's earth and activated bauxites.
Which End Use of Bleaching Clay is Most Rewarding for Market Players?
"Edible Oils & Fats Remain Dominant End Use Due to Rising Consumption of Processed Food"
Edible oils & fats account for 83.5% share of the global bleaching clay market, handsomely leading over the other end-use segments of mineral oils & lubricants and others. When vegetable oils such as soybean, rapeseed, and palm oil are harvested, they contain contaminants that must be eliminated to obtain a high-quality product.
In the purification process for edible oils and fats, bleaching earth is used to eliminate impurities that may influence the flavor and appearance of the oils.
Furthermore, sales of bleaching clay for edible oil have been driven by rising public awareness of the vegan diet and rising consumption of processed foods. Because of the growing demand for edible oil, high-performance bleaching earth is used more frequently in the refining process, propelling the bleaching clay market forward during the forecast period.
As a result, growing demand for vegetable oil from a variety of industries, including cosmetics, biofuel production, and food processing, is likely to propel the segment forward.
COVID-19 Impact on Bleaching Clay Consumption
The COVID-19 pandemic had a negative impact on the bleaching clay industry due to several disruptions in the bleaching clay ecosystem. Supply chain disruptions, job stoppages, and the cancellation of scheduled projects were among the key factors that shook the market.
Work stoppages caused by plant shutdowns hampered the cosmetics industry which is one of the key application areas of bleaching clay. The global beauty products industry got hit by the pandemic during the lockdown which restricted the incorporation of bleaching clay, and ultimately slowed down the growth of the bleaching clay market.
Growth in demand for refined vegetable oil increased attention on maximizing oilseed yields, and a rise in technological innovations in industrial chemical manufacturing processes will all contribute to the market expansion.
Competitive Landscape
Top companies in the bleaching clay market have a diverse product range and are involved in a variety of R&D activities. Bleaching clay manufacturers are concentrating on in-house bleaching clay production.
For instance :
In August 2021, Clariant purchased Beraca, a Brazilian personal care specialties company that specializes in cosmetic quality, non-refined, and processed oils. Clariant's Care Chemicals business, which includes beauty products, will benefit from this acquisition.
Key Segments Covered in Bleaching Clay Industry Research
Bleaching Clay Market by Product :

Fuller's Earth
Activated Clay
Activated Bauxites

Bleaching Clay Market by End Use :

Edible Oils & Fats
Mineral Oils & Lubricants
Other End Uses

Bleaching Clay Market by Region :

North America
Europe
Asia Pacific
Latin America
Middle East & Africa