Polybutylene Terephthalate (PBT) Market
Assessment of Polybutylene Terephthalate (PBT) Market Forecast, Trend, Analysis & Competition Tracking - Global Market Insights 2021 to 2031
FACT2406MR
Jun-2021

List of Tables : 202

List of Figures : 256

170 Pages
Market Snapshot
Newly released polybutylene terephthalate (PBT) industry analysis shows that global demand enjoyed year-on-year (YoY) growth of 5.7% in 2021, to total 1,309 KT. In terms of value, 30% reinforced PBT displayed growth of 5.8% to be valued at US$ 1 Bn, while >50% reinforced PBT was up 4.8% to reach a valuation of US$ 273 Mn.
Key Points Covered in Polybutylene Terephthalate Industry Survey:
Market Estimates and Forecasts (2016-2031)
Key Drivers and Restraints Shaping Market Growth
Segment-wise, Country-wise, and Region-wise Analysis
Competition Mapping and Benchmarking
Market Share Analysis
COVID-19 Impact on PBT and How to Navigate
Recommendation on Key Winning Strategies
Demand Analysis of PBT from 2016 to 2020 Vs Sales Forecasts for 2021 to 2031
According to Fact.MR - a market research and competitive intelligence provider, the global polybutylene terephthalate market expanded at a CAGR 4.2% during 2016-20. Over the past half-decade, the automotive industry has driven consumption of polybutylene terephthalate.
PBT demand from the automotive industry is expected to grow at a healthy 6.8% CAGR, and is anticipated to generate sales close to US$ 1.5 Bn by 2031. Moreover, developed countries such as the U.S., Canada, Germany, U.K., and Italy held significant share in the global market.
Historically, polybutylene terephthalate has been used in range of automotive applications, including structural parts for ignition coils and chassis creating remunerative opportunities in the market. Besides, owing to the superior properties of PBT at higher temperatures as compared to its substitutes, electrical and electronic application is forecast to become prominent and expected to be valued over US$ 2.3 Bn by 2031.
Innumerable applications of polybutylene terephthalate in electrical encapsulation materials, electrical insulation polymers, and electrical and electronic plastics are set to invigorate its demand over the forecast period.
It has been observed from the past half-decade that 51% of engineering plastic products and materials utilized in automotive, electrical, and electronics applications are PBT-based. Furthermore, owing to its high melting point, PBT has been gain popularity in the thermoforming of packaging and extrusion of films.
Considering growing adoption of polybutylene terephthalate in numerous industries and shift in overall market dynamics, globally, the PBT market is forecast to expand at a healthy CAGR of more than 6% over the coming 10 years.
Know More Details About the Report
What are the Key Opportunities for PBT Manufacturers?
Polybutylene terephthalate, with its excellent impact resistance, chemical stability, high temperature resistance, etc., can replace metals as engineering materials in industries such as automobile and industrial equipment.
Government of countries such as China and in several countries of European Union are supporting manufacturers of polybutylene terephthalate by looking into incentivizing the producers over the PBT produced and encouraging the investors to channel their investments in this high potential business.
Due to extensive production and consumption of PBT in East Asia especially China, has favored economies of density. This factor is anticipated to invite foreign players to invest in production of PBT in the country which would not only provide higher absolute $ opportunity but also would pave way for the manufacturers to enhance their market share across the globe over long-run forecast period
Moreover, government-led campaigns such as "Make in India" planned to reduce the import dependency of engineering plastic including polybutylene terephthalate. The plan includes invitation of global players in Indian market simultaneously encourage them to build up new manufacturing plant in Indian soil which leads to increased availability of engineering plastics at comparatively lesser cost.
What are the Challenges Faced by PBT Suppliers?
Existence of alternate products with almost identical properties are curtailing demand for polybutylene terephthalate. Several manufacturing companies are targeting PBT supply by offering reliable substitutes for it.
For instance, Shell Chemical is focusing on production of polytrimethylene terephthalate (PTT) as a replacement for PBT. In the year 2019, the company announced a cluster of commercial-scale expansions to serve markets related to PBT. The company also planned to sell 600 million pounds worth of PTT as a replacement of PBT.
Like PBT, PTT's primary monomer is terephthalic acid (TPA), but PBT contains 1,4 butanediol and PPT uses 1,3 propanediol as its glycol. Keeping aside the difference in chemistry, the properties of polytrimethylene terephthalate (PTT), including flexural modulus, tensile strength, and heat deflection temperature are quite similar to PBT. Moreover, the substitute has already penetrated the market, and is likely to affect demand for PBT over the long-run forecast period.
Will Sales of Polybutylene Terephthalate Gain Traction Due to Escalating Demand for e-Mobility?
Growing utilization of polybutylene terephthalate in electric vehicles for manufacturing of interior as well as exterior body parts is set to propel the market growth during the forecast period 2021-2031.
Growing awareness towards environmental pollution is causing a shift in consumer preference towards electric vehicles instead of fuel (diesel, petrol and CNG) based vehicles. Automotive trends, such as electrification, automated driving and a push towards reducing emissions are creating a progressive growth environment for polybutylene terephthalate market.
In addition, hydrolytically resistant PBT made a great impact in manufacturing of several sensitive electronic sensors for electric vehicles. Owing to a plethora of applications in electrical vehicles, consumption of polybutylene terephthalate is anticipated to increase by over 6% CAGR during 2021-31.
Avail customized purchase options for your needs
Which Region Offers the Largest Opportunity for Sales of PBT?
East Asia is forecasted to be the most lucrative market for PBT suppliers, and the region will maintain its dominance with an anticipated absolute $ opportunity worth around US$ 1.4 Bn by 2031.
Being a prominent automotive producer in the world, China is witnessing the highest consumption of polybutylene terephthalate in the region. China accounted for over 1/3 of the global market in 2020, and is expected to continue its dominance over the forecast period.
Additionally, over the past half-decade, region has witnessed steady growth in electric vehicles production, which has provided a clear picture of the PBT consumption growth.
After East Asia, Europe, led by Germany, is the second-highest consumer of PBT, and is considered as a relatively mature market. Europe's has captured over 35% of the global market share in terms of value, and is poised to expand at a CAGR of 4.6% during the forecast period of 2021-2031.
North America is considered as the third prominent consumer of PBT-based products, and consumed over 148 KT in 2020. The U.S. is one of the highest producers of electronics across the globe, and is considered as the second-largest consumer of PBT after China.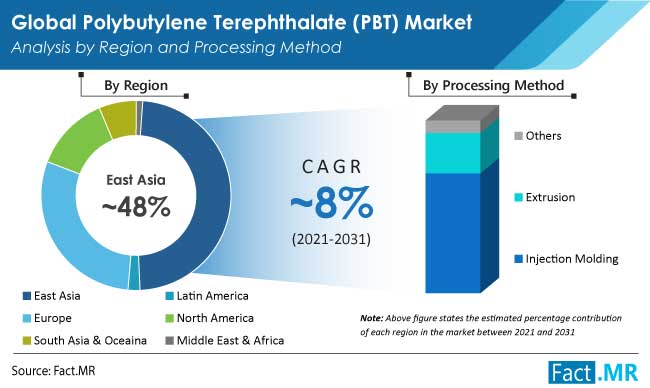 Country-wise Analysis
Why is Germany Driving Most PBT Demand in Europe?
In terms consumption, European demand for PBT is dominated by Germany. The market of Germany grew by 2.6% from 2016-2020. Additionally, the country is one of the highest manufacturers of automobiles, which leads to growing utilization of PBT.
In the year 2020, Germany accounted over 10% of the global market share and over 27% of the European market share. The country's automotive industry planned to spend US$ 60 Bn in 2021.
It has been seen that approx. 15%-20% of PBT-based products are used by German automobile manufacturers during the assembly process of automotive manufacturing. Owing to extensive spending in the automotive sector, the country continues to be one of the key consumers of PBT.
What Makes China the Demand Epicentre for PBT?
In 2020, China accounted for over 28% share of the global market and over 70% of the East Asian market for PBT. The electrical and electronics segment corresponds to over 40% of all PBT-based products and material sales in China.
China is a prominent consumer and producer of PBT-based products in the market. Besides, the country has observed an upsurge in exports of PBT-based electronics and automotive parts during 2016-2020.
China has not only evolved as a potential hotspot for PBT business but also expanded as a key investor in engineering plastics. This is anticipated to strengthen the PBT business in the country.
Owing to this fact, the market in the country is anticipated to surge at a CAGR of more than 8% CAGR over the long-run forecast period.
Category-wise Insights
Why is Reinforced PBT the Most Utilized in Several Applications?
Demand for reinforced polybutylene terephthalate is expected to register a CAGR of 6.3% over the forecast period and account for over 80% of the global market share in terms of value by 2031.
Reinforced PBT is the prominent PBT type available in the market. Besides, the demand for 30% reinforced PBT has gain traction in the past half-decade. It is expected to grow at a CAGR 6.7% and anticipated to be valued over US$ 1.9 Bn by 2031.
Compared to unreinforced PBT type, it is proven that all grades of reinforced PBT (15%, 30%, 50% and >50%) are more effective in terms of product manufacturing. As such, demand for unreinforced polybutylene terephthalate is less.
Which End User Hold Lucrative Avenues for PBT Manufacturers?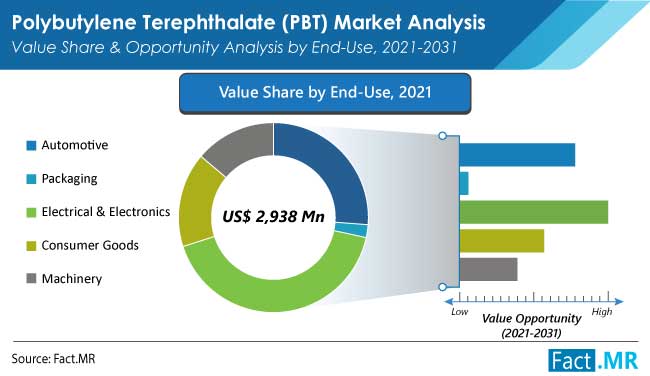 Polybutylene terephthalate is an essential raw material for manufacturing of several automotive, electrical and electronics products. In automotive sector PBT is utilized in body panels, ignition coil bobbins, covered insulations, exhaust system part, ignition system and manufacturing of others parts as well.
In electrical and electronics industry, PBT is utilized in manufacturing several products including transformer coil bobbins, adapter coil bobbins, deflection coils, CRT & potentiometer stands, switching connectors, motor cover and bushings etc.
Among all the electrical and electronics end-uses, the utilization of PBT is prominent in producing transformer coil bobbins. It thereby accounts for over 29% of the demand for polybutylene terephthalate in the electrical and electronics industry. Utilization of PBT in making adapter coil bobbins also expected to increase at a CAGR of 6.2% over the forecast period.
Owing to the extensive utilization and sales of PBT in the automotive industry, besides electrical and electronics products, globally, demand for polybutylene terephthalate is expected to grow a fast pace. Cumulatively the automotive, electrical, and electronics end-use is expected to capture over 70% of demand in terms of value by 2031.
How Has the COVID-19 Pandemic Impacted Sales of PBT across the Globe?
Despite decline in sales of PBT in FY2020, investors' confidence level is firm owing to the strong potential of PBT. Major investors in China and Europe have pinned their hopes on the market owing to less demand in FY2020 and speculations of a surge going ahead.
Speculation has surged production and also normalized inventory volumes, thus providing a thrust to PBT prices in Q1 of FY2021. Prices are anticipated to reach a nominal level by the mid of Q2 FY2022.
An Adaptive Approach to Modern-day Research Needs
PBT Industry Research on Competitive Landscape
According to the market research analysis, BASF SE, Amco Polymers, Celanese Corporation, SABIC, DuPont, Lanxess AG, and Mitsubishi Chemical Corporation are identified as key players manufacturing PBT.
Majority of companies discussed in the report have focused on product launches and expanding their manufacturing units in developing regions. Some of the key strategies include innovation, collaborations with key players, partnerships, strategic alliances in order to strengthening of regional and global distribution networks.
On 24th March 2020, Celanese Corporation announced a three-year plan to expand their engineered materials compounding capacities in Asia, locations including Suzhou and Nanjing in China and Silvassa in India.
On 2nd January 2019, Celanese Corporation acquired one of India's largest engineering thermoplastic compounders, named Next Polymer Ltd.
On 26th February 2019, SABIC announced Amco Polymers as the third distribution partner in North America to provide specialty engineering thermoplastic and related services in the US, Canada and Mexico.
On 3rd July 2020, BASF announced two new product variants in the market, named Ultradur® B6551 LNI for extrusion and Ultradur® B6560 M2 FC TF, the world's first thermo formable PBT.
Similarly, recent developments related to companies manufacturing polybutylene terephthalate have been tracked by the team at Fact.MR, which are available in the full report.
Report Scope
Attribute

Details

Forecast Period

2021-2031

Historical Data Available for

2016-2020

Market Analysis

US$ Mn for Value

Key Regions Covered

North America
Latin America
Europe
MEA
East Asia
South Asia
Oceania

Key Countries Covered

US
Canada
Brazil
Mexico
Germany
U.K.
France
Spain
Italy
BENELUX
South Africa
GCC Countries
China
Japan
South Korea
India
Indonesia
Malaysia
Singapore
Australia
New Zealand

Key Market Segments Covered

Type
Processing Method
End Use
Region

Key Companies Profiled

DSM
Röchling
RTP Company
Chang Chun Group
Duromer Products Pty Ltd
Nan Ya Plastics
Polyplastics Co., Ltd.
Sahara International Petrochemicals Co.
Samyang Corporation
Toray Industries, Inc.

Pricing

Available upon Request
Market Segments Covered in PBT Industry Analysis
By Type

Reinforced Polybutylene Terephthalate

15% Reinforced (GF) Polybutylene Terephthalate
30% Reinforced (GF) Polybutylene Terephthalate
50% Reinforced (GF) Polybutylene Terephthalate
>50% Reinforced (GF) Polybutylene Terephthalate

Unreinforced Polybutylene Terephthalate

By Processing Method

Injection Moulding Polybutylene Terephthalate
Extrusion Polybutylene Terephthalate
Others

By End Use

Polybutylene Terephthalate for Automotive

Body Panels
Ignition Coil Bobbins
Covered Insulations
Exhaust System part
Ignition System
Others

Polybutylene Terephthalate for Packaging
Polybutylene Terephthalate for Electrical & Electronics

Transformer Coil Bobbins
Adapter Coil Bobbins
Deflection Coils
CRT & Potentiometer Stands
Switching connectors
Motor Cover and Bushings
Others

Polybutylene Terephthalate for Consumer Goods

Sporting Goods
Kitchen Appliances
Others

Polybutylene Terephthalate for Machinery

Transport machinery parts
Sewing Machines
Textile Machinery Parts
Power Tool Parts
Others
Polybutylene Terephthalate (PBT) Market - Scope of Report
A recent study by Fact.MR on the polybutylene terephthalate (PBT) market offers a 10-year forecast for 2021 to 2031. The study analyzes crucial trends that are currently determining the growth of the market. This report explicates on vital dynamics, such as the drivers, restraints, and opportunities for key market players along with key stakeholders as well as emerging players associated with the development of polybutylene terephthalate.
The study also provides the dynamics that are responsible for influencing the future status of the market over the forecast period. A detailed assessment of value chain analysis, business execution, and supply chain analysis across regional markets has been covered in the report.
A list of prominent companies manufacturing PBT, along with their product portfolios, key strategies, and SWOT analysis, enhances the reliability of this comprehensive research study.
Report Summary
The study offers comprehensive analysis on diverse features, including production capacities, demand, product developments, revenue generation, and sales of polybutylene terephthalate across the globe.
A comprehensive estimate on the market has been provided through an optimistic scenario as well as a conservative scenario, taking into account revenue generated from polybutylene terephthalate sales during the historical period.
Analysis on Market Size Evaluation
The market has been analyzed for each market segment in terms of volume (KT) and value (US$ Mn).
Market estimates at global and regional levels for polybutylene terephthalate are available in terms of "US$ Mn" for value and in "KT" for volume. A Y-o-Y growth contrast on prominent market segments, along with market attractiveness evaluation, has been incorporated in the report. Furthermore, absolute dollar opportunity analysis of all the segments adds prominence to the report. Absolute dollar opportunity plays a crucial role in assessing the level of opportunity that a manufacturer/distributor can look to achieve, along with identifying potential resources, considering the sales and distribution perspective in the global PBT market.
Inspected Assessment on Regional Segments
Key sections have been elaborated in the report, which have helped deliver projections on regional markets. These chapters include market forces analysis, which is expected to have a momentous influence on the growth of the PBT market during the forecast period.
Country-specific valuation on revenue from PBT has been offered for each regional market, along with market scope estimates and forecasts, and impact analysis of the dynamics of prominence in regions and countries. For all regional markets, Y-o-Y growth estimates have also been incorporated in the report.
Detailed breakup in terms of value for key countries has also been included in the report.
In-depth Competition Analysis
The report sheds light on leading providers of polybutylene terephthalate, along with their detailed profiles. Essential and up-to-date data related to market performers who are principally engaged in polybutylene terephthalate has been brought with the help of a detailed dashboard view. Market share analysis and comparison of prominent players provided in the report permits report readers to take preemptive steps in advancing their businesses.
Company profiles have been included in the report, which include essentials such as product portfolios and key strategies, along with all-inclusive SWOT analysis on each player. Company presence is mapped and presented through a matrix for all the prominent players, thus providing readers with actionable insights, which helps in thoughtfully presenting the market status, and predicting the competition level in the polybutylene terephthalate market.
Need an Exclusive Report for your Unique Requirement?
- Our Clients -

- Evaluate How Fact.MR's Report Can Help. -
Is the market research conducted by Fact.MR?
Yes, the report has been compiled by expert analysts of Fact.MR, through a combination of primary and secondary research. To know more about how the research was conducted, you can speak to a research analyst.
What research methodology is followed by Fact.MR?
Fact.MR follows a methodology that encompasses the demand-side assessment of the market, and triangulates the same through a supply-side analysis. This methodology is based on the use of standard market structure, methods, and definitions.
What are the sources of secondary research?
Fact.MR conducts extensive secondary research through proprietary databases, paid databases, and information available in the public domain. We refer to industry associations, company press releases, annual reports, investor presentations, and research papers. More information about desk research is available upon request.
Who are the respondents for primary research?
Fact.MR speaks to stakeholders across the spectrum, including C-level executives, distributors, product manufacturers, and industry experts. For a full list of primary respondents, please reach out to us.
Is a sample of this report available for evaluation?
Yes, you can request a sample, and it will be sent to you through an email.