Recycled Polyethylene Terephthalate (R-PET) Market
Recycled Polyethylene Terephthalate (R-PET) Market By Source (Post-consumer PET, Post-industrial PET), By Colour (Clear R-PET, Coloured R-PET), By Product Type (R-PET Flakes, R-PET Resins, R-PET Fibers), By End Use (Packaging, Non-packaging), & By Region - Global Market Insights 2023 to 2033
Analysis of Recycled Polyethylene Terephthalate (R-PET) Market Covering 30+ Countries Including Analysis of US, Canada, UK, Germany, France, Nordics, GCC countries, Japan, Korea and many more
Recycled Polyethylene Terephthalate (R-PET) Market Outlook (2023 to 2033)
The global recycled polyethylene terephthalate (R-PET) market is valued at US$ 2.3 billion in 2023 and is projected to reach US$ 4.9 billion by 2033. Global demand for R-PET products is forecasted to increase rapidly at 7.8% CAGR during the next 10 years. This is mainly due to growing concerns about sustainability, decreasing plastic waste, and several measures being taken to promote a circular economy in North America and Europe.
R-PET is a transparent, long-lasting, recyclable plastic, made to be manufactured again. In essence, this substance is a polymer made from the blending of modified ethylene glycol with purified terephthalic acid.
PET containers and bottles are regularly melted and processed into fibers for carpeting or fiberfill. Also, if recovered in a sufficiently pure state, polyethylene terephthalate can be recycled into its original usage. Furthermore, various techniques for dissolving polymers into their chemical precursors for reassembling polyethylene terephthalate have been also discovered.
Coca-Cola uses 50% R-PET containers at its production facilities.
The very first technique across the globe to create preforms from 100% polyethylene terephthalate washed flakes in a single energy cycle was developed by SIPA, a leading expert in PET bottle processing methods, in partnership with EREMA, an Austrian recycling and reuse specialist, in February 2020. In comparison to a traditional PET preform production plant, XTREME Renew uses about 30% less energy and produces almost 80% less CO2.
Plastic pollution has saturated the planet, making the need for sustainable polymer recycling methods critical. An innovative technique for closed-loop recycling of polyethylene terephthalate (PET) is enzyme-based hydrolysis of post-consumer plastic.
At 70 °C, an extremely effective polyester hydrolase made from the metagenomes of plant waste quickly breaks down amorphous PET. The direct hydrolysis of thermoform PET packing flakes and the creation of virgin PET from recovered terephthalic acid show the promise of biocatalysis in low-carbon plastic recycling processes.
According to Fact.MR, a market research and competitive intelligence provider, global demand for post-consumer PET is expected to rise at a CAGR of 7.7% from 2023 to 2033.
Report Attributes

Details

R-PET Market Size (2023E)

US$ 2.3 Billion

Forecasted Market Value (2033F)

US$ 4.9 Billion

Global Market Growth Rate (2023 to 2033)

7.8% CAGR

China Market Growth Rate (2023 to 2033)

8.4% CAGR

Japan Market Growth Rate (2023 to 2033)

6.8% CAGR

South Korea Market Growth Rate (2023 to 2033)

6.4% CAGR

United Kingdom Market Growth Rate (2023 to 2033)

6.3% CAGR

United States Market Growth Rate (2023 to 2033)

7.7% CAGR

Key Companies Profiled

AL Mehtab Industries
ALPLA
Bantam Materials
Carbonlite Industries LLC
Clean Tech U.K. Ltd
Clear Path Recycling LLC
DuFor
Evergreen Plastics, Inc.
Indorama Ventures
Libolon
Marglen Industries
Peninsula Plastics Recycling
Phoenix Technologies
PLACON Corporation
PolyQuest
Portage Plastics
UltrePET
UMA SCHREIBGERÄTE ULLMANN GMBH
Unifi
Verdeco Recycling, Inc.
Don't Need a Global Report?
save 40%! on Country & Region specific reports
Which Dynamics are Expected to Boost Revenue Growth of Producers of Recycled Polyethylene Terephthalate Products?
"Packaging Sustainability Goals Driving Demand for Food-Grade R-PET"
R-PET is one of the most commonly utilized plastics worldwide due to its recyclable characteristics. Numerous uses for R-PET include fiber for carpets, clothing, upholstery, knitwear, fiber-fill for pillows and sleeping bags, sheets and films, and automotive components. However, food packaging and bottles and containers made of food-grade materials are one of the main and fastest-growing R-PET uses. The performance of R-PET is comparable to that of virgin PET, which supports its demand.
In 2030, several significant international beverages and fast-moving consumer goods businesses pledged to utilize plastic packaging that contains at least 50% recycled material. As a result, there is a high demand for recycled materials that have been certified for use in food. To get adequate amounts of high-quality food-grade R-PET over the long term, several R-PET converters are increasing their production capabilities for food-grade R-PET both domestically and internationally.
According to European Union's rule, all PET beverage bottles should be composed of 30 percent recycled material.
"Lightweight & Strong: R-PET's Advantage in Transportation"
To store beverages and consumer, personal care, and culinary products, R-PET is usually moulded and extruded into plastic containers and bottles. This polymer is not only strong but also lightweight, cost-effective, and offers good insulation, making it an ideal packaging material for deliveries and requiring less fuel during transit.
In the e-Commerce industry, the use of R-PET containers and sheets for packaging diverse commodities is growing. This development is ascribed to consumer's easier access to online goods, lower costs, alluring discounts, and the shipping and return policies that e-commerce platforms provide. The growth of the recycled polyethylene terephthalate market is expected to be driven by the ongoing development of lightweight technologies and the rising demand for recyclable packaging in the e-commerce and healthcare sectors throughout the projected period.
"Cost-effective & Environment-friendly Clear Recycled PET in High Demand"
Clear recycled PET demand is anticipated to experience consistent growth over the projection period due to factors such as the simplicity of bottle-to-bottle recycling, decreased carbon footprint, and low energy usage during remanufacturing.
Clear R-PET makes it simple to spot changes in the items inside the packaging, such as colour changes, chemical reactions, or fungal growth. Due to low processing costs and the fact that most manufacturers prefer clear chips or flakes to generate finished products, the demand for clear recycled PET is anticipated to rise during the forecast period.
A global leader in storage, home décor, and organizational solutions, iDesign, declared the switch of core clear plastic items to post-consumer recycled plastic on April 12, 2022.
What is Slowing Down the Production of R-PET Solutions?
"Market Affected by Ineffective Waste Management Policies"
The quantity of municipal solid waste (MSW) has significantly expanded as a result of economic growth and fast industrialization. There is currently no adequate framework for managing plastic trash due to ineffective waste policy implementation and a lack of waste management options, which are key obstacles for governments trying to develop a sustainable solid waste management system.
According to the United Nations Environment Programme, 330 million tonnes of plastic trash are created globally each year, but only 9% of that waste is recycled, and only 14% of that trash is currently collected for recycling. Also, due to a shortage of recycling facilities, approximately US$ 11.4 billion worth of recyclable materials are thrown away in the United States each year.
"Mechanical Recycling Challenge in Maintaining Colour Uniformity in Recycled PET"
Mechanical recycling, which involves washing, shredding, and melting the material, also weakens used plastic over time and may result in discolouration. By including virgin PET, the lower mechanical strength of R-PET is compensated for throughout both the recycling process and the usage phase.
Due to variation and contaminants in the recycling feedstock, colouring is another problem with recycling PET because it is challenging to maintain colour uniformity between batches. Thus, these elements are anticipated to limit recycled polyethylene terephthalate market growth to some extent.
More Insights, Lesser Cost (-50% off)
Insights on import/export production,
pricing analysis, and more – Only @ Fact.MR
What is the Future of Start-up Companies in the Recycled Polyethylene Terephthalate Sector?
"Development of Innovative & Cost-Effective R-PET Solutions Key to Success"
Increasing demand for sustainable and eco-friendly packaging materials, as well as the commitments made by major end-use industries to use more recycled materials in their products, create opportunities for new players to enter the R-PET market.
Newcomers who can offer innovative and cost-effective solutions, have access to high-quality recycled materials, and can efficiently process them into food-grade or non-food-grade R-PET products could find success in the market. However, they will need to invest in R&D activities, marketing, and distribution to stand out from the competition and gain a foothold in the market.
In summary, the recycled polyethylene terephthalate market could be profitable for newcomers who have the resources, expertise, and capabilities to compete in a highly competitive market and meet the demand for sustainable packaging materials.
Smol, a British start-up, creates environmentally friendly packaging options from recycled PET. Fabric conditioner bottles are produced using only post-consumer recycled plastic. The firm also provides dishwasher pills and laundry capsules in addition to other packaging options.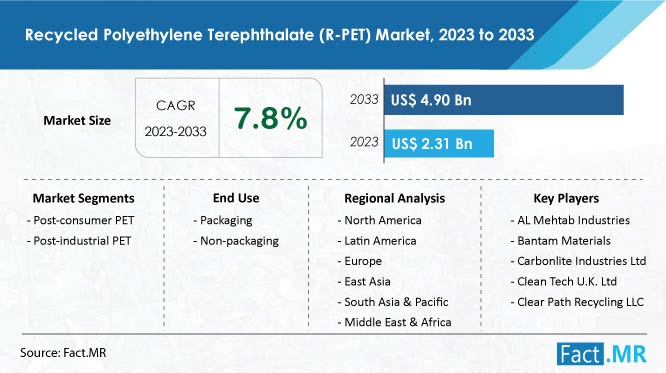 Country-wise Analysis
Which Factors are Driving the Sales of R-PET Solutions in the United States?
"Collaboration for Sustainable Future: FMCG & PET Recycling Businesses Team Up"
Major FMCG companies are collaborating with PET recycling businesses to obtain raw materials including flakes, resins, and fibers, and transform them into packaging and non-packaging products, which is accelerating recycling trends in the United States.
Demand for R-PET in the United States is expected to increase at a CAGR of 7.7% from 2023 to 2033.
Several recyclers establishing their facilities around the United States has significantly increased over the years. A change in consumer purchasing behaviour (increasing trend towards sustainability) has also been linked to the country's growing R-PET usage.
What is Attracting Manufacturers of Recycled Polyethylene Terephthalate Solutions to China?
"China Overtakes United States as Global Packaging Market Leader"
China is one of the leading marketplaces in the Asia Pacific region. Due to China's growing packaged food trend and the aggressive sustainability targets set by FMCG businesses, sales of R-PET food and beverage containers are expected to primarily drive the country's consumption of recycled PET.
Recycled polyethylene terephthalate sales in China are expected to reach US$ 823.9 million by 2033.
China has supplanted the United States as the leading packaging market globally over the years. Key recyclers now have the chance to enter the market and produce significant money by producing recycled polyethylene terephthalate-based products.
Why are United Kingdom's FMCG Brands Rapidly Adopting R-PET Packaging Solutions?
"EU's Circular Economy Ambitions Reducing Consumption of Single-Use Plastics"
Sales of R-PET in the United Kingdom are predicted to increase at a CAGR of 6.3% over the forecast period as a result of increasing consumer demand for materials that come into touch with food and strict recycling regulations. The use of plastic garbage is declining in the European Union as it implements its ambitions for a circular economy. It has strict goals for the usage of recyclable materials and minimizing the use of single-use plastics.
The fast-moving consumer goods (FMCG) industry in the United Kingdom is home to many businesses and brands that want to observe more recycled material in plastic packaging. Some have quickly scaled up to contain 100% recycled content, including Buxton, the blackcurrant drinks Ribena from the Japanese company Suntory, and all of Coca-Cola Great Britain's smaller bottles.
Know thy Competitors
Competitive landscape highlights only certain players
Complete list available upon request
Category-wise Analysis
Why is Demand for R-PET Packaging Solutions Gaining Popularity?
"Sustainable Packaging Takes Center Stage – High Use of Recycled PET in Food & Beverage Facilities"
Global sales of recycled PET packaging solutions are expected to progress at a CAGR of 8.1% during the next 10 years.
Demand for recycled PET packaging solutions is increasing due to the rising popularity of packaged food items and carbonated and non-carbonated beverages. Particularly in growing economies in East Asia and South Asia, this trend can be seen. Furthermore, it has recently been observed that these regions consistently use a wide variety of recycled PET packaging options, including clamshells, containers, bottles, and jars.
One of the significant Asian countries with an appropriate regulatory framework for food-grade recycled plastics is Japan.
The South Korean Ministry of Food and Drug Safety approved the use of R-PET in food contact materials on March 19, 2020.
There is currently a notable need for recycled PET packaging solutions worldwide due to recycled PET's quick penetration in the food, beverage, and healthcare industries, which have high preferences for recyclable and sustainable packaging solutions.
Competitive Landscape
Globally recognized rigid and flexible packaging manufacturers have switched their focus away from traditional packaging solutions and towards more environmentally friendly options. The significant increase in attention being paid to decreasing unnecessary plastic waste and the strong consumer preference for sustainable and eco-friendly packaging solutions over conventional ones is the main forces behind this noticeable move towards eco-friendly packaging solutions.
Phoenix Technologies International LLC said on September 01, 2022, that by investing in new extrusion equipment to make pellets in its factory in Bowling Green, it producing more food-grade recycled polyethylene terephthalate. After Phoenix's expansion is complete by mid-2023, the business asserts that it anticipates doubling its ability to produce R-PET resin to 140 million pounds annually, or the equivalent of processing 5 billion bottles yearly.
Key Segments Covered in R-PET Industry Research
By Source :

Post-consumer PET
Post-industrial PET

By Colour :

Clear R-PET
Coloured R-PET

By Product Type :

R-PET Flakes
R-PET Resins
R-PET Fibers

By End Use :

By Region :

North America
Latin America
Europe
East Asia
South Asia & Oceania
MEA
- FAQs -
The global recycled polyethylene terephthalate market is valued at US$ 2.3 billion in 2023.
The market for recycled polyethylene terephthalate is expected to reach US$ 4.9 billion by 2033.
Global demand for recycled polyethylene terephthalate solutions is predicted to rise at 7.8% CAGR from 2023 to 2033.
AL Mehtab Industries, Bantam Materials, and Carbonlite Industries Ltd are some of the leading recycled polyethylene terephthalate providers.
Rising trend of using eco-friendly packaging products and strict policies for recyclable plastics are driving the sales of R-PET products.