Recycled Polyethylene Terephthalate (R-PET) Market
Recycled Polyethylene Terephthalate (R-PET) Market Analysis By Source (Post-Consumer PET, Post-Industrial PET), By Colour (Clear R-PET, Coloured R-PET), By Product Type (R-PET Flakes, R-PET Resins, R-PET Fibers), By End Use, By Region - Global Insights to 2031
FACT6954MR
Sep-2021

List of Tables : 70

List of Figures : 183

170 Pages
Recycled Polyethylene Terephthalate (R-PET) Market Outlook
Latest industry analysis on the recycled polyethylene terephthalate market by Fact.MR forecasts global production of R-PET to reach 1,700 KT by 2021-end. Around 1.6% decline in market value was observed in 2020, which is estimated to return to 2019 levels soon, with demand for clear recycled PET rising rapidly through 2031.
Overall, the market is projected to accelerate at a CAGR of 8% and top a valuation of US$ 4.2 Bn by the end of 2031.
R-PET business study performed by Fact.MR delves into key insights such as current and speculative production capacity, capacity utilization rates of each producer, current and speculative pricing, price optimization strategy across the value chain, techno-economic analysis of R-PET production, and much more.
Interested to Procure The Data
Key Points Covered in R-PET Industry Survey:
Market Estimates and Forecasts (2016-2031)
Production Capacity Analysis of Prominent Manufacturers
Recycled Polyethylene Terephthalate Pricing Analysis
Product Pricing Optimization Strategy
Associated Industry Analysis (Catalysts Market Overview)
Key Drivers and Restraints Shaping Market Growth
Segment-wise, Country-wise, and Region-wise Analysis
Competition Mapping and Benchmarking
Market Share Analysis
R-PET Share of Total PET Market
COVID-19 Impact on Global Recycled Polyethylene Terephthalate Market and How to Navigate
Recommendation on Key Winning Strategies
Consumption Analysis of R-PET from 2016 to 2020 Vs Market Outlook for 2021 to 2031
As per the latest report published by Fact.MR, a market research and competitive intelligence provider, the recycled polyethylene terephthalate market, over the past half-decade, expanded at a CAGR of around 7.2%, which can mainly be attributed to rising adoption of recycled and sustainable products by consumers across regions.
Additionally, mounting demand for R-PET bottles and containers is set to propel the recycled PET market, driving it at higher single-digit CAGR of 8% over the projected forecast period of 2021 to 2031.
Historically, recycled polyethylene terephthalate demand has majorly been driven by the packaging sector, constituting around 66% of all end-use segments. For instance, around 1,047 KT of total produced R-PET was used for packaging purposes in 2020. However, the segment is projected to lose around 250 BPS by 2031.
Moreover, according to latest estimations by Fact.MR, the recycled polyethylene terephthalate (R-PET) market is projected to see a surge in valuation expanding 2.1X by 2031. Also, the market is projected to reach an estimated valuation of US$ 4.2 Bn by 2031-end. These projections have been put in place seeing massive capacity expansion by key player on a large scale along with increasing sales of R-PET sheets and films.
COVID-19 impacted the revenue generation capacity of players with a dip in Y-O-Y growth. Although, the market is projected to stabilize owing to stringent government regulations and positive response from consumers over the use of recycled plastics. In addition, the circular economy business model adopted by manufacturers will help the R-PET business witness a surge down the line.
An Adaptive Approach to Modern-day Research Needs
How are Consumer Sentiments Acting as a Catalyst to Demand for R-PET?
Present day consumers are more aware about the products they use and the impact it has on the environment. Over the past decade, there has been a major shift in consumer preference and buying behaviour with sizeable increase in the number of customers opting for sustainable and recyclable products.
Additionally, consumers are increasingly demanding accountability from companies about their carbon footprint and unsustainable practices. Thus, FMCG players are adopting strategies to increase the use of R-PET food & beverage bottles & containers for packaging purposes as well.
For instance, key FMCG companies such as PepsiCo, L'Oreal, and Nestle have opted for the bottle-to-bottle recycling approach while collaborating with top distributors of R-PET sheets & films to manufacture end products.
Moreover, various surveys indicate a rising trend of sustainable purchasing among consumers, with a majority of them agreeing on the urgent need to design products that can be reused or recycled.
The above-discussed latest trends of recycled PET in 2021 are projected to provide major boost to the sales of colored recycled PET, thus driving the market at a CAGR of around 8% over the forecast period. Further, food & beverage in packaging as an end use is projected to hold a major share of around 37% by 2031-end.
What are the Notable Obstructions in the Market Affecting R-PET Growth?
Plastic still holds significant share in the packaging and non-packaging industry. Production of virgin PET outpaces R-PET owing to its low cost and ease of raw material availability.
Most PET recollection for recycling is done by the informal sector through inefficient methods. Also, this plastic waste collected lacks the quality to be used as new packaging materials.
Thus, there is a major supply-demand gap witnessed in the market. Various companies have set ambitious goals to use R-PET for packaging purposes, thus creating excess demand for the product. This demand is not being met, thereby hindering market growth.
Moreover, introduction of bio-based plastics may also reduce demand for recycled PET fibres, as these are much more sustainable in their properties than R-PETs.
The aforementioned factors may act as a hindrance to the growth of R-PET over the forecast period, thus decreasing demand for clear R-PET as well in the same timeframe.
Avail customized purchase options for your needs
Which Region is Set Provide Ample Opportunity to R-PET Suppliers?
East Asia and Europe are projected to provide high growth opportunity for R-PET suppliers owing to various regulations in place along with rising consumer inclination to purchase sustainable products.
The recycled polyethylene terephthalate market size in East Asia and Europe is estimated to be valued around US$ 613.9 Mn and US$ 489.0 Mn, respectively, in 2021.
In terms of volume, East Asia is projected to consume around 590 KT through 2031. Additionally, demand in East Asia will mainly be driven by China, where the recycling rate of plastics over the past half-decade has been hovering around 90%.
Moreover, in Europe, demand for R-PET bottles is seeing a boom with key market players establishing their recycling capacities in the region. Also, an ambitious target to achieve around 77% of plastic recycling by 2025 is setting a positive tone for the industry.
Attributed to these factors, sales of R-PET food and beverage containers used for packaging purposes is set to drive the European and East Asian markets at CAGRs of around 7.7% and 8.1%, respectively, over the forecast period.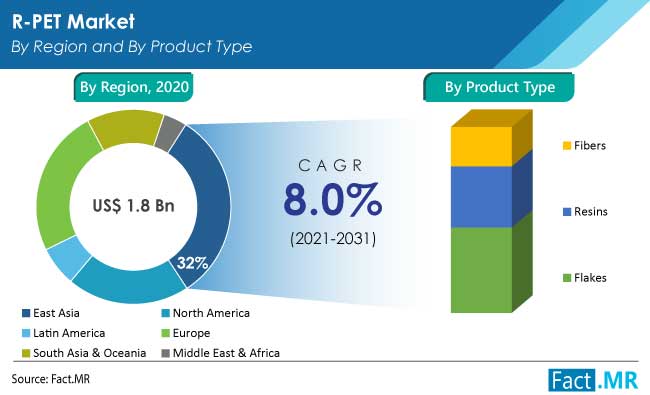 Country-wise Analysis
What Role does Germany Play in Driving Sales of rPET Non-food Bottles & Containers?
Germany plays a pivotal role in driving R-PET demand while also being a major post-consumer of PET recycler. Key R-PET non-food bottle manufacturers are establishing their recycling capacities in Germany owing to favourable regional policies promoting the use of recycled contents.
Moreover, German consumers are increasingly opting for sustainable products in their daily life, hence, compelling FMCG companies to change their strategies. For instance, noticeable consumers in Germany are agreeing to pay more for products that have least negative impact on the environment. Hence, in Germany, clear R-PET trends are gaining traction.
Owing to these factors, Germany is projected to provide an absolute growth opportunity worth US$ 155.3 Mn over the next ten years with the market progressing at a CAGR of around 7.9%.
How is Demand for R-PET Shaping Up across Established and Evolving Countries?
China: Consumption of recycled PET in China will mainly be driven by sales of R-PET food and beverage containers, owing to the rising trend of packaged food in the country along with ambitious sustainability goals of FMCG companies.
For instance, over the years, China has displaced the U.S. to become the world's largest packaging market. This provides opportunity for key recyclers to penetrate the segment in order to generate high revenue.
Thus, the China recycled polyethylene terephthalate market is projected to provide high absolute $ opportunity worth US$ 452.9 Mn over the forecast period.
India: India is projected to be one of the most lucrative markets for recycled PET with demand propelling in accordance with the growing trend of recyclable products.
For instance, it has been projected that demand for R-PET in India will increase multi-fold owing to sustainable targets set by food & beverage companies. Thus, in India, R-PET consumption will mainly be driven by demand for R-PET food and beverage bottles while driving the market at an impressive CAGR of around 8.9% over the next ten years.
U.S.: Recycling trends in the U.S. are picking pace with major FMCG companies joining hands with PET recycling companies in order to procure raw materials such as flakes, resins, and fibres, converting them into packaging and non-packaging materials.
Over the years, there has been sizeable increase in the number of recyclers setting up their plants across the U.S. Also, heightened consumption of R-PET can be seen in the country attributed to shift in consumer purchasing behaviour.
Moreover, constant demand for recycled PET in textiles has also seen a surge, thus driving the U.S. market at a CAGR of around 6.9% over the past half-decade.
Brazil: Brazil is one of the most lucrative markets for the sales of rPET food & beverage containers in Latin America, owing to growing disposable income in the country coupled with rising trend of sustainable product purchasing.
Moreover, food & beverage companies see Brazil as a high-growth market, and are thus are focussing on winning consumer trust. These factors are bolstering demand for R-PET in the country at a projected CAGR of around 9.5% over the next ten years.
Category-wise Insights
Which Raw Material Source is Most Preferred by Recyclers?
Post-consumer PET is the most preferred raw materials used for recycling purposes. This can be mainly attributed to ease of material availability along with easy recycling process involved.
For instance, cost and complexity involved in recycling of post-consumer PET is much less than that with post-industrial. Thus, sales of recycled PET post-industrial resins is much less than post-consumer.
Additionally, availability is a major factor behind picking up of post-consumer waste as a potential raw material. For instance, post-consumer waste is easily available in bulk than post-industrial, hence holding around 95% global revenue share. Further post-industrial PET is being mainly driven by demand for R-PET fibers in the textiles and apparel industry.
Moreover, if not given priority, post-consumer waste would be discarded and landfilled, hence FMCG companies tend to procure R-PET made up from post-consumer waste. This is giving rise to recycled PET post-consumer resin trends.
Attributed to these positive trends, the post-consumer clear recycled polyethylene terephthalate market is projected to provide a high absolute growth opportunity worth US$ 2.15 Bn over the next ten years.
Which End-use Segment Provides the Most Lucrative Opportunity for R-PET Providers?
The packaging industry will provide the most lucrative opportunity for R-PET suppliers owing to the rising trend of sustainable packaging. The packaging sector is widely adopting recycled materials, replacing conventional virgin plastics and PET.
Additionally, the bottle-to-bottle recycling approach is being widely adopted by FMCG giants owing to their ambitious sustainable goals. This has particularly increased recycled PET food and beverage bottles demand. For instance, Nestle has committed 25% R-PET for bottle packaging by 2025, hence driving demand forward.
Moreover, use of R-PET for food & beverage packaging along with applications of recycled PET for surface protection films is projected to dominate the segment, thus providing an absolute $ opportunity worth US$ 532.5 Mn over the projected forecast period. Owing to these trends, colored recycled polyethylene terephthalate sales will see an uptick.
What Has Been the COVID-19 Impact on R-PET Demand?
COVID-19 has had negative impact on the market as demand saw a steep decline, mainly attributed to a drop in prices for virgin PET. Thus, top recycled PET food & beverage container manufacturers were seen switching back to the use convention virgin PET.
However, FMCG commitments for sustainable practices ensured continued demand for recycled PET, thus helping in stabilizing the market.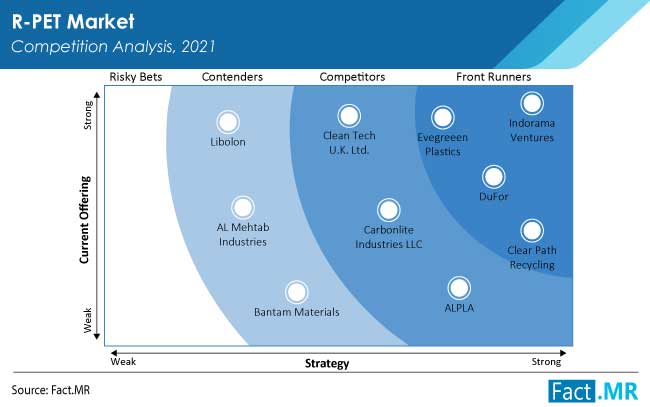 Competition Landscape: Top R-PET Companies
Top manufacturers of clear recycled PET have mainly adopted a mix of organic and in-organic growth strategies such as capacity expansion, acquisitions, and collaborations. Companies are trying to expand their business in different regions, which would help them garner more segmental share.
In May 2021, Clean Tech's parent company Plastikpak announced an investment in one of its manufacturing site based in Toledo, Spain. The investment is aimed at expanding its R-PET production capacity in Europe.
In June 2021, Indorama Ventures announced the acquisition of CarbonLite Holdings' facility in Texas. Through this acquisition, the company aims at expanding its footprint in North America along with rapidly increasing its production capacity.
Similarly, recent developments related to companies offering R-PET have been tracked by the team at Fact.MR, which are available in the full report.
R-PET Industry Report Scope
Attribute

Details

Market size value in 2021

USD 1.95 Billion

Market forecast value in 2031

USD 4.2 Billion

Growth Rate

CAGR of 8% from 2021 to 2031

Forecast Period

2021-2031

Historical Data Available for

2016-2020

Market Analysis

KT for Volume and US$ Mn for Value

Key Regions Covered

North America
Latin America
Europe
East Asia
South Asia & Oceania
MEA

Key Countries Covered

United States
Canada
Brazil
Mexico
Germany
U.K.
France
Spain
Italy
China
Japan
South Korea
India
Indonesia
Malaysia
Singapore
Australia
New Zealand
Turkey
South Africa
GCC Countries

Key Market Segments Covered

Source
Color
Product Type
End Use
Region

Key Companies Profiled

AL Mehtab Industries
ALPLA
Bantam Materials
Carbonlite Industries LLC
Clean Tech U.K. Ltd
Clear Path Recycling LLC
DuFor
Evergreen Plastics, Inc.
Indorama Ventures
Libolon
Marglen Industries
Peninsula Plastics Recyling
Phoenix Technologies
PLACON Corporation
PolyQuest
Portage Plastics
UltrePET
UMA SCHREIBGERÄTE ULLMANN GMBH
Unifi
Verdeco Recycling, Inc.

Pricing

Available upon Request
Main Segments Covered in R-PET Industry Research
By Source

Post-Consumer PET
Post-Industrial PET

By Colour

Clear R-PET
Coloured R-PET

By Product Type

R-PET Flakes
R-PET Resins
R-PET Fibers

By End Use

Packaging

Food & Beverages
Pharma Products
Personal Care Products
Others

Non-packaging

Sportswear
Shoes
Home Textiles
Industrial Textiles
Strapping
Others