Reusable Water Bottle Market
Reusable Water Bottle Market Size, Share, Analysis By Material Type (Polymers, Metals, Silicone), By Product Type (Plain, Insulated, Filtered, Collapsible, Infuser), By Primary Usage (Everyday, Sports, Travel), By Region - Global Market Insights to 2030
FACT2448MR
Mar-2022

List of Tables : 306

List of Figures : 475

170 Pages
Reusable Water Bottles Market Outlook
Global reusable water bottle market is estimated to grow at a CAGR of around 4% during the forecast period (2020-2030) and reach a value pool of over US$ 11 Billion.
Rising sustainable practices across the globe have increased the consumers for reusable water bottles. Due to the simple availability of polymer substances and the low cost of manufacture, polymer-based reusable water bottled captured the greatest market share of 30% within the material type segment. Supermarkets and hypermarkets dominate the sales channel segment with a combined share of more than 30%.
It would be premature to determine the effect of Covid-19 on the demand outlook for reusable water bottles. However, the global pandemic has put forth several roadblocks for the global reusable water bottle market to grow prosperously. Governments around the world have advocated safety and wellbeing of their people and most of the sales of retail and consumer goods have received a setback.
Reusable water bottles being 'non-essential', does face some backlash in this aspect. The movement of reusable water bottles from one channel node to another remains restricted due to shortage of vehicles, lack of manpower and different state laws curbing the global pandemic.
Interested to Procure The Data
Lifestyle Transitioning and Easy Refilling to Augment Demand for Reusable Water Bottles
The need to encourage sustainable practices across leading industries has placed reusable water bottles under the spotlight. The energy sector's increasing preoccupation with a possible environmental crisis has led them to take bold steps towards sustainability. International climate change monitoring and environmental risk monitoring bodies have given clarion calls for a lifestyle transition. The aforementioned factors have powered demand in the reusable water bottles market.
The social initiatives like "Refill the Planet" have been a major driver of the demand for reusable water bottles. Reusable water bottles are in high demand as a result of global attempts to decrease the use of plastic bottles. The negative effects of single-use plastic bottles are another major factor propelling the market for reusable water bottles. Additionally, the increase in large-scale sporting events over the past ten years has increased demand for reusable water bottles, particularly in western countries.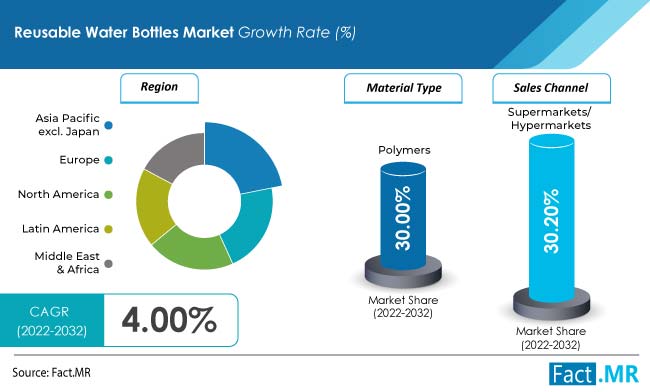 Polymer-based Reusable Water Bottles to Create High Growth Opportunities
The polymer sub-segment has accounted for more than 30% of the total material type segment. Reusable water bottles made from polymer materials are more economical than those made from metal, glass and silicone. These polymer based bottles are also simple to clean, available in a wide variety of colors and don't leave a metallic taste behind. These characteristics make reusable water bottles based on polymers the highest sales category.
The global polymer manufacturing industry however is facing drawbacks due to supply chain impacts and is somehow affecting the supply of polymer materials for the manufacturing reusable water bottles. According to Fact.MR, manufacturers may find overseas demand slumping through low export statistics due to the worsening Covid-19 epidemic in other countries.
Amongst regions, North America reigns supreme with a modest growth rate of 4% and captures a sizeable chunk of market share. Within North America, the utilization of polymer based reusable water bottles remains high.
Product Improvement Remains Key to Success in the Reusable Water Bottles Market
The global market for reusable water bottles is highly fragmented in nature, with the major players using different tactics such as new product releases to gain a higher market share. Reusable water bottle manufacturers are concentrating on product growth to include differentiated features in their current portfolio and to introduce new reusable water bottles with added features.
Cove launched a reusable water bottle made entirely of biodegradable materials in February 2019, which makes it look and feel just like standard plastic that can be decomposed. Certain companies like Newell Brands and Nalge Nunc International Corporation, are also concentrating on gaining publicity or promoting their recycled water bottles by partnering with various film companies including Marvel and Disney.
Impact of Covid-19 on Global Reusable Water Bottle Market
Covid-19 pandemic has adversely impacted the global retail and consumer goods industry where national and regional lockdowns have disrupted both production and supply chain.It is possible that the effect on retail and consumer goods firms will be complex, affecting both the equation's demand and supply sides.
And unlike other sectors, a change in consumer habits have led to increased demand for several categories of consumer goods as well as shifting brand preferences. At the same time, manufacturers are determining how best to tackle possible disruptions to the supply chain and capacity constraints that may prevent them from meeting evolving customer needs.
The reusable water bottle market in particular also faced the extreme impact from the Covid-19 crisis as demand was observed to decline in January and February compared to demand in 2019 during those months. The declining demand of reusable water bottles in 2020 can be understood under three scenarios: positive, pessimistic and probabilistic.
Under the optimistic scenario, the global reusable water bottle market is expected to remain squat in the first quarter of 2020 under Covid-19's strong impact, and demand may grow again from the second quarter. On the other hand, under the probabilistic scenario, the market is expected to remain under strong crisis control until the second quarter, and the situation may ameliorate from the third quarter on. Although the impact of the crisis may disrupt the demand for reusable water bottle for all four quarters in the pessimistic scenario, the market will begin to show improvement by the first quarter of 2021.
An Adaptive Approach to Modern-day Research Needs
Reusable Water Bottle Market: Segmentation
FactMR's study has done the segmentation of the reusable water bottle market on the basis of material, product, primary usage, size, sales channel and region
By Material Type :

Polymers
Metals
Glass
Silicone

By Product Type :

Plain
Insulated
Filtered
Collapsible
Infuser
Growlers
Other
Water
Bottles

By Primary Usage :

Everyday
Sports
Travel
Other Utilities

By Size :

8-12 Oz
16-27 Oz
32 Oz
40 Oz
64 Oz
1 Gallon and Above

By Sales Channel :

Supermarkets / Hypermarkets
Independent Stores
E-Commerce
Other Channels

By Region :

North America
Latin America
Europe
CIS & Russia
Japan
APEJ
MEA
- FAQs -
The Reusable Water Bottle Market expects to grow at a 4% CAGR during the forecast period.
Global reusable water bottle market is estimated to reach over US$ 11 Billion in valuations by 2030.
The polymer sub-segment has accounted for more than 30% of the total material type segment.
Need an Exclusive Report for your Unique Requirement?
- Our Clients -