Ensuring uninterrupted supply of electric power, portable generators run on gas or diesel. The portable generators include an engine that turns a small turbine, generating electricity. The key measurement in portable generators is total wattage. Portable generator with higher wattage means more power for higher wattage appliances and tools. Being compact in size, portable generators are mostly used by residents and businesses. Different types of portable generators are available based on applications and needs such as camping generators, mine spec generators, inverter generators, etc.
Players in the portable generators market are offering various types of generators such as diesel generators, gas generators, bi-fuel and tri-fuel generators. However, due to stringent regulations on toxic emissions in various countries, portable generators market players are shifting their focus toward developing gas generators as they are more environmentally friendly than diesel generators. Bi-fuel is also one of the focus areas of companies in the portable generators market, as it leads to significant fuel saving and also offers flexibility to the end user to choose the fuel type. Leading companies in the portable generators market are also investing in research and development of methods and technologies to minimize carbon monoxide emission from portable generators.
According to a study by Fact.MR, the global portable generators market is expected to experience above-average growth, reaching US$ 797.2 million revenues between 2017 and 2022. Participants in the portable generator market are focusing on providing eco-friendly portable generators to the users. Growth of the portable generators market is significantly influenced by increasing number of residents and businesses that use portable generators owing to the need of power supply in emergency situatiops and during power cut due to harsh weather conditions.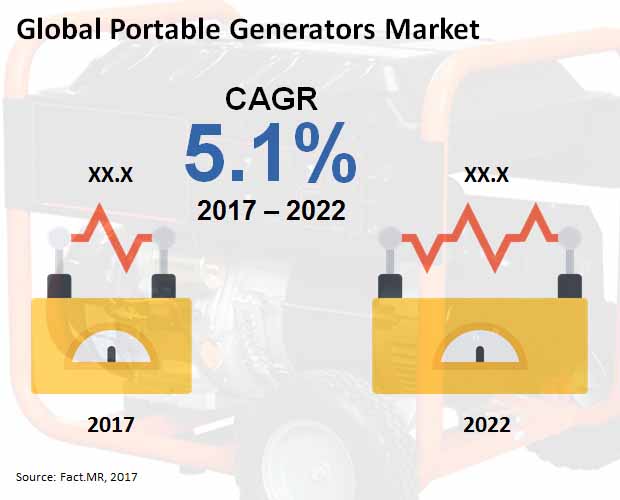 Market Taxonomy
| | | |
| --- | --- | --- |
| Power Output | End Use | Application |
| Less than 1.0 KW | Commercial | Standby Backup Power |
| 1.0 TO 3.0 KW | Residential | Continuous Power |
| 3.0 TO 5.0 KW | Industrial | |
| More than 5.0 KW | Agricultural | |
| | Others (Construction,etc.) | |
(Additional information, including cross-sectional data and country-wise analysis & forecast is available in the report)
Portable Generators with 1.0 to 3.0 KW power output to Experience Above-Average Growth
Accounting for more than half of the revenue share by 2017 end, portable generators with 1.0 to 3.0 KW power output are estimated to surpass US$ 400 million revenues by the end of 2022. Meanwhile, portable generators with the power output of 3.0 to 5.0 KW are also expected to witness moderate growth.
Residential Portable Generators to Witness Maximum Usage
Portable generators are expected to be largely used by residential sector. By the end of 2017, the residential sector is projected to account for nearly three-fifth of the revenue share of portable generators market. Meanwhile, portable generators in the commercial sector are estimated to create an opportunity of more than US$ 40 million between 2017 and 2022.
Standby Backup Power Portable Generators to Account for Maximum Revenue Share
Standby backup power portable generators are estimated to exceed US$ 750 million revenues towards the end of 2022. By the end of 2017, it is projected to gain more than three-fourth of the revenue share of portable generators market.
Competition Tracking
The report also profiles companies that are expected to remain active in the expansion of global portable generators market through 2022, which include Champion Power Equipment, Briggs & Stratton Corp, Generac Power Systems, Inc., Kohler Co. Inc., Honeywell International Inc., NIDEC Corp, Yamaha Motor Co., Ltd, and STEPHILL GENERATORS LTD.
Note: The insights mentioned here are of the respective analysts, and do not reflect the position of Fact.MR
Portable generators are powered by diesel or gas, providing temporary electrical power. Manufacturers are focusing more on producing gas generators as diesel generators lead to lot of noise pollution. Along with this, generator manufacturers are also focusing on developing bi-fuel portable generators, as it offers various environmental benefits and leads to significant fuel saving. This report, compiled by Fact.MR, provides in-depth analysis of the global portable generators market for the forecast period 2017-2022, and offers key insights about future market direction.
Scope
The scope of Fact.MR's report is to analyze the global portable generators market for the forecast period 2017-2022 and provide readers an unbiased and accurate analysis. Portable generators manufacturers, stakeholders, and suppliers in the global consumer goods sector can benefit from the analysis offered in this report. This report offers a comprehensive analysis, which can be of interest to leading trade magazines and journals pertaining to portable generators.
Summary
The report commences with a brief information of the global portable generators market. This executive summary sets the tone for the rest of the report, providing users the scope of the report. The executive summary includes important facts and statistics on the global portable generators market.
Overview
The next section offers an overview of the global portable generators market. This comprises an introduction to the market, along with a standard definition of the product – portable generators. In this section, market value and year-over-year growth is offered to the readers. Year-over-year growth provides readers with a broader view of growth patterns over the forecast period.
The report's succeeding section focuses on drivers, restraints and key trends from macroeconomic, demand, and supply perspectives. Impact analysis of weighted average model-based growth drivers is contained in the report for better provision of decision-making insights to clients.
In order to offer readers with up-to-date information about the latest advancements in the global portable generators market, the report provides updates about market opportunities, which can benefit leading manufacturers of portable generators. With continuous evolution of the consumer goods sector, keeping a record of latest developments and trends is fundamental for portable generators manufacturers to formulate key business strategies. Detailed insights about raw material sourcing, supply chain, pricing analysis, list of distributors, and cost structure are provided in this section.
The Fact.MR report provides an in-depth and segment-wise analysis and forecast on the global portable generators market. The global portable generators market is segmented into power output, end use, application, and region. Through this section, the report provides country-wise forecast on all the major parameters.
The report's last section comprises of the global portable generators market competitive landscape, to provide readers with the dashboard view of company analysis and market players. This competitive intelligence is based on the providers' categories across value chain, and their presence in the global portable generators market.
Research Methodology
Fact.MR is committed to offer unbiased and independent market research solutions to its clients. Each market report of Fact.MR is compiled after months of exhaustive research. We bank on a mix of tried-and-tested and innovative research methodologies to offer the most comprehensive and accurate information. Our main sources of research include,
Primary research
Secondary research
Trade research
Focused interviews
Social media analysis
Fact.MR offers custom research services that help clients to get specific research solutions
We are committed towards customer satisfaction and quality service.
---
Our Clients

Portable Generators Market Forecast, Trend Analysis & Competition Tracking – Global Market insights 2017 to 2022