Shape Memory Alloys Market Outlook (2023 to 2033)
The global shape memory alloys market is estimated at US$ 14.1 billion in 2023 and is projected to reach US$ 45.8 billion by the end of 2033, expanding at a CAGR of 12.5% from 2023 to 2033.
Shape memory alloys are metal alloys that possess unique properties and find applications across various industries. This alloy is named so because of its ability to remember its original shape. It is a specialized alloy that has the capability to revert to its original shape after undergoing any kind of deformation.
Shape memory alloys are special metal alloys that have the ability to remember their original shape. These alloys can be deformed when exposed to high temperatures and then retain their new shape when cooled to a lower temperature. This makes them very useful in various industries such as biomedical and aerospace.
The discovery of shape memory alloys in 1951 paved the way for their potential use as actuators in various scientific fields. The nickel titanium alloy, also known as Nitinol, was discovered in 1963 and is considered a highly efficient type of shape memory alloy.
Copper-aluminum-nickel alloys, iron-manganese-silicon, and copper-zinc-aluminum are among the commonly used shape memory alloys. These alloys have two distinct phases: low-temperature phase (martensite) and high-temperature phase (austenite). Austenite is symmetric, whereas martensite is less symmetric. The transformation between these two phases can occur either thermally or mechanically.
Growth in the medical implants industry is expected to boost demand for shape memory alloys. The aerospace and defense industry's increasing demand for shape memory alloys will also provide profitable opportunities for market growth.
Shape memory alloys are lightweight and serve as excellent alternatives to conventional actuators like hydraulic, motor-based, and pneumatic systems. Actuators are materials or devices that can change their position, shape, natural frequency, stiffness, and other mechanical properties in response to changes in temperature or electromagnetic fields.
Fact.MR, a provider of market research and competitive intelligence, in its recently published research report, provides an extensive evaluation of the shape memory alloys market. A comprehensive analysis of key trends, segments, trends, restraints, drivers, competitive landscape, and regional analysis is provided in the report.
Report Attributes

Details

Market Size (2023)

US$ 14.1 Billion

Estimated Market Value (2033)

US$ 45.8 Billion

Forecasted Market Growth Rate (2023 to 2033)

12.5% CAGR

Canada Market Growth Rate (2023 to 2033)

11.7% CAGR

Germany Market Growth Rate (2023 to 2033)

11.6% CAGR

Key Companies Profiled

Johnson Matthey PLC
ETO Gruppe
Memry Corporation
Kellogg's Research Labs
Consolidated Aerospace Manufacturing
Confluent Medical Technologies
Kinalco
Which Factors are pushing the Sales of Shape Memory Alloys?
"Increasing Use of Shape Memory Alloys in Biomedical Implants"
SMAs, particularly Nitinol, are widely used in the biomedical industry due to their biocompatibility, which makes them suitable for medical implants. The mechanical properties of implant materials are critical in the healing process, and Nitinol's properties, such as corrosion resistance, high elasticity, kink resistance, and stress consistency, make it an attractive option for medical implants.
Growing prevalence of chronic diseases and aging populations are driving the demand for life-saving medical implants. With longer life expectancies and declining fertility rates, the number of older adults is increasing, leading to a greater need for medical interventions.
As per the United Nations, 1 in 6 people across the world is expected to be over 65 years of age by 2025, which was 1 in 11 in the year 2019.
Older people are susceptible to cardiovascular and orthopedic conditions owing to age-related physical changes. Surgical procedures are considered effective therapy options in the majority of these conditions, which can further propel the demand for shape memory alloys.
"Wide Applicability of Shape Memory Alloys in Consumer Electronics Industry"
Growing demand for shape memory alloys is being fueled by the consumer electronics and home appliances industry. These alloys find wide applications in the production of a variety of products such as cellular phones, air conditioners, cameras, coffee makers, personal accessories, minidisc recorders, and rice cookers.
Shape memory alloys are commonly used in household applications and electrical equipment due to their superior properties such as corrosion resistance, long fatigue life, and better elasticity. They are mainly used as sensors and actuators in various applications.
Shape memory alloys are widely used in various personal care accessories, such as underwire bras, eyeglass frames, and shoulder pad wires. Additionally, they are also utilized in the manufacturing of cellphone antennas and cameras, where they serve as lock switch actuators.
"Rising Use of Shape Memory Alloys in Aerospace Industry"
Shape memory alloys are becoming increasingly popular in the aerospace industry due to their beneficial properties such as high elasticity, fatigue resistance, and low weight. Moreover, SMAs possess high mechanical strength and wear resistance, which makes them suitable for use in different aerospace applications, such as actuators, sensors, and structural components.
Don't Need a Global Report?
Save 40% on Country & Region specific reports
What's Restricting the Adoption of Shape Memory Alloys?
"High Cost of Shape Memory Alloys Compared to Substitutes"
Raw materials used in the production of shape memory alloys include titanium, nickel, aluminum, and copper whose prices are continuously increasing. Moreover, these alloys are widely used in the medical industry for surgical instruments and biomedical implants.
Stainless steel is often used as a cost-effective alternative to shape memory alloys, as the latter can be relatively expensive. Additionally, the presence of similar properties in stainless steel is expected to limit demand for SMAs.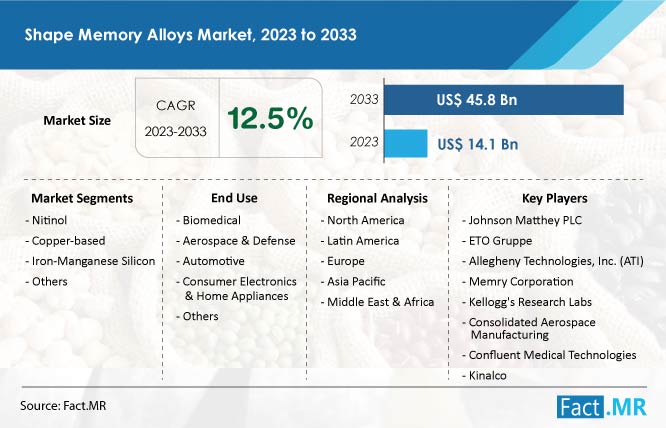 Why is North America a Prominent Market for Shape Memory Alloys?
"Expansion of Aerospace Industry Fueling Demand for Shape Memory Alloys"
Demand for shape memory alloys is increasing in several regions globally, including North America, Asia Pacific, Europe, the Middle East & Africa, and Latin America. The North American region is expected to hold a leading revenue share, mainly due to the significant growth in the aerospace industry, creating opportunities for regional players.
Extensive research and development in bioengineering is also contributing to opportunities in the region. The Asia Pacific and European regions are holding a substantial share of the global market revenue after North America.
More Insights, Lesser Cost (-50% off)
Insights on import/export production,
pricing analysis, and more – Only @ Fact.MR
Country-wise Insights
What is the Demand Outlook for Shape Memory Alloys in Japan?
"Growing Automotive Industry Fueling Demand for Shape Memory Alloys"
Sales of shape memory alloys in Japan are projected to advance at a high CAGR of 10.6% from 2023 to 2033. In the next decade, Japan is expected to provide opportunities for shape memory alloy manufacturers due to the significant growth of the automotive industry. The increased production of vehicles in Japan is projected to drive demand for shape memory alloys.
What is Expected to Drive the Sales of Shape Memory Alloys in the United States?
"Growing Demand for Shape Memory Alloys from Aerospace, Automotive, and Biomedical Industries"
Demand for shape memory alloys in the United States reached US$ 4.4 billion in 2022. In North America, the United States is a significant consumer of medical devices. Besides, the demand for SMAs is also boosted by the growth of the aerospace, automotive, and biomedical industries in the country.
Sales of shape memory alloys in Canada are estimated to advance at a significant CAGR of 11.7% from 2023 to 2033.
Which European Country Accounts for High Demand for Shape Memory Alloys?
"Rising Use of Shape Memory Alloys in Medical Industry in Germany"
The market across Germany is forecasted to expand at a noteworthy CAGR of 11.6% through 2033. Increased utilization of shape memory alloys (SMAs) in the medical sector for various applications, such as clinical instruments, orthopedic implants, interventional radiology devices, and others, has the potential to boost their demand.
Category-wise Insights
Which Type of Shape Memory Alloy is Generating High Demand?
"High Corrosion and Impact Resistance of Nitinol Alloys Widening Their Applications in Several Industries"
Sales of Nitinol alloys are projected to grow at a significant rate through 2033 due to their high elasticity, which is typically 10 to 30 times higher than that of other metals.
Globally, the demand for nitinol shape memory alloys is being driven by their crucial properties such as biocompatibility, high fatigue strength, outstanding damping, excellent corrosion resistance, and moderate impact resistance.
Which Industry is Projected to Offer Lucrative Opportunities for Manufacturers of Shape Memory Alloys?
"Biomedical Industry Acting as Primary Driver for Sales of Shape Memory Alloys"
Growing demand for shape memory alloys worldwide is being driven by various key end-users, including players in biomedical, automotive, consumer electronics and home appliances, aerospace and defense, and others.
Of these, the biomedical industry is projected to be the primary driver for the rising demand for shape memory alloys due to their widespread use in medical implantable devices. The biocompatibility, damping properties, and pseudoelasticity of SMAs are among their critical features.
Know thy Competitors
Competitive landscape highlights only certain players
Complete list available upon request
Competitive Landscape
Shape memory alloy manufacturers are increasing their spending to enhance their supply chain management systems to meet the global demand for these alloys. This enables them to uphold product standards and invest in new advancements. Additionally, manufacturers are striving to comply with safety, quality control, and environmental impact regulations set by relevant bodies.
Suppliers of shape memory alloys are involved in collaborations, agreements, and partnerships to produce high-quality SMAs and thus enhance their product portfolio.
For instance:
Nextremity Solutions, Inc. entered into an exclusive agreement in January 2021 with Fort Wayne Metals to commercialize implants made from magnesium alloys.
In August 2021, Johnson Matthey and KBR entered into an agreement for the licensing of its innovative production technology.
Johnson Matthey PLC, ETO Gruppe, Memry Corporation, Kellogg's Research Labs, Consolidated Aerospace Manufacturing, Confluent Medical Technologies, and Kinalco are major producers of shape memory alloys.
Shape Memory Alloys Industry Segmentation
By Type :

Nitinol
Copper-based
Iron-Manganese-Silicon
Others

By End Use :

Biomedical
Aerospace & Defense
Automotive
Consumer Electronics & Home Appliances
Others

By Region :

North America
Europe
Asia Pacific
Latin America
Middle East & Africa