Claims of High Immunity through Vitamin Intake Creating Growth Prospects for Gummy Vitamins
It is important to recognize that one cannot be shielded from COVID-19 by supplementation, diet or major lifestyle changes other than social distancing and good hygiene practices. However, the general idea of vitamin gummies making the immune system stronger is creating growth prospects for the overall market. Gummy vitamins and other vitamin offering sections in supermarkets and convenience stores are lying empty with claims on social media that Vitamin infused products can help boost immunity amid COVID-19. However, the flow of gummy vitamins from one channel to another continues to be limited due to vehicle shortages, lack of manpower and numerous state laws enacting lockdowns. Determining the impact of Covid-19 on the outlook for demand for gummy vitamins will be premature. The global pandemic, however, has put up some roadblocks for a stable growth of the global gummy vitamins market
Appetizing Formulations to Boost Gummy Vitamins Market Growth
The change from gelatin and sugar gummies to vegan and sugar-free gummies is expected to bring intrinsic opportunities in the market for gummy vitamins. Thus, gummy vitamins market is estimated to rise at a growth rate of over 5.5% between 2020 and 2030. Owing to their ease of use and variety of unique flavors, vitamin consumers are moving from conventional pills to gummy vitamins. Innovative goods like hemp based gummies and pet-oriented gummies have hit the market to cater for the consumer's inclination towards vitamin sources with additional attributes. However, due to the Covid-19 outbreak the retail sector in several countries like India have locked down with no sales flow. The supply of gummy vitamins and other medicinal products have also taken a big hit as authorities fail to deliver and ensure necessary supplies.
North America Leads While APEJ and MEA Slated for High Growth
While being common in developed regions, gummy vitamins in developing economies are still in their nascent phase. North America holds the highest share in gummy vitamins market, accounting for more than 25% of the total market share in terms of value. APEJ presents the highest potential for growth, projected at 2.0X over its current market value. Amid the Covid-19 outbreak, the high acceptance of gummy vitamins in developing regions is leading manufacturers to prioritize on digital commerce leading to increased intake of dietary supplements such as gummy vitamins.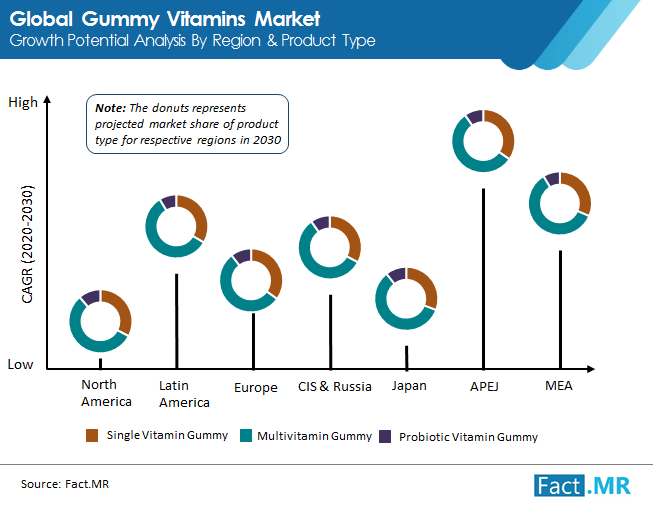 Inorganic Development Strategies Followed by Gummy Vitamin Manufacturers
The global gummy vitamins market is highly fragmented, with top players accounting for 1/5th of the overall market share. Majority of the key players in gummy vitamins market like Pharmavite LLC, Nutranext, LLC and Life Science Nutritionals Inc. are working collectively with several subsidiaries like Otsuka Pharmaceutical, The Clorox Company and Sara Lee Corporation. Some of the key developments in the gummy vitamins market are:
In March 2020, American Startup, 16VIT, launched a range of gummy vitamin supplements attributed to modern day gamers. With the increasing number of supplements, energy drinks and multivitamins focusing high intensity gamers, the company is positioning to tap into an ever-growing vitamin supplement market for gamers by offering different vitamin products focused for gamers.
In March 2020, San-Fransico-based brand OLLY launched its gummy vitamin supplements in Singapore, after the company was purchased by Unilever in 2019. Before its launch, Olly's gummy vitamins were available only in Target stores and in the U.S. via Amazon.
In March 2020, Church & Dwight Co. Inc., with its VitaFusion brand launched six new gummy vitamin products targeting immunity and skin disorders
Amidst the Covid-19 outbreak, although most players have been able to withstand the closure of factories because they have inventories on hand to mitigate short-term supply interruptions, any effect on the supply chain of gummy vitamins will only be felt if COVID-19 continues to have an effect after mid-April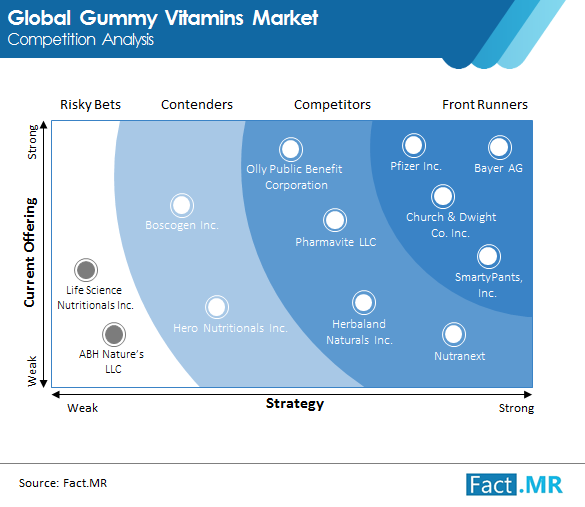 Impact of Covid-19 on Global Gummy Vitamins Market
Covid-19 pandemic has adversely affected the global food and beverages industry where both the production and supply chain have been disrupted by national and regional lockdowns. Unlike other markets, a change in consumer habits has resulted in increased demand for other essential food and beverage products. At the same time, manufacturers of gummy vitamins are deciding how best to address potential supply chain disturbances and capacity limitations that may prevent them from meeting changing customer requirements.
In particular, the market for gummy vitamins also faced the drastic impact of the Covid-19 crisis as demand was observed to decrease in January and February during those months relative to demand in 2019. Under the optimistic scenario, the global market for gummy vitamins is expected to remain squat in the first quarter of 2020 under the strong impact of Covid-19, and demand from the second quarter may once again increase. On the other hand, under the probabilistic scenario, the market is expected to remain under strong crisis control until the second quarter, and the situation may ameliorate from the third quarter on. Although the effect of the crisis will disrupt the demand for rubbery vitamins in the pessimistic scenario for all four quarters, the market will begin to show improvement by the first quarter of 2021.
"A preference for preventive medicine coupled with a health-conscious population fuels the global gummy vitamins market. The consumption of gummy vitamins is driven by rapid urbanization and the stress caused by a fast-paced lifestyle on account of several factors" says the Fact.MR analyst
Report Scope
The global gummy vitamins market is segmented on the basis of product type, source type, customer orientation, packaging type, sales channel and region.
On the basis of product type, the gummy vitamins market is segmented into:
Single Vitamin Gummy
Multivitamin Gummy
Probiotic Vitamin Gummy
On the basis of source type, the gummy vitamins market is segmented into:
On the basis of customer orientation, the gummy vitamins market is segmented into:
On the basis of packaging type, the gummy vitamins market is segmented into:
Bottles & Jar
Stand-Up Pouches
Other Packaging Type
On the basis of sales channel, the gummy vitamins market is segmented into:
Direct Sales
Modern Trade
Convenience Stores
Departmental Stores
Specialty Stores
Drug Stores / Pharmacies
Online Retailers
Other Sales Channel
On the basis of region, the gummy vitamins market is segmented into:
North America
Latin America
Europe
APEJ
Japan
CIS & Russia
Middle East & Africa
Gummy Vitamins Market: Report Summary
The global gummy vitamins market is anticipated to witness a notable upsurge during the forecast period 2020 to 2030, conferring to a new Fact.MR study. The study promotes crucial trends that are presently determining the growth of the gummy vitamins market. This newly published and perceptive report sheds light on vital dynamics, which are likely to convert the future of the gummy vitamins market, in turn generating worthwhile opportunities for key companies as well as evolving players who are interested in the manufacturing of gummy vitamins.
The gummy vitamins market study is a detailed market intellect on key revenue progression factors, challenges, industry trends, and opportunities, which will eventually influence the growth of the gummy vitamins market. The report primarily conveys a summary of the gummy vitamins market, considering present and upcoming food and beverages industry scenarios, to reveal striking sides relating to the acceptance of gummy vitamins across prominent regional markets.
A detailed assessment on few of the gummy vitamins raw material suppliers accessible in the report allows the report readers to obtain detailed findings that have resulted from gummy vitamins supply chain analysis, business execution, and value chain analysis across the regional markets incorporated in the report. A list of prominent companies functioning in the gummy vitamins market provided in the report enhances reliability of this ample research study.
Gummy Vitamins Market: Report Scope
Study offers a comprehensive overview on diverse features that are inducing demand, revenue generation and sales of gummy vitamins across the globe. A comprehensive estimate on the gummy vitamins market has also been made accessible by the experts, who have considered the market estimates on the basis of a likely scenario, an optimistic scenario, and a conservative scenario regarding sales of gummy vitamins during the forecast period. Analysis and estimation of price point comparison by region and by product type with the global average price has been included in this study.
Gummy Vitamins Market: Segmentation
Fact MR's study has done the segmentation of the gummy vitamins market on the basis of product type, source type, customer orientation, packaging type, sales channel and region.
Product Type

Source Type

Customer Orientation

Packaging Type

Sales Channel

Region

Single Gummy Vitamin

Multivitamin Gummy

Probiotic Vitamin Gummy

Animal Based

Plant Based

Children

Men

Women

Bottles & Jar

Stand Up Pouches

Other Packaging Type

Direct Sales

Modern Trade

Convenience Stores

Departmental Stores

Specialty Stores

Drug Stores / Pharmacies

Online Retailers

Other Sales Channel

North America

Latin America

Europe

CIS & Russia

Japan

APEJ

MEA
Gummy Vitamins Market: Analysis on Market Size Evaluation
Predictions of the gummy vitamins market, encompassing current as well as forthcoming projected values estimate and analysis on region-wise demand trends and price index have been assimilated in the report. Market estimates at the regional and global scale for gummy vitamins are available in terms of "US$ Mn" for value and "MT" for volume. A Y-o-Y growth contrast on prominent gummy vitamins market segments, along with the market attractiveness valuation computes understandings brought in the report. Metrics mentioned above are also followed based on gummy vitamins products where gummy vitamins witness a steady demand.
Gummy Vitamins Market: Scrutinized Assessment on Regional Segments
Weighted sections have been elaborated in the report on gummy vitamins market, which delivers projection on the regional markets. These chapters brighten the regional macros (political economic, and business environment outlook), which are expected to have a significant impact on the growth of gummy vitamins market during period of forecast.
Country-specific valuation on demand for gummy vitamins has been offered for each regional market, along with the market scope estimate and forecast, price index, price point assessment, and impact analysis of dynamics of prominent regions and countries. For all regional markets Y-o-Y growth estimates have also been incorporated in the report.
Gummy Vitamins Market: In-depth Analysis on Competitive Landscape
The report ends with a section on the competition scenario of gummy vitamins market, along with the profiles of major companies contributing to the market expansion. Essential and up-to-date data as well as information correlated to the market performers, who principally engage in the production and supply of gummy vitamins, has been brought with the help of a detailed dashboard view. Market share analysis and comparison of prominent players provided in the report permits the report readers to plan preemptive steps to advance their businesses.
Company profiles have been shared with report, which exerts essentials such as product portfolio, along with an all-inclusive SWOT analysis on each player recognized along with the company policies identification and analysis. The company presence mapped and presented through the matrix for all the prominent players of the market functioning in gummy vitamins market offers readers with actionable intellect, which helps in thoughtfully presenting the market status, and making decisive predictions on the competition levels in gummy vitamins market. Major companies operating in global gummy vitamins market, include Bayer AG, Church & Dwight Co. Inc., The Honest Company, Inc., Pfizer Inc., Pharmavite LLC and others.
Impact of Covid-19 on Gummy Vitamins Market
The report includes a scenario based assessment of impact of Covid-19 across key regions for all four quarters of 2020. The report discusses the market forecast under optimistic, probabilistic and pessimistic scenario. Under the three scenarios, the demand loss and recovery has been illustrated and described through L-shaped and U-shaped recovery curves. Alongside, the Covid-19 impact has been benchmarked with previous crisis including sub-prime crisis, Eurozone crisis and SARS pandemic.
Fact.MR offers custom research services that help clients to get specific research solutions
We are committed towards customer satisfaction and quality service.
---
Our Clients

Gummy Vitamins Market Forecast, Trend Analysis & Competition Tracking - Global Market Insights 2020 to 2030