Sand Washer Market
Sand Washer Market By Type (Wheel Sand Washers, Spiral Sand Washers), By Capacity (Below 50 T/h, 50-100 T/h, 100-150 T/h, 150-200 T/h, 200-300 T/h and Above 300 T/h Sand Washers), By Portability, By Power Consumption, By End Use - Global Market Insights 2021 to 2031
FACT3177MR
Jun-2021

List of Tables : 214

List of Figures : 194

170 Pages
Sand Washer Market Outlook
The global sand and washer market analysis predicts close to 5% CAGR sales increase during 2021-2031, with high demand for spiral sand washers driving market expansion. Together, East Asia and South Asia & Oceania are projected to account for more than 50% market share through 2031.
Key Points Covered in Sand Washer Industry Survey:
Market Estimates and Forecasts (2016-2031)
Key Drivers and Restraints Shaping Market Growth
Segment-wise, Country-wise, and Region-wise Analysis
Competition Mapping and Benchmarking
Brand Share and Market Share Analysis
Key Product Innovations and Regulatory Climate
COVID-19 Impact on Sand Washers and How to Navigate
Recommendation on Key Winning Strategies
Interested to Procure The Data
Demand Analysis of Sand Washers from 2016 to 2020 Vs Market Outlook for 2021 to 2031
Historically, from 2016 to 2020, use of sand washers increased at around 2.7% CAGR, wherein, countries such as China, the U.S., Mexico, France, and Russia held significant share in the global market.
On a global scale, demand for sand washers has been increasing owing to multitude applications in end-use industries such as construction, mining, and electrical & electronics.
The construction and mining industry has been growing from the past half-decade, which can be attributed to increasing population-led rapid urbanization and change in lifestyles.
Developing economies such as India, China, and ASEAN countries are creating demand in construction as new construction projects are significantly increasing in these countries, driving high demand for mobile sand washers in particular. Sales of stationary sand washers too are increasing in parallel to some extent.
With more construction and mining projects set to start over the coming years, demand for sand washers is set to increase at a rate of 1.5X during the forecast period. The market is projected to register close to 5% CAGR during the forecast period of 2021-2031, and shall offer incremental opportunity of around US$ 515 Mn.
Key players in the market are focusing on introducing eco-friendly sand washers in order to reduce the environmental impact during the washing cycle. Using such a strategy, players are easily attracting new customers to the market and are also able to attract existing customers to switch to such an eco-friendly solutions.
An Adaptive Approach to Modern-day Research Needs
What are the Key Opportunities for Sand Washer Manufacturers?     
The global economy is expanding continuously, driving the necessity of high-quality public infrastructure around the world. Regulatory bodies are increasingly focusing on improving infrastructure quality in order to outperform one another, resulting in a significant increase in infrastructure investments.
Developing nations such as India, China, and other BRIC nations are increasingly indulging in the development of advanced infrastructure.
A large number of public infrastructure projects, including railway stations and airports, are being undertaken for accommodating increasing demand from the ever-growing population. For instance, India is planning to invest around US$ 1.4 trillion over the coming years on its overall infrastructure development projects.
Moreover, projects undertaken for developing numerous smart cities are poised to create more business opportunities for construction raw materials and equipment manufacturers, which, in turn, will be reflect towards growth of the sand washer business.
What are the New Trends Prevalent in the Sand Washer Industry?
In order to attract a broader customer base, market players have employed novel marketing strategies, one of which is custom-made sand washer machines. From the past decade, manufacturers have opened deals with customers promising customization of sand washers based on end use, required specifications, and capacity.
Customers were given a free hand when it came to motor options, as they could choose from the company's brochure list any motor company they wanted. In addition, they can also choose the mechanical design, electrical properties, material to be used, paint, blade, bucket materials, and so on.
As a result, customers can have customised sand washers built from scratch, which involves a different process than regular sand washers. Big market players such as McLanahan, Powertrac Inc., etc., have implemented such services. Even tier-2 market players have started giving such options to customers.
Avail customized purchase options for your needs
Which Region Offers the Largest Opportunity for Sales of Sand Washers?
As per the sand washer sales forecast, East Asia and South Asia & Oceania, both, collectively are driving global demand for sand washers and their components, and are estimated to account for more than 50% of all sales by 2031.
China is playing a significant role in this area due to large number of buildings being constructed. In order to meet the country's population demands, China's construction industry is expanding rapidly.
In addition, infrastructure spending in countries such as India, Japan, and South Korea is expected to increase exponentially by 2031.
Furthermore, over the last two decades, the Indian government has attracted around US$ 24.7 Bn in foreign direct investment in the construction sector, indicating significant future growth potential.
Positive growth of the market for sand washers can also be attributed to various government initiatives for the Indian construction sector, as sand is a key material in construction, and needs to be washed and separated from foreign materials.
Country-wise Analysis 
Why is Russia Driving Demand for Sand Washers?
From 2016-2020, the market in Russia expanded at a CAGR of around 2.1%. Demand was due to growth of the mining industry in the country. The country has been one of the leading mineral producers across the globe.
Aluminium, copper, magnesium compounds & metals, nickel and palladium, etc., are some of the majorly produced minerals in the country. Under the precious metal category, the country comes 3rd in the production of gold, 4th in silver, and 2nd in platinum.
The mining industry in Russia is well established and is growing owing to increasing mineral demand globally. This has been supporting demand for sand washers as they are used to segregate metal ores/minerals from sand.
The never-ending demand for minerals in the country has led to the presence of a large number of sand washer manufacturers in order to cater to increasing demand. Over the coming years, sand washer sales are set to rise owing to increasing demand for minerals in the country, supporting overall market growth.
Will China Continue its Dominance in the Sand Washer Space in East Asia?
In 2020, China accounted for over 60% of sand washer demand in East Asia. China has been a key hub for manufacturing electronics and construction equipment. Sales of electronics are high in China, because of which, demand for semiconductors is always high, and as well for silica sand.
Sand washers re used by manufacturers to sort unwanted impurities/particles from silica sand in order to obtain pure silica sand to be used for electronic applications.
The Chinese electronics and silica sand market is highly fragmented, and thus, demand for sand washers is always growing, creating lucrative business opportunities for sand washer manufacturers in the country.
Historically, the market here grew at a double-digit CAGR and the same is expected during the forecast period.
Category-wise Insights
Why are Spiral Sand Washers the Most Used?
Spiral sand washers are the most used in the market. In 2021, they accounted for more than 60% of the global market share. Such high demand is attributed to myriad benefits of spiral sand washers over the wheel type.
Spiral sand washers have high cleaning efficiency and consume low power. In addition, they are easy to clean and maintain, and have fully enclosed transmission. Also, high end-use spares for them are easily available in the market.
As such, market players are introducing newer compact models such as hydro cyclones in the market. Hydro cyclones are as efficient as traditional washers but also eco-friendly, which means that they consume less water for each sand washing cycle. Many end users are adopting this product because of its low water consumption characteristic.
Thus, demand for hydro cyclones is anticipated to increase, which, in turn, will support the spiral type sand washer segment in expanding at a CAGR of close to 5% during the forecast period.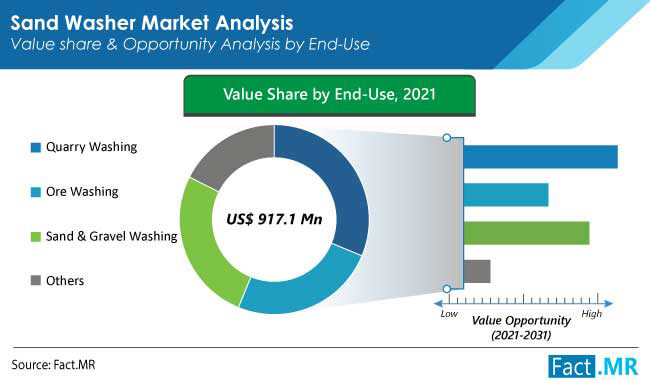 Which End Use Holds Lucrative Avenues for Sand Washer Manufacturers?
Quarry washing end use represented over 30% demand for sand washers in 2020. Large-scale m-sand and stone crushing units are major demand drivers in this segment.
Sand and stones produced from these units have to be segregated and washed in order to produce highly marketable materials to be used in construction, for which sand washers are required.
For manufacturers of quarry washing sand washers, major profit is generated through aftermarket spares, services, and technical support.
Thus, they always have continuous business opportunity even if their sales are low. Sand washers used in quarry washing are anticipated to expand at a CAGR of close to 5%, creating an absolute dollar opportunity of more than US$ 160 Mn over the next ten years.
What is the Impact of COVID-19 on the Demand and Sales of Sand Washers?
COVID-19 had a significant impact on the demand for sand washers with lockdowns being imposed in several parts of the world.
The working of manufacturing, construction, mining and related industries was hit, because of which, demand for new sand washers and spares experienced a significant decline.
The global sand washer market, which was growing at around 3.2% annually, witnessed a decline of 2.8% in 2020. Higher decline in demand was observed in Q2 of 2020, during which COVID-19 cases were at their peak globally.
As the number of cases reduced and vaccination drives were held in a majority of countries, end-use industries of sand washers started getting back on track, which will support the market to gain traction. It is anticipated that by the end of Q2 2022, sales of sand washers will fully recover and continue growing over the coming years.
Competitive Landscape in Sand Washer Market Report
Majority of companies discussed in the report on the sand washer machine market have focused on product launches and expanding their manufacturing units in developing regions.
Strategies include innovation, collaborations with key players, partnerships, strategic alliances, and strengthening of regional and global distribution networks.
Some of the key developments in this space are:
In 2020, CDE Global unveiled its new 500 TPH ComboTM X900 at CONEXPO-CON/AGG in Las Vegas, NV. It has been manufactured specifically for materials processing in North America and Latin America.
In 2019, Mc Lanahan launched modular ultra-wash. This product has a capacity of 365 TPH and can manufacture two sand products.
Similarly, recent developments related to companies manufacturing sand washers have been tracked by the team at Fact.MR, which are available in the full report.
Report Scope as per Analysis of Sand Washer Industry
Attribute

Details

Forecast Period

2021-2031

Historical Data Available for

2016-2020

Market Analysis

US$ Mn for Value and Units for Volume

Key Regions Covered

North America
Latin America
Europe
East Asia
South Asia & Oceania
MEA

Key Countries Covered

United States
Canada
Brazil
Mexico
Germany
U.K.
France
Spain
Italy
BENELUX
South Africa
GCC Countries
China
Japan
South Korea
India
Indonesia
Malaysia
Singapore
Australia and New Zealand

Key Segments Covered

Type
Capacity
Portability
Power Consumption
End Use
Region

Key Companies Profiled

CDE Global Ltd
Dernaseer Engineering Ltd.
Hydria Water
McLanahan
Powertrac Inc.
Propel Industries
Superior Industries, Inc.
The Weir Group PLC,
Zhengzhou Unique Industrial Equipment Co., Ltd.

Pricing

Available upon Request
Key Market Segments Covered in Sand Washer Industry Research
By Type

Wheel Sand Washers
Spiral Sand Washers

By Capacity

Below 50 T/h Sand Washers
50-100 T/h Sand Washers
100-150 T/h Sand Washers
150-200 T/h Sand Washers
200-300 T/h Sand Washers
Above 300 T/h Sand Washers

By Portability

Stationary Sand Washers
Mobile Sand Washers

By Power Consumption

Below 10 kW Sand Washers
10 - 25 kW Sand Washers
25 - 50 kW Sand Washers
50 - 100 kW Sand Washers
Above 100 kW Sand Washers

By End Use

Sand Washers for Quarry Washing
Sand Washers for Ore Washing
Sand Washers for Sand & Gravel Washing
Others