Sandblasting PPE Market to Grow 1.5X, with High Uptake in Developing Regions
Sandblasting cleaning or abrasive grit blasting is a surface treatment process widely used in myriad end-use industries. With the flourishing industrial sector, such as manufacturing, mining, construction, utilities and oil and gas, demand for Sandblasting PPE (Personal Protective Equipment) market in developing countries is anticipated to witness a high demand growth in the forecast period. As a result of the above mentioned factors, many companies are entering the markets in Asia and Africa to expand their geographical footprint and enhance revenue pools. On this premise, the global Sandblasting PPE market is foreseen to grow ~1.5 times and pegged to surpass the US$ 585 Mn mark by the end of the forecast period.
Marine Industry and Construction Sector to Collectively Accentuate the Demand for Sandblasting PPEs
Sandblast operators working in the area of sandblasting need protection from the blast environment and the various hazards they confront every day. High-speed abrasive turns rust and paint into a cloud of dust, and the rebounding particles continuously bombard the operator. Sandblasting PPEs are used in various end use verticals. The marine industry dominates the global market for the sandblasting PPE and accounts for around 25% share in terms of value. The marine segment is foreseen to expand by ~1.5X through 2029 closely followed by construction application segment.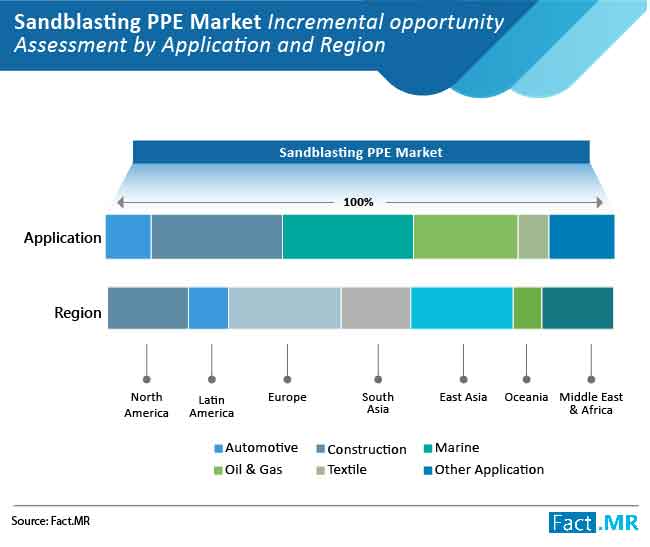 Get access to our latest application based insights on the sandblasting PPE market by requesting for a report sample here
Europe and East Asia to Outperform Other Regions in Global Sandblasting PPE Market
Europe and East Asia are estimated to be the most prominent markets for Sandblasting PPE owing to stringent laws for safety set by regulatory bodies such as Occupational Safety and Health Organization Administration (OSHA). These bodies are putting great emphasis on the use of personal protective equipment in the Sandblasting industries, globally. Furthermore, the high consolidation of shipbuilding and repair industry in East Asia is also foreseen to strengthen the Sandblasting PPE market in the region. Collectively, Europe and East Asia is foreseen to account for 42% in the overall absolute dollar opportunity created through 2029.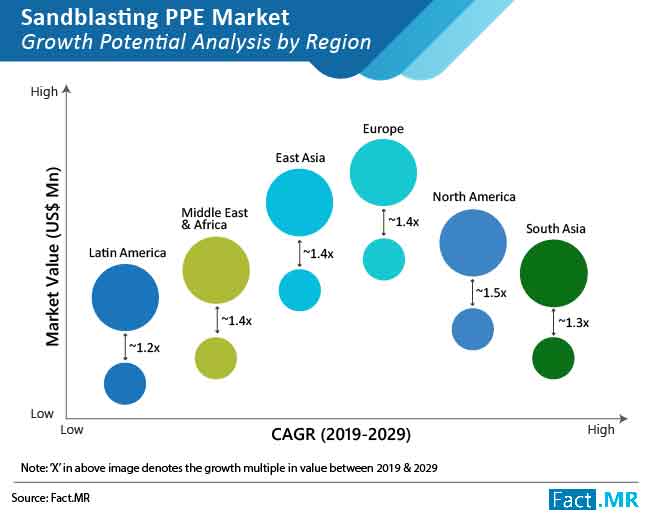 To get an exhaustive regional overview of the sandblasting PPE market, ask an analyst here
Respirators and Suits to Account for Major Chunk of Market Share
Demand for personal protective equipment products is increasing due to the rising awareness within the industrial sector for employee and work place safety. Furthermore, Owing to the inevitable need for respirators and suits in Sandblasting industry, both are estimated to create an absolute dollar opportunity of US$ ~162 Mn by the end of the forecast period. However, Gloves, Face Boots and face shields are also foreseen to witness significant growth over the course of the forecast duration.
Advent of Customized Personal Protective Equipment Solutions to Strengthen Demand
Demand for industry-specific PPE is expected to increase with growing knowledge and awareness related to workplace safety. Many industry verticals, have been potentially benefited from customized sandblasting PPE solutions. Leading companies are employing a dedicated team of specialized professionals to understand the changing preferences of employees while using Sandblasting PPE. These specialists are cognizant of the challenges, needs and concerns of workers for enhancing safety at the workplace. They provide a complete set of customized PPE solutions drawn from the existing PPE portfolio.
Sandblasting PPE (Personal Protective Equipment) Market - Scope of the Report
Fact.MR recently published a market study on the global Sandblasting PPE market. The study provides detailed assessment on the key market dynamics, including drivers, trends, opportunities, restraints, and detailed information about the Sandblasting PPE market structure. The market study presents exclusive information about how the Sandblasting PPE market will grow during the forecast period of 2019-2029.
Key indicators of market growth, which include Year-on-Year (Y-o-Y) growth of the market, value chain, supply chain analysis, and Compounded Annual Growth Rate (CAGR) are explained in Fact. MR's study in a comprehensive manner. This information can help readers understand the quantitative growth prospects of the Sandblasting PPE market in the forecast period.
The study is relevant for stakeholders in the Sandblasting PPE market, including manufacturers, suppliers, distributors and investors, and can help them in developing appropriate strategies to grow in the market. Stakeholders in the Sandblasting PPE market, investors, industry experts, researchers, and journalists, as well as business researchers can leverage the information and data presented in the Fact.MR study.
The study also includes statistics as well as facts related to macro as well as microeconomic factors that are impacting developments in the Sandblasting PPE market. It also offers actionable insights based on future trends in the Sandblasting PPE market. Furthermore, small businesses and new entrants in the Sandblasting PPE market too can make use of the information presented in this study, based on which, they can make appropriate business decisions in order to gain momentum in the market.
Key Segments of the Sandblasting PPE market
Fact.MR's study on the Sandblasting PPE market offers information divided into three important segments— equipment type, application and regional analysis. This report offers comprehensive data and information about important market dynamics and growth parameters associated with these categories.
| | | |
| --- | --- | --- |
| Equipment Type | Application | Region |
| Respirators | Automotive | North America |
| Hearing Protection | Construction | Latin America |
| Suits | Marine | Europe |
| Gloves | Oil & Gas | East Asia |
| Boots | Textile | South Asia |
| Face Shields | Other Applications | Oceania |
| Other Equipment | | MEA |
Key Questions Answered in the Fact.MR Sandblasting PPE Market Report
Which regions will continue to remain the most profitable regional markets for Sandblasting PPE players?
Which factors will induce a change in the demand for Sandblasting PPE market during the assessment period?
How will changing trends impact the Sandblasting PPE market?
How can market players capture the low-hanging opportunities in the personal protective equipment market for Sandblasting industry in developed regions?
Which companies are leading the personal protective equipment market for Sandblasting industry?
What are the winning strategies of stakeholders in the personal protective equipment market for Sandblasting industry to upscale their position in this landscape?
Sandblasting PPE Market: Research Methodology
In Fact.MR's study, a unique research methodology is utilized to conduct extensive research on the growth of the Sandblasting PPE market, and reach conclusions on future growth parameters of the market. This research methodology is a combination of primary and secondary research, which helps analysts ensure the accuracy and reliability of conclusions.
Secondary resources referred to analysts during the production of the Sandblasting PPE market study include statistics from governmental organizations, trade journals, white papers, and internal and external proprietary databases. Analysts have interviewed senior managers, product portfolio managers, CEOs, VPs, marketing/product managers, and market intelligence managers, who have contributed to the development of this report as a primary resource.
Fact.MR offers custom research services that help clients to get specific research solutions
We are committed towards customer satisfaction and quality service.
---
Our Clients

Sandblasting PPE Market Forecast, Trend Analysis & Competition Tracking - Global Market Insights 2019 to 2029