Syngas Catalysts Market
Rising Production of Ammonia Synthesis of SNG and Methanol Synthesis of SNG to Propel the Demand for Syngas Catalysts during 2021-2031
FACT3368MR
Sep-2021

List of Tables : 56

List of Figures : 182

170 Pages
Market Snapshot
According to the latest report on syngas catalysts published by Fact.MR, global syngas catalyst production is expected to be 67.1 KT by the end of 2021. In 2020, a decline of 1.5% in market value for syngas catalysts was observed, not meeting the expectations what most producers had anticipated.
Syngas catalysts business research performed by Fact.MR delves into key insights such as current and speculative production capacity, capacity utilization rates of each producer, current and speculative pricing, price optimization strategy across the value chain, techno-economic analysis of acetone derivatives production, and much more.
Key Insights Covered in Syngas Catalysts Industry Survey:
Market Estimates and Forecasts (2016-2031)
Production Capacity Analysis of Prominent Manufacturers
Syngas Catalysts Pricing Analysis
Product Pricing Optimization Strategy
Associated Industry Analysis (Catalysts Market Overview)
Key Drivers and Restraints Shaping Market Growth
Segment-wise, Country-wise, and Region-wise Analysis
Competition Mapping and Benchmarking
Market Share Analysis
Leading Export - Import Destinations
Analysis of Supply Contracts, Avg. Consumption, Potential for Direct & Indirect Sales
Analysis of capacity factor, utilization rate, purity scales etc.
COVID-19 Impact on Syngas Catalyst Sales and How to Navigate
Recommendation on Key Winning Strategies
Know More Details About the Report
Consumption Analysis of Syngas Catalysts from 2016 to 2020 Vs. Market Outlook for 2021 to 2031
According to the latest report published by Fact.MR, a market research and competitive intelligence provider, in the past half-decade, the syngas catalysts market expanded at a CAGR of around 4.4%, which can be attributed to rising demand for syngas in regions such as East Asia, South Asia & Oceania, and MEA.
Further, mounting production of ammonia synthesis of SNG and methanol synthesis of SNG is set to drive demand for syngas catalysts at a steady CAGR of around 5.6% over the projected forecast period of 2021 to 2031.
Over the past decade, rise in sale of syngas has mainly been driven by the ammonia industry that uses catalysts for synthesis purpose. For instance, 33.3 KT of the total syngas catalyst produced globally was used for ammonia synthesis in 2020. Additionally, the use case in further projected to increase its market share by around 60 BPS through 2031.
Moreover, as per Fact.MR's estimation, the syngas catalysts industry is projected to see a surge in value by 1.7X to around US$ 1.3 Bn by the end of 2031. Estimations have been put in place seeing investments pouring in for methanol and hydrogen capacity expansion along with constant demand from the ammonia industry.
Also, it is seen that demand for syngas catalysts in remote power applications has been swelling to fulfil demand.
COVID-19 too had an impact on syngas catalyst revenue with a dip in its Y-O-Y growth, but constant demand for urea to be used as a fertilizer ensured continued supply of catalysts, as such helping in stabilizing the market.
How Will Increasing Hydrogen Production Ensure Growth in Syngas Catalyst Demand?
Hydrogen is the backbone of the petrochemical industry, which also makes it the leading consumer. The petrochemical industry uses hydrogen mainly for the desulfurization of crude oil and the hydrocracking process. Such huge consumption of hydrogen by one of the leading industries ensures that there is constant scope for the growth of the syngas catalysts market.
Additionally, hydrogen has been identified as a potent alternate energy source that is gaining traction around the globe. Copper-zinc oxide syngas catalysts also remained a backbone for the demand with increased usage.
Owing to these factors, the petroleum syngas catalysts market for hydrogen synthesis use case is projected to hold 19.5% of global revenue share by 2031. Also, attributed to the above positive trends, Fact.MR estimates the market for syngas catalysts to expand at a CAGR of 5.6% over the forecast period 2021-2031.
Avail customized purchase options for your needs
What Properties Do Syngas Catalysts Shows That make Them Fit for Varied Use Cases?
Syngas catalysts are used for varied use cases such as ammonia synthesis, methanol synthesis, hydrogen synthesis, gas to liquid syngas catalyst production, gasification, and many more. Owing to catalysts use in the above-mentioned use cases, they come equipped with high activity, low pressure drop properties, varied shapes, along with ability to retain these properties even in low temperatures.
Moreover, syngas catalysts that can withstand different operations such as reforming, steam reforming, and partial oxidation processes are high in demand.
Attributed to above-mentioned properties, growth of the global syngas catalyst market is projected to be moderate and garner an absolute $ opportunity of worth US$ 560 Mn by the end of the forecast period.
What Obstructions are Projected that May Hinder Sales of Syngas Catalysts?
Chemical and petrochemical industries are under constant scrutiny by government organizations owing to their contribution to carbon emissions. For instance, according to a latest report by IEA, production of syngas catalyst hydrogen emits around 830 Mn tons of CO2 annually. Thus, governments around the world are actively proposing to regulate these industries.
Regulations would have a direct impact on the sale of syngas catalysts as stringent laws demand for sustainable sourcing, which is tough to adopt at initial stages.
Moreover, natural gas is seeing a surge in consumption from the transportation sector owing to its clean combustion properties. This could lead to shortage and increase the prices of natural gas for the bio-syngas market. Increased production cost would mean procurement of catalysts at lower rates, thus threatening the syngas & derivatives market revenue generation capacity.
The above-mentioned factor may lead to a decrease in market size of syngas catalysts from petrochemical industries, and thus act as hindrance to its growth over the forecast period.
An Adaptive Approach to Modern-day Research Needs
Which Region Provides Syngas Catalyst Manufacturers the Opportunity to Expand their Footprint?
The market of syngas catalysts in East Asia is estimated to be around 30 KT by 2021-end. Additionally, East Asia has shown Y-O-Y growth of 3.4% in 2020, which is projected to gain momentum owing to a well-established syngas catalyst ammonia and syngas catalyst methanol industry in the region.
Additionally, rising interest in alternate fuels such as methanol has propelled demand for SNG as a syngas catalyst, thus enabling manufacturers to penetrate the market targeting end-use industries more effectively.
Moreover, over the years, coal to liquid syngas catalyst and bio-mass to liquid syngas catalyst gasification for the production of cleaner fuels has gained momentum in the region, thus bolstering demand for syngas catalysts. Out of these, biomass gasification of syngas catalysts remained the most attractive segment in the market.
Owing to the above-mentioned factors, syngas catalyst outlook in East Asia is poised to remain positive whilst holding a major share in terms of revenue. Further the Argentina coal to liquid syngas catalyst market over the years has provided stupendous growth opportunity and is projected to continue on the same path for the next ten years.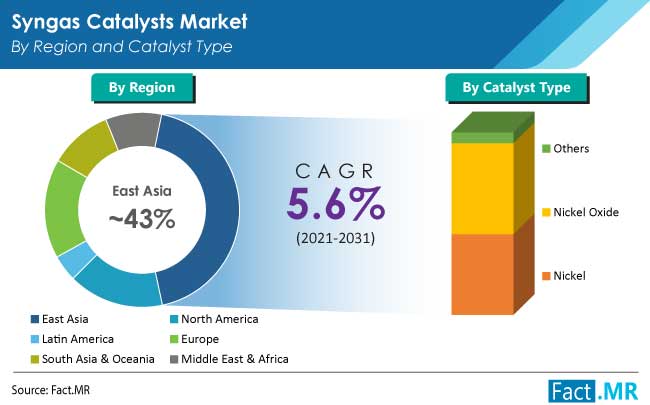 Country-wise Analysis
What Role Does China Play in Uplifting the Demand for Syngas Catalysts?
China has been at the forefront of various chemical businesses in terms of both, production and consumption. Also, by late 2010, there has been a rise in interest for olefins production from methanol in China, enabling high adoption of MTO (methanol to olefins) processes.
Since olefins are important feedstock for the production of ethylene and propylene, its demand is projected to keep rising in the country. For instance, ethylene demand reached around 27 Mn tons in 2020.
Moreover, some of the leading syngas catalyst manufacturers such as Clariant, Haldor Topsoe and Johnson Matthey have established joint ventures with local manufacturers for the production of catalysts. This has enabled manufacturers of ammonia and methanol to procure raw materials at lower prices, thus driving syngas catalyst consumption in the country.
Attributed to these factors and as per Fact.MR analysis, China will continue to play a major role in uplifting the demand for methanol synthesis of SNG catalysts over the forecast period of 2021-2031.
How Has Demand for Syngas Catalysts Been Shaping Up across Established and Evolving Markets?
Japan: Japan is poised to be the second-most lucrative market in East Asia after China, owing to high consumption of syngas for hydrogen production and power generation.
Moreover, Japan is determined to become a hydrogen superpower in next ten years, which would enable rapid syngas production, thus propelling demand for syngas catalysts in the country. The market in Japan is projected to expand at a CAGR of 4.8% over the period.
India: Importance of syngas catalysts and its demand in India will mainly be driven by ammonia production, which is widely used in fertilizers. Moreover, several initiatives over the years have been proposed by the government, such establishment of methanol plants that has set out positive trends for catalyst producers.
Owing to these factors, the Indian market is set to lead in terms of consumption in the South Asia and Oceania region.
Brazil: Brazil is projected to hold major share among other Latin American countries. This is mainly attributed to a well-established methanol industry in the country, along with rising trend of clean fuel production.
Also, methanol blending with conventional fuels has a prominent place in Brazil's automotive sector. For instance, around 90% cars in Brazil uses flex fuel. Owing to these positive trends, Brazil is set to provide robust growth in syngas catalyst demand.
U.S.: The U.S. has a well-established petrochemical and oil & gas industry, which constantly need syngas for the production of hydrogen and other chemicals. Moreover, leading producers of syngas catalysts also have their production bases in the U.S., which provides local ammonia and methanol producers with easy access to catalysts.
Thus, the U.S. is projected to provide a major boost in demand for syngas catalysts over the coming years.
Why are GCC Countries Being Seen as Lucrative Markets for Syngas Catalysts?
The GCC region includes countries such as Saudi Arabia, Qatar, UAE, Bahrain, Oman, and Kuwait. These countries have a well-established petrochemical industry, which includes renowned companies such as SABIC and Saudi Aramco.
Constant demand for hydrogen for desulfurization and hydrocracking processes has enabled mounting production of syngas, thus providing major boost to catalyst demand.
Moreover, increased production of petrochemicals has been seen in the region over the past decade, which has provided a positive outlook to catalyst manufacturers. Major use case in GCC countries is projected to be that for the hydrogen synthesis of SNG, thus propelling the catalyst market in the region.
Attributed to these factors, GCC countries are set to provide an absolute $ opportunity of worth US$ 31 Mn through 2031.
Have a report related query? Speak to us directly
Category-wise Insights
Which Operation Type is Set to Drive Demand for Syngas Catalysts?
Reforming operations for syngas production is set to dominate operations globally. This is mainly attributed to the flexibility of operation for varied use cases such as ammonia synthesis, methanol synthesis, hydrogen synthesis, and many more.
Moreover, efficiency of the reforming process when compared to the partial oxidation method is high, and is thus is preferred by industries for syngas production.
Owing to these factors the syngas catalyst hole cylinder market for reforming operations is set to dominate by holding around 61% share among other operations.
Also, steam reforming is poised to be the second-most lucrative operation type and is likely to touch the US$ 300 Mn mark by 2031. Moreover, operations are also projected to dominate the Germany syngas & derivatives market along with the Italy bio-syngas market in the forecast period.
For Which Use Case Will Syngas Catalysts Garner Highest Demand?
Holding around 49% revenue share in 2020, ammonia synthesis is poised to dominate in terms of use case. This is mainly attributed to high demand for catalysts for ammonia production from countries such as China and India.
Ammonia is mainly used for fertilizer production, demand for which is high form these two agricultural countries. Around 41% of global ammonia production happens in China and India, which calls for constant supply of catalyst for syngas production. This has opened an opportunity for the natural syngas catalysts market in the region.
Owing to these positive trends, ammonia synthesis use case is set to provide an absolute $ opportunity worth US$ 300 Mn over the next decade. Meanwhile, increased use cases will also drive consumption till 55 KT by 2031-end.
Further use of syngas for fuel cell application is also poised to provide high incremental $ opportunity in the market.
How Has COVID-19 Impacted Revenue Generation from Syngas Catalysts?
Y-O-Y revenue growth for syngas catalysts in 2020 contracted by around 1.4% when compared to 2019. Contraction was mainly attributed to fall in production due to lockdowns and shutdown of manufacturing units.
However, constant demand for fertilizers ensured that the market for syngas catalyst stabilized. With manufacturing units now working full capacity, demand is set to go back to pre-pandemic levels.
Competition Landscape
In order to expand their consumer base, syngas catalyst manufacturers are opting for both, organic and inorganic growth strategies such as capacity expansion, partnerships, and collaboration to help them garner more market share.
In Dec 2020, Johnson Matthey secured a license to develop one of the largest single train methanol plants in the world. Through this, JM tends to expand its footprint in China by supplying catalysts, technology, and commissioning assistance.
In 2020, Johnson Matthey and ThyssenKrupp renewed a partnership for world class collaboration in ammonia production.
BASF SE recently signed a deal with Linde focusing on syngas generation in order to tackle the climate issue by promoting clean energy and expanding their cooperation on the process. Linde's DRYREF technology uses BASF's SYNSPIRE catalyst and is viable and cost-effective alternative to partial oxidation plants with low H2/CO ratios.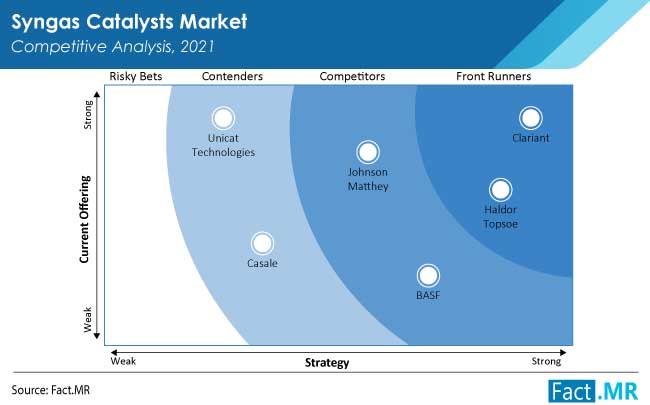 Syngas Catalysts Industry Report Scope
Attribute

Details

Forecast Period

2021-2031

Historical Data Available for

2016-2020

Market Analysis

KT for Volume and US$ Mn for Value

Key Regions Covered

North America
Latin America
Europe
East Asia
South Asia & Oceania and MEA

Key Countries Covered

United States
Canada
Brazil
Mexico
Germany
U.K.
France
Spain
Italy
China
Japan
South Korea
India
Indonesia
Malaysia
Singapore
Australia
New Zealand
Turkey
South Africa
and GCC Countries

Key Market Segments Covered

Product
Grade
Application
End Use
and Region

Key Companies Profiled

BASF
Casale
Clariant
Haldor Topsoe
Johnson Matthey
Unicat Technologies

Pricing

Available upon Request
Key Segments Covered in Syngas Catalysts Industry Research
By Operation

Coal to SNG
Reforming
Steam Reforming
Others

By Catalyst

Nickel
Nickel Oxide
Others

By Use Case

Hydrogen Synthesis
Ammonia Synthesis
Methanol Synthesis
SNG Plants
Biomass Gasification
Coal Gasification
Tar Removal
Fuel Cell
Gas to Liquids
Syngas Catalysts Market - Scope of Report
A recent study by Fact.MR on the syngas catalysts market offers a 10-year forecast for 2021 to 2031. The study analyzes crucial trends that are currently determining the growth of the market. This report explicates on vital dynamics, such as the drivers, restraints, and opportunities for key market players along with key stakeholders as well as emerging players associated with the development of syngas catalysts.
The study also provides the dynamics that are responsible for influencing the future status of the market over the forecast period. A detailed assessment of value chain analysis, business execution, cost structure analysis, and supply chain analysis across regional markets has been covered in the report.
A list of prominent companies manufacturing syngas catalysts, along with their product portfolios, key strategies, SWOT Analysis, enhances the reliability of this comprehensive research study.
Report Summary
The study offers comprehensive analysis on diverse features, including speculative and current production capacity, capacity utilization rates, captive consumption rates, grade-wise pricing, revenue growth and list of consumers with consumption quantity, trade analysis, product enhancements, and revenue generation from syngas catalysts across the globe.
A comprehensive estimate on the market has been provided through an optimistic scenario as well as a conservative scenario, taking into account the revenue through of syngas catalysts during the forecast period.
Market Segmentation
Fact.MR has studied the syngas catalysts market with detailed segmentation on the basis of operation type (coal to SNG, reforming, steam reforming, others), catalysts type (nickel, nickel oxide, others), use case (hydrogen synthesis, ammonia synthesis, methanol synthesis, SNG plants, biomass gasification, coal gasification, tar removal, fuel cell, gas to liquids), and across six major regions of the world (North America, Latin America, Europe, East Asia, South Asia & Oceania, and MEA).
"This taxonomy prepared is confidential and intended exclusively for the individual or entity with whom it is being shared. Reading, disseminating, distributing, or copying this to any party other than addressee(s) is unauthorized and prohibited."
Analysis on Market Size Evaluation
The market has been analyzed for each market segment in terms of volume (KT), and value (US$ Mn).
Market estimates at global and regional levels for syngas catalysts are available in terms of "US$ Mn". A Y-o-Y growth contrast on prominent market segments, along with market attractiveness evaluation, has been incorporated in the report. Furthermore, absolute dollar opportunity analysis of all the segments adds prominence to the report. Absolute dollar opportunity plays a crucial role in assessing the level of opportunity that a company can look to achieve, along with identifying potential resources, considering the revenue perspective in the global Syngas catalysts market.
Inspected Assessment on Regional Segments
Key sections have been elaborated in the report, which have helped deliver projections on regional markets. These chapters include market forces analysis, which is expected to have a momentous influence on the growth of the Syngas catalysts market during the forecast period.
Country-specific valuation on revenue for syngas catalysts has been offered for each regional market, along with market scope estimates and forecasts, and impact analysis of the dynamics of prominence in regions and countries. For all regional markets, Y-o-Y growth estimates have also been incorporated in the report.
Detailed breakup in terms of value for key countries has also been included in the report.
In-depth Analysis on Competition
The report sheds light on leading providers of syngas catalysts, along with their detailed profiles. Essential and up-to-date data related to market performers who are principally engaged in the Syngas catalysts business has been brought with the help of a detailed dashboard view. Market share analysis and comparison of prominent players provided in the report permits report readers to take preemptive steps in advancing their businesses.
Company profiles have been included in the report, which include essentials such as production sites & capacities, product portfolios, channel partners, prominent consumers and key strategies, along with all-inclusive SWOT analysis on each player. Company presence is mapped and presented through a matrix for all the prominent players, thus providing readers with actionable insights, which helps in thoughtfully presenting the market status, and predicting the competition level in the Syngas catalysts market.
Prominent companies operating in this market include BASF, Casale, Clariant, Haldor Topsoe, Johnson Matthey, and Unicat Technologies.
Need an Exclusive Report for your Unique Requirement?
Talk Show:
The Rise of Intelligent Packaging
Personalized, Connected and Sustainable
November 18, 2021
11:00-11:45 AM PST (USA & Canada)
This is a LIVE session


- Our Clients -

- Evaluate How Fact.MR's Report Can Help. -
Is the market research conducted by Fact.MR?
Yes, the report has been compiled by expert analysts of Fact.MR, through a combination of primary and secondary research. To know more about how the research was conducted, you can speak to a research analyst.
What research methodology is followed by Fact.MR?
Fact.MR follows a methodology that encompasses the demand-side assessment of the market, and triangulates the same through a supply-side analysis. This methodology is based on the use of standard market structure, methods, and definitions.
What are the sources of secondary research?
Fact.MR conducts extensive secondary research through proprietary databases, paid databases, and information available in the public domain. We refer to industry associations, company press releases, annual reports, investor presentations, and research papers. More information about desk research is available upon request.
Who are the respondents for primary research?
Fact.MR speaks to stakeholders across the spectrum, including C-level executives, distributors, product manufacturers, and industry experts. For a full list of primary respondents, please reach out to us.
Is a sample of this report available for evaluation?
Yes, you can request a sample, and it will be sent to you through an email.