Hydrogen Generation Market to Grow 2X amid Trend of Low-Cost, Clean Energy
The declining cost of solar photovoltaics coupled with ascending sales of hydrogen fuel cell automobiles positively impact the hydrogen generation market. Production of low-carbon hydrogen at scale using fossil fuel furthers the adoption of hydrogen generation products in end-use industries. The global hydrogen generation market exhibits an impressive growth trajectory of 7.5% CAGR during the forecast period (2019 - 2029).
The emphasis on low-cost, clean energy gives impetus to hydrogen generation. From the US to Australia, governments across the globe are encouraging hydrogen deployment by combining incentives and generation targets. Manufacturers of passenger cars particularly, enjoy the highest incentives for hydrogen adoption. The increasing demand for reducing carbon emissions from refinery activities continues to propagate hydrogen generation adoption through 2029.
Captive Hydrogen Generation to Stimulate Revenue
Cost of conveyance and distribution of hydrogen is propelling the demand for captive hydrogen generation systems. Omnipresent regulatory emphasis on reducing industrial pollution has forced manufacturers to capture by-product hydrogen produced in production processes. Ease of installation and favorable price to performance ratio of captive hydrogen generation make this systems segment account for a majority share of over 86% of the total market value.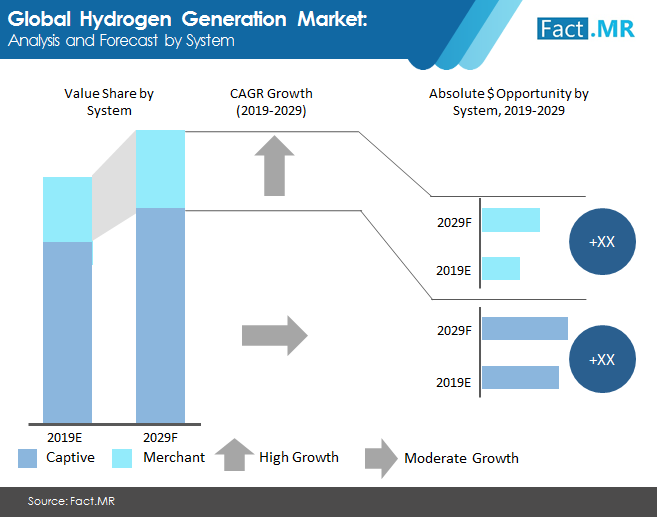 To know get cutting-edge insights on hydrogen generation market, request for a report sample here
The segment will grow 3X through 2029. Countries such as the US, Russia have an extensive network of gas pipelines, adoption of which will result in cost effective and energy efficient hydrogen deliveries. The merchant systems segment offers the highest remunerative opportunities with a double digit growth rate during the forecast period.
East Asia and South Asia & Oceania Present Bankable Opportunities
North America accounts for over ¼ of the entire market value. Surging demand for oil & gas production to support robust economic development results in continuous demand for hydrogen generation. Modernization of small and medium sized industries further the demand for cost efficient alternatives such as captive hydrogen generation. Growth can also be attributed to comprehensive gas pipeline networks in North American countries.
The ease of hydrogen logistics acts as a central factor to the growth of the hydrogen generation market in this region. High pollution in Asian countries such as India, and China has created high demand for desulfurization of fuels to conserve the environment. This positively impacts the adoption of hydro desulphurization (HDS) processes and ultimately increases the demand for hygron generation. In Asia Pacific, particularly East Asia and South Asia & Oceania present high growth opportunities during the projection period.
Strategic Partnerships to Shape Competition
Market players are targeting countries with a high-adoption rate of hydrogen fuel cell automotive. Governments with proposed investments in developing hydrogen refueling stations are popular target regions among major players. The market is consolidated with tier-1 players accounting for a majority of revenue share. These organizations are forging strategic partnerships, merging and acquiring local players in key growth areas. Value additions in terms of footprint expansion, disruptive technologies such as solar based hydrogen generation systems garner the most profitable company valuations for local players. Hydrogen generation companies that influence the competitive landscape are, but not limited to, Air Liquide, Air Products and Chemicals, Fuelcell Energy, Hydrogenics, Iwatani, Linde, Messer Group, Plug Power, Praxair, Showa Denko, Taiyo Nippon Sanso, Xebec, Ally Hi-Tech, Ballard Power Systems, Caloric, Claind, Erredue, Hygear, Nuvera Fuel Cells, Proton Onsite, and Teledyne Energy systems.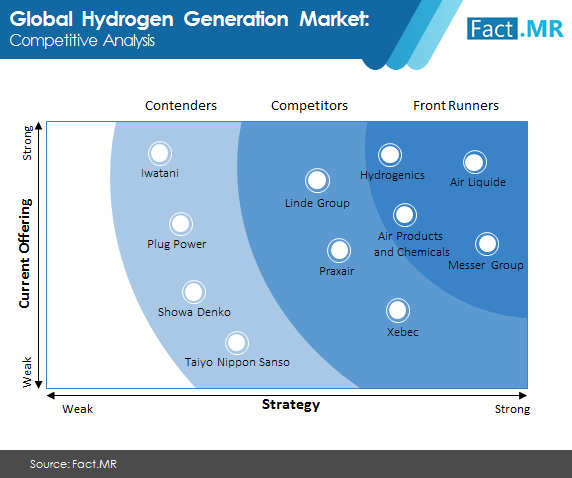 For a critical and incisive overview of hydrogen generation market, ask an analyst here
Recovering from COVID-19 Losses
The COVID-19 Pandemic has had a detrimental effect on oil & gas energy production of the world. Shale gas exploration projects have been put on hold. Existing oil & gas energy reserves are being deployed to sustain the need from essential transportation and logistics of healthcare products such as ventilators, and personnel protective equipment. However, normalization post COVID-19 will witness a surge in demand for onsite-hydrogen production systems as companies look to reduce dependency on merchant transportation. Market players can extract valuable lessons and future trends of the market by gauging the reaction of trade lockdown amid COVID-19.
Coronavirus affects people with underlying respiratory health conditions the most. This will increase the emphasis on carbon emission reduction from refinery activities and automotive. Hence, after the pandemic market players can expect an increase in demand for hydrogen from desulphurization of refineries and adoption of hydrogen fuel cell based automotive. Consumer trends such as residential application of solar power generation will further the sales of hydrogen generation post COVID-19. Hydrogen generation market players stand to gain a competitive edge by early detection of remunerative opportunities in resurgent economies such as Singapore, Indonesia, and China.
Global Hydrogen GenerationMarket – Scope of the Report
The following report provides forecast and analysis of the global hydrogen generation market along with the historical data of 2014, estimated data 2019 and forecast data up to 2029 in terms of value (US$ Mn) and volume (Kilo Tons), according to a Fact.MR study. The research propounds critical trends that are currently influencing growth within the global hydrogen generation market along with several macro-economic indicators. This newly published and insightful report on hydrogen generation sheds light on key dynamics, and their impact on the overall value chain from suppliers to end-users, which are expected to transform the future of the global hydrogen generation market.
The report also comprises the study of current issues with end users and opportunities for hydrogen generation. It also contains value chain analysis, including the key market participants. To provide users of this report with a comprehensive view of the market, we have included a detailed competitive analysis about the key players involved in the market and strategic overviews. The dashboard included in the report provides a detailed comparison of hydrogen generation manufacturers on parameters such as total revenue, product offerings, and key strategies. A list of key companies operating in the hydrogen generation market provided in the report adds to the credibility of this exhaustive research study.
Global Hydrogen Generation Market: In-Depth Assessment on Key Segments
The global hydrogen generation market is segmented on the basis oftechnology, system, applicationand region.
| | | | |
| --- | --- | --- | --- |
| Technology | System | Application | Region |
| Coal Gasification | Merchant | Methanol Production | North America |
| Steam Methane Reforming | Captive | Ammonia Production | Latin America |
| Others | | Petroleum Refining | Europe |
| | | | East Asia |
| | | | South Asia & Oceania |
| | | | Middle East & Africa |
This taxonomy and the detailed TOC prepared are confidential and intended exclusively for the individual or entity with whom it is being shared. Reading, disseminating, distributing, or copying this to any party other than addressee(s) is unauthorized and prohibited.
Country-specific assessment on demand for hydrogen generation has been provided for each regional market, along with the market size valuation and forecast price point assessment, price index and impact analysis of key regional and country-wise dynamics, which were obtained through quotes from numerous hydrogen generation manufacturers, experts, and suppliers. Y-o-Y growth projections have also been offered on all regional markets incorporated in the report. Moreover, future trends, growth prospects, and other possibilities related to the market have been answered in the report.
The report provides company-level market share analysis, which has been derived on the basis of the company's annual sales and segmental revenue in all the target end-use industries. The market has been forecasted based on constant currency rates. The report provides detailed competitive and company profiles of key participants operating in the global hydrogen generationmarket. Some of the major competitors operating in the hydrogen generationmarket arePraxair, Showa Denko, Taiyo Nippon Sanso, Xebec, Ally Hi-Tech, Ballard Power Systems, Caloricandothers.
Global Hydrogen Generation Market: Research Methodology
A number of primary and secondary sources were consulted during the course of the study. Secondary sources include Factiva, Morningstar and Hoovers, and company annual reports and publications. Comprehensive interviews have been conducted by our analysts, and the intelligence and insights obtained have been used for validating the information gained through secondary research. The report also includes a description of assumptions and acronyms utilized for research purposes. Data gathered has been validated using the triangulation method to offer useful quantitative and qualitative insights into the hydrogen generation market.
A short market viewpoint offered in the report elucidates the macro-economic aspects that influence the growth of the hydrogen generation market, which includes global GDP growth rate, varioussector growth rate such as oil & gas, petrochemical &refineries, chemicals market, enabling the readers to take fact-based decisions on the future direction of their businesses.
Fact.MR offers custom research services that help clients to get specific research solutions
We are committed towards customer satisfaction and quality service.
---
Our Clients

Hydrogen Generation Market Forecast, Trend Analysis & Competition Tracking - Global Market Insights 2019 to 2029