Rotary Dryers Market
Rotary Dryers Market By Dryer Type (Batch and Continuous Rotary Dryers), By Drum Design (Single-shell and Multi-shell Rotary Dryers), By Drum Diameter (Up to 1.5 M Rotary Dryers, 1.5-3 M Rotary Dryers, 3-6 M Rotary Dryers) - Global Market Insights 2021 to 2031
FACT3583MR
Oct-2021

List of Tables : 152

List of Figures : 333

170 Pages
Rotary Dryers Market Outlook
The global rotary dryer market analysis, which reveals that global demand enjoyed year-on-year (YoY) growth of 2.2% in 2021. The global rotary dryer market size in 2021 is set to be valued at US$ 1.2 Bn. Single-shell rotary dryers displayed positive growth of 3% and their sales are estimated to top US$ 800 Mn in 2021, while-multi shell rotary dryers are expected to be up by 2.5% Y-o-Y reaching nearly US$ 450 Mn.
Avail customized purchase options for your needs
Key Points Covered in Rotary Dryer Industry Survey:
Market Estimates and Forecasts (2016-2031)
Key Drivers and Restraints Shaping Market Growth
Segment-wise, Country-wise, and Region-wise Analysis
Competition Mapping and Benchmarking
Assessment of Unit Shipments, Installation, and Assembly Price
Market Share Analysis
Analysis of Quotations, Tenders and Package Offerings
COVID-19 Impact on Rotary Dryer Sales and How to Navigate
Recommendation on Key Winning Strategies
Revenue Analysis of Rotary Dryers from 2016 to 2020 Compared to Demand Outlook for 2021 to 2031
As per Fact.MR - a market research and competitive intelligence provider, over the historical period (2016-2020), the rotary dryer market illustrated a decline in growth rate by -1.5% CAGR, mainly owing to the unprecedented outbreak of COVID-19. However, the global scenario is set to exhibit a steady growth rate of 5% for the rotary dryer market through 2031.
Use of rotary dryers in the chemical industry, pharmaceuticals, mining, agriculture, and packaged food will supplement market growth. Latest innovation in rotary dryers such as automation in operations will help reduce operational costs.
Increasing industrialization is presumed to provide lucrative avenue for the demand for rotary drying in petrochemical, cement, paper, and mining industries during the forecast period. Rising government investments and polices for industrial development is expected to provide a promising stance for manufacturers across the globe.
North America is the leading region capturing 28% market share in 2021, and reach a market value of US$ 500 Mn by 2031.
Under dryer type, continuous rotary dryers registered a growth of 2% CAGR during the historic period.
By drum type, single shell captured 70% market share and has reached a market value of US$ 790 Mn in 2021. The segment is likely to gain 60 BPS over the next ten years.
Demand for batch rotary dryers is anticipated to expand at a CAGR of 4% and create an absolute dollar opportunity of US$ 208 Mn by 2031.
Under the drum diameter, 1.5- 3 m is projected to grow 1.5X during the forecast period while above 6 m is anticipated to grow 1.7X during the same period.
100-250 tons/hr is estimated to grow 1.5X while 250 – 500 tons/hr is estimated to grow 1.7X over the decade.
Gear & pinion drive is anticipated to reach a market value of US$ 490 Mn in 2021 and hold a market share of 40%.
Direct-heated rotary dryer demand is poised to increase at a CAGR of 4.5% by the end of the forecast period and top a market value of US$ 1.5 Bn by 2031.
The co-current flow (parallel flow) segment is estimated to grow 1.5X while counter current (counter flow) is estimated to grow 1.6 X during the forecast period.
Natural gas/propane is anticipated to reach a market value of US$ 470 Mn by the end of 2021 and hold a market share of 40%.
The minerals & ores segment is estimated to grow 1.6X while salts & sugars is estimated to grow 1.7 X by 2031.
Demand for steel dryers is anticipated to rise at a CAGR of 4% and create an absolute dollar opportunity of US$ 400 Mn by 2031.
An Adaptive Approach to Modern-day Research Needs
Why are Sales of Continuous Rotary Dryers Gaining Momentum on a Global Scale?
Under similar conditions, continuous rotary dryers have comparatively more drying capacity than batch rotary dryers. Low operating cost coupled with uniform grain drying is one of the prominent factors that fuels their demand. Continuous rotary dryers have the advantage to use high air drying temperature without affecting the grain quality.
Continuous rotary dryers have an upper hand of automation that leads to reduced manual supervision without suffering with the variation in grain size and moisture contents. Technological advancements in rotary dryers such as automation re attributed to reduce operational time by 80% with better flexibility. Requirement of less floor space and labor is likely to act as a catalyst for market growth.
Intensifying utilization of advanced machineries in various end-use industries such as petrochemicals, food processing, mining, and paper manufacturing is set to providing a positive outlook to demand. Application of advanced dehydrating technology in processing industries is likely to improve utilization over the forecast period, providing a promising stance to the sales of continuous rotary dryers.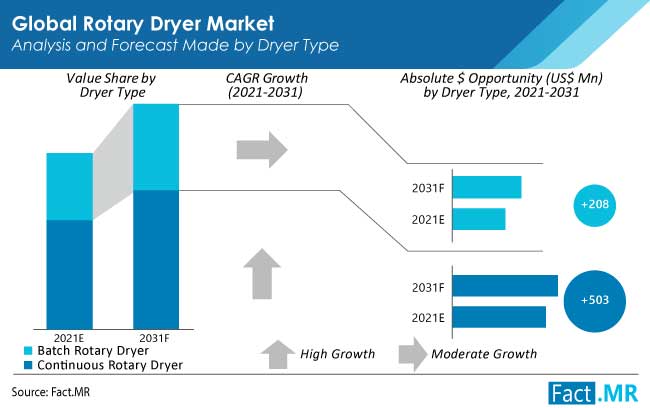 Will Rising End-use Industries of Rotary Dryers Supplement Demand Trajectory?
Rising infrastructure development around the globe has provided a magnificent growth outlook to cement and mining industries. These industries are the prominent contributors that generate substantial demand for rotary dryers in the global market. Urbanization and industrialization have led to remarkable infrastructure development and generated demand for gypsum, cement, clay material, and other minerals in all prominent regions over the past few years.
Versatile applications in cement and mining industries such as granulation, heating, and dehydrating will provide a positive outlook to sales volume. For improving mineral processing by advanced dehydrating technology in mining industries, dehydrating technologies have witnessed a strong growth rate over the past few years.
Due to the introduction of rotary dryers, reduction of moisture content in grain has become efficient. It tends to reduce the risk of storage and weighing calculation for mineral processing industries. Owing to this fact, integration of dehydrating technology in the mining industry is likely to witness remarkable growth across the globe.
Growth in population is considered to be the foremost reason that drives food processing industries. The trend of changing consumer spending patterns, behavior, and diversity in food has given numerous opportunities to food processing industries. Global food demand is expected to surge exponentially over the next decade.
Demand for rotary dryers in food processing industries is expected to rise due to multiple applications, including separation, dehydration, and granulation. Moreover, other applications such as continuous heating and milk drying account for substantial demand from the dairy sector.
Interested to Procure The Data
What are the Potential Barriers for Rotary Dryer Manufacturers?
Prices of primary raw material for rotary dryers, including stainless steel, carbon steel, and special alloys, are frequently being revised. Surging raw material prices are attributed to affect the value chain and also retail prices. This is likely to influence the buying power and may limit the utilization of rotary dryers.
Due to rising prices, a dynamic shift of end users is expected towards alternate technologies or conventional methods of dehydration, which may hamper demand and the growth outlook of the market to some extent.
Rotary dryers cater to diverse applications across various industries, including chemicals, pharmaceuticals, food processing, paper, mining, and textiles. Intensifying waste volume and CO2 emissions from these industries is the foremost reason for pollution. Due to this, government regulations are likely to constrain the growth of these end-use industries. This is a crucial factor that may hamper demand for rotary dryers from these aforementioned industries.
In addition to this, surging material waste volume across the globe is likely to limit production capacity over the assessment period.
Restricted use of renewable heating sources such as solar, wind, and electric energy for rotary dryers is likely to reduce product penetration over the coming years. This is likely to affect demand for rotary dryers from end-use industries due to surging fuel costs across the globe.
Confined incorporation of renewable energy as a heating source is considered to be the foremost factor that could hinder product penetration over the next couple of years. However, surging R&D investments from manufactures' end are expected to aid adoption of renewable power sources for rotary dryers in future.
Country-Wise Insights
Which Region is Projected to be a Lucrative Market for Rotary Dryers?
For the demand analysis on the rotary dryer industry, six prominent regions across the globe have been considered - North America, Latin America, Europe, East Asia, South Asia & Oceania, and MEA (Middle East & Africa).
Among these six key regions, North America holds majority of global revenue share of around 27% in 2021, and is set to remain in the same growth trajectory over the evaluation period. The market in North America is expected to expand at a CAGR of 4.5% during 2021- 2031 and surpass a market valuation of US$ 500 Mn.
Europe is expected to follow suit and corner more than 20% market share, and gain 150 BPS by the end of the assessment period. The market in Europe is presumed to progress at a higher pace of almost 5.5% CAGR.
Asia Pacific is the most lucrative region, which is further classified into East Asia and South Asia and Oceania, in order to project a telescopic view of the demand curve, trends, and market drivers. In together East Asia and South Asia & Oceania hold the highest market valuation of more than US$ 450 Mn in 2021, and are further projected to illustrate a nourishing growth rate of 5% CAGR.
Latin America and the Middle East & Africa are the presumed to exhibit a modest growth rate over the projected time period and account for a minimal market share of around 11% and 6%, respectively. The Middle East & Africa is scrutinized to hold a market value of US$ 80 Mn by the end of 2021, and is expected to lose 60 BPS by 2031.
Category-Wise Insights
Why are Single Shell Rotary Dryers Exhibiting High Demand across the Globe?
Single shell rotary dryers currently account for 70% market share. These basically consist of a single drum through which the drying material passes. Capability to process a wide range of materials across multiple industries is driving demand for single shell rotary dryers. Customization for specific applications and materials may supplement the demand curve over the projected time frame.
Some of the key factors that may act as a driving force for single shell rotary dryers are reliability, longer service life, less prone to clogging, requires less energy, less off-gas treatment.
What is the Relation between Drum Diameter, Drum Length, Capacity, and Drive Type?
In a standard case scenario, without considering any customization, drum diameter, drum length, capacity, and drive type are directly proportional to each other. For instance, as the diameter of the drum increases, proportionally, length increases, and this increases the capacity of the rotary dryer.
Drive type is decided on the basis of capacity; mostly less than 100 tons/hr. rotary dryers are equipped with chain and sprocket drive types, and gear and pinion drive types are employed in more than 100 tons/hr. capacity rotary dryers.
Likewise, a 1.5 m diameter and 10 m length of rotary dryer equipped with chain and sprocket drive type will dry roughly 10 tons/hr., and gear and pinion employed 4m diameter and 25m length of rotary drums will dry almost 200 tons/hr.
Demand for small rotary dryers are primarily witnessed from the agricultural sector, whereas, sales of medium rotary dryers have been high for animal feeds and aggregates applications. Moreover, the chemical and mining industry accounts for more demand for large rotary dryers owing to high capacity.
Why is Demand for Direct Drying Rotary Dryers on the Rise?
Direct drying rotary dryers are comparatively more efficient, which adversely affects demand for indirect drying rotary dryers. Direct drying rotary dryers are more versatile and are capable to be employed across multiple materials, whereas indirect drying is confined to some specific materials, which significantly hinders the sales of indirect heating rotary dryers.
Competitive Rotary Dryer Landscape
According market research and analysis, ANDRITZ AG, Anivi Ingenieria SA, Applied Chemical Technology (ACT), Baker-Rullman Manufacturing, Boardman LLC, Changzhou Fanqun Drying Equipment Co. Ltd., Comessa, Drytech International, Economy Industrial, FEECO International, Inc., FLSmidth Inc, GEA Group, General Kinematics, Hazemag, Heyl Patterson Thermal Processing, KURIMOTO, LTD, Louisville Dryer Company, Metso Corporation, Mitchell Dryers Ltd., Schenck Process Holding GmbH, SWISS COMBI, The Onix Corporation, ThyssenKrupp AG, and Westpro Machinery are leading players in the rotary dryer market.
Rotary Dryer Industry Report Scope
Attribute

Details

Forecast Period

2021-2031

Historical Data Available for

2016-2020

Market Analysis

Units for Volume and US$ '000 for Value

Key Regions Covered

North America
Latin America
Europe
East Asia
South Asia & Oceania
MEA

Key Countries Covered

United States
Canada
Brazil
Mexico
Germany
U.K.
France
Spain
Italy
China
Japan
South Korea
India
Indonesia
Malaysia
Singapore
Australia
New Zealand
Turkey
South Africa
GCC Countries

Key Market Segments Covered

Dryer Type
Drum Design
Drum Diameter
Drum Length
Capacity
Drive Type
Heating Type
Heating Source
Application
Material
Region

Key Companies Profiled

ThyssenKrupp AG
GEA Group
ANDRITZ AG
FLSmidth Inc
Metso Outotec Corporation
KURIMOTO, LTD
Schenck Process Holding GmbH
Applied Chemical Technology (ACT)
More than 20 Other Prominent Players are Profiled

Pricing

Available upon Request
Market Segments Covered in Rotary Dryer Industry Research
By Dryer Type

Batch Rotary Dryers
Continuous Rotary Dryers

By Drum Design

Single-shell Rotary Dryers
Multi-shell Rotary Dryers

Double-shell Rotary Dryers
Triple-shell Rotary Dryers

By Drum Diameter

Up to 1.5 M Rotary Dryers
1.5-3 M Rotary Dryers
3-6 M Rotary Dryers
Above 6 M Rotary Dryers

By Drum Length

Up to 15 m Rotary Dryers
15-30 m Rotary Dryers
30-50 m Rotary Dryers
Above 50 m Rotary Dryers

By Capacity

Up to 10 Tons/hr Rotary Dryers
10-50 Tons/hr Rotary Dryers
50-100 Tons/hr Rotary Dryers
100-250 Tons/hr Rotary Dryers
250-500 Tons/hr Rotary Dryers
Above 500 Tons/hr Rotary Dryers

By Drive Type

Chain & Sprocket Drive
Gear & Pinion Drive
Friction Drive
Direct Drive

By Heating Type

Direct Heated

Counter Current (Counter Flow)
Co-Current Flow (Parallel Flow)

Indirect Heat

By Heating Source

Fuel Oil
Natural Gas/Propane
Waste Heat
Biogas
Electricity

By Application

Aggregates
Agricultural By-products
Animal Feeds
Biomass
Chemicals
Fertilizers
Minerals & Ores
Plastic and Polymers
Salts & Sugars
Waste & Sewage Sludge
Others

By Material

Steel Rotary Dryers

Carbon Steel
Stainless Steel
Abrasion Resistant (AR) Steel

Specialist Alloy Rotary Dryers
Need an Exclusive Report for your Unique Requirement?
- Our Clients -

- Evaluate How Fact.MR's Report Can Help. -
Is the market research conducted by Fact.MR?
Yes, the report has been compiled by expert analysts of Fact.MR, through a combination of primary and secondary research. To know more about how the research was conducted, you can speak to a research analyst.
What research methodology is followed by Fact.MR?
Fact.MR follows a methodology that encompasses the demand-side assessment of the market, and triangulates the same through a supply-side analysis. This methodology is based on the use of standard market structure, methods, and definitions.
What are the sources of secondary research?
Fact.MR conducts extensive secondary research through proprietary databases, paid databases, and information available in the public domain. We refer to industry associations, company press releases, annual reports, investor presentations, and research papers. More information about desk research is available upon request.
Who are the respondents for primary research?
Fact.MR speaks to stakeholders across the spectrum, including C-level executives, distributors, product manufacturers, and industry experts. For a full list of primary respondents, please reach out to us.
Is a sample of this report available for evaluation?
Yes, you can request a sample, and it will be sent to you through an email.