SiC & GaN Power Semiconductor Market
SiC & GaN Power Semiconductor Market by Material Type (SiC, GaN), by Component (SiC Power Modules, GaN Power Modules, Discrete SiC Power Devices, Discrete GaN Power Devices), by Application (Power Supplies, Wireless Charging, Power Storage) & Regional Forecast 2022-2032
Analysis of SiC & GaN Power Semiconductor market covering 30 + countries including analysis of US, Canada, UK, Germany, France, Nordics, GCC countries, Japan, Korea and many more
SiC & GaN Power Semiconductor Market Outlook
The global SiC & GaN power semiconductor market is estimated at US$ 884 million in 2022. Demand of SiC & GaN power semiconductor devices is forecast to surpass the market value of US$ 6,954 million by 2032. Stupendous growth rate of 22.9% is projected for the demand of these electronic discrete components during the forecast period of 2022-32.
In accordance to the present market scenario of global semiconductors, SiC & GaN power semiconductors accounts for <1% of the global semiconductor market states Fact.MR - market research and competitive intelligence provider.
SiC & GaN transistors and diodes have indispensable function in electric vehicles. Applications of SiC & GaN power semiconductors in electric vehicles components significantly boosts their global sales. In addition, the swelled up demand of commercial and non-commercial EVs in China, multiplied the overall SiC/GaN product reach.
Out of the prominent material types for SiC & GaN power semiconductors (SiC & GaN) used to manufacture components (SiC Power Modules, GaN Power Modules, Discrete SiC Power Devices and Discrete Gan Power Devices), SiC generates around ~58.4% of overall revenue. Pricing scenario of SiC & GaN power semiconductors completely depends on the production of silicon carbide on global level. Factor maintaining a cut-throat competition for SiC & GaN components is the increasing demand of germanium semiconductor.
Results comprehending from most prominent applications of SiC & GaN power semiconductors (Power Supplies, Wireless Charging, Power Storage, Hybrid and EV Components, HEV Charging Equipment, Motor Drivers, PV Inverter, Traction Motor Components & Others) shows that power supplies will acknowledge a gain of 678 BPS due to its application in almost every electronic product.
Know thy Competitors
Competitive landscape highlights only certain players
Complete list available upon request
Report Scope
Attribute

Details

Market size value in 2021

US$ 754 million

Market forecast value in 2032

US$ 6,954 million

Global Growth Rate (2022-2032)

CAGR 22.9%

East Asia Market Size in 2022

US$ 476.4 million

East Asia Growth Rate

CAGR 26.8%

China Market Size in 2022

US$ 351.6 million

Top 5 Companies Market Share

~21.9%

Key Companies Profiled

VisIC Technologies Ltd
Panasonic Corporation
NXP Semiconductors N.V.
GaN Systems Inc.
Exagan S.A.S
Cambridge Electronics
Avogy, Inc.
Vincotech GmbH
United Silicon Carbide Inc.
STMicroelectronics N.V.
Raytheon Company
Genesic semiconductor Inc
Transform, Inc.
Alpha & Omega Semiconductor
Renesas Electronics
SEMIKRON International GmbH
Danfoss A/S
Microsemi Corporation
Wolfspeed, Inc.
ROHM Semiconductor
Global Power Technologies Group
Fuji Electric Systems Co., Ltd
Infineon Technologies.
SiC & GaN power semiconductor industry research performed by Fact.MR delves on key insights such as current and speculative market approach, technical facilities offered by each semiconductor manufacturer, current and speculative pricing, price optimization strategy across value chain, techno-economic analysis by considering overall scenario of semiconductor market, global SiC semiconductor industry, global GaN semiconductor industry, and many more.
Historical Analysis Vs. Future Projections for SiC & GaN Power Semiconductor Market
According to Fact.MR, growth rate for SiC & GaN power semiconductor products was noted as 20.8% in past one decade. Demand of these semiconductors is being raised due to their extensive implementation in leading power modules, motor drivers, power supplies and PV inverters across the globe.
Increase in the number of solar devices implemented over past five years uplifted the consumption of SiC & GaN power semiconductors in Asia-Pacific region. This industry expansion of products related with solar based energy production acts as a boon for the manufacturers. Multiplication factor of 2.5X was achieved for consumption of SiC & GaN components over past half-decade.
Attributed to technological enhancements in semiconductor industry, applications related to SiC semiconductor holds potential to multiply its growth by 4.2X by the end of 2032. Moreover, GaN semiconductor utilized in (LED) light emitting diodes and RF components is expected to gain 458 BPS and reach value of US$ 1,608 billion in East Asia by 2032.
Trends
The global sales of semiconductors rose in the last decade with the rise in consumer electronics sales. The semiconductors make up a significant part of modern electronics including laptops, smartphones, and PCs. With the inclusion of many electronic devices into our daily lives it won't be wrong to state that semiconductors have their central importance. The market is hence competitive and extensive. The semiconductor sales in 2021 crossed USD 599 billion which is led by memory semiconductors.

Through the use of a thinner drift layer and a higher impurity concentration, SiC's 10x greater breakdown electric field strength than silicon allows for the configuration of power devices operating at higher voltages (600V to thousands of V). These semiconductors are highly preferable in power solutions operating on higher voltage. The lower on-resistance makes these semiconductors an ideal choice for greater withstand voltages.

Wide band gap semiconductors are characterized by higher electrical breakdown and field strength. This allows the breakdown of the voltage as similar to silicon with a V layer much thinner than SiC.

GaN wafers subtract are more expensive than that SiC as they have a horizontal structure with an active layer. This makes it find use in more and more usages in applications where extremely faster switching is required.
More Insights, Lesser Cost (-50% off)
Insights on import/export production,
pricing analysis, and more – Only @ Fact.MR
Country-wise Analysis
How will China Semiconductor Industry generate Maximum Absolute US$ Opportunity in Upcoming Half-Decade?
Electronic industry of China is expected to reach US$ 155 billion in 2022. The number of exporters in China are expected to surpass that of U.S. electronics and electrical manufacturers. Hence, the increase in export of manufactured electronic devices from China will lead to increase in demand of SiC & GaN power components.
Most profitable application for these semiconductors remains to be solar cells. In context to which, escalating installation rate of solar panels in Asian countries will multiply the demand of SiC and GaN power modules by 10 times, compared to historical market scenario.
Accounting to the aforementioned fact, China holds around 1/3rd of global photovoltaic capacity, generates around 260 GW power every year. This signifies why China leads the position of biggest market for consumption of semiconductor present on the globe. Considering above facts, SiC & GaN power semiconductor industry in China is projected to grow at stupendous CAGR of 28.6% over the next decade.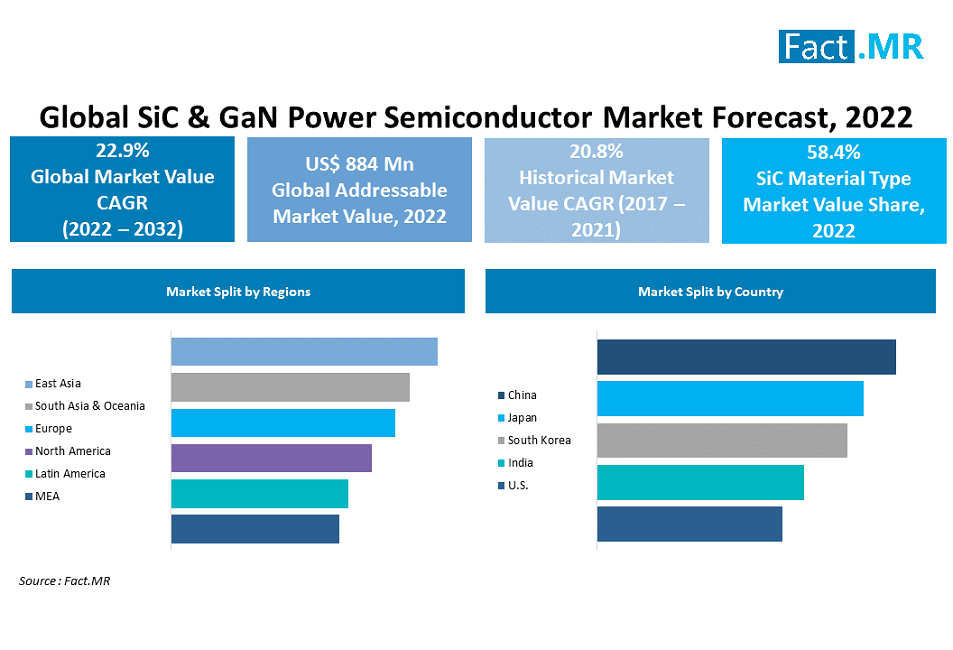 Category-wise Analysis
How SiC material semiconductor is set to control global semiconductor market?
Out of the major material types (SiC & GaN) associated with power semiconductors, SiC holds more strong demand outlook compared to that of gallium nitride semiconductors. Quantifiable analysis associated with aforementioned point is that SiC semiconductor generates around ~58-59% revenue from its demand in electronic components.
Technical research have been accomplished for electronic products such as diodes, transistors, MOSFETs, power supplies, and high frequency temperature control systems. The results obtained explains that limitations associated to low band gap provided by pure silicon. In contrast to it, silicon carbide offering almost 3X the band gap offered by silicon boots its demand in high temperature semiconductor applications.
Why SiC Power Module Technology is under great demand?
Considering the group of materials used in power module semiconductors, silicon carbide comes under the most used material. This fact is valued by SiC's ability to loose only a minimum amount of energy when implemented in any power conversion process. Aforementioned benefit reduces the cost of expensive cooling systems, which attracts more semiconductor buyers towards this semiconductor.
Aforementioned trend helps to anticipate that the demand of SiC semiconductor in power module is set to multiply by factor of 3.5X. Other prominent advantage for using SiC power module is its extremely low switching loss while operating in applications such as MOSFETs, EV chargers, and solar inverters. This technical dominance will increase the opportunity for SiC semiconductor manufacturers to expand their product reach.
Don't Need a Global Report?
save 40%! on Country & Region specific reports
Competition landscape: Top Companies of SiC & GaN Power Semiconductor Market
Market players in SiC & GaN power semiconductor business have mainly opted for growth oriented strategies which includes establishment of SiC and GaN related value chains. In addition, branding and continuous technical advancements in the manufacturing technology hits the top position in their priority list. These strategies are helping the global players to expand their regional footprint and garner maximum market share thus providing competitive advantage.
Fact.MR has provided detailed information about price points of top manufacturers of SiC & GaN power semiconductor positioned across regions, sales growth, production capacity, and speculative technological expansion in the recently published report.
In 2019, Infineon Technologies bought California-based Cypress Semiconductor Company with a deal closure value between 9 to 10 US$ billion.
Vincotech GmbH, a leading power semiconductor manufacturer stepped up its production line in May 2019 in Europe.
Similar, recent developments related to companies offering in big data analytics technology have been tracked by the team at Fact.MR, which are available in the full report.
SiC & GaN Power Semiconductor Market Key Segments
By Material Type

By Component

SiC Power Modules
GaN Power Modules
Discrete SiC Power Devices
Discrete GaN Power Devices
By Application

Power Supplies
Wireless Charging
Power Storage
Hybrid and EV Components
HEV Charging Equipment
Motor Drives
PV Inverter
Traction Motor Components
Others
- FAQs -
Global value of SiC & GaN Power Semiconductor market in 2022 is expected to reach around US$ 884 million.
SiC & GaN power semiconductor is expected to grow at a significant CAGR of around 22.9% during the period 2022-2032.
Global SiC semiconductor in power supply applications grew with a CAGR of around 19.8% over past half decade.
Top-5 companies hold around 21.9% of the market share.
China, South Korea, and Japan are the major countries driving the demand for healthcare oriented data management technology.
East Asia is projected to hold around 53.9% of the global SiC and GaN power semiconductor industry by 2022 end.