Generator Market
Generator Market, Forecast, Trend, Analysis & Competition Tracking – Global Market Insights 2020 to 2030
FACT423MR
Jan-2021

List of Tables : 123

List of Figures : 99

170 Pages
About the Report
Converting mechanical energy using steam, gas, wind, diesel, and hydropower, into electrical energy, generators are handy as a backup, and are used in both, industries as well as in households across regions.
There is high demand for generators in rural areas and regions where power outages and fluctuations are frequent. In its latest report on the global generators market, ESOMAR-certified market research and consulting firm Fact.MR analyses key factors that will fuel the adoption of generators over the decade.
It also talks about how diesel-powered generators are highly sought-after even though environmental concerns are increasing as time passes by. The study tracks demand in over 20+ countries, along with a detailed chapter on the impact of the ongoing COVID-19 pandemic on this sector. Fact.MR has studied the market in detail, providing exhaustive analysis on market drivers, barriers, competitive scenario, and business potential over the coming years.
Historical and Future Outlook
Generators have become crucial for power backup, owing to the power outages that take place across countries. High need for reliable and continuous power supply has led to a rise in the sales of generators across the globe. All commercial operations rely on generator backup for seamless operations, and this is only slated to rise on the back of rapid industrialization. Even residential areas rely on generators for power backup on a large scale.
Growth of data centers, hospitals, industries, and other commercial facilities has led to higher sales, and the market has been expanding at a steady CAGR of around 5% in recent years. North America has dominated this space for more than a decade now, mainly due to it being a high-income country, which allows the affordability of generators more easily that other regions.
Demand for diesel generators is expected to increase steadily over the coming years, as adoption is high across sectors such as IT, telecom, mining, oil and gas, and healthcare, among others.
Portability as well as easy storage and transportation will be major factors driving the sales of generators. With usage on a larger scale, the industrial sector is slated to hold a high market share as compared to residential demand for generators.
Over the next ten years, the global generator market size is slated to continue its steady growth pace at a CAGR of over 5%. Though in the long term there will be a push to shift toward cleaner energy sources such as hydropower, solar energy, and wind energy, diesel- and gas-powered generators are here to stay in the near term.
The United Nations has reported in 2018 that, around 55% of the world's population lives in urban areas, which is projected increase to 68% by 2050. Extensive population shifting to metro cities is increasing demand for electricity. Enormous construction activities to build commercial spaces, business parks, and housing societies is set to spike power demand. These factors are creating a gap between production and supply of electricity, which eventually will provide lucrative opportunities for the growth of the market for portable generators.
Power demand has increased across developing as well as developed economies over the years. Growing investments to produce hydrocarbons from bulk conventional and unconventional reserves have favoured the market at the global level. For example, in June 2020, the BP Statistical Review of World Energy 2020 stated that, total primary energy consumption equalled 583.9 exajoules in 2019, rising from 576.23 exajoules in 2018, with a year-on-year increment of over 1.3%.
Know More Details About the Report
How is Expansion of the Oil & Gas Sector Surging Demand?
Mining and oil & gas exploration typically takes place at remote locations. Human life at such locations is under constant threat because of the extremely ignitable nature of extracted products; therefore, correct illumination and power is a key requisite during such operations. Driven by increasing investments, mining and oil & gas industries within the U.S., Australia, and many African countries are witnessing noteworthy growth.
New mining comes are anticipated to be launched in China, Australia, and Asian countries over the coming years. This will propel demand for power rental solutions. According to the Australian Bureau of Statistics, more than US$ 2.3 billion was spent on mining exploration by Australia in 2019, which amounted to a 19% increase over the previous year.
Moreover, since the event of hydraulic fracturing, the U.S. has maintained its position among the world's highest oil-producing countries. Exxon Mobil has plans to take invest US$ fifty billion to increase its integrated operations within the U.S. through 2025. This includes drilling of oil and gas wells and building pipelines to manoeuvre its production to the Gulf Coast, wherever it's increasing its downstream footprint. This factor is expected to drive the marketplace for power rental solutions, including future of the generator market.
Why is there High Potential in Developing Regions?
Telecommunication application is a key driver for the generator market, and it already has a significant market share, globally. The diesel generator market for telecommunications is poised to expand at a healthy CAGR of over 5% through 2030.
Telecommunication, radio, and even TV signals use medium towers for operations, which has exaggerated demand for standby generators. Developing countries such as India and China are installing medium towers to cater to their high populations and vast geography.
GSM Association estimates show that, as of 2020, around 390,000 off-grid medium towers and 790,000 off-grid installations were deployed by the global medium sector, which has increased demand for diesel generators for the provision of power backup in remote areas. This growth within the medium business is complementing growth of the global diesel generator market.
Additionally, a significant population across the globe still resides in distant and rural locations with limited access to the main grids. For instance, in July 2020, the World Bank reported that, electricity was accessible only to around 89.6% of global inhabitants until 2018. The organization further confirmed that, around 97.23% of the urban population have access to electricity as compared to just 82.04% residents across rural locations.
Different national and regional administrations have significantly rolled out their initiatives, such as the Integrated National Electrification Programme in South Africa, and the Deendayal Upadhyaya Gram Jyoti Yojana in India. These schemes aim to deliver a steady source of power to households to promote living standards and expand potential development areas.
Avail customized purchase options for your needs
Why are Data Centers Showing Potential for Lucrative Growth?
Data center owners are continuously looking to curb operational expenses. As per the U.S. Chamber Technology Engagement Center (CTEC), annual operation expenditure of a typical giant knowledge center is 8.6% of capital expenses. On the basis of data center tiers, sources of energy and geography, power expenditure varies from 40-80% of the overall cost of the center. For this reason, data centers need a reliable power backup that can provide cost effective energy.
Growing focus on high availability services and overcoming power reliability challenges are contributing to high demand for generators from data centers. Emergence of edge computing is leading to the development of facilities in secondary data center markets. The secondary market has low power reliability; hence, the importance of power backup equipment is high.
How Can Innovation Help Boost Sales?
Innovation in the generator industry leads to creative solutions, since, due to increasing application of the product across diverse industry verticals, there is healthy market competition.
As a result, companies are looking to integrate advanced concepts with the aim of establishing a strong brand presence. In October 2018, Inmesol announced the launch of a new series of silent generators. The company stated that, these products will cater to rental applications, and will have an operating sound pressure discharge of around 50 dB(A).
The company's latest silent generator range will have a power rating ranging from 85 kVA to 130 kVA. Increasing number of such product innovations across the world will bode well for the growth of the generator market over the coming years.
Kohler-SDMO announced the launch of a new range of industrial generators with a power rating between 900 kVA to 1,500 kVA. The company claims that, these new units offer benefits such as achieving complex operations and lower fuel consumption, with the aim of competing better in the market.
An Adaptive Approach to Modern-day Research Needs
What Challenges Does This Sector Face?
Clean energy initiatives act as a major challenge to the global generator market. Several governments across the globe have become sensitive to the issues of environmental pollution.
Scotland was the first country in the world to declare a climate emergency in the year 2019. New Zealand, Japan, the Maldives, Andorra, and South Korea declared climate emergency in 2020. Strict regulations coming into effect will act as a market deterrent for several companies, and can potentially be a barrier to new market entrants.
Leading governing organizations across several countries have introduced different policies and targets to promote the adoption of green technologies to weaken the dependency on fossil fuel. Several countries are bound to adhere to vast objectives, and introduce carbon-free power sources such as solar, hydro, and wind, which may act as a restraint for the sales of generators.
The ongoing coronavirus pandemic has compelled governments to implement nation-wide or state-wide lockdowns to contain the infection. Consequently, generator shipments have experienced declining growth owing to the global crisis. Commencement of new end-user projects has been affected, owing to dearth of required capital, which has significantly narrowed the integration of new systems.
Disruption of daily business along with disturbances in heavy-duty processes such as construction activities, mining of new assets, hydrocarbon exploration & production, fabrication of new commercial substructures, and such others have led to an unprecedented decrease in product demand.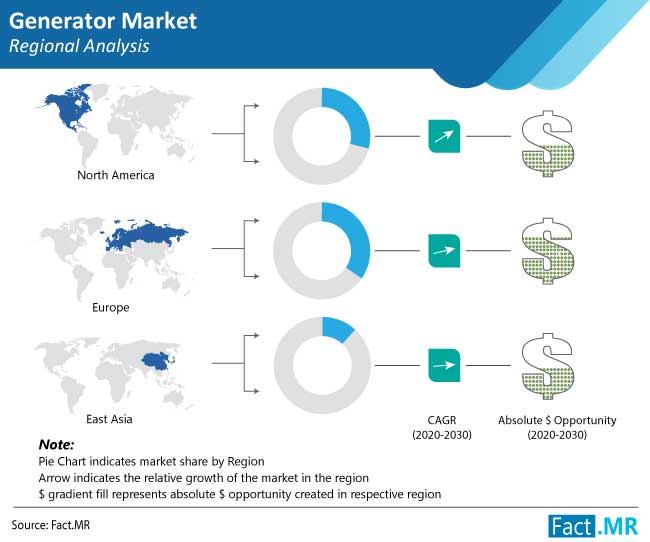 Category-wise Insights
Why Do High-voltage Generators Witness Most Demand?
Based on power rating, the market can be broadly categorized into below 75 kVA, 75-375 kVA, 375-750 kVA, and above 750 kVA. Rapidly developing residential and small commercial infrastructure in distant locations is likely to augment below 75 kVA gen set demand. Industrial operations in far-off locations that majorly require continuous working hours are anticipated to lead to high demand for 375-750 kVA generator sets.
Continual launch of new products with better fuel efficiency, coupled with high power output, primarily for stationary applications, will propel consumption of medium-powered generators. However, as industrial usage dwarfs other sectors, above 1000 kVA generators top the pecking order as far as demand is concerned, and this trend will continue in future, with these holding a share of around 42% through 2030.
What Makes the Industrial Sector So Important?
On the basis of end use, the generator market is segregated into pharmaceuticals, manufacturing, construction, oil & gas, mining, marine, commercial, telecom, residential, and others. The oil & gas sector is anticipated to hold the dominant position owing to the increasing investments to explore huge hydrocarbon reservoirs, coupled with the discovery of new assets.
Rising construction expenditure by various national governments to establish new and advanced infrastructure will make the construction sector a noteworthy end user of generators. Constant need for different metals and minerals to fabricate raw materials and end-use products for different industries is likely to propel the growth of the mining segment.
Expanding reach of communication lines requiring new stations to serve customers with high-speed networks is leading to high demand from the telecom sector. Also, growth of the manufacturing sector depends on constant high-power to efficiently run heavy machinery. All these factors point toward high demand potential from the industrial sector for generators, worldwide.
Why are Diesel Generators Still Ruling This Space?
In 2019, diesel generators held over 70% of the overall revenue share in the global generator market. Introduction of stringent emission norms is encouraging the adoption of clean units. However, highly flexible functioning and their ability to provide reliable performance, together with longer engine lifespan, will facilitate sustained demand for diesel generator sets.
The advent of hybrid technologies and natural gas-fuelled gen sets may hamper for these units to some extent in future, but diesel units would still account for a majority of the existing market share.
Revenue from gas generator sales is anticipated to rise, owing to consumer inclination towards energy security, independency from consumption of fossil fuel, and stringent emission-based regulations. Furthermore, rapid development of LNG infrastructure driven by mega O&G exploration projects adopted by several governments will favour industry expansion.
Have a report related query? Speak to us directly
Country-wise Analysis
North America is the largest market for generators, and is set to experience significant growth during the forecast period, due to rising government and non-government investments to develop various industry verticals.
Additionally, encouraging legislation to promote building energy security, along with the existence of established generator manufacturers and technological advancements in generator manufacturing, is expected to propel market growth in the region.
Asia Pacific stood at US$ 7.31 billion in 2019, owing to the existence of various economies in transition phases. Regional expansion is backed by rapidly developing infrastructure, paradigm shift towards industrialization & urbanization, and building of new structures, among others.
Easy availability of bulk capacity oil & gas reserves, coupled with a significantly rich presence of different high-value metals & minerals, is likely to favour the Middle East & Africa region in this landscape. Furthermore, the territory is set to observe significant expansion, owing to exponentially increasing construction expenditure to build innovative domestic & public establishments for the promotion of tourism across nations.
Why is USA a dominant region in the generator market?
The market in the U.S. is anticipated to witness substantial growth over the forecast period, owing to rising incidence of power outages across several IT-enabled service firms and data centers, along with growing consumer need for reliable emergency power supply. In addition, the region is vulnerable to grid power station disasters caused by changing weather conditions.
North America accounted for a significant market share in 2019, with the U.S. occupying a dominant position in the region. Continuously developing infrastructure of data centers and other commercial markets, along with growing vulnerability of power grid to weather-based outages, has led to increase in demand for reliable backup power solutions, in turn, stimulating demand for diesel generators across the region.
North America, especially dominance of the U.S. in the portable generator space is attributed to increased need for power backup equipment, rising demand for low-cost and diesel-fuelled generators, and growing preference for natural gas-fuelled generators in the region. Portable generators, commonly known as engine-generators, are internal combustion engines that provide electricity to vital devices during power outages.
These devices run on a fuel-powered engine, which converts an on-board alternator for generating power. Portable generators are suitable for places where power outages are frequent, to keep essential devices running in homes, corporate buildings, restaurants, construction sites, etc. Portable generators are also low-priced alternatives to standby generators.
Their installation and operating costs are minimal, which makes them an ideal option for residents, small-businesses, and campsites. Moreover, increased dependency on interconnected technology systems and growth in adoption of multipurpose and efficient power generators have further spurred demand for portable generators in the region.
Apart from this, the region has been witnessing an increase in the number of weather-related power outages, owing to natural calamities such as heat waves and hurricanes, which disrupt power supply for both, residential and commercial users.
Why Will China become the Largest Market by 2030?
China is the leading user of diesel generators in the Asia Pacific region, owing to increasing infrastructure projects, widening power demand-supply gap, expansion of manufacturing facilities across the nation, and rising commercial office space. The country benefits from the cost and effectiveness of diesel generators, with improved living standards increasing demand for power backup devices.
Until 2018, production of steel in China accounted for approximately 50% of global steel production, which makes it a huge market for diesel generators, as the steel industry is extremely energy-intensive, and its operations are highly dependent on power generated from diesel generators during power outages.
Furthermore, government initiatives to expand the industrial sector, especially in China and India, are expected to continue propelling demand for diesel generators over the forecast period. Factors such as expansion of existing manufacturing units across the country and the dedicated 'Made in China' initiative launched by the Chinese central government are expected to drive diesel generator demand in the country.
Competitive Landscape
The competitive landscape for generators is replete with acquisitions by key players. Asia Pacific is a fast-growing market for generators, excluding Japan. With top generator manufacturers in North America, the region is still the most important player in the generator space, globally. Overall, the global market for generators is fragmented in nature.
Key players operating in the global generator market are:
Cummins Inc
Yamaha Motor Corporation
SDMO
Mitsubishi Heavy Industries Ltd.
Kubota Corporation
Kirloskar Oil Engines Limited
General Electric Corporation
Doosan Corporation
Caterpillar Inc
Cooper Corporation
AKSA Power Generation
Report Scope
Attribute

Forecast Period
Historical Data Available for
Market Analysis
Key Countries Covered
Key Segments Covered
Key Companies Profiled
Report Coverage
Customization & Pricing

Details

2020-2030
2015-2019
US$ Mn for Market Value
USA, China, Canada, U.K., India
Application, End Use, Capacity, Fuel, and Region
Yamaha Motor Corporation, SDMO, Mitsubishi Heavy Industries Ltd., Kubota Corporation, Kirloskar Oil Engines Limited, General Electric Corporation, Doosan Corporation, Cooper Corporation, AKSA Power Generation, and Caterpillar Inc
Market Forecast, Competitive Landscape, Country-wise and Category-wise Insights, Key Trends, and Key Challenges
Available upon Request
Global Generator Market Segmentation by Category
Application:

Stationary Generators
Portable Generators

Fuel:

Diesel Generators
Gas Generators

End Use:

Residential Generators
Commercial Generators
Industrial Generators
Others

Capacity:

0-100 kVA
100-350 kVA
350-1000kVA
Above 1000kVA

Region:

North America
Latin America
APEJ
Europe
Japan
MEA
Generator Market- Scope of Report
A recent study by Fact.MR on the generator market offers a 10-year forecast for 2020 to 2030. The study analyzes crucial trends that are currently determining the growth of the global generator market. This report explicates on vital dynamics, such as the drivers, restraints, and opportunities for key market players along with key stakeholders. The study also provides the dynamics that are responsible for influencing the future status of the generator market over the forecast period.
A detailed assessment of value chain analysis, business execution, and supply chain analysis across regional markets has been covered in the report. A list of prominent companies operating in the generator market, along with their product portfolios, enhances the reliability of this comprehensive research study.
Report Summary
The study offers a comprehensive analysis on diverse features, including demand, product development, revenue generation, and sales of generators across the globe.
A comprehensive estimate on the generator market has been provided through an optimistic scenario as well as a conservative scenario, taking into account the sales of generators during the forecast period. Price point comparison by region with global average price is also considered in the study.
Key Questions Answered in the Report
Which regions will continue to remain the most profitable regional markets for stakeholders?
Which factors will induce a change in the demand for generators during the assessment period?
How will changing trends impact the global generator market?
How can market players capture the low-hanging opportunities in developed regions?
Which companies are leading the generator market?
What are the winning strategies of stakeholders in the generator market to upscale their position in this landscape?
Research Methodology
In Fact.MR's study, a unique research methodology is utilized to conduct extensive research on the growth of the generator market, and reach conclusions on the future growth parameters of the market. This research methodology is a combination of primary and secondary research, which helps analysts ensure the accuracy and reliability of the drawn conclusions.
Secondary resources referred to by analysts during the preparation of the generator market study include statistics from governmental organizations, trade journals, white papers, and internal and external proprietary databases. Analysts have interviewed senior managers, product portfolio managers, CEOs, VPs, marketing/product managers, and market intelligence managers, all of whom have contributed to the development of the report as a primary resource.
Analysis on Market Size Evaluation
The generator market has been analyzed for each segment in terms of value (US$ Mn).
Market estimates at global and regional levels are available in terms of "US$ Mn" for value. A Y-o-Y growth contrast on prominent market segments, along with market attractiveness evaluation, has been incorporated in the report. Furthermore, absolute dollar opportunity analysis of all the segments adds prominence to the report. Absolute dollar opportunity plays a crucial role in assessing the level of opportunity that a manufacturer/distributor can look to achieve, along with identifying potential resources, considering the sales and distribution perspective in the global generator market.
Inspected Assessment on Regional Segments
Key sections have been elaborated in the report, which have helped deliver projections on regional markets. These chapters include regional macros (political, economic, and business environment outlook), which are expected to have a momentous influence on the growth of the market during the forecast period.
Country-specific valuation on demand for generators has been offered for each regional market, along with market scope estimates and forecasts, price index, and impact analysis of the dynamics of prominence in regions and countries. For all regional markets, Y-o-Y growth estimates have also been incorporated in the report.
Detailed breakup in terms of value and volume for emerging countries has also been included in the report.
In-depth Analysis on Competitive Landscape
The report sheds light on leading manufacturers along with their detailed profiles. Essential and up-to-date data related to market performers who are principally engaged in the production of generators has been brought with the help of a detailed dashboard view. Market share analysis and comparison of prominent players provided in the report permits report readers to take preemptive steps in advancing their businesses.
Company profiles have been included in the report, which include essentials such as product portfolio and key strategies, along with all-inclusive SWOT analysis on each player. Company presence is mapped and presented through a matrix for all prominent players, thus providing readers with actionable insights, which helps in thoughtfully presenting the market status, and predicting the competition level in the generator market
Need an Exclusive Report for your Unique Requirement?
Talk Show:
The Rise of Intelligent Packaging
Personalized, Connected and Sustainable
November 18, 2021
11:00-11:45 AM PST (USA & Canada)
This is a LIVE session


- Our Clients -

- Evaluate How Fact.MR's Report Can Help. -
Is the market research conducted by Fact.MR?
Yes, the report has been compiled by expert analysts of Fact.MR, through a combination of primary and secondary research. To know more about how the research was conducted, you can speak to a research analyst.
What research methodology is followed by Fact.MR?
Fact.MR follows a methodology that encompasses the demand-side assessment of the market, and triangulates the same through a supply-side analysis. This methodology is based on the use of standard market structure, methods, and definitions.
What are the sources of secondary research?
Fact.MR conducts extensive secondary research through proprietary databases, paid databases, and information available in the public domain. We refer to industry associations, company press releases, annual reports, investor presentations, and research papers. More information about desk research is available upon request.
Who are the respondents for primary research?
Fact.MR speaks to stakeholders across the spectrum, including C-level executives, distributors, product manufacturers, and industry experts. For a full list of primary respondents, please reach out to us.
Is a sample of this report available for evaluation?
Yes, you can request a sample, and it will be sent to you through an email.