Connected Devices and Cloud Based Technology is Giving Momentum to the Enterprise Network Equipment Market
The development of the digital economy relies 100% on accessing, processing and storing information and is expected to drive the global enterprise network equipment market to a valuation of more than US$ 18 billion by 2027 end. With the exponentially increasing acceptance of mobile devices such as smartphones, laptops and tablets, businesses have started to integrate these devices into their organizational network which requires a physical, virtual and logical design of a closed network which enterprise network equipment provides.
Rapidly increasing demand for connected devices around the globe is one of the key variables driving the enterprise network equipment industry, given that these devices help promote real-time communication. In an attempt to address and solve increasing bottleneck bandwidth & network traffic problems, organizations around the world are adopting enterprise network equipment management approaches that keep traffic flowing while maintaining network safety. The exponential increase in the amount of IOT-enabled devices has dramatically increased safety hazards due to which organizations are deploying enterprise network equipment solutions to make endpoints and unsecured applications and devices visible.
APAC is anticipated to have the highest development rate of over 6% during the forecast period. The size of the enterprise network equipment market is motivated by a massive implementation of cloud-based infrastructure as businesses move their workloads to the public cloud. This has resulted in a rise in demand for virtualization technology, which adds agility to the computing setting and efficiently addresses the needs of an efficient enterprise network equipment.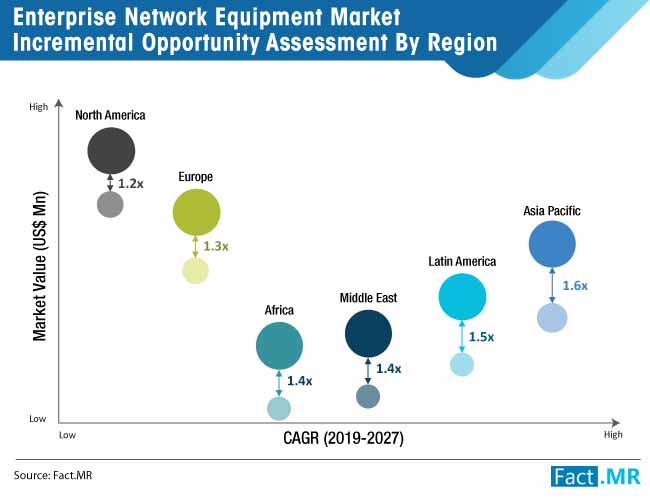 For more insights on the regional analysis of the enterprise network equipment market, request for a free report sample here
Demand for Continuous Monitoring Generating Interesting Growth Prospects
The need for network performance surveillance facilities is the number one growth factor facilitating the development of the global enterprise network equipment market. Network architecture is becoming increasingly complex and application delivery is becoming more time-sensitive. This calls for extremely reliable, scalable network surveillance facilities such as enterprise network equipment. The need for solid enterprise network equipment monitoring capacities to guarantee smooth operation of mission-critical network infrastructure and the need to resolve downtime problems rapidly drives the development of the market for network monitoring equipment. Network surveillance helps to minimize downtime of the company and thus decreases expenses. It is also crucial to boost the general productivity of the network.
Enterprise Network Equipment Market is giving a Prolific Boost to Digitization
Customer engagement, inner cooperation and the emergence of digital products and services all depend on a high-quality network infrastructure which presently is only achievable through the implementation of enterprise network equipment. Network information and business intelligence is known to transform the network into a monetization asset. As a consequence, the company network no longer operates as a commodity, but becomes a main feature of achievement in the area of the client. Enterprise network equipment is soon becoming the competitive advantage of the linked company against its colleagues. Retail companies, for example, progressively seek to give their clients differentiated in-store experiences that depend on quick and reliable enterprise networks to deliver on the promise of experience. These useful scenarios, which connect to company results, help to emphasize the importance of the enterprise network equipment to the company.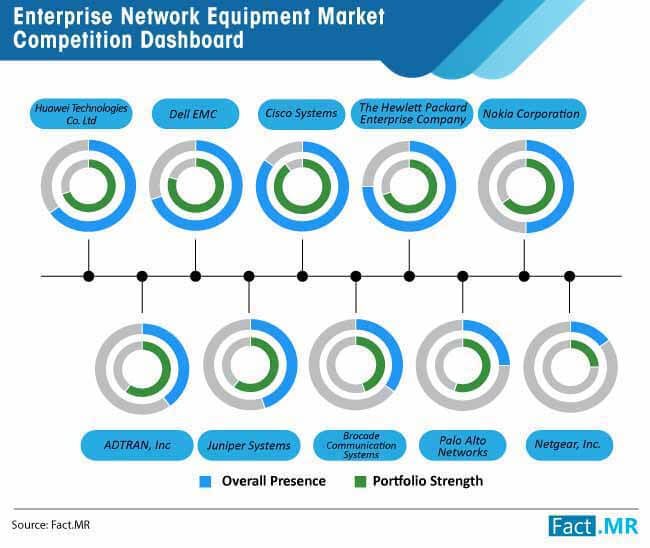 For extensive insights on the competition landscape of the enterprise network equipment market, request for a free report sample here
Leading Companies Embrace Networking to Transform their Businesses
The use of a carrier to provide connectivity is no longer good enough for large social media powerhouses such as Facebook, Dropbox, Flickr and Pinterest who are shifting towards deploying an efficient enterprise network equipment system. The business models of these companies are linked to the comprehensive surveillance and monitoring of client movements and operations that require secure network connectivity across the entire planet. For this type of scenario, the correct implementation of enterprise network equipment becomes paramount.
Over the last decade, there has been a huge increase in the utilization of enterprise network equipment due to the emergence of cloud-based services such as Dropbox, Netflix and worldwide consumer platforms like Facebook, Amazon and Google. This has led to a fast increase in the utilization of enterprise network equipment which are often owned and operated by these service suppliers, each comprising thousands of computer servers, storage arrays and information switches. The fast pace of technological growth also implies that the cycles of equipment replacement in such enterprise network equipment installations are as brief as three years.
Consolidation Is a Driving Force among Enterprise Network Equipment Vendors
The market for enterprise network equipment is largely consolidated with the top tier competitors taking up most part of the market share and several other medium and small scale competitors are looking forward to developing key technologies to directly impact the networking giants. Enterprise network equipment is always impacted by mergers and acquisitions of vendors, and clients are often uncertain as to what will occur to promote the products they have invested in. In order to cope with change, many consider it useful to remain in close contact with their enterprise network equipment suppliers, to find networking employees with skills in particular products and to focus on what is the best possible route for any necessary upgrades to the machinery.
Request research methodology of this report.
Global Enterprise Network Equipment Market – Scope of the Report
The following report provides forecast and analysis of the global enterprise network equipment market along with the historical data of 2013, estimated data 2019 and forecast data up to 2027 in terms of revenue (US$ Mn) according to a Fact.MR study. The research propounds critical trends that are currently influencing growth within the global enterprise network equipment market along with several macro-economic indicators. This newly published and insightful report on the enterprise network equipment market sheds light on key dynamics, and their impact on the overall value chain from suppliers to end-users, which are expected to transform the future of the global enterprise network equipment market.
The report also comprises the study of current issues with end users and opportunities for enterprise network equipment market. It also contains value chain analysis, including the key market participants. To provide users of this report with a comprehensive view of the market, we have included a detailed competitive analysis about the key players involved in the market and strategic overviews. The dashboard included in the report provides a detailed comparison of enterprise network equipment market manufacturers on parameters such as total revenue, product offerings, and key strategies. A list of key competitors operating in the enterprise network equipment market provided in the report adds to the credibility of this exhaustive research study.
Global Enterprise Network Equipment Market: In-Depth Assessment on Key Segments
The global enterprise network equipment market is segmented on the basis of equipment, vertical and region.
| | | |
| --- | --- | --- |
| Equipment | Vertical | Region |
| Routers | BFSI | North America |
| Ethernet Switches | Healthcare & Lifesciences | Latin America |
| WLAN Controllers | Communication, Media & Services | Europe |
| | Retail | Middle East |
| | Manufacturing | Africa |
| | Energy & Utility | APAC |
| | Other Verticals | |
Country-specific assessment on demand for enterprise network equipment has been provided for each regional market, along with the market size valuation and impact analysis of key regional and country-wise dynamics, which were obtained through quotes from numerous enterprise network equipment experts. Y-o-Y growth projections have also been offered on all regional markets incorporated in the report. Moreover, future trends, growth prospects, and other possibilities related to the market have also been answered in the report.
The report provides company-level market share analysis, which has been derived on the basis of the company's annual sales and segmental revenue in all the target end-use industries. The market has been forecasted based on constant currency rates. The report provides detailed competitive and company profiles of key participants operating in the global market. Some of the major competitors operating in the enterprise network equipment market are Cisco Systems, Aruba Networks, Dell EMC, A10 Networks and Juniper Systems.
Global Enterprise Network Equipment Market: Research Methodology
A number of primary and secondary sources were consulted during the course of the study. Secondary sources include Factiva, Morningstar and Hoovers, and company annual reports and publications. Comprehensive interviews have been conducted by our analysts, and the intelligence and insights obtained have been used for validating the information gained through secondary research. The report also includes a description of assumptions and acronyms utilized for research purposes. Data gathered has been validated using the triangulation method to offer useful quantitative and qualitative insights into the enterprise network equipment market.
For ascertaining the market size on the basis of volume and value, revenues generated by leading players, coupled with their production capacities are taken into consideration which is backed by a proven & tested research approach, the report has offered necessary information on the enterprise network equipment market. Qualitative aspects gained from industry experts and opinion leaders have also been adhered to by the analysts while developing this insightful report on the global enterprise network equipment market. Secondary research is leveraged for ascertaining the overall size of the enterprise network equipment market.
A short market viewpoint offered in the report elucidates the macro-economic aspects that influence the growth of the enterprise network equipment market, which includes global GDP growth rate, various allied industries growth rate, such as IT & Telecommunications and Banking. This report serves as an authentic resource of intelligence on the enterprise network equipment market, enabling the readers to take fact-based decisions on the future direction of their businesses.
Fact.MR offers custom research services that help clients to get specific research solutions
We are committed towards customer satisfaction and quality service.
---
Our Clients

Enterprise Network Equipment Market Forecast, Trend Analysis & Competition Tracking - Global Market Insights 2019 to 2027