Network Attached Storage (NAS) Market
Network Attached Storage (NAS) Market Analysis by Solution (Hardware, Software), by Product (Enterprise NAS Solutions, Midmarket NAS Solutions), by Storage Solution (Scale-up, Scale-out), by Design, by Deployment Type, by End-User Industry - Global Forecast 2022-2032
Analysis of Network Attached Storage (NAS) market covering 30 + countries including analysis of US, Canada, UK, Germany, France, Nordics, GCC countries, Japan, Korea and many more
Network Attached Storage (NAS) Market Outlook 2022-2032
Global network attached storage (NAS) industry revenue stood at US$ 26.9 Billion in FY 2021, and is forecast to reach US$ 31.1 Billion, registering a Y-o-Y expansion rate worth 15.61% in 2022. The market is poised to embark on a positive trajectory, documenting a 14% value CAGR from 2022-2032. The market is projected to reach US$ 115.2 Billion by 2032.
Report Attributes
Details

Anticipated Base Year Value (2021)

US$ 26.9 Billion

Expected Current Market Value (2022)

US$ 31.1 Billion

Projected Forecast Value (2032)

US$ 115.2 Billion

Global Growth Rate (2022-2032)

14% CAGR

Growth Rate of the U.S Market (2022-2032)

13.8% CAGR

Anticipated Market Value of China (2032)

US$ 13.3 Billion

Dollar Opportunity in the U.K Market (2022-2032)

US$ 3.4 Billion

Key Companies Profiled in the Global Network Attached Storage (NAS) Market

Dell Technologies Inc.
NetApp, Inc.
HEWLETT PACKARD ENTERPRISE COMPANY
Hitachi, Ltd
WESTERN DIGITAL CORPORATION
SEAGATE TECHNOLOGY PUBLIC LIMITED COMPANY
NETGEAR, Inc.
Synology, Inc.
Buffalo Americas, Inc.
QNAP Systems, Inc.
Drobo, Inc.
ASUSTOR Inc.
Overall, the NAS landscape is poised to yield an absolute dollar opportunity worth US$ 84.1 Billion until 2032. Sales of NAS for software will continue to flourish, with a documented CAGR of 15.2% from 2015 to 2021. By deployment type, on-premises network attached storage (NAS) registered high growth, documenting a CAGR of 14.8% from 2015-to 2021.
Market demand for network attached storage (NAS) is expected to remain the highest in the U.S, reaching a value of US$ 39.8 Billion in 2032. North America will continue to lead the market, with opportunities worth US$ 46.31 Billion during the forecast period.
Know thy Competitors
Competitive landscape highlights only certain players
Complete list available upon request
Network Attached Storage (NAS) Revenue Analysis 2015-2021 vs. Market Outlook 2022-2032
According to market research and competitive intelligence provider Fact.MR, the network attached storage industry grew at a CAGR of 15.7% from 2015 to 2021. The mainstream use of IoT and smart connected devices such as smartphones, tablets, and laptops has grown the demand for network attached storage (NAS) solutions from 2015 to 2021.
Network attached storage is an ideal solution for offices that need to share data effectively between multiple workstations or departments. Mobile data drives efficiency and productivity within a company and team and empowers all processes in an organization. NSA offers a solution that supports sharing data among multiple systems, enabling multiple clients to access data from the same NAS storage facility at the same time.
Various companies have implemented remote working practices in response to COVID-19. This resulted in the need for cloud-based solutions in various organizations. On top of this, the outbreak had a significant effect on the use of the internet and data. To accommodate the increasing demand for network attached storage (NAS) around the world, manufacturers focused on building new types of storage facilities to meet this demand in the market.
A shortage of raw materials has also led to businesses increasing their production costs since the business activities were suspended. The rising need for data storage is causing network attached storage sales to grow after the COVID-19 pandemic.
Prominent Growth Drivers Influencing Network Attached Storage (NAS) Market Growth
Small and Mid-Size Business Prevalence Increase Growth of NAS across Different Industries
Due to the highly competitive business environment, organizations are working on various ways to differentiate their products and stand out in the market. With the rapid progress of technology, enterprises find themselves constantly under pressure to make improvements to their existing products and services, which is why they need to provide dependable and effective post-sales support in the market. Moreover, the importance of building strong storage spaces for data storage becomes imperative as new markets emerge.
For companies to prosper faster, they reach out to indirect channels to stay ahead of the competition. NAS manufacturers provide branded solutions and announce new market opportunities in order to improve security and expand the capacities of data storage. The cost-effectiveness of NAS in smaller offices has made them popular among small and medium-sized businesses. NAS can store data directly on hard drives and is designed for using external hard drives for data storage.
Increasing backup demand and digital transformations are driving competition in the market
The increasing reliance of small and medium enterprises (SMEs) on cloud-based storage is increasing the demand for NAS in the market. Significant demand for digitization along with the presence of digital content, the proliferation of social media, a growing number of high-speed data transmission technologies like 4G and 5G, and the need for a large number of secure devices to support video surveillance applications, can further drive the growth of the NAS market. Due to the increasing adoption of NAS systems in enterprise environments, organizations are increasingly implementing customized NAS solutions as standalone data management solutions in the market.
Furthermore, the network attached storage market is predicted to grow significantly over the forecast period due to its attributes, such as versatility, ease of use, and relatively low operating costs, compared with conventional storage methods. NAS demand is expected to grow in the market due to the increasing demand for advanced technologies and the adoption of next-generation wireless internet technologies in the market.
Growing demand for remote work and virtual offices, data resiliency plan implementations, and increasing demand for employees requiring remote access to network resources are fuelling the growth of NAS technology. In addition to data retrieval and storage, NAS allows clients and users to access their files from a centralized location. With the increasing demand for big data analytics and data mining applications in the market, the NAS market has witnessed significant growth over the past few years.
Furthermore, use of 5G technology and the sales of electronic gadgets on the market have been driving the demand for NAS in the market. Increasing demand for the development of smart cities, agriculture, and manufacturing are likely to boost the market for NAS in the future.
More Insights, Lesser Cost (-50% off)
Insights on import/export production,
pricing analysis, and more – Only @ Fact.MR
Key Challenges Impacting Network Attached Storage (NAS) Industry Growth
Risks of Data Breaches and Data Security may Deter Adoption
As NAS provides file-sharing services through a network connection, making it vulnerable to cyber-attacks, thus making it a potential cybersecurity threat. The security implications restrain the market growth of network attached storage as a result of their inherent vulnerabilities. This is expected to hamper the growth of the network attached storage market during the forecast period.
The rising costs of storage and heavy use of NAS are likely to clog up shared networks and negatively affect users. Backup requirements for clients, cannot be met directly. Clients have to use the installed operating system to obtain the data backup which might be a major reason for the market to decline in the future.
NAS may face barriers to the market growth due to bandwidth concerns for remotely hosted NAS systems. NAS appliances are limited by their resources, and as more users request access, performance degrades, leaving the users frustrated. As a result, there will be a slowdown in the economic growth of the sector.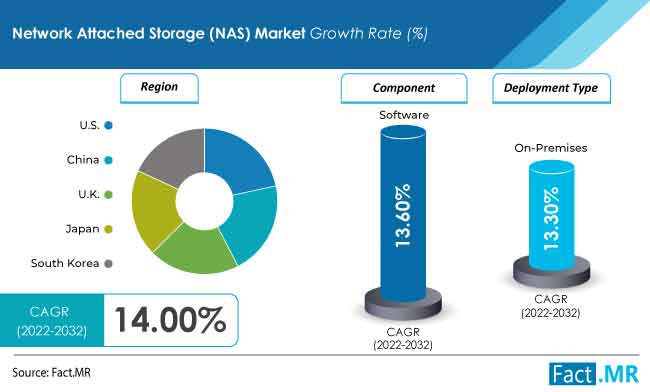 Comparative View of Adjacent Network Attached Storage (NAS) Markets
| | |
| --- | --- |
| Attributes | Network Attached Storage (NAS) |
| CAGR (2022-2032) | 14% |
| Growth Factor | Growing demand for cutting-edge networking solutions, and an increased focus on digital transformation. |
| Opportunity | Cloud storage services are being combined with existing NAS systems to provide storage provisioning for a variety of suppliers which will provide opportunity for the growth of the market. |
| Trend | Network attached storage (NAS) and software-as-a-service (SaaS) deployment based on pay-as-you-go to grow in future. |
| | |
| --- | --- |
| Attributes | Consumer Network Attached Storage (NAS) Market |
| CAGR (2022-2032) | 13% |
| Growth Factor | Network-attached storage is rapidly gaining popularity as a means to achieve cost-effective data storage solutions. |
| Opportunity | A NAS system can lower the total cost of ownership for small and medium sized companies. |
| Trend | As server-less backups become more efficient with network attached storage, the market for backup systems will continue to grow in future. |
| | |
| --- | --- |
| Attributes | Multiprotocol Storage Market |
| CAGR (2022-2032) | 11.51% |
| Growth Factor | With the growing number of technological advancements and innovations occurring around the globe, the industry is expected to grow. |
| Opportunity | Growing investment in R&D activities by telecom sector can be attributed to the digital transformation that has been driven by both the private and public sectors provide opportunities for the manufacturers in the market. |
| Trend | The emergence of 5G as well as other technologies such as VR, AR, MR, and the increasing popularity of the Internet of Things (IoT) are some of the upcoming trends expected in the near future. |
Country-wise Analysis
How will the Demand for Network Attached Storage Grow in the U.S Market?
Streamlining Operations by Implementing Best Business Practices to Further Grow Market
Due to its early implementation of advanced analytics solutions requiring huge storage requirements, the United States enjoys the largest market share in the market. This is expected to continue in future years. Industry services, retail, and transportation sectors account for the majority of the 13.8% CAGR of digital transformation market share in the United States. The report predicts that the region will generate revenue of US$ 39.8 Billion by 2032 while generating a dollar opportunity of US$ 28.9 Billion during the said assessment period.
Additionally, the expansion of the number of small and medium businesses (SMBs) in this region is expected to contribute to the development of the network attached storage (NAS) market during the forecast period. Due to the increased use of big data, cloud services and mobile devices, revenue has increased for IT companies, allowing them to develop new business models. In the near future, the market will continue to grow in the region as server costs decline and cloud computing tools gain acceptance.
Will China Offer Adequate Growth Opportunities for Networks in the Future?
Widespread Digitalization of Business Networks Encourages the Adoption of Network Attached Storage
Business in China has experienced significant digitization over the years, as major business giants provide services and solutions that aid in the simplification of business processes. China has emerged as one of the top digital transformation leaders globally.
The NAS market in China is predicted to grow at a CAGR of 13.3%, which provides promising market growth prospects. The growing use of smartphones and other devices is attributed to the fact that they have become more and more prevalent in this region. The growth of the regional market is primarily driven by the growth of 5G networks and the Internet of Things.
In response to the improvement of the infrastructure within the network, an increase in the use of electronic gadgets for accessing the data has significantly increased market demand for NAS in the market. Consumers are increasingly seeking ways to share media files that are fast, easy, and cost-effective. As a result of the increased use of social media platforms for video surveillance, the NAS market has grown significantly in this region.
What are the Growth Prospects for Network Attached Storage in the U.K?
Demand for high-capacity storage devices to magnify NAS uptake
The presence of big tech companies and massive R&D investments are some of the driving factors in this region. With increasing consumer demand and the benefits offered by the consumer, the UK holds a significant market share in network attached storage solutions in this region.
The market for the UK is expected to grow at a CAGR of 12.9% during the forecast period. As per Fact.MR's report, the U.K market is expected to reach US$ 4.8 Billion in 2032, generating a dollar opportunity worth US$ 3.4 Billion during the said period of assessment.
Technology start-ups, particularly in the UK, are increasingly deploying NAS as a means of saving data. As a result, the NAS market in the UK will continue to grow significantly in the coming years. Due to an increase in disposable income, coupled with the increase in purchasing power of individuals, the U.K. NAS market is expected to grow at a rapid speed. In addition to the government initiatives to protect data centers and data space, the use of NAS products has also seen an increase in demand for NAS in the region.
Country-wise Forecast CAGRs in the Network Attached Storage Market
| | |
| --- | --- |
| U.S | 13.8% |
| U.K | 12.9% |
| China | 13.3% |
| Japan | 12.3% |
| South Korea | 11.6% |
Category-wise Insights
By Component, which Segment is expected to post Maximum Gains?
NAS Software to remain most Sought After
Based on the solution the market is segmented into hardware and software solutions in the market. As far as software solutions are concerned, the market is anticipated to hold the largest share during the forecasted period. The market for software solutions is expected to grow at a CAGR of 13.6% during the forecast period.
NAS is becoming a key component of enterprise IT systems, and growing network automation and software-defined NAS are the major factors driving the market. The increasing demand for high-bandwidth environments combined with self-repairing software to minimize data loss and a low file corruption rate in the NAS market will drive the growth. Cloud services, which provide users with remote access and even synchronization of data on devices connected to the Internet, are in high demand.
Based on Deployment, which Category is Likely to Prevail?
On-Premises Network Attached Storage to be Most Widely Deployed
On-premises is expected to experience significant growth, documenting a 13.3% value CAGR from 2022-2032, concludes Fact.MR's report. NAS on-premises is well-positioned to become increasingly popular in the coming years as a way of giving users total access to their data, along with cloud-based backup and archiving methods.
On-premise deployments solve problems such as data archiving that many organizations struggle with. The on-premise NAS systems are one of the most commonly used solutions in the world for small-and medium-sized IT businesses. Market players are turning their attention towards improving the security of these systems in order to provide a more secure data storage and accessibility solution. The cost of storing data is a sunk cost that is independent of the level of usage.
Don't Need a Global Report?
save 40%! on Country & Region specific reports
Network Attached Storage Market - Competitive Landscape
Prominent network attached storage service providers are reliant on offering new and enhanced services to potential clients, as well as forging partnership agreements, acquiring small to medium-sized players, and filing of patents or other regulatory approvals to remain afloat in the market. Some prominent developments in this field are as follows:
In October 2021, Dell Technologies unveiled new additions to its PowerScale portfolio. In addition to eliminating data silos and helping to make better use of unstructured data, Dell's NAS solution improves flexible consumption, data management, and security capabilities. PowerScale and Archive nodes are among the new features, Dell added that the changes will improve performance by 75%.
In October 2021, Hitachi Vantara capitalized on the medium-sized business segment with its NVMe flash systems. Hitachi has added 2u E590 and E790 models to its Virtual Storage Platform (VSP) E Series lineup. Hitachi's new storage arrays support raw NVMe flash capacities of 360 TB each. Its main difference is in the number of cores: E790 comes with 64, and E590 comes with 24.
Key Segments Covered in Network Attached Storage (NAS) Market Report
By Solution :

By Design :

NAS from 1 to 8 Bays
NAS from 8 to 12 Bays
NAS from 12 to 20 Bays
NAS of more than 20-Bays

By Product :

Enterprise NAS
Midmarket NAS

By Storage Solution :

Scale-up NAS
Scale-out NAS

By Deployment Type :

On-premises NAS
Remote NAS
Hybrid NAS

By End-User Industry :

Banking, Financial Services, and Insurance (BFSI)
Consumer Goods and Retail
Telecommunications and ITES
Healthcare
Energy
Government
Education and Research
Media and Entertainment
Manufacturing
Business and Consulting
Other End-User Industries (Aerospace & Defense, Automotive, Food Processing, and Logistics)

By Region :

North America
Latin America
Europe
Asia Pacific
Middle East & Africa
- FAQs -
The network attached storage (NAS) market is expected to flourish at a 14% CAGR from 2022-2032
Fact.MR expects the market for network attached storage (NAS) to reach US$ 115.2 Billion by 2032
Network attached storage (NAS) for software will likely dominate, registering an 13.6% CAGR
China is anticipated to generate dollar growth opportunity worth US$ 8.4 Billion, with respect to network attached storage
According to Fact.MR, the U.S is expected to experience a CAGR of 13.8% until 2032
The U.K market for network attached storage (NAS) is forecast to reach US$ 4.8 Billion by 2032
On-premises network attached storage (NAS) will experience maximum growth, at a CAGR of 13.3%
As of 2022, the network attached storage (NAS) market is forecast to reach a valuation of US$ 31.1 Billion
From 2015-2021, network attached storage (NAS) uptake surged at a 15.7% CAGR
As of 2021, network attached storage (NAS) market value reached US$ 26.9 Billion