Talc Market
Talc Market Analysis By Form (Powdered Talc, Talc Lumps or Granules) By Deposit Type (Talc Chlorite, Talc Carbonate), By End Use Industry, By Region - Global Insights 2021-2031
FACT4479MR
Oct-2021

List of Tables : 74

List of Figures : 98

170 Pages
Talc Market Outlook
The talc market is anticipated to reach US$ 372.7 Mn in value by 2021. Applications abound in the paints & coatings industry, poised to surge at a CAGR of nearly 5% by the end of the 2021-2031 forecast period.
Attribute
Details
Market Size Value in 2021
USD 372.7 Million
Market Value Forecast in 2031
USD 600 Million
Growth Rate
CAGR of 4.8% from 2021 to 2031
Forecast Period
2021-2031
Historical Data Available for
2016-2020
Key Companies Profiled

Golcha Minerals Pvt. Ltd
IMI Fabi LLC
Jai Vardhman Khaniz Pvt. Ltd.
Lianoing Aihai Talc Co. Ltd.
Xilolite S.A
Imerys S.A
Mondo Minerals
Minerals Technologies Inc.
Nippon Talc Co. Ltd.
RT Vanderbilt Holding Company Inc.
Overall, the industry is likely to reach a value of US$ 600 Mn by the end of the aforementioned decade, representing an increase of 1.6x.
Talc Consumption Analysis 2016-2020 Vs Outlook from 2021 to 2031
According to Fact.MR, a market research and competitive intelligence provider, from 2016 to 2020, the global talc market has grown at a CAGR of almost 4%. Growth was majorly spurred due to extensive applications in the cosmetics, paints & coatings and automotive industries.
Prospects appeared to decline significantly during the COVID-19 pandemic outbreak, partly due to discontinuation of manufacturing and distribution activities to enforce social distancing, and also because of rising aversion towards using powder-based products as a precautionary measure by consumers.
Future market demand is expected to be reliant on extensive applications for polymer engineering, development of asbestos-free talc and surging applications across the ceramics industry. From 2021 to 2031, talc demand is anticipated to surge at a CAGR of 4.9% according to Fact.MR.
Interested to Procure The Data
How is Polymer Engineering Increasing Global Talc Demand?
In recent years, talc has been increasingly used as an anti-blocking agent in polyethylene production. Along with calcined kaolin, cristobalite and precipitated silica, talc is applied to polyethylene films to enhance mechanical properties, improving transparency, haze, color & gloss and reducing contact area.
Furthermore, talc is extensively used in engineering polypropylene, which is extensively used for medical applications. SO.F.TER, a prominent polymer manufacturer, for instance, offers the TALCOPRENE® product range, representing a family of polypropylene homopolymer and copolymer filled with talc. These products are developed for technical applications operating at different thermal conditions.
These materials are characterized by high dimensional stability together with good aesthetical and mechanical properties. It is also fully recyclable. Similarly, in 2018, PolyOne introduced the Maxxam LO low-odor talc-filled polypropylene, designed to help OEMs meet vehicle interior air quality (VIAQ) standards in underhood automotive HVAC applications.
How will Research for Developing Asbestos-Free Talc Generate Growth Opportunities?
Talc applications comprise of a diversified and vast range of products, which has engaged researchers in identifying its properties, benefits, and minerals. Several studies have been performed on the cosmetic industry to identify safety measures regarding the usage of talc in talcum powder which is used for skin. These measures are centred on the presence of asbestos, a potentially lethal chemical for human consumption.
Researchers at Nippon Talc Co. Ltd have developed NANO ACE, one of the major achievements that have greatly contributed to the growing demand for Talc in the market. Additionally, researchers were able to identify different types of talc that can withstand the volatility in the market and help determine the best sites for market growth.
Furthermore, FDA opened a public docket and held a meeting titled "Preliminary Recommendations on Testing Methods for Asbestos in Talc and Consumer Products Containing Talc '' by the IWGACP on February 4, 2020. The purpose of promoting this symposium was to provide insight on topics related to cosmetics containing talc as an ingredient, specifically testing methodologies, terminology, and criteria for handling asbestos and other potentially harmful elongate mineral particles (EMPs) in such products.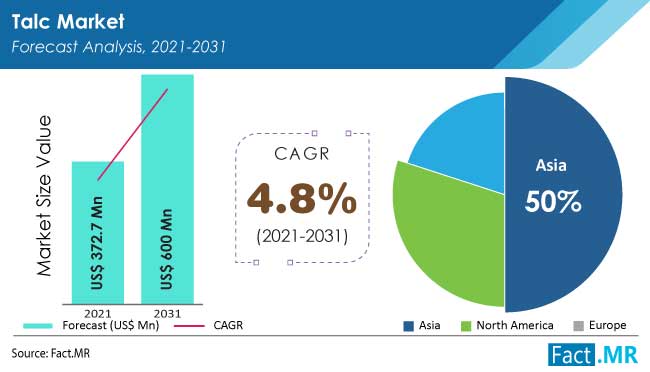 Region-wise Analysis
What Factors Contribute to the Growth of Talc in North America?
North America represents a potential market for talc- especially across the automotive, cosmetic, rubber, and plastics industries. Increasing demand for paper recycling has also fuelled the growth of the talc market. A revenue share worth 30% is anticipated by Fact.MR for the North American market.
As per estimates published by the United States Geological Survey, domestic crude talc production amounted to almost US$ 24 million, or 630,000 tons as of 2019. In addition, the publication estimated total sales to be valued at US$ 120 million, or 570,000 tons as of 2018. Most of this produced talc was consumed by the ceramics and paints & coatings industries.
However, in recent years, the Food & Drug Administration has highlighted concerns related to talc usage in the cosmetic industry, given the presence of high asbestos concentrations. In March 2020, it issued a constituent update on its results on talc testing in collaboration with AMA Analytical Services, Inc. on talc-containing cosmetic products for the presence of asbestos, and has decided to closely monitor the amount of talc to be incorporated in the future.
What are the Growth Opportunities for Talc in Asia?
Asia is expected to account for the majority of talc sales in the market. Extensive applications in paints and coatings as well as producing lightweight plastics for automotive components have impelled demand for talc across the continent. India and China are anticipated to be the most opportunistic markets.
According to the Indian Bureau of Mines, India possessed 315,924 tons worth of talc, soapstone and steatite as of 2019. Furthermore, the country is a rich source of lava-grade talc, suited for specialized purposes such as production of low ceramic material.
In China, talc is often used to recycle paper, thus the paper industry continues to grow with this trend, which in turn also leads to the growth of the market. The domestic development of talc in China has also helped to flourish the business. Globally, it exported almost US$ 3.08 million worth of talc in 2020. Based on these trends, the market in Asia is expected to yield around 50% of global talc revenue.
How is the Demand Outlook for Talc across Europe?
Talc production in Europe is estimated at 1.3 million tonnes per year. As talc is relatively inexpensive, it cannot cover the logistics costs associated with imports and exports. Leading companies such as Golcha Minerals have been contributing for a significant amount of time to advance the technologies for processing talc, which has led to significant growth of talc in the European market.
Various industrial applications are contributing to the growing demand for talc throughout the European region. However, use of talc in cosmetic products has declined, since asbestos, which remains potentially harmful to humans, has been banned in many European countries. According to Fact.MR, the market for talc in Europe is likely to account for 20% of global demand through 2031.
An Adaptive Approach to Modern-day Research Needs
Category-wise Insights
Why is Demand for Powdered Talc Surging?
Talc powder comes in the form of ground talc powder, fine talcum powder, and ultrafine talc powder. These materials are highly in demand in the market because of their high whiteness, good suspension, and good dispersion properties.
With the growing consumption of talcum powder in the cosmetic industry, the demand for talc powder has increased in these industries. Growing demand for baby powder, dry shampoo, blush, and dusting powder in these industries has in turn fuelled demand for talc in the market. The segment is poised to surpass a valuation of US$ 500 Mn by 2031.
Will the Paints & Coatings Industry Generate Maximum Talc Demand?
A majority of talc is used in the paint and coating industries as well as in wood lacquers, fillers, printing inks, and other industries that use coatings. The lamellar structure, hydrophobic properties, and chemically inert properties of talc make it a perfect filler for the paint and coating industry.
This industry has witnessed an upswing in demand for talc recently due to its barrier effect, as it can effectively prevent moisture and corrosion from entering paints and coatings. A coating with these properties would result in less bubble formation, corrosion, peeling, and blistering. A CAGR of 5% is projected for this segment.
Competitive Landscape
Strategic collaborations enable manufacturers to increase production and meet consumer demand which will increase revenue and market share. New products and technologies will enable end-users to benefit from products that are eco-friendly by nature.
In February 2021, Magris Resources Canada, Inc. bought all the assets of Imerys' at the price of US$ 223 million. With this acquisition, the firm will gain a major competitive advantage in U.S. markets.
With regard to product offerings, Minerals Technologies Inc. offers talc products for multiple end use applications- including MicroTuff® AG and MicroTalc® for polyolefins for automotive parts & appliances, Talcron® and Sericron® talc series for paints & coatings and MicroTalc® and UltraTalc® for pharmaceuticals, foods and body powders respectively.
Key Segments Covered
By Form :

Powdered Talc
Talc Lumps or Granules

By End Use Industry :

Agriculture
Ceramics
Pharmaceuticals
Paints & Coatings
Cosmetics
Pulp & Paper
Food
Other End Uses

By Deposit Type :

Talc Chlorite
Talc Carbonate
Other Talc Deposit Types