Government Grants for Ocean Farming to Augment Growth of Commercial Seaweed Market
The global market for seaweed accounted for ~US$ 10.5 Bn in 2018 and is expected to cross ~US$ 15 Bn by the end of forecast period (2019-2029). Seaweed cultivation has been expanding rapidly for its use in pharmaceuticals, nutraceuticals, antimicrobial products, and biotechnological applications. The recent statistics suggest an increase in red seaweed production worldwide because of the increased demand in multiple verticals. The red seaweed, Kappaphycus alvarezii is the major source of carrageenan, a hydrocolloid used as a stiffening and stabilizing agent in food, cosmetics, pharmaceuticals and others. Countries like New Zealand and Alaska are expected to show remarkable growth in seaweed commercialization as their local grants are expanding seaweed production.
APAC to Emerge as Largest Regional Market by 2029
Seaweed though popular in Coastal regions is soaring on popularity in developing economies such as Indonesia, China and India. The Japanese commercial seaweed market is a potential market owing to the popularity of Kelp, a species of large seaweed, eaten in East and Southeast Asia. It is known as Kombu in Japan and Haidai in China, where it can be found in various soups as a staple food item. On the back drop of these developments the market in Asia-Pacific region is expected to grow 2.6X by 2029 over 2019.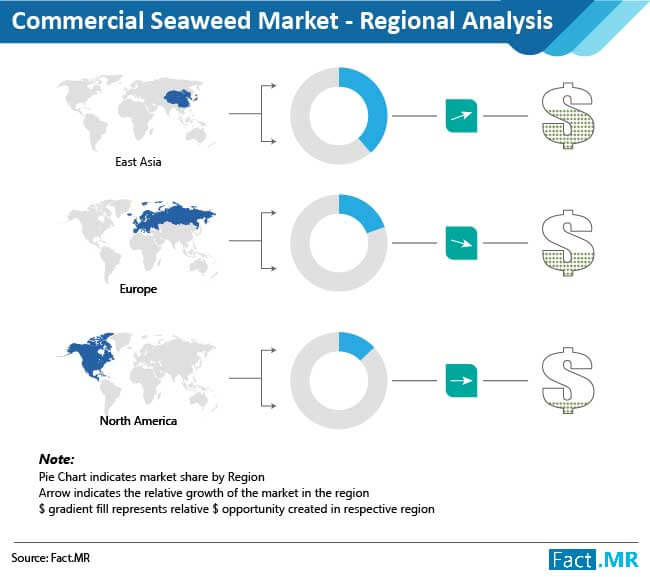 For in-depth regional insights on the commercial seaweed market, ask an analyst here
Increasing Usage across Different Verticals to Amplify Seaweed Demand
Seaweed is a multibillion-dollar industry worldwide, providing food, fertilizers, nutritional supplementation, and valuable phycocolloids like agar, carrageenan, and alginate. Diversified end use applications are likely to bring opportunities in the global seaweed market. Seaweed is a nutritious plant enriched with proteins and minerals akin to vegetables such as broccoli and legumes. In countries like China it is consumed due to high presence of multivitamins. Red seaweed is highly prized for its carrageenan, which is used in food and beverages such as desserts, beer and even toothpaste.
Red Seaweed to Account for 50% Market Share with Surge in Consumption in Food and Beverage Sector
Red seaweeds accounts for more than 50% of the commercial seaweed market share and is expected to grow at a higher rate owing to substantial demand from food and beverage sector. Commercial seaweed market has grown at a significant pace in the last decade because of increasing popularity of organic farming, where it is especially effective in growing vegetables and fruits.
Seaweed Market Players Increasing Investments for Sustainable Harvesting
Commercial seaweed is a large market where government grants are opening doors for niche players to enter and grab market share. The key players which hold a significant share in commercial seaweed market are, Du Pont de Nemours & Co., Cargill Inc., Yan Cheng Hairui Food , CP Kelco and others who are also investing in R&D to increase product portfolio in the coming years.
In Feb 2019, Cargill launched a program that is specifically designed to overcome key sustainability challenges for harvesting and cultivation of red seaweed and also to enhance supply chain.
In the year 2019, Alaska Fisheries Development Foundation (AFDF) issued a generous grant to local companies to expand ocean farming by 2000 acres for seaweed farming.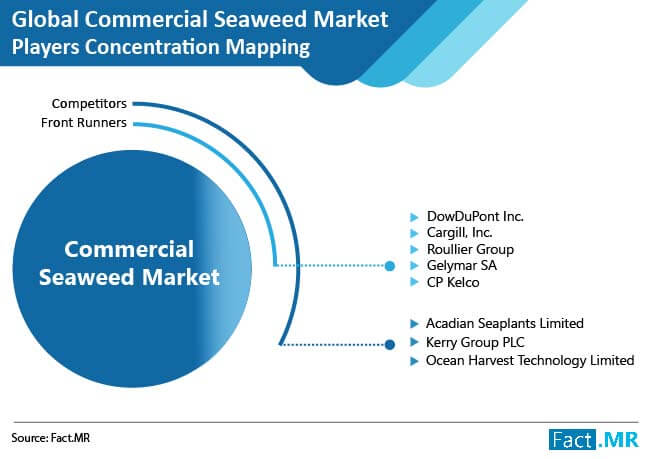 For more insights on the competition landscape of the commercial seaweed market, request for a report sample here
Global Commercial Seaweed Market - Scope of the Report
The commercial seaweed market is anticipated to observe a significant growth in the forecast period of 2019 to 2029, according to the Fact.MR study. The study propounds key trends that are currently shaping the growth of the commercial seaweed market. This newly published and insightful report sheds light on the key dynamics, which are expected to transform the future of the commercial seaweed market. This, in turn, is creating flourishing avenues for prominent companies as well as emerging players associated with the manufacturing of seaweeds.
The commercial seaweed market study is a sinuous market intelligence on the key drivers, challenges, industry trends and opportunities, which is likely to influence growth trajectory of the commercial seaweed market. The report initially imparts an overview of the commercial seaweed market, considering current and future prospects in the growth, to unveil attractive facets pertaining to the adoption of commercial seaweed across key regional markets.
An in-depth assessment on few of the commercial seaweed manufacturers offered in the report enables the report readers to gain detailed insights that are derived from commercial seaweed manufacturers across regional markets. A list of key companies operating in the commercial seaweed market provided in the report adds to the credibility of this exhaustive research study.
Global Commercial Seaweed Market: Opportunity Analysis
The report offers a detailed study on different factors influencing demand, sales, and revenue generation in the commercial seaweed market around the world. The opportunity analysis included in the report is beneficial for readers to better understand opportunities in the seaweed market, which in turn, is likely to trigger the adoption of seaweeds. An elaborated cost structure analysis provides the report with an innate completeness, and analysis offered on the cost structure involves all the regional markets incorporated.
A detailed forecast on the global commercial seaweed market has also been offered by experts, who have categorized market forecasts into a likely scenario, a conservative scenario, and an optimistic scenario regarding adoption and involvement of the global market during the forecast period. Analysis and assessment of price point by region has also been included in this study. The study also exerts details on aspects impacting strategies of manufacturers within the global commercial seaweed market.
Global Commercial Seaweed Market: Segmentation
Segmentation table of the global Commercial Seaweed market has been provided below on the basis of
Product, Form, End User and Region.
| | | | |
| --- | --- | --- | --- |
| By Product | By Form | By End User | By Region |
| Red | Liquid | Direct Consumption | North America |
| Green | Powder | Textiles | Latin America |
| Brown | | Food Additives | Europe |
| | | Pharma & Personal Care | South Asia and Pacific |
| | | Paper | East Asia |
| | | Animal Feed | Middle-East & Africa |
| | | Fertilizers | |
Global Commercial Seaweed Market: Analysis on Market Size Evaluation
Market valuation at the global and regional scale for the global commercial seaweed market is offered in terms of "US$ Thousand" A Y-o-Y growth comparison on the key commercial seaweed market segments, along with the market attractiveness assessment quantifies insights delivered in the report. Metrics mentioned above are also tracked based on consumption across several regions where commercial seaweed is witnessing a growing demand.
Global Commercial Seaweed Market: Scrutinized Assessment on Regional Segments
Weighted chapters have been included in the report on the global commercial seaweed market, which imparts a forecast on the regional markets recognizing the regional macros (business, economic and political environment outlook), which are expected to have an impact on the growth of the global commercial seaweed market in the near future.
Country-specific assessment on the demand for commercial seaweed has also been provided for each regional market, along with the market size valuation, price point assessment, price index, and impact analysis of key regional and country-wise dynamics. Y-o-Y growth projections have also been offered on all regional markets that are incorporated in the report.
Global Commercial Seaweed Market: In-depth Analysis on Competitive Landscape
The report concludes with a weighted chapter on the competition landscape considering up-to-date and essential developments related to market players, who are predominantly engaging in the production and distribution of commercial seaweed, along with company's strategies, identification, and analysis. Market share comparison and analysis of these market players offered in the report enables readers to devise strategies for their businesses.
The intensity mapping of the market players operating in the global commercial seaweed market provides readers with actionable intelligence, which helps in understanding the current market status and prospects determining the competition levels in the global commercial seaweed market.
Fact.MR offers custom research services that help clients to get specific research solutions
We are committed towards customer satisfaction and quality service.
---
Our Clients

Commercial Seaweed Market Forecast, Trend Analysis & Competition Tracking - Global Market Insights 2019 to 2029